The best snorkeling in St. Lucia
Picturesque bays, dramatic mountain scenery, and healthy sea life make St. Lucia an ideal snorkeling destination for nature enthusiasts. Here are the top snorkel sites on the island.
---
Saint Lucia is famous for its pristine mountain landscapes and is not always the first place that comes to mind when people think of a Caribbean snorkeling trip. However, the island's healthy marine ecosystems, fringing reefs, and soft coral gardens create many exciting snorkeling opportunities.
St. Lucia is located in the Eastern Caribbean between Martinique and St. Vincent and the Grenadines. The best snorkeling sites are along the west coast, where the calm Caribbean Sea is protected from the trade winds.
From all-inclusive resorts with house reefs to remote bays requiring a boat ride, St. Lucia offers diverse snorkel spots to suit various preferences. Here's where to go for the best snorkeling in St. Lucia.
Anse Chastanet Beach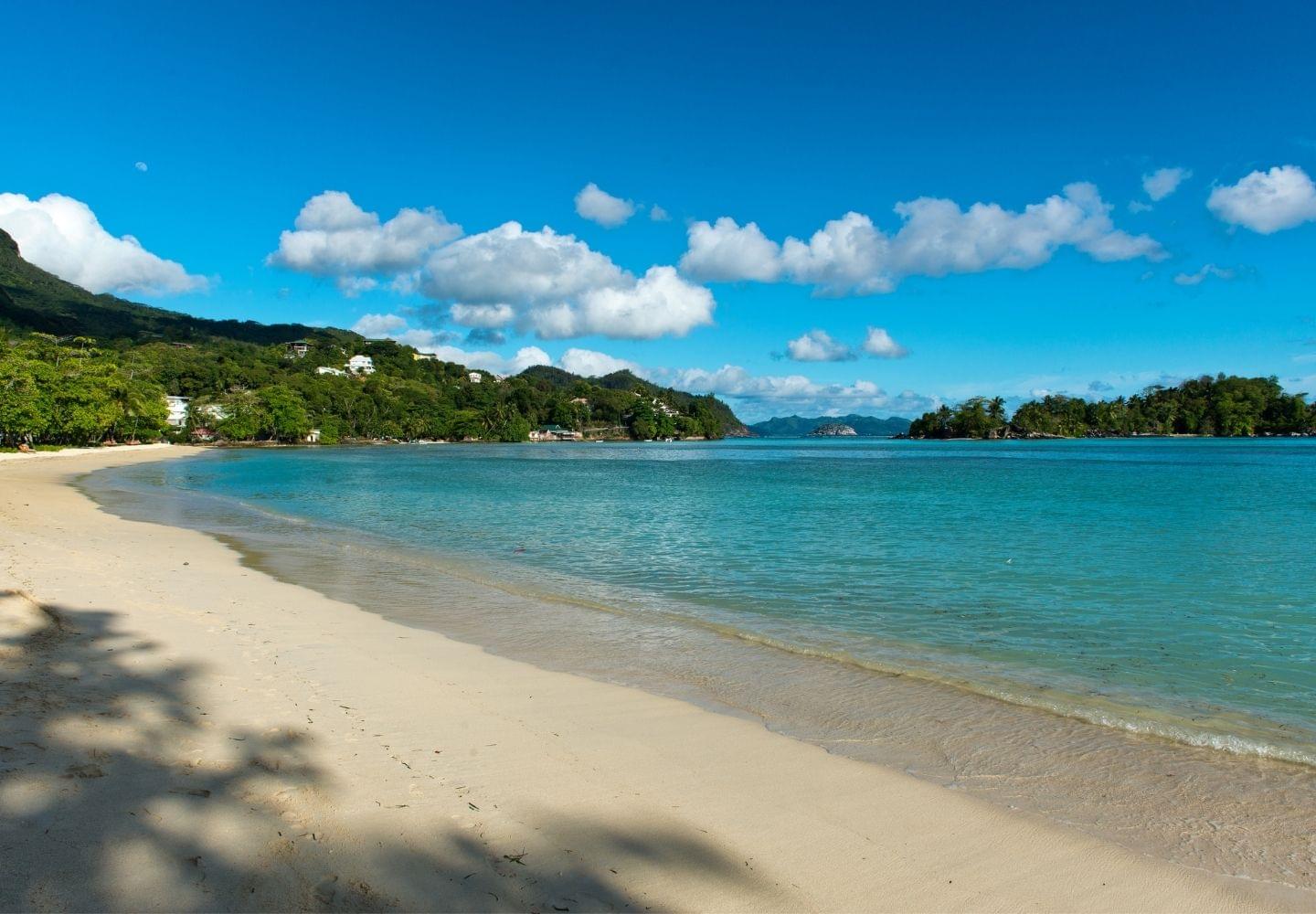 Near Soufriere on the southern side of the island, Anse Chastanet Beach is one of the best places in St. Lucia to explore the underwater world. The gorgeous beach offers views of the Pitons, St. Lucia's twin volcanic peaks, and easy access to a coral reef.
This site is suitable for beginners and experienced snorkelers and is a top location for scuba diving in St. Lucia. The Anse Chastanet Reef is marked with buoys, making it easy to find and safe for snorkelers since boats are prohibited from entering the roped-off area.
Parts of the bay are protected as a marine reserve, which contributes to healthy sea life. If you want to explore the marine reserve, head to the snorkeling area at the south end of the bay.
Snorkelers at Anse Chastanet can view squid, corals, sponges, moray eels, and reef fish, including sergeant majors, trumpetfish, French angelfish, and parrotfish. It's also possible to spot sea turtles here, although they are rarer in St. Lucia than many other Caribbean snorkeling destinations.
If you're not staying at the Anse Chastanet Resort or Jade Mountain Resort in the bay, you can take a half-day or full-day boat trip to Anse Chastanet from Castries or Soufriere. The area gets busy with tour boats and water taxis between around 9 am and 3 pm. Head to Anse Chastanet outside of these peak hours if you're looking for a calmer outing.
In addition to snorkeling, the bay is an ideal spot to enjoy other water sports, including windsurfing, kayaking, and stand up paddle boarding. While you're there, check out the secluded Anse Mamin Beach just to the north (about a 10-minute walk along the coast).
Anse Cochon Beach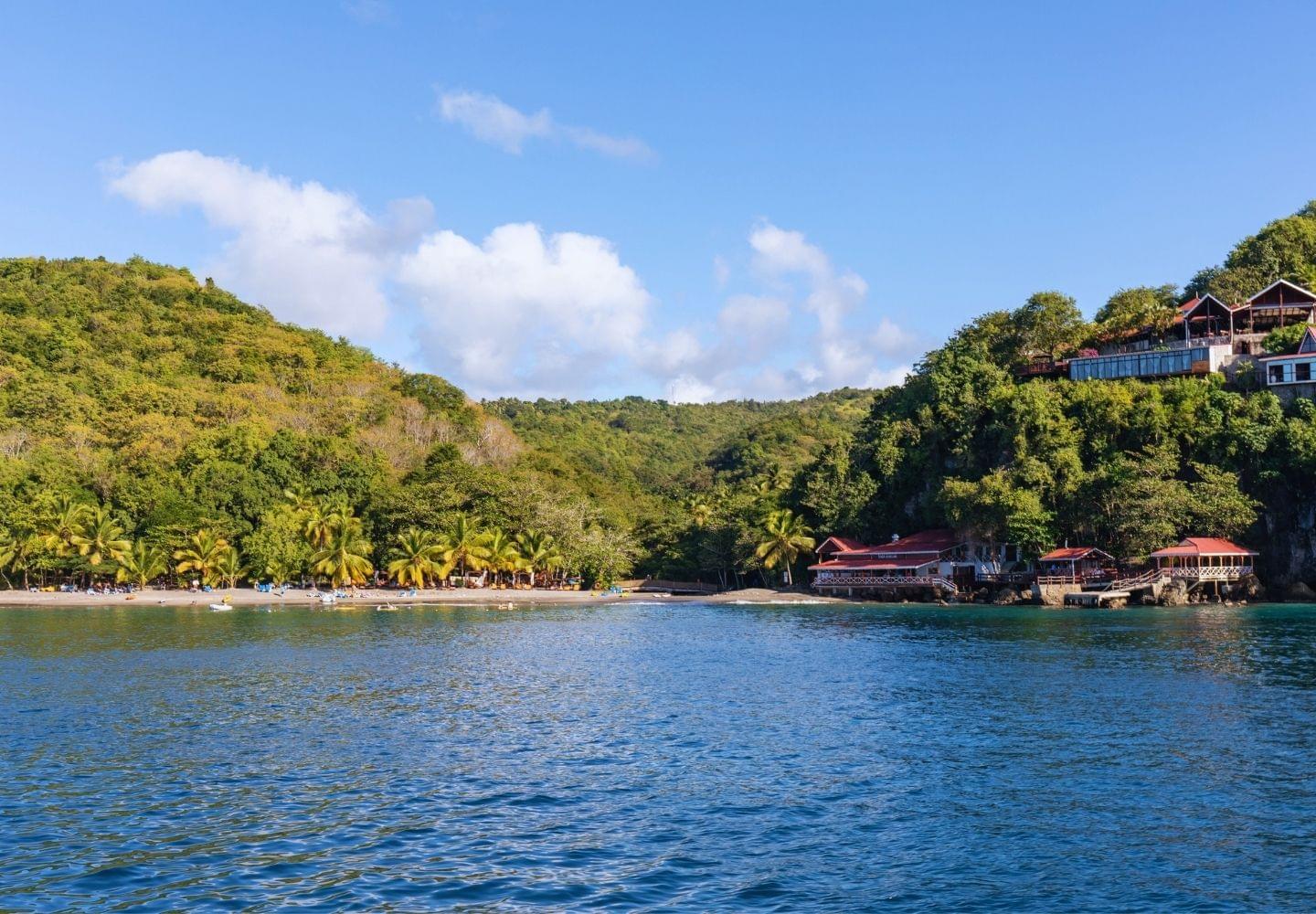 Anse Cochon Beach has beautiful scenery in and out of the water. On shore, you can relax on the dark sand and take in views of the calm cove surrounded by lush vegetation. In the water, you'll have the chance to see coral reefs, shrimp, eels, stingrays, nurse sharks, and more.
The beach is between Soufriere and Castries, next to the Ti Kaye Resort and Spa. You'll find the best snorkeling along the northern side of the bay.
You can reach Anse Cochon by boat or car, but you'll want an all-terrain vehicle capable of navigating the bumpy access roads. The beach is a popular stop on catamaran tours and can get quite busy around midday.
Anse des Pitons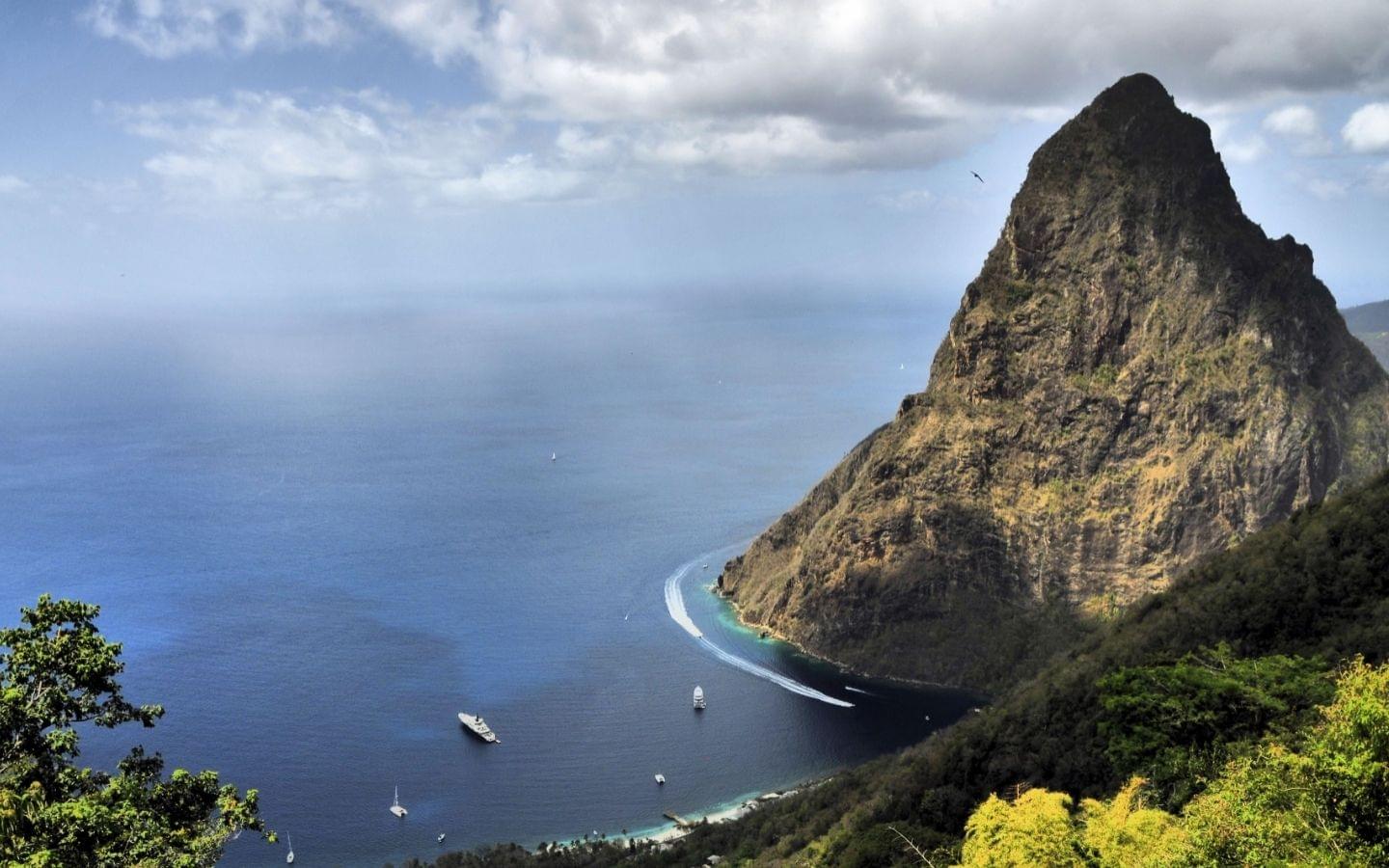 Located between the Pitons, this scenic bay is a top place to visit in St. Lucia for snorkelers and scuba divers. The towering peaks provide a beautiful backdrop to the sandy beach, and the sea here is teeming with marine life.
The best spot for shore snorkeling is Sugar Beach, also called Jalousie Beach. Head to the northern side of the bay beneath Petit Piton to access the protected marine reserve, which is marked off with ropes and buoys. If you're not staying at the Sugar Beach Resort, you can take a boat tour or water taxi or purchase a day pass to access the beach by land.
Coral Gardens at the base of Gros Piton is another excellent snorkel and dive site around Anse des Pitons. As the name suggests, the coral here is abundant, and you can spot sea whips, gorgonians, feather duster worms, and numerous reef fish. The site is accessible by boat.
Marigot Bay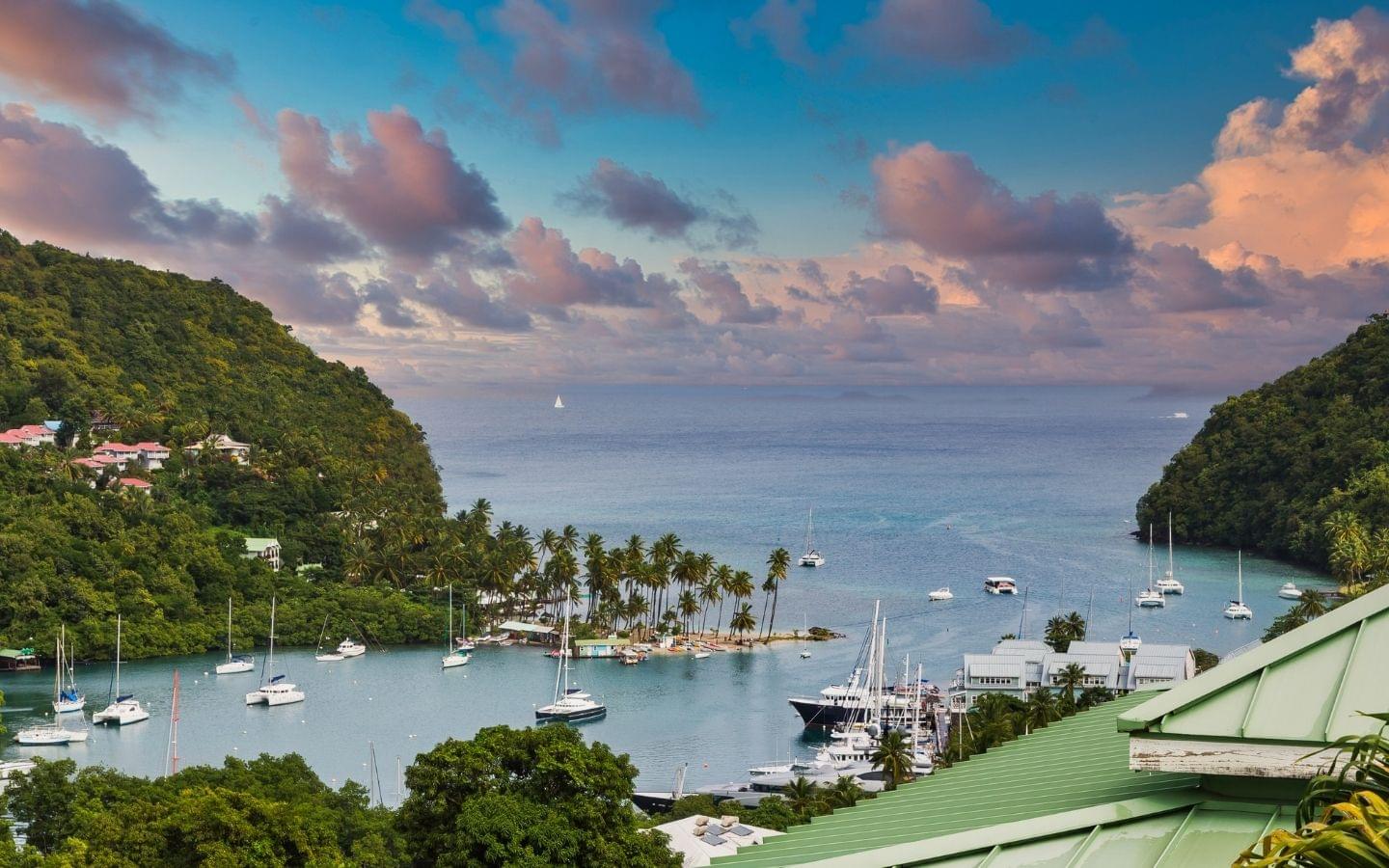 Marigot Bay on the northern side of the island is one of the most famous places in all of St. Lucia and has made an appearance in several Hollywood films. There are various restaurants and beach bars at this popular destination and activities like kayaking and boat tours.
The best snorkeling is off of Marigot Beach on the north side. The sheltered cove has shallow waters that are suitable for those new to snorkeling and children.
Although sea life is richer at some of the island's other sites, you'll have the chance to see coral formations, seahorses, and various tropical fish. More experienced snorkelers will likely be happier exploring a different spot.
Pigeon Island National Park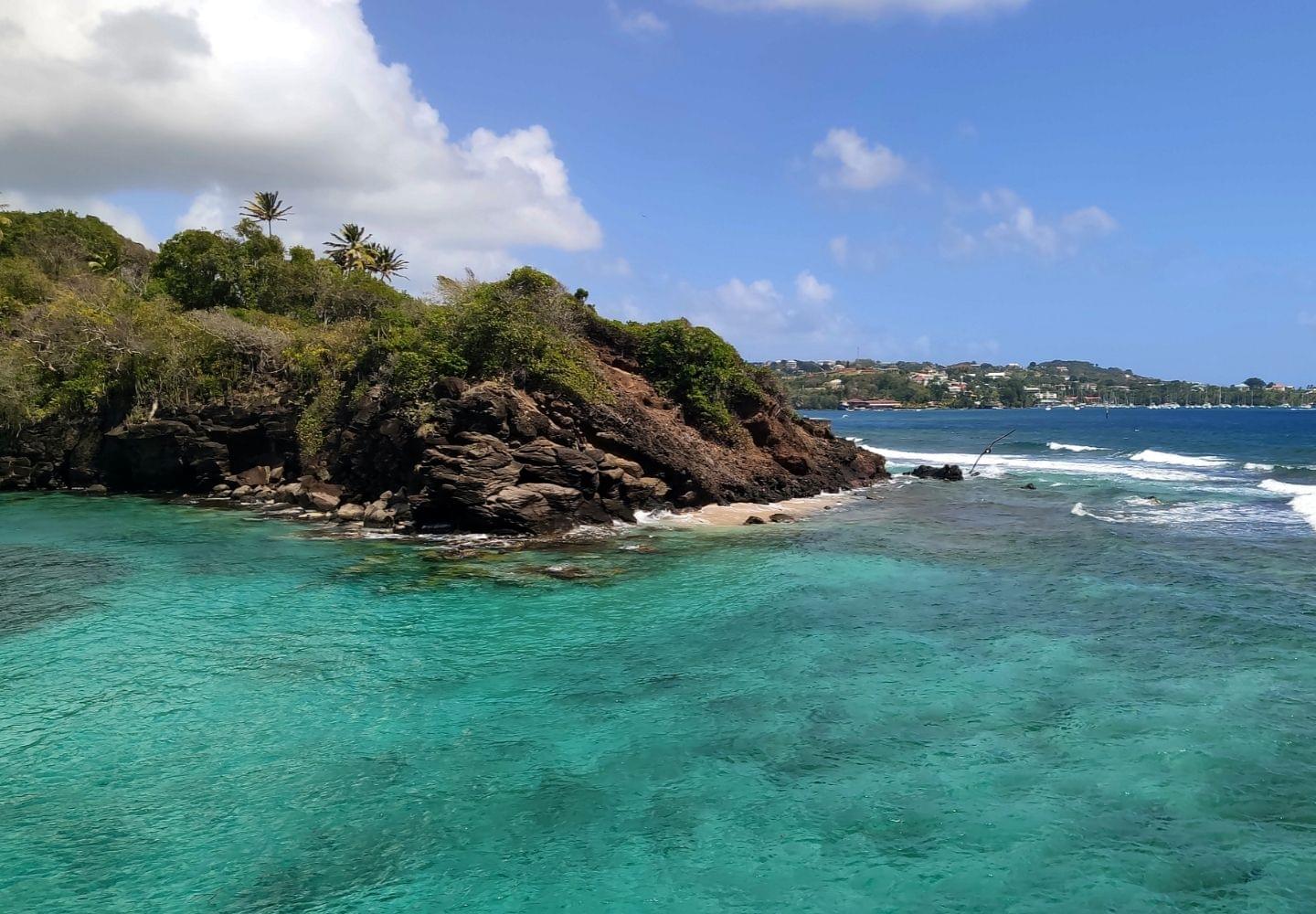 Pigeon Island National Park is a fantastic stop for snorkelers who also want to do some hiking and learn about St. Lucian history. Visitors can enjoy two beautiful beaches, military ruins, an old fort, and scenic hiking trails.
The best snorkeling starts about 15-20 feet from the beaches. Marine life in the area includes starfish, barracudas, eagle rays, moray eels, and lobsters.
Despite the name, Pigeon Island National Park is no longer an island. A man-made causeway connected it to the mainland in 1972.1 You can reach the park by taxi or walk from the Sandals Grande St. Lucian resort nearby.
There is a small fee to access the national park (US$10 for adults and US$3 for children). While you're there, hike up to Fort Rodney for a gorgeous panoramic view of St. Lucia's northwest coast.
Reduit Beach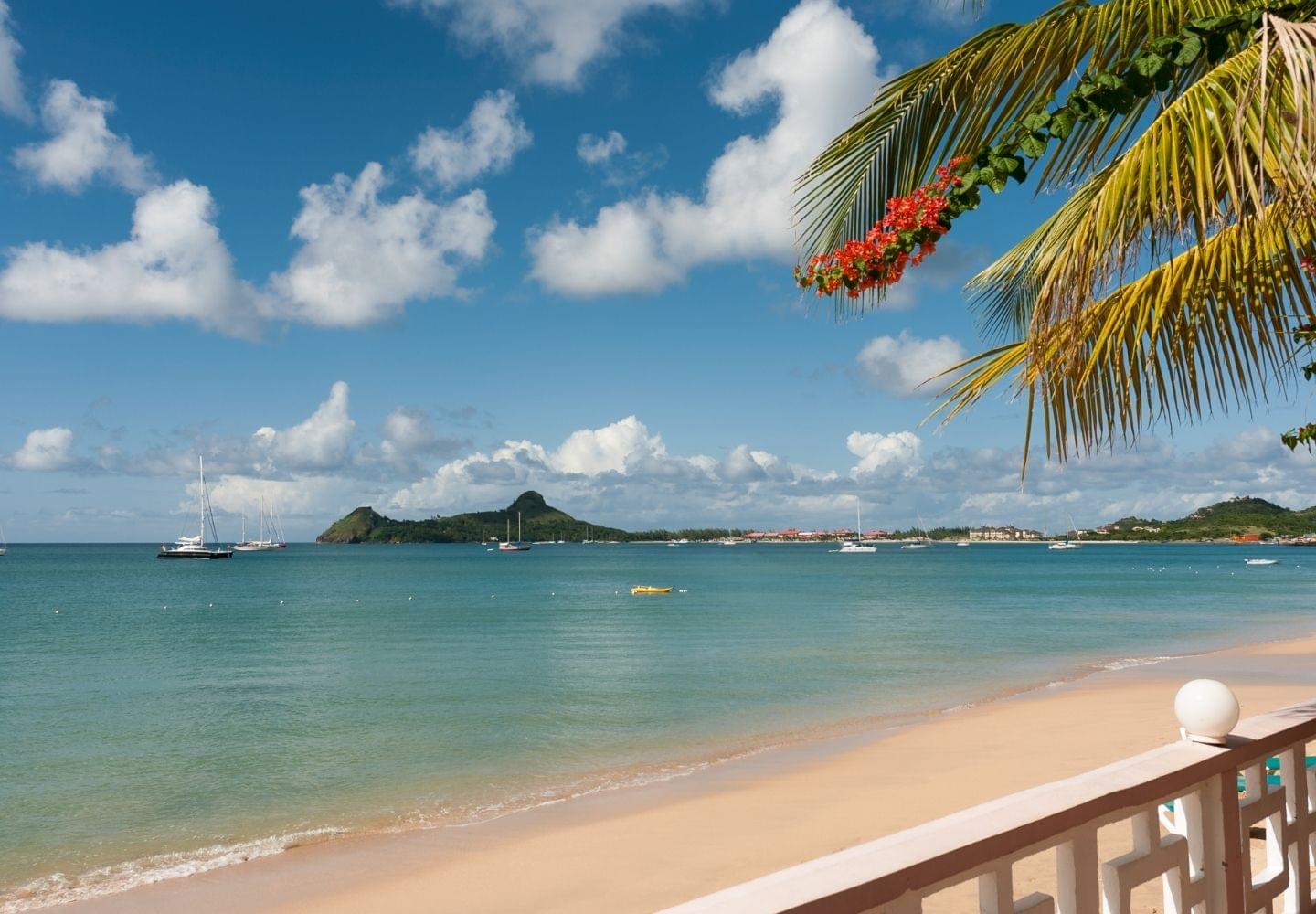 Located in the Rodney Bay area on the island's northern end, Reduit Beach offers easy shore snorkeling. The calm, clear waters and sandy bottom make this site suitable for beginners and families with children.
Marine life is more diverse and plentiful at some of St. Lucia's other top sites, but there is still plenty to see. Snorkelers at this beautiful sandy beach can view eels, crabs, and a range of tropical fish.
With a variety of amenities for tourists, Reduit Beach is an easy place to spend the day. Restrooms, showers, beach chairs, umbrellas, and water sport rentals are available on the beach, and there are many restaurants, bars, and shops nearby. The area is quite touristy and not ideal for those looking for a quiet, off-the-beaten-path spot.
Best places to stay
St. Lucia offers excellent lodging options with direct access to the island's best snorkeling sites.
Anse Chastanet Resort and Jade Mountain are two highly-rated choices just steps away from Anse Chastanet Beach and its pristine reef. The resorts provide complimentary snorkeling gear and watersports equipment and have an onsite dive center at the beach.
Ti Kaye Resort and Spa on Anse Cochon Beach is another popular hotel among snorkelers. The adults-only resort has a PADI dive center with free watersports rentals for guests and guided snorkeling trips to the Pitons and Soufriere several days a week.
Located on Jalousie Beach, the Sugar Beach Resort is nestled in a gorgeous bay between the Pitons. The scenery alone makes staying at Sugar Beach worthwhile, but the resort also has numerous amenities for snorkelers. There is a variety of watersports equipment available and a PADI dive facility for snorkelers and divers who want to explore more of the Anse Piton Marine Reserve.
Best snorkeling tours
If you're not staying at a resort with direct snorkeling access, booking a guided tour is the easiest way to experience snorkeling in St. Lucia. This full-day land and sea tour highlights St. Lucia's natural beauty, with snorkeling at Jalousie Beach and sightseeing at Sulphur Springs, Toraille Waterfall, and Soufriere Bay. If you prefer to explore more of the island's coastline, this eight-hour catamaran cruise features snorkeling in the Soufriere Marine Management Area and Anse Cochon and provides stunning views of St. Lucia's famous Pitons.
A private boat charter with snorkeling and beach time is a great way to customize your experience and visit many of St. Lucia's top snorkeling sites in a single trip. This speedboat cruise from Castries is available in half-day and full-day versions and includes snorkeling stops at Anse Chastanet Reef and Jalousie Beach.
St. Lucia snorkeling FAQ
What should I bring with me when snorkeling in St. Lucia?
At a minimum, you should bring comfortable swimwear, a mask and snorkel, and sun protection with you when snorkeling in St. Lucia. Although many beaches have places to rent snorkel gear, we recommend bringing your own equipment for the best experience. You can see our top picks for travel-friendly snorkel sets here.
Boat traffic is a potential danger at many of St. Lucia's best snorkeling spots. If you're going on your own, you'll want to bring a brightly colored snorkel vest, swim buoy, or marker flag to make yourself more visible to passing boats. You can see which snorkel vests we recommend here.
If you book a guided snorkel tour, the guide should monitor boat traffic for you, keep the group in a safe area, and provide each guest with a flotation device like a snorkel vest. However, the snorkel vests provided may be cheap or uncomfortable, and bringing your own will make your experience more comfortable.
To learn more about what to bring on your St. Lucia snorkeling adventure, check out our article about what to wear snorkeling.
When is the best time to go snorkeling in St. Lucia?
The best time to snorkel in St. Lucia is during the dry season, which lasts from mid-December to May (1). Although it's possible to snorkel in St. Lucia during the rainy season (June to early December), the water tends to be less clear. It's best to avoid planning your trip between July and October when hurricanes are most likely.
No matter when you visit, you can expect warm weather thanks to St. Lucia's tropical climate. Average high temperatures range from 84 to 87°F (29 to 31°C), and December, January, February, and March are typically the coolest months (2). Water temperatures in St. Lucia are also fairly steady throughout the year. The sea temperature reaches about 84°F (29°C) in September and October and drops to around 79°F (26°C) by February (3).
Is snorkeling in St. Lucia easy?
Snorkeling in St. Lucia is relatively easy if you don't mind taking a boat ride. Although most of the top sites have snorkeling close to shore, the mountainous landscape makes access to many of these spots simplest by boat.
As a result, these places are more challenging to get to than Caribbean destinations with numerous easy shore snorkeling sites, such as Curaçao and the U.S. Virgin Islands. Still, there are many beginner-friendly options for snorkeling in St. Lucia. The best places on the island for novice snorkelers include Anse Chastanet Beach, Sugar Beach, and Reduit Beach.
---
Resources
Last updated 17 February 2022
This blog post contains affiliate links from Viator and TripAdvisor, which means we receive a small commission on any sales made via those links.
Table of contents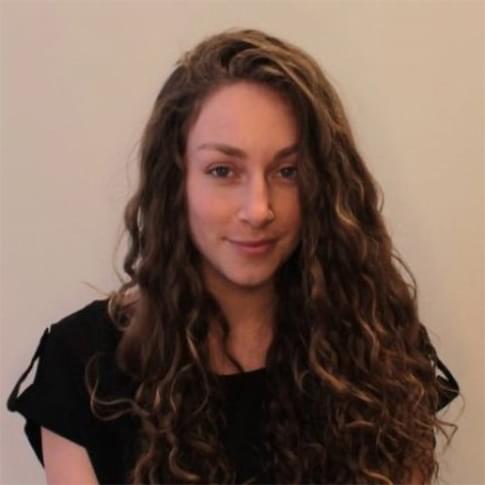 Rebecca Jambrovic