What to wear snorkeling for a fun and safe experience
---
Preparing for a snorkeling trip is very exciting, but it can feel overwhelming for beginners to figure out what to wear snorkeling.
At a bare minimum, you'll need to wear a snorkel and mask, but there are many other less obvious items that will make your outing more enjoyable. From fin socks and a snorkel vest to sun protection and a rash guard, we've got you covered with a list of everything to wear for a fun, safe, and comfortable snorkeling adventure.
Snorkeling packing list: gear to bring
Bringing the right kind of snorkeling gear can significantly improve your safety, comfort, and enjoyment while snorkeling. Here is an overview of key pieces of snorkeling equipment you should wear and what to consider when buying or renting your gear.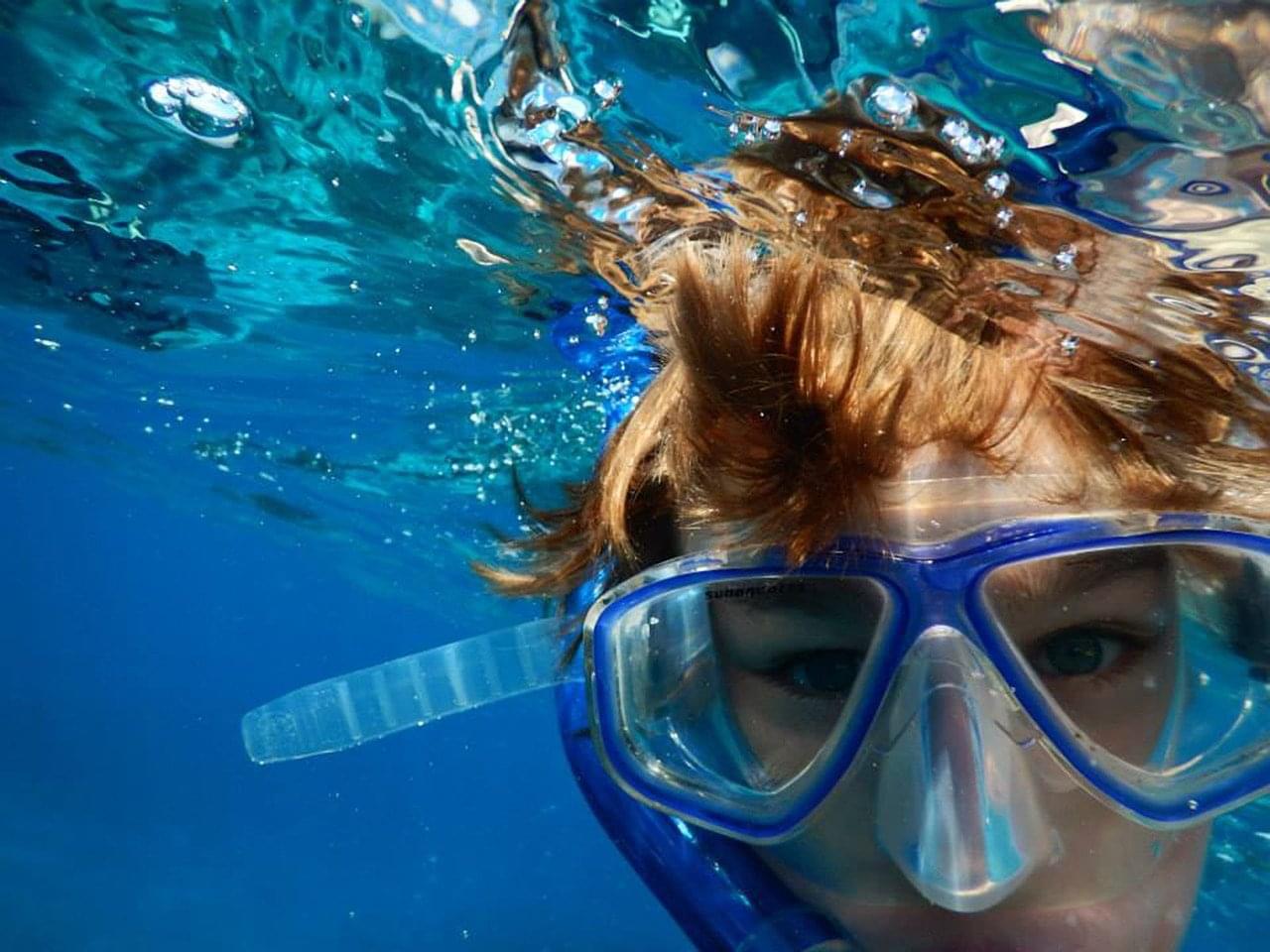 Mask
A mask is your gateway to the underwater world, making it one of the most important pieces of snorkeling gear. Wearing a high-quality mask that fits properly and doesn't leak or fog up will make your snorkeling excursion much more pleasant.
To check that your mask is the right size, gently press it against your face and inhale through your nose. It should suction to your face without feeling too tight.
If you purchase a new mask for your trip, you'll need to pre-treat it to prevent fogging. Complete instructions for preparing your mask for first-time use are available in our post about cleaning and maintaining snorkeling gear.
Snorkel
The snorkel is another crucial piece of snorkeling gear. Choosing a snorkel with a comfortable silicone mouthpiece will help reduce jaw fatigue and allow you to stay in the water longer. You should also look for features including a splash guard to prevent water droplets from entering the tube and a purge valve to more easily clear any water that does happen to get in.
If it's your first time snorkeling, consider using a dry snorkel to help you avoid swallowing water. Dry snorkels prevent water from filling the breathing tube when the snorkel is submerged, making them an excellent choice for beginners. Check out our post about dry snorkels to learn more about how they work and whether a dry snorkel is right for your next outing.
Fins
While fins aren't required for snorkeling, they are particularly useful for beginners and can help you glide through the water with less effort. Fins should fit snugly without feeling overly tight. You don't want them to be floppy, but it's also important that they're not pinching you anywhere.
Snorkeling fins have a smaller blade than those used for scuba diving and freediving, but if you're flying to a snorkeling destination, they still may be difficult to pack in your luggage. You can either snorkel without the fins, rent them upon arrival, or book a tour with a company that provides fins.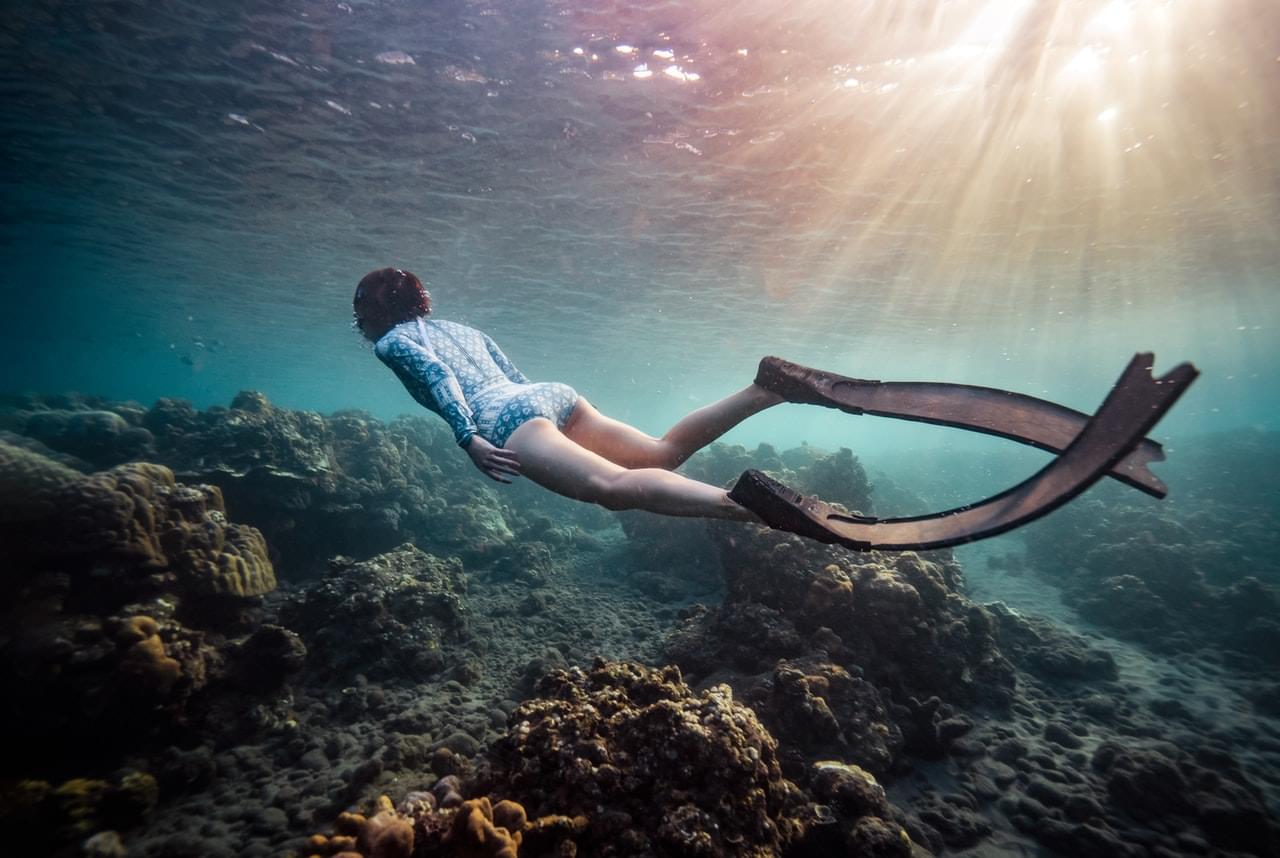 Snorkel vest
Snorkel vests are the best flotation devices for snorkeling because they keep you afloat while still allowing you to swim with your face submerged. Wearing a snorkel vest can make your snorkeling experience safer, more relaxing, and more comfortable.
This piece of equipment is crucial for non-swimmers and will make it significantly easier for new snorkelers to maintain proper body positioning in the water. Even if you are a confident swimmer, snorkel vests will help keep you safe in an emergency, such as strong current, a jellyfish sting, or a medical problem.
Snorkel vests also improve visibility thanks to their bright colors, and wearing one of these flotation devices will make it easier for passing boats to see you.
Learn more about what makes snorkel vests the best flotation device for snorkelers here.
Fin socks or snorkeling booties
Snorkeling fins—even high-quality ones—can cause blisters, especially in the area around the heel. Wearing neoprene socks or snorkeling booties under the fins can help prevent blisters and hot spots from forming.
Socks and booties have the added benefit of keeping your feet warm in cool water. Booties can also protect your feet from sharp objects like rocks, shells, and sea urchins that you may encounter when getting in and out of the water.
If you decide to skip the fins, consider wearing a pair of water shoes or snorkeling booties to protect your feet.
Wetsuit
Most wetsuit manufacturers agree that a wetsuit is not necessary in water temperatures above 72. If you're planning to go snorkeling in a tropical area, it's unlikely that you'll require a wetsuit.
In cooler waters, however, you'll need to wear a wetsuit to stay safe and comfortable while snorkeling. This could range from a neoprene top, springsuit, or shorty (wetsuits that don't provide full coverage) in milder temperatures to a full wetsuit with booties and gloves in cold waters. Research the water temperatures where you'll be snorkeling ahead of time and check with a dive shop or wetsuit manufacturer to see what kind of wetsuit they recommend for the conditions.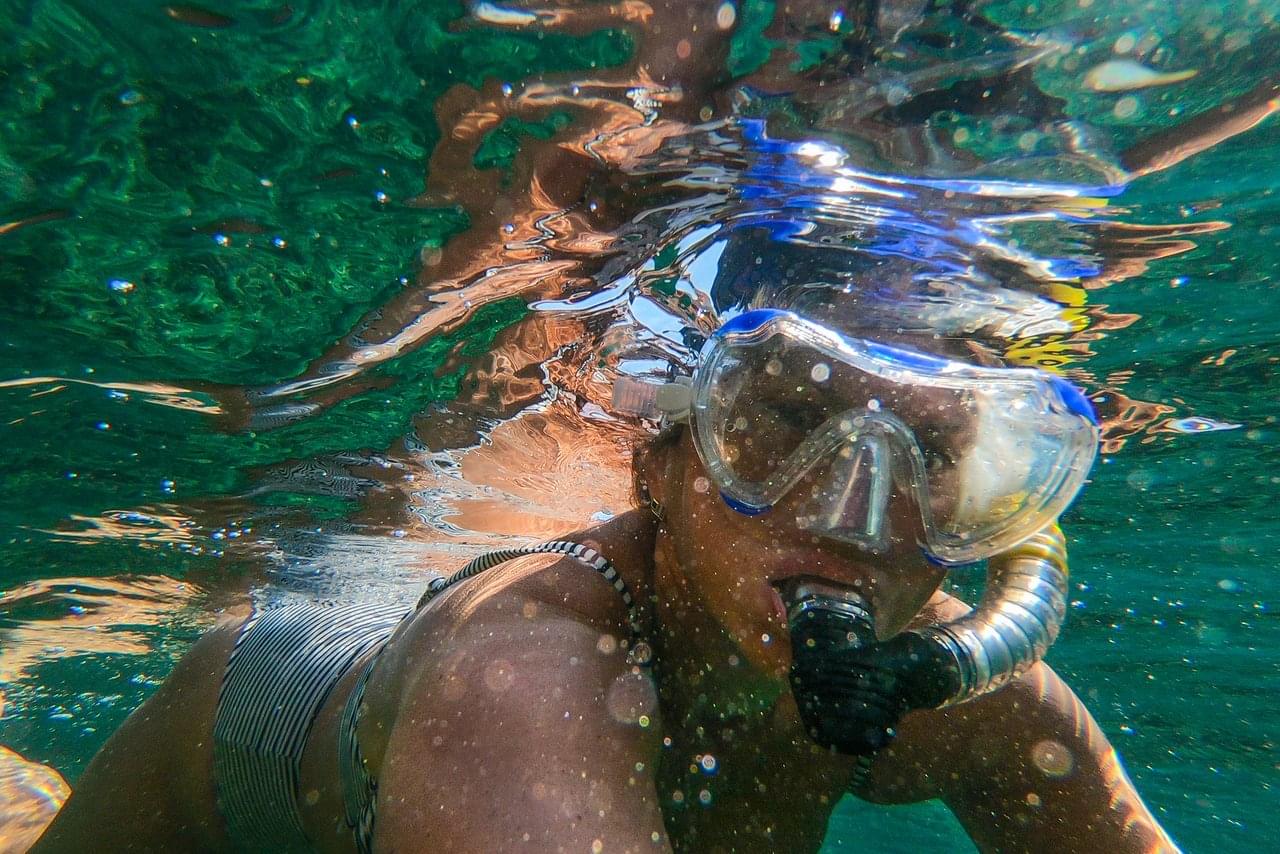 Sun protection
Since snorkeling involves spending numerous hours in the sun, UV protection is critical to staying safe and avoiding sunburn. Sun protection is especially vital if you're snorkeling in a tropical area, such as Hawaii or the Caribbean.
Unfortunately, many sunscreens contain chemicals that endanger marine life. Follow these steps to make sure you're protected from the sun without causing damage to the aquatic ecosystems you're visiting:
Wear clothing with an Ultraviolet Protection Factor (UPF) rating of at least 30 and ideally 50+ to significantly reduce your risk of sunburn and skin damage from UV rays.1
Make sure to wear a reef-safe sunscreen on any skin that's exposed. Pay extra attention to the back of your body since you'll be floating facedown.
Look for a reef-safe label or check the ingredients and make sure it doesn't contain oxybenzone, octinoxate, or other chemicals known to harm coral reefs and sea creatures.2 These chemicals cause so much damage to marine life that places like Hawaii, Key West, the US Virgin Islands, Bonaire, Palau, and certain locations in Mexico have banned their use.3
Clothing and accessories to bring
The clothing you wear for your snorkeling adventure can mark the difference between a fun outing and an uncomfortable experience. We'll go over the basics of what kinds of clothing and accessories you should bring snorkeling to have a great time while remaining safe and comfortable.
Swimsuit
While it's possible to snorkel in any kind of swimwear, certain types are much more practical than others. Most men find that fitted boardshorts with a secure drawstring work just fine.
For women, it's best to wear a form-fitting and secure swimsuit. Women may wish to avoid wearing a string bikini when snorkeling because the ties can get caught on things in the water and easily come undone. Any kind of swimsuit with a skirt is not well-suited to snorkeling since the fabric can float up and obstruct your view of marine life below.
Some women opt for a swimsuit with more coverage, such a one-piece, while others prefer a sports-bra-style swim top and secure bottoms. Whatever kind of swimwear you choose, make sure it's comfortable and fits you well so that you don't have to worry about it once you're in the water.
Boardshorts
Many women layer boardshorts over their swim bottoms for added sun protection. This also helps prevent swimsuit bottoms from riding up, especially when wearing a snorkel vest with a crotch strap.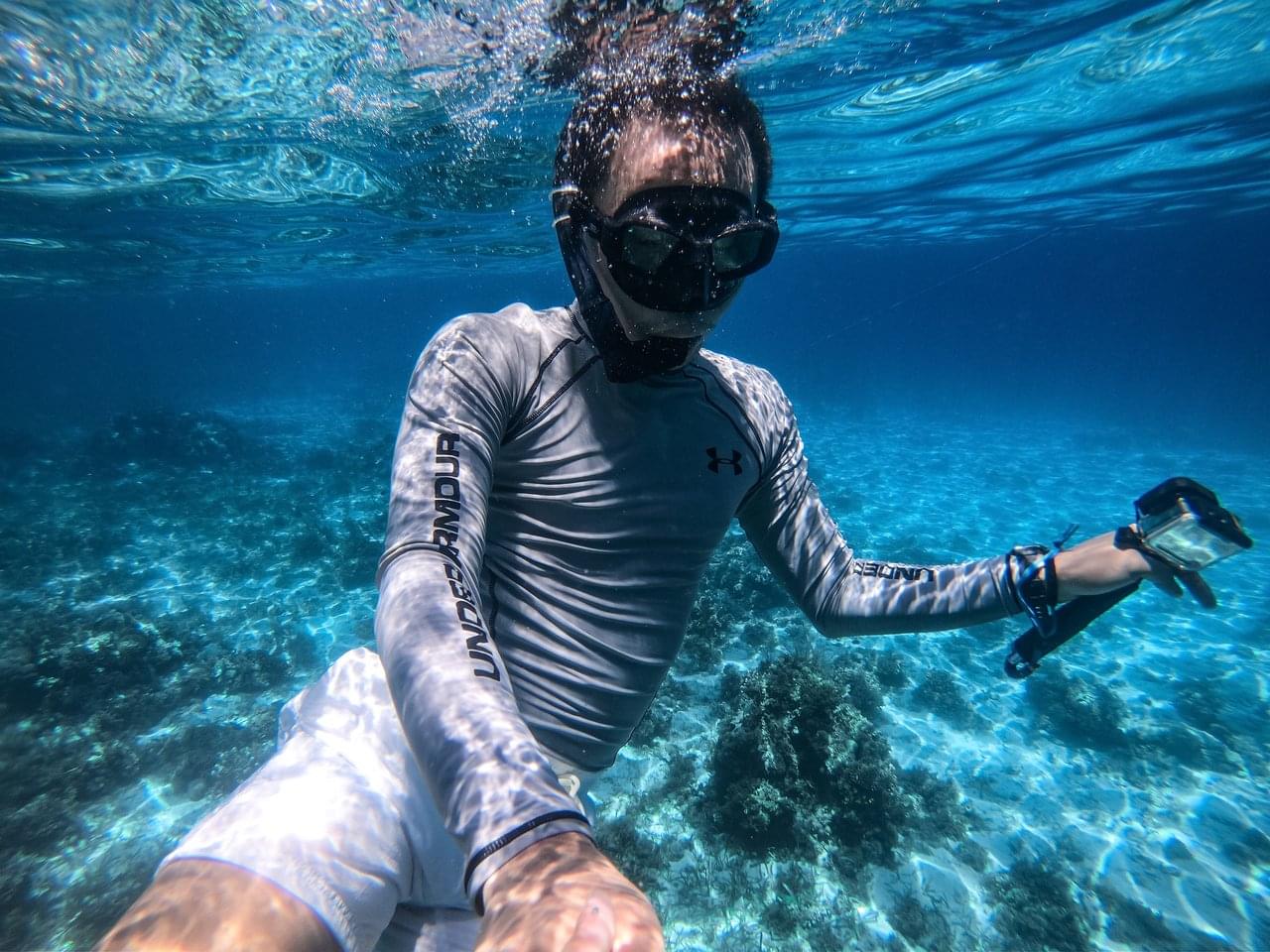 Rash guard
Rash guards are available in short-sleeve and long-sleeve styles with varying thickness for use in diverse conditions. A long-sleeve rashguard will provide the most protection from the sun, as well as other potential hazards like jellyfish stings and skin irritation from a snorkel vest. When possible, choose a bright color to increase your visibility in the water.
A lightweight, synthetic t-shirt with a UPF rating will work fine for UV protection, but won't provide much in the way of warmth.
Bandana or other headwear
If you have thin or no hair, try wearing a bandana, Buff, or other breathable, fast-drying headwear to protect your scalp from the sun. Many of these accessories are available with a 50+ UPF rating for extra protection.
Headband, swim cap, or hair ties
If you have longer hair, bring extra hair ties and consider using a swim cap or headband. You'll want to keep the hair securely tied so that it doesn't interfere with the seal on your mask or obstruct your view of marine life.
Waterproof pouch
Depending on where you're going snorkeling, you may want to avoid leaving any valuables on the beach while you're in the water. Bringing a small waterproof pouch with an adjustable strap to hold your valuables is a great solution. You can wear this pouch around your waist like a fanny pack and avoid worrying about theft.
---
What's provided on a guided snorkel tour?
If you're going on a guided snorkeling trip, some of the essential gear will be provided for you. However, you'll still be responsible for various items that are crucial for comfort, like sun protection and appropriate clothing.
At a minimum, snorkeling tour companies provide guests with a snorkel and mask. Some companies use separate masks and snorkel tubes, while others use full-face snorkel masks. Many companies also provide fins and a snorkel vest, and those operating in areas with cooler waters will give guests wetsuits.
Depending on the company, the gear may be cheap, uncomfortable, or ill-fitting. As a result, some people prefer to bring their own equipment when going on a guided snorkeling excursion.
Bringing your own gear will ensure it fits you properly and feels comfortable in the water. That way, you can relax, have fun, and enjoy the underwater views without worrying about your gear hindering your snorkeling experience.
If you wear glasses and have a prescription snorkel mask, you should bring your own equipment since the tour company may not offer prescription masks.
Before the trip, check with the tour operator to see what they provide and refer to our packing list above to ensure you have everything you need to wear for an enjoyable trip.
Conclusion
Whether you're heading to Oahu, Grenada, or Bali, being prepared for your snorkeling trip will help make sure it's memorable for all the right reasons. Wearing high-quality snorkeling gear, adequate sun protection, and comfortable clothing that's appropriate for the water temperature will go a long way in ensuring you stay safe and have a great time.
---
References
"Sun-Protective Clothing." Skin Cancer Foundation, reviewed by Elisabeth G. Richard, MD, June 2019, skincancer.org. ↩

"Skincare Chemicals and Coral Reefs." National Ocean Service, oceanservice.noaa.gov. ↩
Last updated 29 June 2021
Table of contents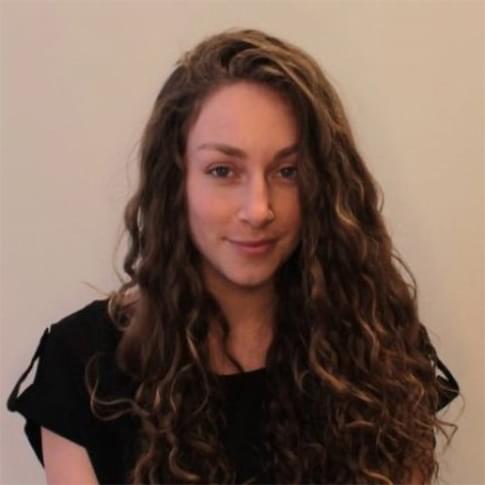 Rebecca Jambrovic