Best travel snorkel gear: Quality snorkel sets for every budget
The Cressi Palau SAF set is a dependable, travel-friendly gear bundle that's perfect for beginner to intermediate snorkelers. New snorkelers on a budget may prefer the basic Seavenger Aviator set, while those willing to spend more for a superior underwater view can try the Cressi Panoramic set.
---
If you're looking to buy travel-friendly snorkeling gear for an upcoming trip, you're in the right place. We've selected three of the best snorkel sets for travel, each of which includes a mask, snorkel, fins, and bag.
These sets are perfect for beginner to intermediate snorkelers looking to save time and money by purchasing a bundle of gear all at once. If you already have some equipment and are just looking for a single piece of gear with specific features, a snorkeling package probably isn't right for you.
After comparing countless gear bundles, we've determined that the Cressi Palau SAF Snorkel Set is the best option for travel.
Top pick: Cressi Palau Snorkel Set
The Cressi Palau SAF is a solid snorkel set that has withstood the test of time. The straightforward design and dry-top snorkel make this set great for beginners as well as intermediate snorkelers.
While there are cheaper snorkel sets available, the travel-friendly Cressi Palau short fin set offers excellent value for money and strikes the right balance between quality, affordability, and durability. The set comes with Cressi's Supernova Dry Snorkel, Onda mask, open-heel short blade fins, and a carry bag.
The short fins make this snorkel set ideal for travel. However, there is a long fin version at Amazon available if you want the additional propulsion power or plan on using the fins for freediving or scuba diving in addition to snorkeling.
Budget pick: Seavenger Aviator Snorkeling Set with Gear Bag
If you just want an affordable snorkeling set to use on vacation, the Seavenger Aviator is a no-frills bundle of equipment that won't take up too much space or weight in your suitcase.
At only around $40, the Seavenger Aviator is a great option for those who want to avoid renting snorkeling gear on their trip, but who aren't sure how much use they'll get out of the equipment in the long run. The set includes a beginner-friendly dry-top snorkel, mask, short fins, and mesh carrying back that together weigh only two pounds. With a wide range of sizes available, this set will work for youth as well as adults.
High-end pick: Cressi Panoramic Snorkel Set
If you're willing to spend more for some additional features and accessories, the Cressi Panoramic Snorkel Set will provide you with a superior view of the underwater world and enhanced comfort. At three pounds, the set is slightly heavier and less compact than our other two picks, but snorkelers looking for longer fins and an uninhibited view will find it's worth the extra space in their luggage.
How to choose snorkeling gear for travel
The best snorkel gear on the market isn't always the easiest to travel with.
Like all snorkeling equipment, the best travel snorkel gear should be high-quality, comfortable, durable, and user-friendly. However, gear that's ideal for traveling must also be compact and lightweight. We chose these sets as our top picks for travel because of their strong performance in all of these categories and overall value.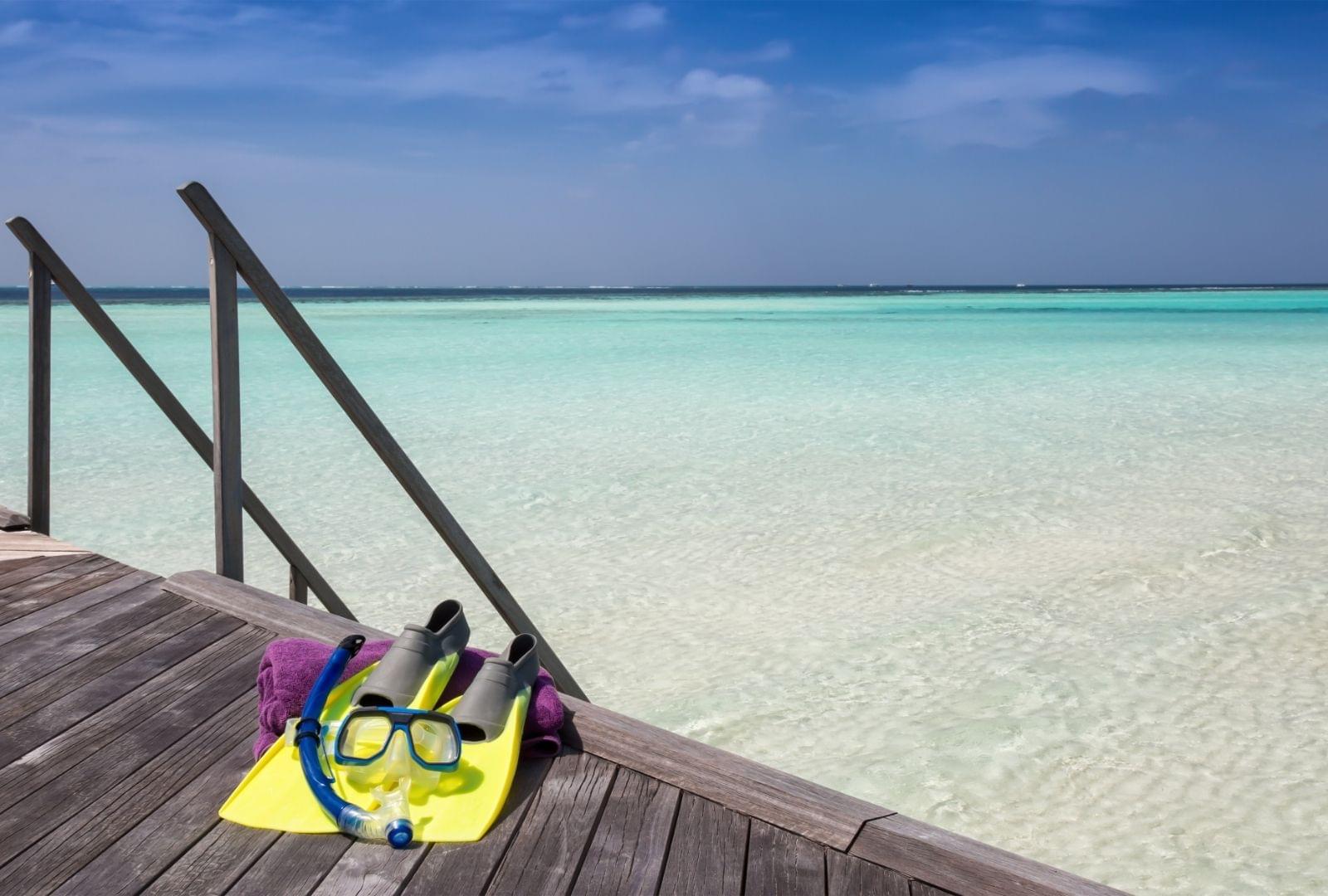 Here are the most important things you should look for when selecting snorkeling equipment for your trip:
Quality materials: High-quality materials make equipment more comfortable and durable and provide a better fit and overall experience.
Comfort and fit: A leaky mask or floppy fins can turn a fun snorkeling outing into a frustrating experience. Choose gear that fits you well and feels comfortable even after hours of wear.
Durability and longevity: The best snorkeling gear will last for years.Even if you're just planning to use the gear for a single trip, you'll want to invest in equipment that will survive the journey to your destination and provide consistent quality while you're there.
Affordability and value: While everyone has a different budget, people tend to be most satisfied with gear that provides the most value for money.
Lightweight and compact size: Smaller and lighter weight gear is significantly easier and more convenient to travel with.
Ease of use: Choosing user-friendly equipment means less time spent figuring out how to use your new gear and more time having fun in the water.
Renting vs. buying equipment
Deciding whether to rent or buy their gear is a dilemma many traveling snorkelers face. Renting equipment saves space in your luggage and is more economical if you only plan on snorkeling once or twice on vacation. However, buying your own snorkeling gear will provide you with a better and consistent fit, increased comfort, and a more relaxing snorkeling experience.
Depending on where you're going, there may not be many places to rent quality snorkeling gear. Bringing your own equipment will save you the step of finding a dive shop or gear outfitter at your destination.
Additionally, the Covid-19 pandemic has made many people apprehensive of sharing equipment like snorkels with others. While reputable tour operators and gear rental companies clean and sanitize snorkeling equipment between uses, many people will feel more comfortable using their own gear.
Some tour operators and gear outfitters have taken extra precautions and no longer provide guests with snorkeling equipment because of Covid. Bringing your own equipment is therefore the best option for a worry-free snorkeling experience.
FAQ
What are the benefits of buying a snorkeling set?
Buying a mask, snorkel, fins, and mesh bag together can save you money and time. Brands offer competitive pricing on bundles and group together masks and snorkels that pair well with one another.
While more advanced snorkelers may have specific features that they're looking for in each piece of gear, beginners will likely find it useful to choose a set that gets them started with all the essential equipment at once.
What's the best way to clean, maintain, and store snorkeling equipment?
It's best to rinse your gear with fresh water as soon as you finish snorkeling and let it air dry away from direct sunlight. Make sure all equipment is completely dry before storing it, and keep it in a dry, well-ventilated area away from direct heat and sunlight.
To clean the equipment more thoroughly, soak it in warm water with a gentle soap or dish detergent for at least a few minutes and then gently wipe away any debris. Rinse the equipment well and allow it to air dry in the shade.
If you want to learn more, we've provided detailed instructions for cleaning masks, snorkels, fins, wetsuits, and other gear here.
How long does snorkeling gear last?
With proper care, storage, and maintenance, quality snorkeling gear should last at least three to five years, although many people can safely use their equipment for much longer.
You should check your gear regularly for signs of wear and tear. If you see any damage, such as tears on the mask strap, snorkel mouthpiece, or flex tube, then it's time to replace your equipment.
What is a dry snorkel?
Unlike semi-dry snorkels and wet snorkels, dry-top snorkels have a float valve mechanism that keeps water from entering the breathing tube when the snorkel is submerged. This feature is especially useful for beginners since it helps them avoid accidentally swallowing water while snorkeling.
If you'd like to learn more about the benefits of using a dry snorkel and how they work, we've covered this topic in-depth here.
How do I know what size to order?
If ordering your snorkeling gear online, check the manufacturer's size charts to determine what size is best for you and contact the seller with any questions. It's also a good idea to check the return policy and ensure you'll be able to return or exchange your gear if you run into any sizing issues.
Once you've received your gear or if you're trying it on in a store, follow the instructions in our article here to make sure the mask, snorkel, and fins fit you correctly. As a general rule, snorkeling gear should fit snugly without feeling overly tight or uncomfortable.
FAQ sources
"How to Know When to Replace Your Dive Gear." PADI, Blog.padi.com.
---
Detailed product reviews
Top pick: Cressi Palau Snorkel Set
Cressi has been producing quality snorkeling gear since the company's official founding in 1946 in Genoa, Italy, making it the oldest scuba diving and snorkeling equipment company in the world.1
The company's Palau Short Adjustable Fin (SAF) Snorkel Set is a bundle of quality snorkeling gear that provides excellent value for money and includes a two-year limited warranty.
Mask
The Onda mask has been around for many years, with few changes to the design. While it lacks the panoramic view offered by some higher-end models, it has withstood the test of time as a solid low-profile mask that, when fitted properly, won't leak or fog up.
The single-lens mask features a hypoallergenic silicone skirt that provides a comfortable, watertight seal. Because the mask skirt is transparent, it lets in additional light and reduces feelings of claustrophobia many first-time snorkelers experience. The single tempered glass lens offers excellent visibility thanks to its angled design, which provides snorkelers with a great view of the seafloor below them.
The scratch-resistant plastic frame has integrated strap clips that are easily adjustable and incredibly durable. Users also love the mask's quick-release mechanism that detaches the snorkel with one click.
Snorkel
The set's Supernova Dry Snorkel is one of the best value dry-top snorkels on the market. The top valve seals as soon as the snorkel is submerged to help keep you from swallowing water, with an effective splash guard offering extra protection.
There are many features for enhanced comfort, longevity, and ease of use. For example, the mouthpiece is made of soft, durable silicone to prevent jaw fatigue and can be replaced if it wears out. The tube also has a wider bore shape, which boosts airflow capacity and makes it easier to breathe through the snorkel, a feature that beginners find particularly beneficial.
Some users warned that the float valve jammed easily in sandy water; however, simple snorkel gear care and maintenance should prevent it from clogging up.
Fins and accessories
Cressi's short Palau Rondine fins are lightweight, measure only 17 inches long, and are easy to travel with. Despite their small size, the Palau fins offer excellent propulsion and will help you glide through the water with ease.
The open-heel fins are designed for use with bare feet, but you can also wear neoprene socks under these without a problem. The foot pocket and adjustable heel straps are made of durable rubber that users generally agree is very comfortable.
However, the snorkeling fins include one of this set's main weaknesses. Some reviewers warned that the fin straps aren't as easily adjustable as advertised and that it can be challenging to tighten them all the way.
Reviewers also cautioned that the nylon carrying bag included with this set is great for travel but not very breathable. While there is a drainage hole in the bottom, some snorkelers may prefer to purchase a fully mesh bag to dry their gear more efficiently.
Bottom line: Cressi's Palau Short Fin Set is a dependable collection of equipment that beginners and intermediate snorkelers can trust to provide them with a solid snorkeling experience at a fair price.
Budget pick: Seavenger Aviator Snorkeling Set with Gear Bag
If affordability is your biggest priority, then the Seavenger Aviator is a quality snorkel gear set at an excellent price. The set has over 1,000 five-star reviews and is a popular choice among traveling snorkelers.
Because the Aviator set is available in sizes ranging from XXS/XS to L/XL, it's suitable for adults, teens, and larger children. The packed kit weighs only two pounds, making Seavenger's the lightest set on our list.
Although it lacks the Cressi Palau's time-tested quality and enhanced comfort, the Aviator still provides excellent value.
Mask
Thanks to its large, single-window lens, the Seavenger snorkeling mask provides improved peripheral vision underwater and great visibility. The soft silicone skirt allows for a comfortable seal around the face, while swivel buckles and an adjustable strap offer a customized fit.
According to Seavenger, the lens on this mask is made of scratch-resistant and shatter-proof tempered glass; however, a few users reported the lens broke during transport or after dropping the mask. This single-window mask also appears to be less resistant to fogging than higher-end models. You can use spit or a commercial anti-fog solution on the lenses before you head out into the water to prevent fogging.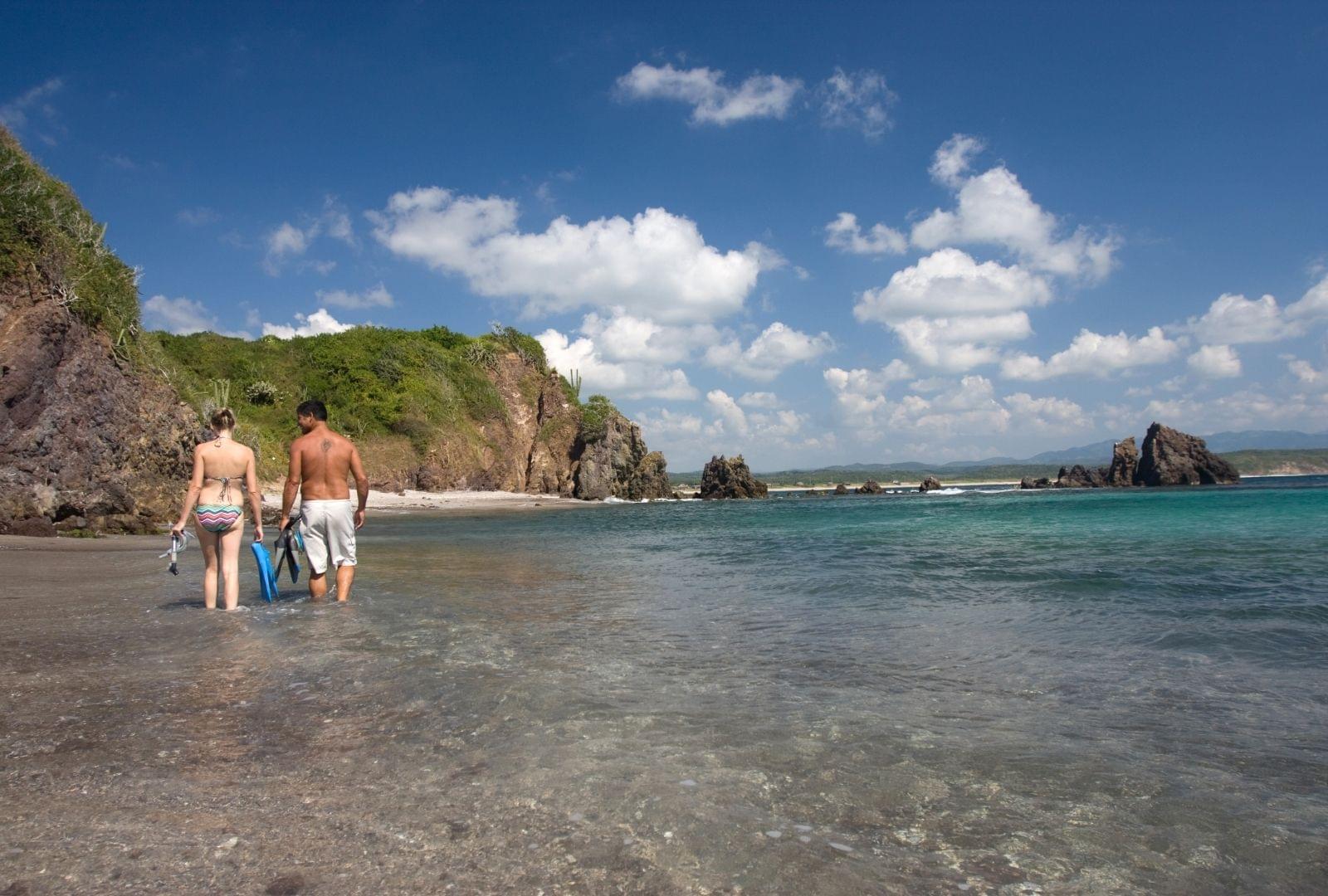 Snorkel
This beginner-friendly snorkel features a splash guard and dry top to prevent water from entering the tube, as well as a one-way purge valve to let out any water that does get in. There is also a soft silicone mouthpiece and flexible tube for added comfort and adjustability.
Some users reported issues with the snorkel's float valve engaging when it wasn't necessary and cautioned others to ensure they attach the tube to the mask at the right angle.
Fins and accessories
Seavenger's short, 16-inch snorkel fins are lightweight, easily packable, and some of the most travel-friendly fins available. Because the fins are small, rigid, simple to use, and easy to walk in, they work great for new snorkelers.
The fins have heel straps with adjustable buckles to suit a range of foot sizes. While you can wear them with bare feet, many reviewers warned that the materials feel sharp or uncomfortable around the ankles and suggested using fin socks for increased comfort. Users also cautioned that the fins were too narrow to use with snorkeling booties.
The set comes with a quick-dry mesh bag, making it easy to rinse, dry, and store your gear.
Bottom line: This affordable set is best for new snorkelers who want to use their own gear while snorkeling on vacation, but aren't sure how much they'll use it long-term. The set is incredibly lightweight and excellent for travel, but there are higher quality snorkel sets available for those willing to spend more.
High-end pick: Cressi Panoramic Snorkel Set
This high-quality set is a great option for snorkelers willing to spend more for additional features and accessories. Like most of Cressi's equipment, the set includes a limited two-year warranty. Because of the larger fin size and comfortable, durable mask, the Cressi Panoramic Snorkel Set is also an excellent choice for snorkelers who want to use their mask and fins for scuba diving.
Mask
The Liberty Triside wide view silicone mask allows in maximum light and makes the user feel as though they're not wearing a mask at all. To achieve this effect, the mask uses a single tempered glass lens on the front, plus two additional lenses on the side that provide a panoramic view.
The quality mask also features a lightweight, durable polycarbonate frame and quick-adjust swivel buckles. Because the dive mask is easy to adjust even while wearing gloves, it's a great choice for scuba divers as well as snorkelers.
The soft skirt is made of hypoallergenic silicone and provides an excellent, leak-proof seal on various face shapes and sizes.
Some reviewers warned that the mask was uncomfortable for those with large noses and that the design makes it challenging to pinch your nose to equalize pressure underwater. Still, most users didn't experience any issues.
Snorkel
Cressi's Tao Dry Snorkel is comfortable and easy to use and offers consistent performance. The snorkel features a highly effective splash guard and float valve to keep water out, as well as an easy-to-use one-way purge valve at the bottom.
Since they're made of high-quality silicone, the mouthpiece and flex tube are both comfortable and durable and help prevent jaw fatigue. There is also an adjustable snorkel keeper with a quick-release button to easily attach and detach the snorkel from the mask.
Like the Supernova, the Tao snorkel tube has a generous bore shape to allow for efficient air exchange, making snorkelers feel relaxed and confident.
Fins and accessories
The Palau long blade adjustable fins are the same as those included in Cressi's Palau LAF set above. At around 20 inches long, the fins provide better thrusting ability than shorter models but will take up more space in your luggage. Their flexible yet supportive construction provides good blade flexion and stability in the water.
Users report that the fins are easy to adjust and stay securely fastened in the water. The supple, rubber foot pocket allows for a comfortable fit without a fin sock or bootie. Unlike full-foot fins, this model has adjustable straps and can therefore accommodate a variety of foot shapes and sizes. These fins will also work with snorkeling booties.
The set also includes a Phantom Aquatics nylon and mesh travel backpack with a shoulder strap and a mask case to transport and protect your gear.
Bottom line: This set is ideal for beginners and more experienced snorkelers looking for a high-quality gear bundle that provides a superior snorkeling experience while traveling and at home.
---
Other things to consider
The mask, snorkel, and fins are the three most essential pieces of snorkeling gear, but there are several other types of equipment you may want to consider bringing on your snorkeling trip. These include:
Snorkel vest: Wearing a snorkel vest can make your snorkeling outing safer, more relaxing, and more comfortable and is highly recommended for beginners.
Fin socks or snorkel booties: Even high-quality fins can cause blisters. Wearing neoprene socks or snorkeling booties under your fins can help prevent this from occurring and protect your feet from coral, sea urchins, and sharp rocks or shells.
Wetsuit: Wetsuits are crucial in cold water and provide added protection from the sun and irritants in the water.
Rashguard: Even in areas with warm water, you may want to wear a rashguard to help prevent sunburn and skin irritation.
To learn more about what to wear snorkeling, check out our detailed post here.
Conclusion
If you want to use your own snorkeling gear on vacation, you can find a quality set of equipment on any budget:
Cressi Palau Snorkel Set: Our top pick is a solid gear bundle at a reasonable price and an excellent choice for most snorkelers.
Seavenger Aviator Snorkel Set: Our budget pick isn't the most durable or high-quality set out there, but it gets the job done at a low cost and is great for new snorkelers who don't want to spend much on travel snorkeling gear.
Cressi Panoramic Snorkel Set: Our high-end pick offers superior comfort and underwater visibility thanks to its panoramic mask design. It's perfect for snorkelers who don't mind the extra space and weight in their luggage and who are willing to invest more in exchange for a better experience.
No matter what snorkeling gear you decide to purchase for a snorkeling trip, make sure to test it in a pool or the bathtub at home before you go. That way, you can avoid any unpleasant surprises with functionality, fit, and performance on your trip.
---
References
"Cressi History." Cressi Professional Scuba Diving Equipment, Cressi.com. ↩
Last updated 29 June 2021
This blog post contains affiliate links from Amazon and Viator, which means we receive a small commission on any sales made via those links.
Table of contents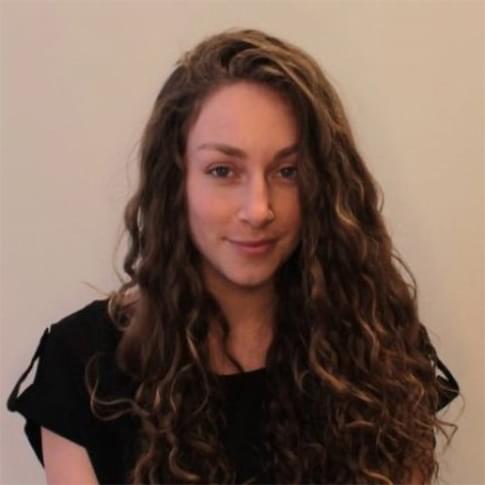 Rebecca Jambrovic