The best snorkeling in St. Vincent and the Grenadines
St. Vincent and the Grenadines is full of exciting snorkeling sites. Find out where to see vibrant coral reefs and experience a private island paradise.
---
The 32 islands and cays that comprise St. Vincent and the Grenadines (SVG) are packed with fantastic places to snorkel, thanks to their clear turquoise waters, healthy coral reefs, and marine biodiversity. Nicknamed the "Critter Capital of the Caribbean," St. Vincent and the Grenadines have 65 square miles of coral reefs and are home to around 400 species of reef fish 1.
The SVG archipelago is not known for its shore snorkeling, and many of the best spots require a boat ride. Those willing to put in the extra travel time find it's well worth the effort when they see the pristine coastline, barrier reefs, picturesque sandy beaches, and deserted islands.
As some of the least visited Caribbean islands, St. Vincent and the Grenadines make perfect getaways for travelers seeking a quiet, off-the-beaten-path vacation 2. In this travel guide, we'll cover the best places to snorkel in St. Vincent and the Grenadines and provide you with some tips for planning your visit. Here are the top SVG snorkeling destinations.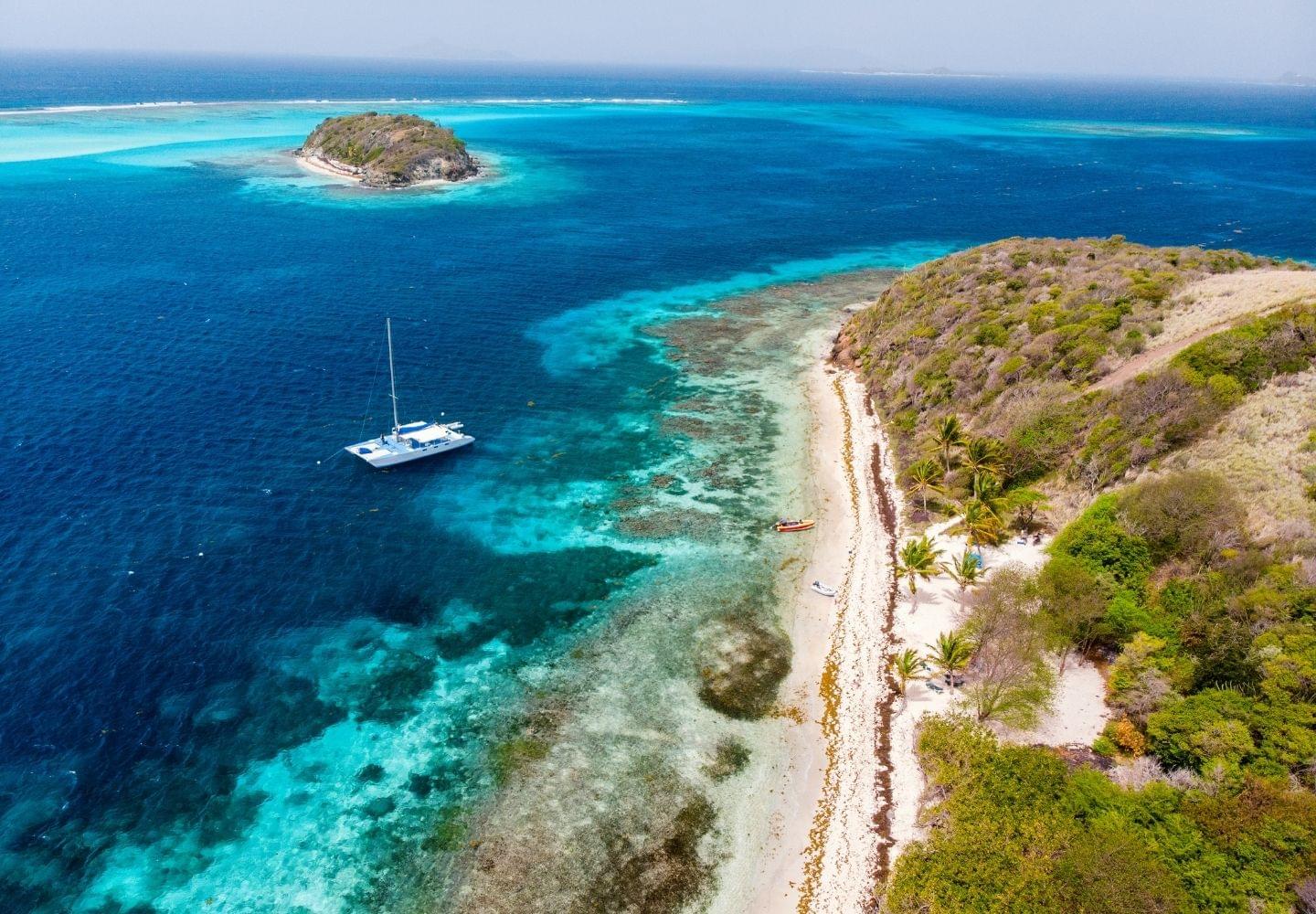 The Tobago Cays
The Tobago Cays consist of five uninhabited islets (Petit Rameau, Baradal, Petit Bateau, Jamesby, and Petit Tabac) surrounded by an extensive coral reef system. This protected area in the southern Grenadines is part of the 1,400-acre Tobago Cays Marine Park and offers some of the best snorkeling in the Caribbean.
The highlight at the Tobago Cays is the 2.5-mile-long Horseshoe Reef wrapping around the islets. Snorkelers at this reef have the chance to view an incredible array of marine life, including sea fans, corals, sea turtles, nurse sharks, reef fish, and eagle rays.
Visiting the Tobago Cays is possible only by boat. There are many guided tours, day trips, and catamaran cruises available from the main island of St. Vincent and smaller islands like Union, Bequia, and Canouan. You can also get there by water taxi from Mayreau, Union, and Canouan or via a private boat charter.
Mayreau
Also located within the Tobago Cays Marine Park, the island of Mayreau is a snorkeling and scuba diving hotspot. There are excellent sites to choose from around the island, but the main attraction is Mayreau Gardens. This vibrant reef is known for its incredible biodiversity. It is home to coral gardens, flamingo tongue snails, sponges, stingrays, barracudas, sea turtles, sharks, and schools of colorful fish.
There are fringing reefs close to the beach along Mayreau's northeastern coast, but you may want to take a boat ride to explore the sections of Mayreau Gardens further from shore. Allow time to relax on the beach after your snorkeling adventure since Mayreau is home to some of the Caribbean's most beautiful beaches. Check out Saline Bay, Windward Bay, and Salt Whistle Bay for postcard-worthy views.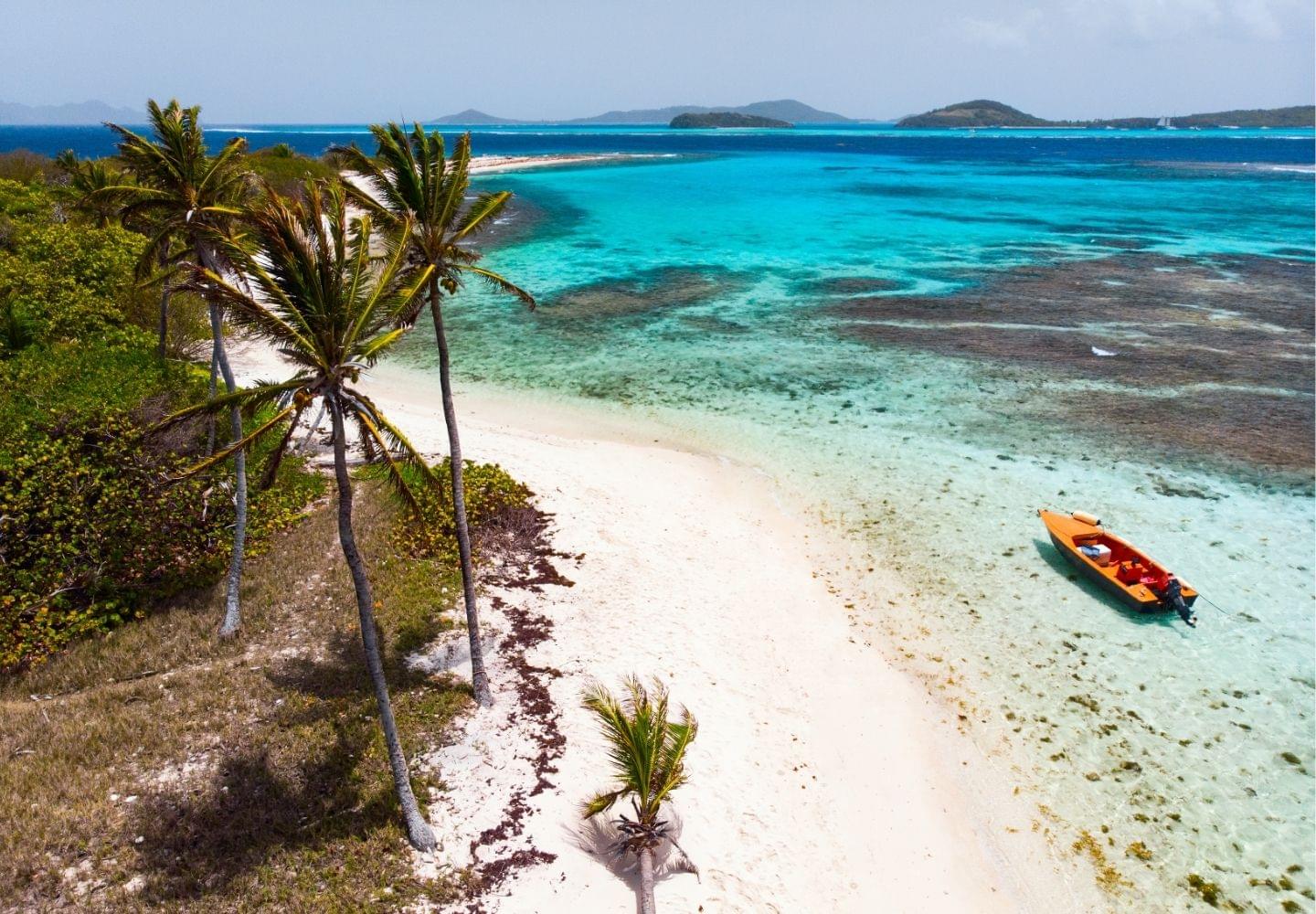 Canouan
Canouan island in the southern Grenadines boasts some of the best shore snorkeling in the SVG archipelago. A mile-long reef fringes and protects the coast, creating calm, clear waters that are perfect for snorkeling. Marine life around Canouan is abundant, with plenty of opportunities to see reef fish, brain corals, and other sea creatures.
There are a variety of resorts and lodging options on the island if you want to spend more time here, or you can visit Canouan on a day trip.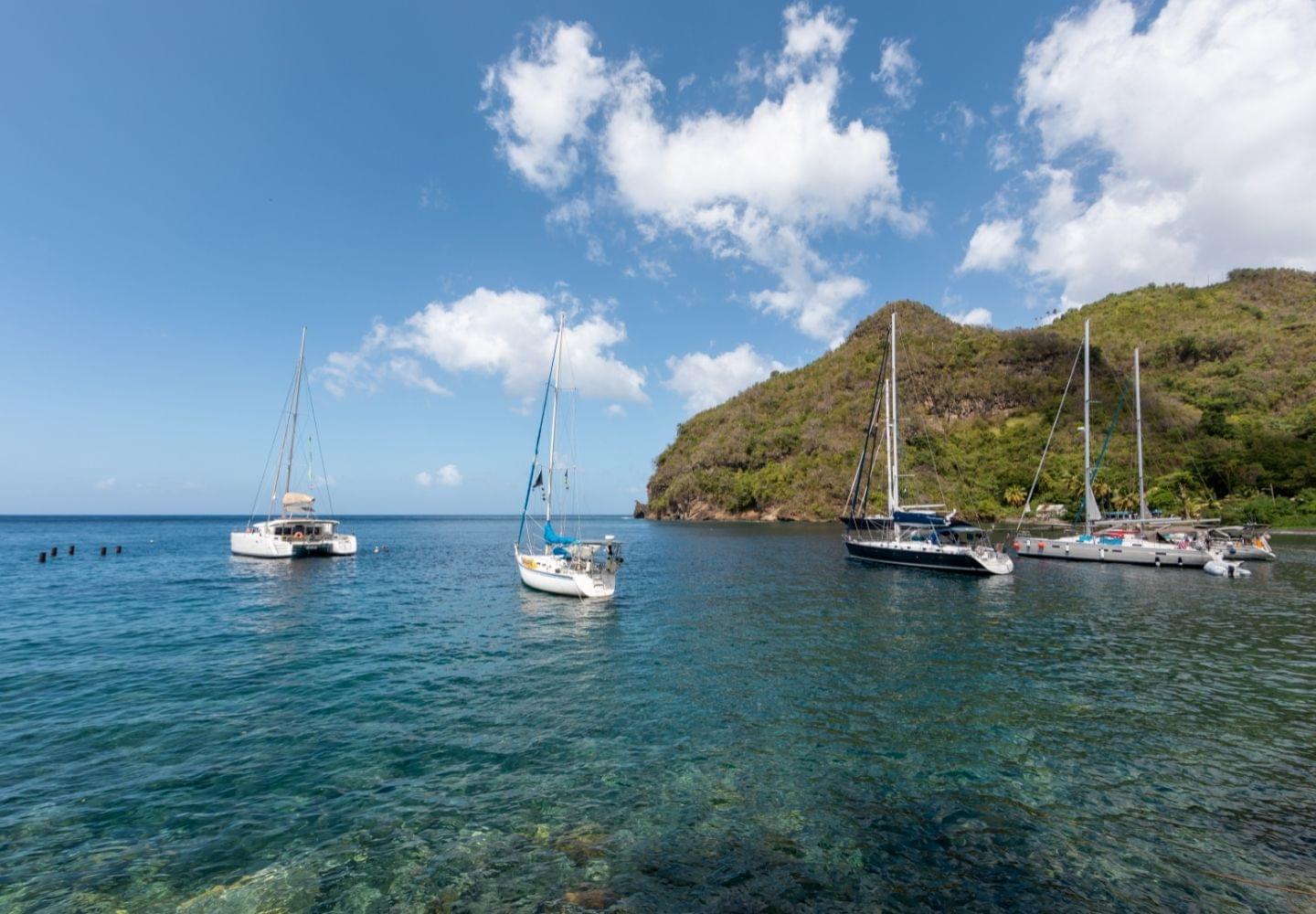 Wallilabou Bay
Located on the leeward coast of St. Vincent, Wallilabou Bay has the best shore snorkeling on the main island. The steep cliffs, unique rock formations, and rocky seabeds create a scenic backdrop for snorkeling. The bay may look familiar to you if you've seen Pirates of the Caribbean since filmmakers shot several scenes here.
Snorkelers can spot various corals, sponges, gorgonians, and numerous tropical fish in Wallilabou Bay's clear waters. Bluehead wrasse, moray eels, trumpetfish, damselfish, and blue tangs are common in the area's reefs and rocky seabeds.
Wallilabou Bay is easily accessible from the capital city and cruise ship port of Kingstown and requires only about 30 minutes to get here by car. The area is known to get crowded when cruise ships are in port.
Petit St. Vincent
Petit St. Vincent is one of the southernmost islands in the Grenadines and is located close to Carriacou, Grenada's sister island. The privately-owned, 115-acre island operates as a resort and is an ideal destination for travelers seeking a luxurious tropical getaway.
This island paradise is a famous scuba diving destination that also offers visitors excellent snorkeling opportunities right from the beach. In addition to healthy coral reefs, snorkelers can view sea creatures, including spotted eagle rays, sea turtles, and numerous tropical fish. The resort also has an artificial coral garden, where they are growing staghorn and elkhorn corals as part of ongoing conservation efforts.
Petit St. Vincent is a perfect place to enjoy other watersports, such as kayaking, paddle boarding, kite surfing, windsurfing, sailing, and scuba diving. All equipment, including snorkeling gear, is complimentary for resort guests.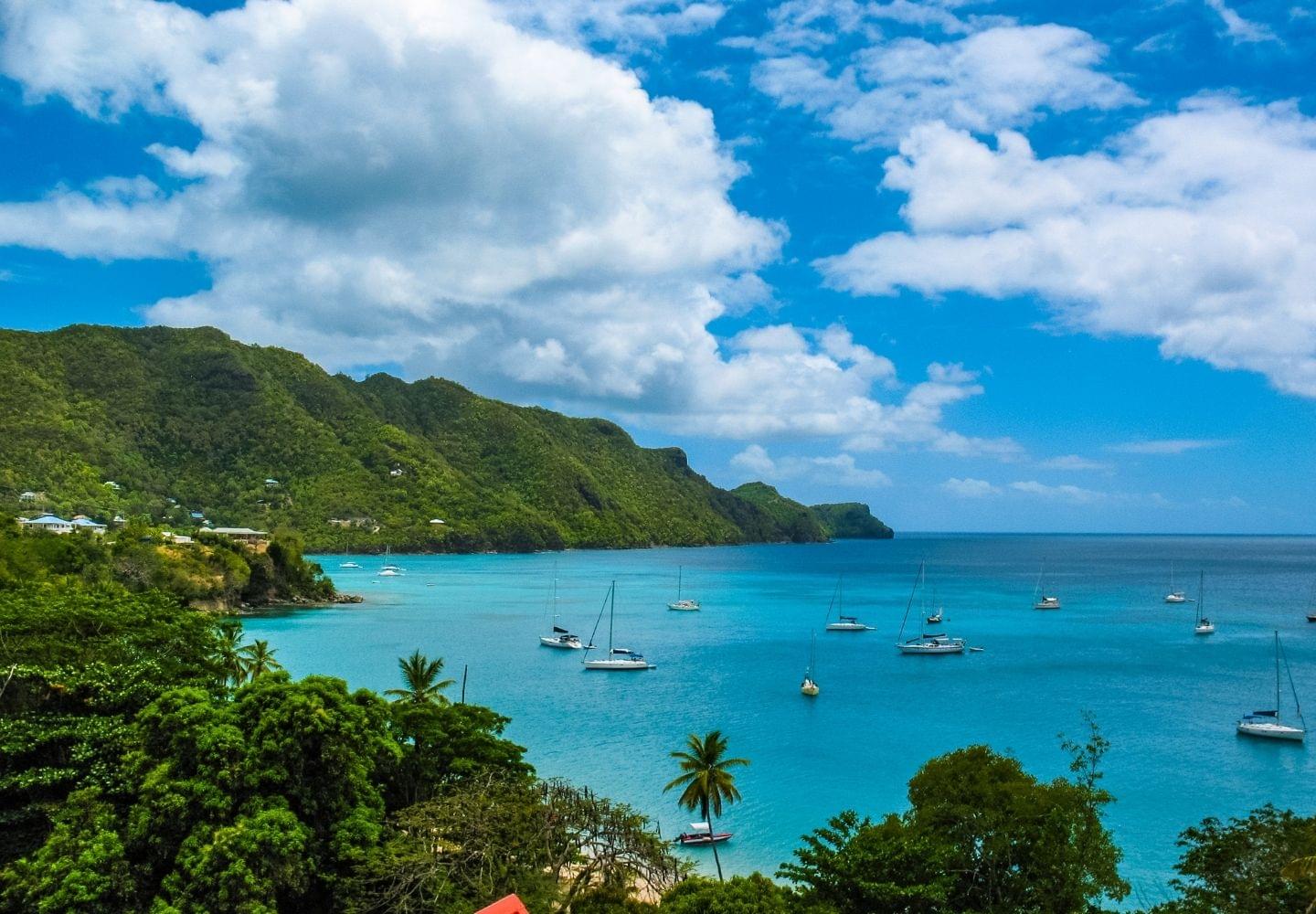 Bequia
Bequia is the largest of the Grenadine islands despite measuring only seven square miles. It's easy to get to since it's about 10 miles from St. Vincent but remains relatively undiscovered.
Devil's Table is a shallow reef known as a top dive site, but it also has great snorkeling. The reef is a breeding ground for a variety of marine species. It provides a habitat for spiny lobsters, sea fans, Hawksbill turtles, sea horses, yellowtail snapper, octopus, parrotfish, and eagle rays.
For shore snorkeling, try Lower Bay. This beautiful, sandy beach has a laid-back vibe and offers a more local feel of the island. There is a reef off of the beach's western end where you'll find the best snorkeling. Spring Bay and Industry Bay are also good choices for snorkeling and offer calm waters and gorgeous beaches.
Palm Island
If you want a taste of life on a private island, consider staying on idyllic Palm Island and snorkeling along its stunning white-sand beaches. The shallow waters around the island are perfect for novice snorkelers to explore and hone their skills.
Unlike many other top SVG snorkeling spots, Palm Island doesn't have many corals or reef systems. The main draw here is an abundance of colorful fish.
The island's calm, turquoise waters are also ideal for water sports like kayaking, paddle boarding, and sailing. Because this is a private island, snorkeling here is only possible for guests of the Palm Island Resort & Spa and neighboring luxury villas.
St. Vincent and the Grenadines snorkeling FAQ
---
Resources
Last updated 18 June 2021
Table of contents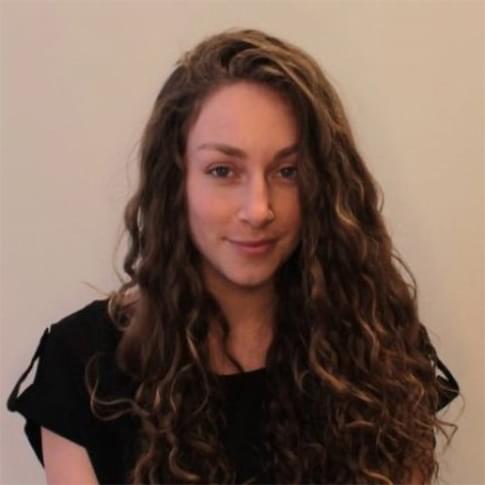 Rebecca Jambrovic