Best waterproof bag for snorkeling: Our picks to protect your valuables
The Kumbaya R1 is a versatile and durable waterproof bag that can be submerged. Budgets snorkelers will enjoy the added waterproofing of the Freegrace bag without any added cost. For the strongest option, the Backsak Pro uses high-end materials that stay dry in all environments.
---
Waterproof bags are essential to keep your belongings safe from water and sand while you are snorkeling. You can take them with you onto a boat or directly into the water while our belongings stay dry inside. Many are strong and durable and can withstand tough outdoor activities. Regardless of your budget, there is a dry bag for everyone that will ensure all your items make it home dry.
We've chosen the Kumbaya R1 Rucksack on Amazon as the best waterproof bag to keep up with snorkelers and scuba divers on all their adventures.
Kumbaya R1 Waterproof Rucksack
Materials
.5 mm 500 deier polyester double coated Laminate PVC tarpaulin
Check on
Freegrace Waterproof Dry Bag
Materials
Nylon-reinforced vinyl
Style
Roll top single strap
Check on
Top Pick: Kumbaya R1 Waterproof Rucksack
This dry bag is a comfortable yet rugged option with plenty of storage space and high-quality waterproof materials.
The Kumbaya R1 is a 35-liter bag with an IPX7 waterproof rating. It's made with durable, tear-resistant materials and keeps your gear dry even when submerged. The backpack style is comfortable with ventilating, mesh pads on the back and shoulders. Added pockets help your small items stay dry and organized.
Budget Pick: Freegrace Waterproof Dry Bag
Zip lock and roll-top closures provide extra waterproof protection and bags come in multiple sizes and colors.
This waterproof backpack has taken the typical roll-top closure a step further by adding two zip lock seals. This creates a tighter seal to keep water out but at no additional cost. While most dry bags shouldn't be completely submerged, the Freegrace can for short periods. The design allows it to go along with you while you snorkel and the inside will remain dry. Purchases of this bag also include two smaller waist and phone case pouches for when you only have a few items.
High-end Pick: Skog Å Kust BackSåk Pro
Made with durable, light, and dependable materials, this gear bag offers comfort and flexibility while being completely waterproof.
The price difference of this snorkeling bag is due to the TPU coated ripstop nylon. This material is light-weight but strong and holds up in harsh environments. With a high waterproof rating, the bag can withstand submersion for 30 minutes and high-pressure jets. The padded back and waist strap make it perfect for all kinds of sport and travel. Unlike most dry bags, it also comes with an internal laptop compartment and organization for everyday use.
Phone Pick: Mpow 097 Universal Waterproof Case
An easy and dependable case that lets you use your phone while snorkeling.
Bring your phone with you while you snorkel and even use it to take pictures. The Mpow case has a high waterproof rating that keeps your phone safe and you can completely submerge it for long periods. The clear casing gives you full access to your touch screen and camera to capture your time in the water.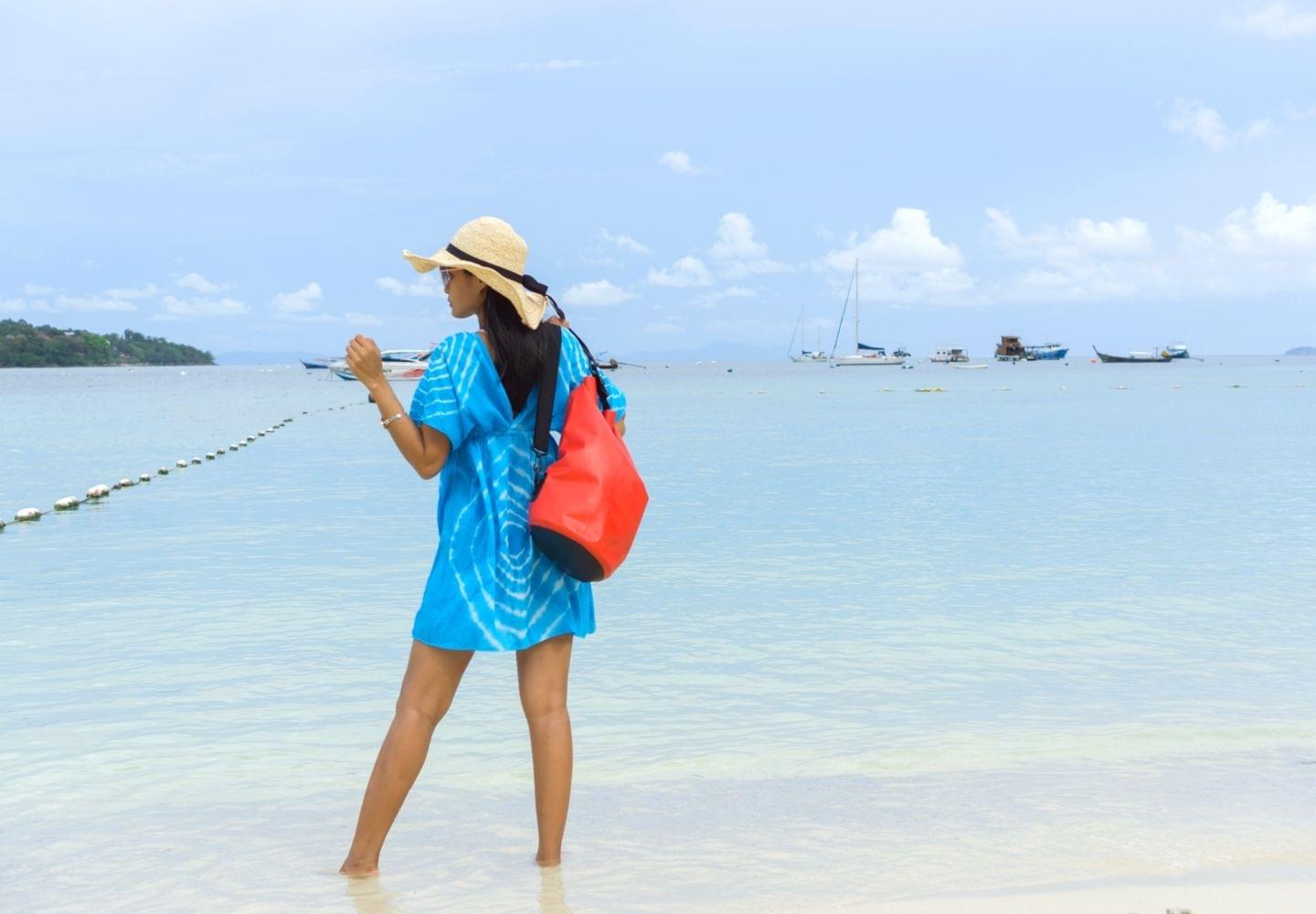 FAQ
Do I need a waterproof bag?
Water and sand can quickly ruin phones, car FOBs, passports, and other belongings. While sticking everything in a normal zip lock bag is an option, these can be easily misplaced or rip. They also will sink and wash away when dropped in the ocean. Waterproof bags designed for snorkelers and divers are specially made to keep water out and many float on the surface. They come in various sizes and colors, and most are thicker material that won't easily break. Good gear bags can go with you into the water and protect your belongings from getting lost or stolen on the beach.
How to choose the best dry bag?
The most important factor is how waterproof each bag is. Some bags will have an IP rating which is an international standard of classifying enclosures against water, dirt, and dust. Based on this number you tell how your bag will hold up to different water pressures (1).
The durability of the material is another factor to consider. Most bags use nylon or polyester with waterproof coatings. Nylon is the tougher of the two and resists rips and tears. The strongest option is ripstop nylon which is light and flexible. This material is more expensive though, and usually only used in higher-end bags.
Dry bags typically come in 10L, 20L, or 30L. 10L bags can carry your basics, while a 30L bag can hold everything you need for a few days. When looking at a roll-top dry bag, remember that for a water-tight seal they need at least three rolls down. This makes them smaller than they initially appear.
Finding the right gear for snorkeling is all about comfort and finding the best pick for you. Read about choosing the best snorkel gear in our article here.
Do dry bags float?
When a dry bag is properly closed there will be excess air trapped in the bag. This allows it to float easily in the water. You should leave extra space in your bag to ensure enough air will remain and it will float once in the water.
Can you submerge dry bags?
Though waterproof, most dry bags shouldn't be completely submerged. The continued water pressure will make its way into the bag and cause a leak. However, better-made bags will remain sealed during prolonged submersion and you can take them with you as you snorkel.
The IP rating of a bag will tell you whether you can submerge it or not. The ratings have two numbers, the second tells you in what conditions the bag will remain waterproof. Ratings of a six can handle high-pressure jets, while a seven and above can last 30 minutes or more underwater (1).
How do I test a dry bag?
No matter what kind of bag you get, you should test the waterproof seals regularly for new leaks or tears. Test your bag by putting napkins or paper inside, closing it properly, and then submerging it in a bathtub or pool. Bags can wear down over time so it is best to do this test if you haven't used your dry bag in a while or after a long trip.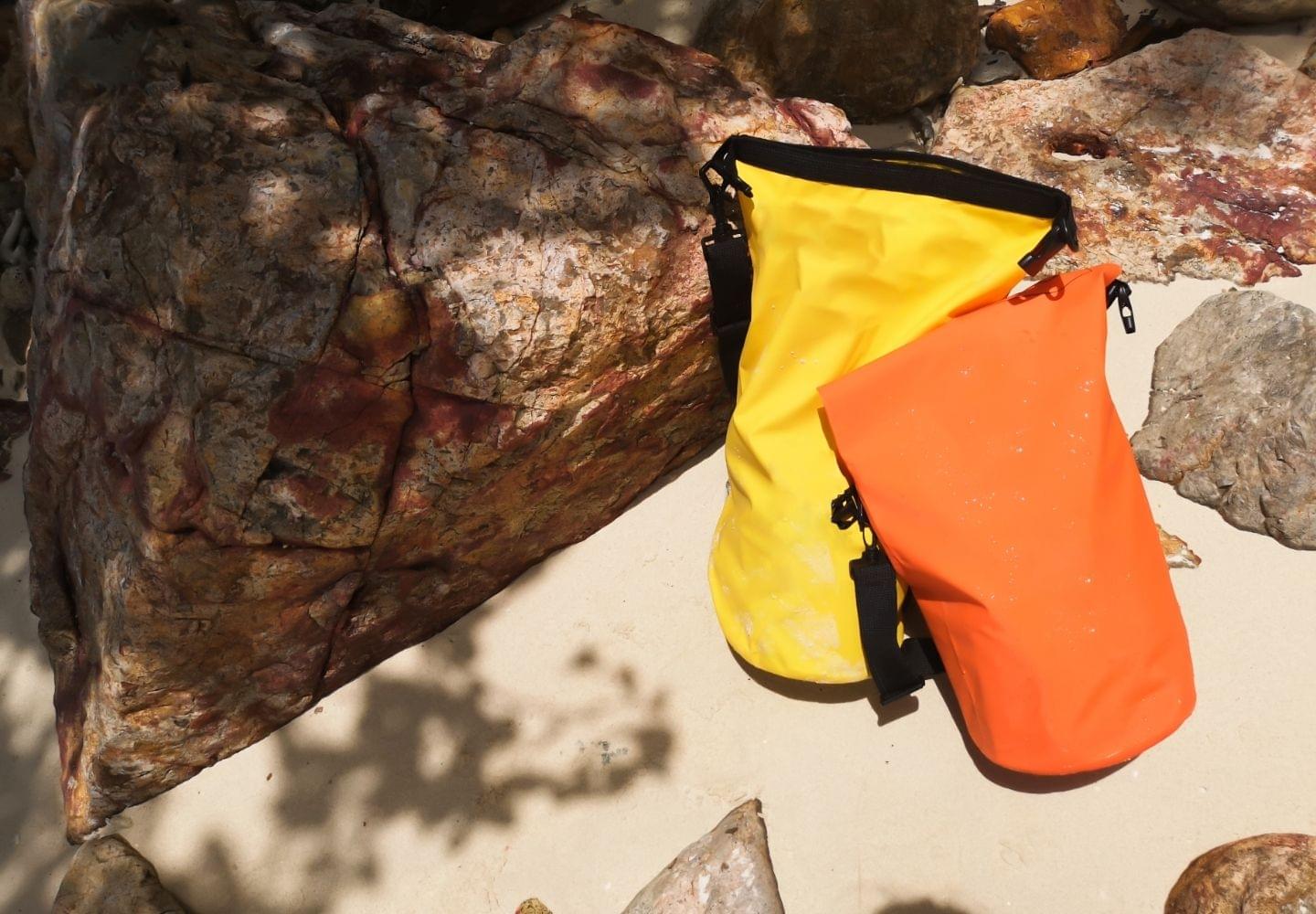 Detailed Product Reviews
Top Pick: Kumbaya R1 Waterproof Rucksack
A mix of comfort and durability, the Kumbaya R1 surpasses the basic dry bags with its comfort and durability.
The Kumbaya fabric is 0.5mm 500 denier polyester, a strong, high thread count fabric (2). It is also coated in double laminate PVC Tarpaulin. This creates a completely waterproof seal that withstands UV rays, making it perfect for prolonged outdoor use.
It has an IP waterproof rating of X7. This means it is submersible for 30 minutes at 3 feet and will still remain dry inside. The closure is the standard roll-top, but it clips down on the sides. This provides a tighter seal that won't come undone while in the water (3).
With a 35L main compartment, it can hold your belongings for a week of snorkeling, diving, or just every day. Unlike other snorkel bags, the Kumbaya has an extra internal storage pocket to organize small items and an external zippered water-resistant pocket.
The Kumbaya has adjustable shoulder straps and backing with soft pads that add comfort and ventilation. For heavier loads, there is also a sternum strap for weight dispersion. However, some users would have preferred a waist strap for more weight control.
The bottom line: The Kumbaya R1 has excellent waterproof ratings that make it submersible and it will last for long periods of time outdoors. The backpack design is comfortable to wear and it has a large internal space with extra pockets.
Budget Pick: Freegrace Waterproof Dry Bag
With two closures designed to keep water out, this dry bag is an affordable waterproof choice.
This gear bag is similar to others of the same price and material but comes with an extra zip lock closure system. The two zip lock lines create a stronger watertight seal. While some users found these were hard to open and close, they recognized it created a better waterproof seal.
During tests, users snorkeled with the dry sacks and completely submerged them. They remained dry inside, although prolonged submersion is not recommended.
The Freegrace comes with an adjustable strap and in different colors and sizes. Some bags have a clear side panel for you to see inside, but a few users noted this caused leaks into the bag.
Every purchase also comes with two smaller dry bags; a waterproof phone pouch and fanny pack. Most had no issues with these smaller bags, but some found they leaked on the first try. For these and the larger bag, it is important to test for leaks and tears before use.
The bottom line: For the price, this bag offers extra protection compared to similar dry bags and you can take it snorkeling. Although it has the added protection, it is still important to test it before using it with your phone and important items.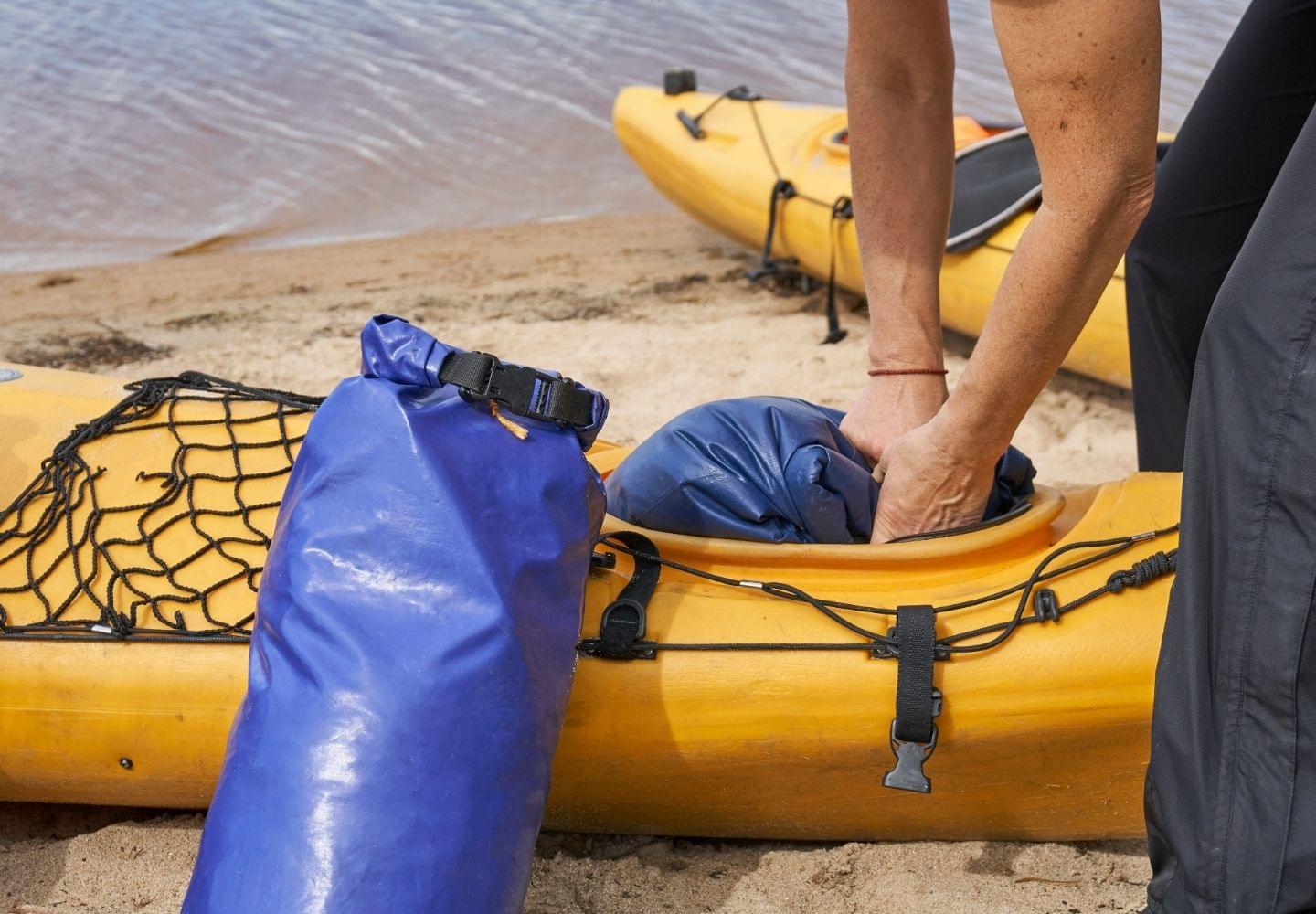 High-End Pick: Skog Å Kust BackSåk Pro
With higher quality materials, this bag holds up in all environments and can work as an every day bag.
The additional price of this dry bag backpack is due to its heavy-duty ripstop nylon. The 420 denier-rated nylon offers extra durability compared to regular nylon and polyester. This material is commonly used in sails and parachutes and has added tear and waterproof protection (2).
The 35L internal compartment has a waterproof rating of IPX6, meaning it can withstand direct high-pressure jets. The external pocket has its own rating of IPX7 that lasts for up to 30 minutes underwater. Additionally, it has heat-taped seams that keep out sand and dust and make the bag last longer (4).
Inside you will find a laptop compartment and added pockets making it versatile for watersports and everyday use. The inside pocket design uses a high-visibility white coating to make it easier to spot items that have fallen to the bottom.
Outside, the padded shoulder straps and back add comfort and it has a mesh pocket for a water bottle. This scuba diving bag also comes with both waist and sternum straps for heavier loads. For those who don't need the waist strap, it is removable.
The bottom line: This bag uses higher quality materials than most dry bags, and offers added conveniences and comforts. Though a higher price point, it will last in many environments and is a multi-purpose bag for snorkeling, kayaking, boating, and more.
Phone Pick: Mpow 097 Universal Waterproof Case
An affordable waterproof phone case that lets you use your phone's touchscreen and camera in the water.
The Mpow 097 case has a waterproof rating of IPX8. This high rating allows for extended immersion in deeper depths. You can easily take your phone, credit cards, and essentials with you while snorkeling.
While the case is secure deeper underwater it is not recommended for scuba divers. The case will not protect your cell phone from malfunctioning due to higher water pressures.
While similar, snorkeling and scuba diving have significant variances in-depth and gear. Read more about the differences between the two in our article here.
This case fits phones that are seven inches and smaller. The clear plastic material is waterproof, scratch-resistant, and dustproof. This design lets you use your phone's touchscreen and camera while underwater.
The lanyard strap keeps the case secured to you while swimming. However, the case does not float and it is important to keep the strap on so your cell phone does not sink.
Most users had no problems using this case underwater, but a few had issues with leaks after longer uses. Always test the case before swimming and check for rips in the seams.
The bottom line: This is an affordable case that protects phones during prolonged submersion.
Conclusion
Bringing a waterproof bag with you while snorkeling will help keep your phone, money, and belongings safe and dry. The Kumbaya R1 Rucksack, Freegrace, BackSåk Pro, Mpow 097 on Amazon, will all give you peace of mind while you enjoy the beach and water. Before using any dry bag with your belongings you should test it underwater and check for tears.
References
Last updated 28 May 2021
This blog post contains affiliate links from Amazon, which means we receive a small commission on any sales made via those links.
Table of contents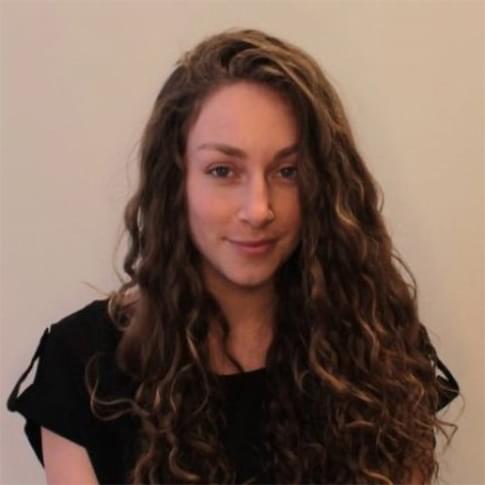 Rebecca Jambrovic