Best snorkeling vest: Our picks for a fun and safe outing
The WildHorn Jetty Snorkel Vest is a durable product that provides snorkelers with added security without sacrificing comfort. Traveling snorkelers may prefer the low-cost Rrtizan vest, while frequent snorkelers can splurge on the high-quality Scubapro Cruiser.
---
A snorkeling vest is a smart purchase for new snorkelers, weak swimmers, and anyone who wants some added security in the water. Even strong swimmers and experienced snorkelers can benefit from wearing one. Whether you want to buy a snorkeling vest for an upcoming vacation or for your snorkeling adventures at home, we've got you covered with the best snorkeling vest for every budget.
After comparing many different products, we've selected WildHorn Outfitters' Jetty Inflatable Snorkel Vest at Amazon, as the best snorkeling vest overall.
Top pick: WildHorn Outfitters Jetty Inflatable Snorkel Vest
While there are cheaper snorkel vests on the market, the WildHorn Jetty offers a good balance between comfort, durability, and cost. With sizes ranging from small to extra-large, the Jetty accommodates diverse body types and will fit most adult snorkelers without restricting movement or riding up. The Jetty is not as compact as other models but is still easy to travel with and will support you on many snorkeling outings on holiday and at home.
Budget pick: Rrtizan Inflatable Snorkeling Vest
If you're just looking for a low-cost vest to improve your safety and confidence in the water, the Rrtizan Inflatable Snorkeling Vest is a simple, easy-to-use product that will keep you afloat. This straightforward, one-size-fits-all vest is lightweight and packable, making it an excellent choice to bring on a snorkeling vacation.
High-end pick: Scubapro Cruiser Skin Dive Safety Snorkel Vest
If you plan on taking your snorkeling vest on many adventures and want to invest in a premium product, the Scubapro Cruiser Vest is an excellent choice with high-quality materials and durable construction. The vest is a great pick for frequent snorkelers and has a neoprene layer on the back for added warmth, comfort, and protection.
Children's pick: Scuba Choice Youth Snorkel Vest
Large kids and teens may fit into adult models, but smaller children will need a specialized vest. For kids under 100 pounds, the Scuba Choice Youth Snorkel Vest is a quality option at an affordable price. The vest comes in a single size that fits children as young as about five years old and is brightly colored to provide excellent visibility in the water.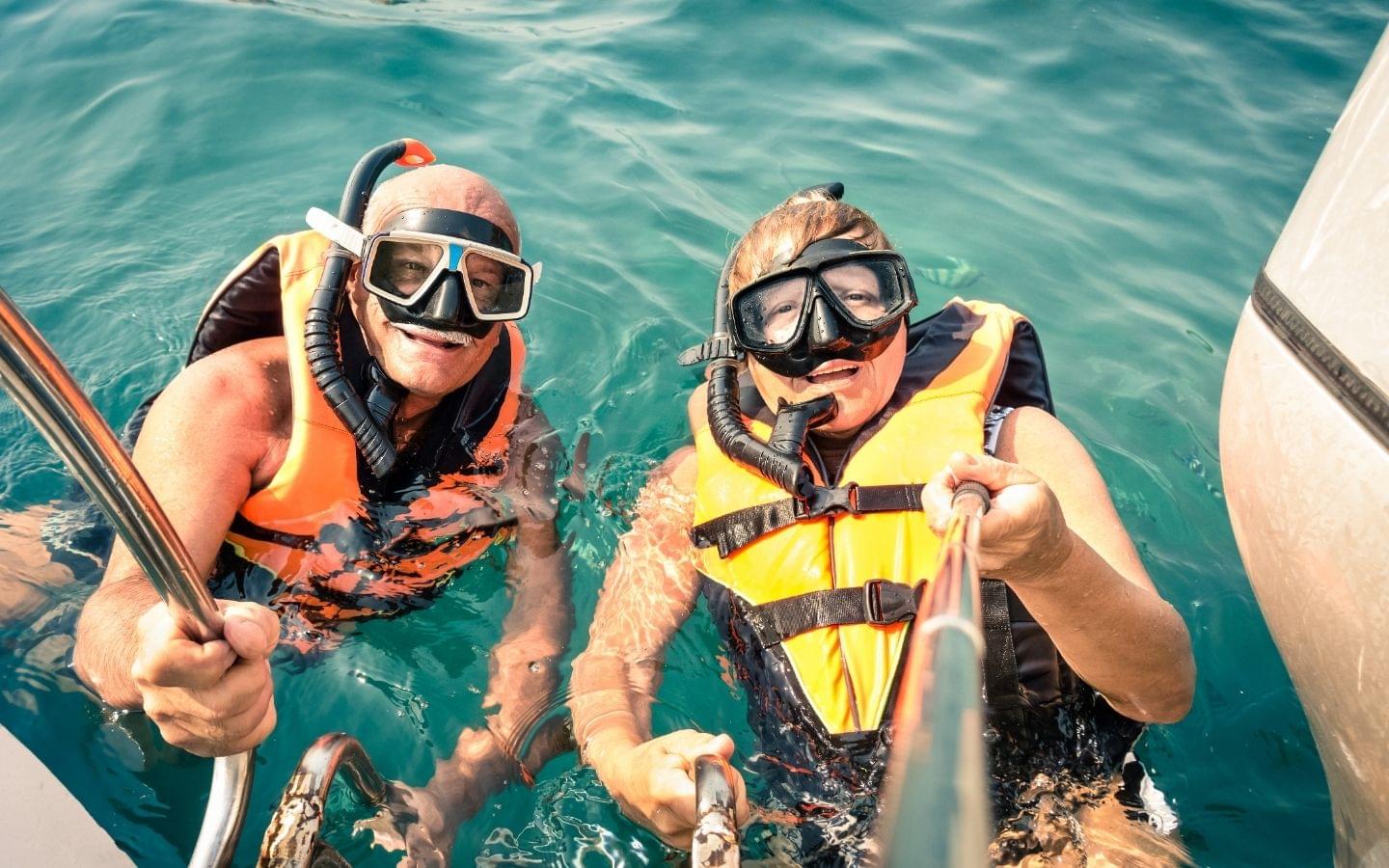 FAQ
What are the benefits of wearing a snorkel vest?
Snorkel vests provide additional buoyancy and make it easier to float on the water's surface when snorkeling. They are essential pieces of snorkeling gear for non-swimmers and new snorkelers. Many strong swimmers and experienced snorkelers also find that wearing a snorkel vest makes their outing more comfortable, relaxing, and enjoyable.
Can I wear a life jacket for snorkeling?
You technically can wear a life jacket snorkeling, but a snorkel vest will provide you with a better experience. While life jackets will keep you afloat, they are designed to hold your head out of the water and make it difficult to float comfortably on the water's surface with your face down.
Snorkel vests, on the other hand, allow you to swim freely with your head in the water and easily view the marine life below. For more details about why snorkel vests are the best flotation devices for snorkeling, take a look at our article comparing snorkel vests and life jackets.
Can I wear a snorkel vest for other water sports?
Most snorkel vests do not meet the US Coast Guard safety standards for boating or other water sports, such as water skiing and kayaking, and are not intended for life-saving or rescue purposes. You'll likely need a separate life vest or PFD for most other activities.
Do snorkel vests come with CO2 inflators?
Older models of snorkel vests often included CO2 inflators as well as oral inflation tubes. However, when used consistently in salt water, CO2 cartridges tend to corrode. As a result, snorkel vest manufacturers discontinued this feature and now use only oral inflation tubes to adjust the buoyancy.
If you're concerned about swallowing water or experiencing an emergency in the water, it's best to leave your vest inflated for the entire duration of your snorkeling adventure. Alternatively, you may purchase a PFD with a CO2 cylinder like the Hyde Wingman Inflatable Life Jacket at Amazon, but bear in mind that these types of flotation devices are not specifically designed for snorkeling.
What's the difference between a horse collar and a jacket-style vest?
Horse collar vests consist of an inflatable tube that fits over the head with adjustable waist and crotch straps to hold the vest in place. These vests tend to be lightweight and easy to pack, making them a great choice if you plan on traveling with your snorkeling gear. However, they provide less protection from the elements and are usually less comfortable than jacket-style vests.
Snorkeling jackets have fabric on the back ranging from a thin mesh layer to neoprene for added warmth and protection. Some have a zipper closure on the front, while others fit over the head with a zipper, velcro, or other closure on the side. Because they offer additional support, snorkel jackets are a better choice for non-swimmers.
How should a snorkel vest fit?
Your snorkel vest should provide a snug fit without restricting movement or riding up. Sizes are usually based on weight and the circumference of your chest or waist. Always check the manufacturer's size guide and contact them with any questions to ensure you get a good fit.
Proper sizing is crucial with snorkeling jackets since the zippered or velcro closures make them less adjustable than horse collar styles.
Detailed product reviews
---
Top pick: WildHorn Outfitters Jetty Inflatable Snorkel Vest
Thanks to its quality materials, superior comfort, range of sizes, and value for money, the Jetty Inflatable Snorkel Vest from WildHorn Outfitters earned our pick as the best snorkel vest for most people.
The Jetty features a single velcro closure on the side with adjustable straps, making it easy to put on and take off. There are also adjustable shoulder straps, which provide a more customized fit. When sized correctly and securely fastened, the vest should not ride up.
With four different sizes available, this snorkel vest accommodates various body types and is suitable for teens and adults. To find your size, measure around the broadest part of your chest and refer to the size guide to determine whether you need small (30-36"), medium (36-40"), large (40-44"), or x-large (44-48").
Since WildHorn recommends sizing up if your chest is the largest measurement of a given size, anyone with a 48" chest or larger will need a different product.
The vest comes in a single color option (black with bright blue accents) and is one of the more stylish options on the market. However, it doesn't offer the extra visibility that neon-colored vests provide.
Whether you're taking a break in the water or gazing down at the underwater world, the Jetty's balanced flotation provides excellent stability. The conveniently-positioned inflator tube allows you to adjust the buoyancy in seconds. Since the spring-loaded inflator valve closes automatically when you finish inflating the air chamber, you don't need to worry about accidentally deflating your vest.
Reviewers highlighted the Jetty's comfort, versatility, and ease of use. The side panels are made of stretchy spandex and prevent the webbing from rubbing on your skin, and the jacket-style design protects your back from sunburn.
The Jetty is also more versatile than many snorkeling vests. In addition to snorkeling, WildHorn recommends their product as a flotation aid for low-impact water sports like stand up paddleboarding and swimming.
Although this vest is heavier and less compact than most horse collar styles, many people noted that it was easy to pack the Jetty in their carry-on luggage.
The only downside to this product is the price. At around $70 MSRP, the Jetty is significantly more expensive than our budget pick, but most purchasers found it to be well worth the investment.
Bottom line: The Jetty provides a comfortable, customizable fit that most people find is worth the extra money. This durable, high-quality snorkeling vest is an excellent option for anyone planning to snorkel frequently or willing to spend a bit more for an improved experience.
Budget pick: Rrtizan Inflatable Snorkeling Vest
The budget-friendly Rrtizan Inflatable Snorkeling Vest features a classic horse collar design with adjustable crotch and waist straps. While jacket-style vests can be tricky to fit, this straightforward, one-size-fits-all vest is suitable for snorkelers weighing between 80 and 220 pounds.
The vest is made of tear-resistant nylon canvas and is available in three colors: black, yellow, and turquoise. The easy-to-use oral inflation tube allows you to inflate the vest with just a few puffs of air and deflate it at any time if you want to dive below the surface for a better view of marine life.
Because this vest weighs only 0.62 pounds and folds up nicely into an included mesh bag, it's perfect for travel.
Some users, especially tall snorkelers, commented that the crotch strap could be annoying or uncomfortable. However, the vest does not interfere with swimming or movement in the water and is otherwise quite comfortable.
Most reviewers agreed that the Rrtizan vest was money well spent and said it allowed them to relax and enjoy snorkeling.
Bottom line: Whether you're new to snorkeling and don't want to invest in expensive equipment, or you're just looking for a cheap snorkeling vest to use on vacation, this no-frills option from Rrtizan will keep you afloat and give you peace of mind in the water.
High-end pick: Scubapro Cruiser Skin Dive Safety Snorkel Vest
The Scubapro Cruiser is a popular choice among frequent snorkelers but comes at a premium price of $120 MSRP. If you're just looking for a snorkel vest to use a few times on vacation, you'll probably be happier with the best all-around WildHorn Jetty or budget-friendly Rrtizan vest.
Made of durable nylon and stretchy neoprene, the Scubapro Cruiser offers a snug, comfortable fit. Thanks to the ⅛" neoprene layer on the back, this vest helps protect the wearer from sunburn and provides extra warmth without negatively impacting comfort in warm water.
Like other models, the Scubapro Cruiser's oral inflator and dump valve on the front allow for easy flotation control in the water.
The Cruiser is more stylish than many snorkeling vests and is available in two high-visibility neon colors—bright yellow and orange. It also includes a convenient security pocket to store small items, a feature which reviewers loved.
According to Scubapro's official size guide, the Cruiser vest comes in sizes ranging from XS to 3XL and fits waist sizes from 24" to 51".1 Most people find the vest to be the right length, but some tall users said it felt a few inches too short for their torsos.
Some users warned that the vest rides up with extended use, while others found the form-fitting design to feel too tight. Since the vest fits over the head with a single zipper closure on the side and lacks a crotch strap, you want it to fit very snugly when dry to minimize riding up in the water.
Bottom line:As the heaviest and most expensive product on our list, the Scubapro Cruiser is not the best choice for traveling snorkelers looking for a vest to use a few times on vacation. If you're planning to use your snorkel vest often and are willing to pay more for a premium product, this vest will provide you with superior comfort and durability.
Children's pick: Scuba Choice Youth Snorkel Vest
Children should have basic swimming skills if they want to try snorkeling, but using a snorkel vest keeps them afloat, improves safety, and provides parents with peace of mind.
While the options above will work for larger kids and teens, smaller children will need a vest specifically made for kids. The Scuba Choice Youth Snorkel Vest is a budget-friendly option that will help keep your children safe and allow you to keep track of them more easily.
This vest comes in a single size that fits children weighing up to 100 pounds. Scuba Choice lists a minimum age of 18 months for the product, but most parents wait until their children are at least five or six years old before taking them snorkeling.2
The simple horse collar design includes an inflatable tube that goes over the head and a crotch strap and waist strap to keep the vest secure and prevent it from riding up. Some reviewers cautioned that the straps are very long and recommended shortening them by tying a knot or using the supplied rubber bands.
Others mentioned that the neck area is a bit narrow and can cause some minor skin irritation. Your child may be more comfortable using this snorkel vest over a rash guard with a high neck design. Since the Scuba Choice snorkel vest is mostly open on the back, the rash guard will also help protect your child from excessive sun exposure.
The vest is easy to inflate and deflate to the desired level using the oral inflator, although kids may need their parents' help with this.
You can choose between two bright color options—neon yellow or purple—both of which increase your child's visibility in the water. There is also a slightly more expensive orange version at Amazon, with additional features like a whistle and front pocket to store personal items.
The vest rolls up and weighs only half a pound, making it easy to travel with. Even if you plan on booking a guided snorkeling tour on your vacation, it's a good idea to come prepared with snorkel vests for your family. While most tour companies provide snorkel vests, many of them lack children's sizes, and the vests can be cheap and uncomfortable.
Bottom line: The Scuba Choice Youth Snorkel Vest is a lightweight and easily packable piece of snorkeling gear that will help keep your kids safe without breaking the bank.
Conclusion
Choosing the right snorkeling vest can help you stay in the water longer with less effort and make you feel more secure, relaxed, and confident. Whether you go for the best overall WildHorn Jetty, budget-friendly Rrtizan, high-end Scubapro Cruiser, or kids size Scuba Choice vest at Amazon, your new vest should allow you to snorkel with ease on your next outing.
---
References
Last updated 29 June 2021
This blog post contains affiliate links from Amazon, which means we receive a small commission on any sales made via those links.
Table of contents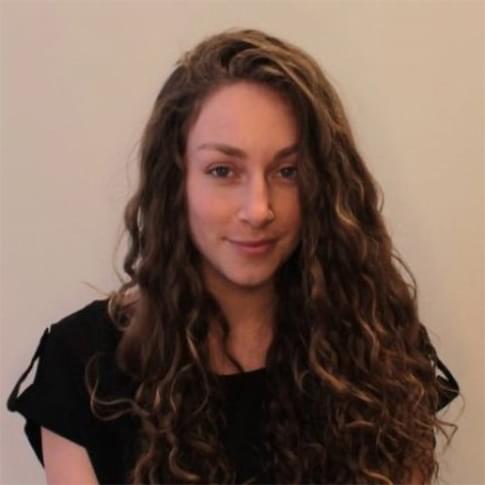 Rebecca Jambrovic