The best snorkeling in the Virgin Islands
The Virgin Islands have some of the best snorkeling sites in the Caribbean. Find out where to go snorkeling on your Virgin Islands vacation.
---
Snorkeling is one of the most popular activities among visitors to the Virgin Islands. Whether you're visiting the US Virgin Islands or the British Virgin Islands, there are plenty of spectacular snorkeling spots to choose from.
We've selected eight of the best snorkeling sites and have included some tips to help you plan your snorkeling adventure.
Honeymoon Beach, St. John, USVI
Honeymoon Beach is an off-the-beaten-path destination offering excellent snorkeling and other watersports in a secluded area within Virgin Islands National Park.
You can relax in a hammock on the white sand beach and snorkel close to shore or rent kayaks and stand up paddleboards and paddle to nearby Caneel Bay Beach, Henley Cay, or Hawksnest Beach. The Caneel Bay resort was decimated by back-to-back hurricanes in 2017 and has yet to be rebuilt. You're likely to have this Caribbean paradise all to yourself as you snorkel and explore the crystal clear waters.
The area is protected as a UNESCO Biosphere Reserve and is rich with sea life. You can see up to 12 different species of sea turtles roaming the seagrass beds, as well as stingrays, spotted eagle rays, dolphins, sea fans, tropical fish, elkhorn coral, cuttlefish, blue tangs, and nurse sharks.
Snorkel gear and watersports equipment are available to rent at Honeymoon Beach, and there are various facilities, including a beach bar and grill. To get there, take a taxi shuttle from Cruz Bay with Virgin Islands Ecotours or hike a gorgeous one-mile section of the Lind Point Trail, which takes around 30 minutes.
Coki Beach, St. Thomas, USVI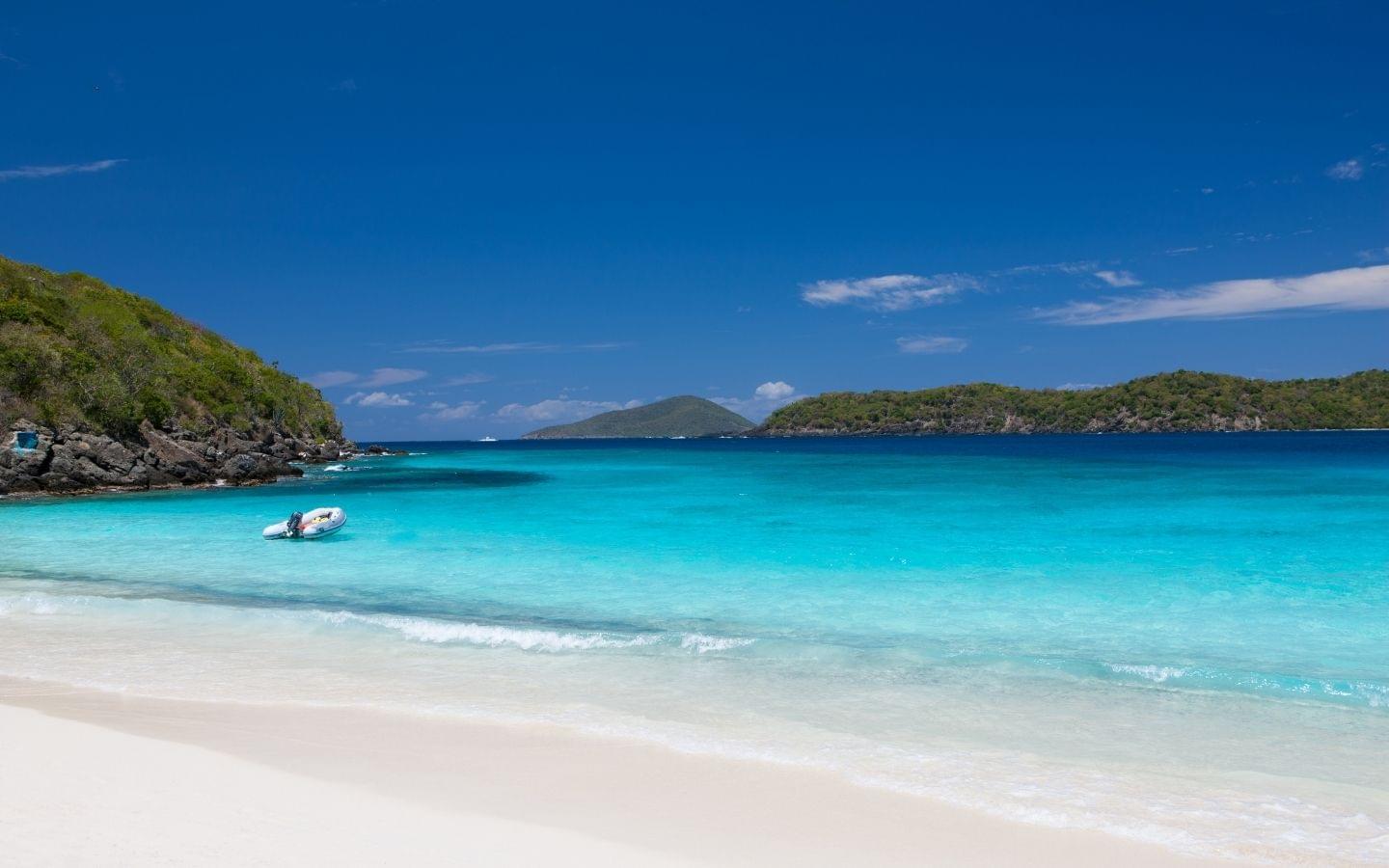 Considered to have some of the best snorkeling on St. Thomas, Coki Beach is known for its calm waters, white sands, and abundant marine life. However, if you're looking for a quiet getaway, Coki Beach is not it. The area often gets crowded and is known for being rowdy.
This party beach is easily accessible by taxi and has a dive center where you can rent snorkeling gear or book a discovery scuba course. There are also many vendors where you can get food and drinks or rent beach chairs and umbrellas.
Watermelon Cay, St. John, USVI
Located at the eastern end of Leinster Bay, Watermelon Cay is known as the top snorkeling spot on St. John. Getting to this remote beach requires a 20-minute walk (one way) along a flat, scenic trail. Because of its secluded location, Watermelon Cay rarely gets too crowded.
The area boasts an incredible diversity of marine life, with plenty of opportunities to view conch, starfish, sea turtles, sea fans, blue tangs, bluehead wrasses, parrotfish, and more. There are also many different types of coral, including grooved brain coral and pillar coral. Since the beach is rocky and there are many sea urchins, it's a good idea to bring water shoes or snorkeling booties.
Watermelon Cay occasionally has strong currents, making this option best for more experienced snorkelers and confident swimmers. The western side of the cay is better protected from waves and wind.
In addition to swimming and snorkeling, visitors can explore the ruins of the 18th-century Annaberg Sugar Plantation nearby.
Secret Harbor, St. Thomas, USVI
Located on St. Thomas's East End, Secret Harbor offers snorkeling conditions similar to those at Coki Beach but is quieter, less crowded, and more secluded.
The protected bay has calm, clear waters with ample opportunities to view parrotfish, sea turtles, manta rays, angelfish, barracuda, and porcupine puffers. The best snorkeling is along the beach's rocky coastline on the right side and on the left near the docks.
The small beach is less than 5 minutes away from Red Hook and is easily reached by car or taxi. There are many amenities, including a bar, restaurant, watersport rentals, dive shop, chairs, umbrellas, and more.
Buck Island Reef National Monument, USVI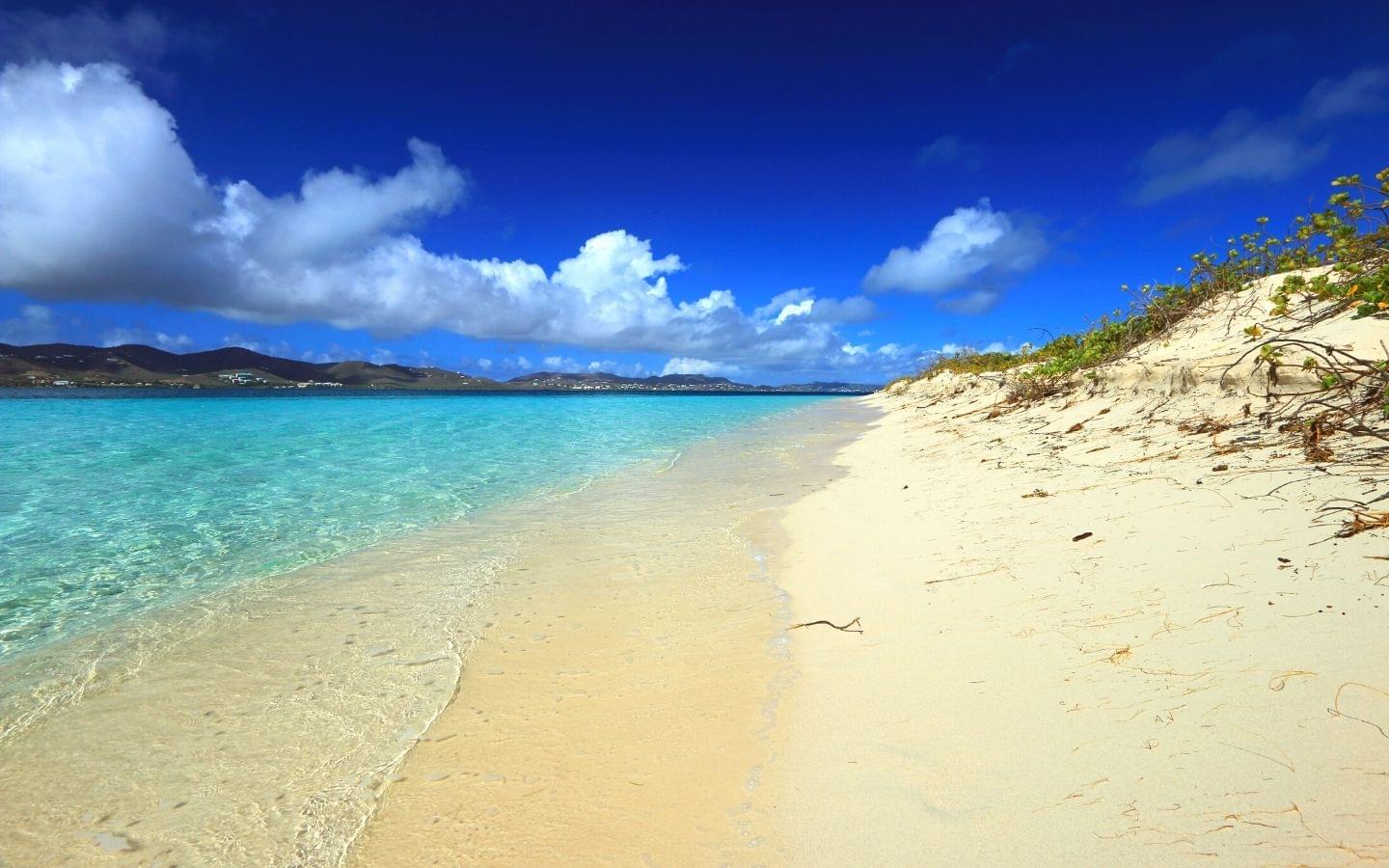 Located 1.5 miles off the coast of St. Croix, the 880-acre Buck Island Reef National Monument has an impressive coral reef system that draws thousands of snorkelers and divers every year.
The elkhorn coral barrier reef surrounds two-thirds of the island, creating a rich marine ecosystem home to many threatened and endangered plant and animal species. Despite damage from the 2017 hurricanes, Buck Island's coral reef continues to be one of the best in the Caribbean, with elkhorn coral reaching heights of up to 30 feet.1
The quiet lagoon is known for its calm, turquoise waters and is an excellent destination for snorkelers of all skill levels. There are many day trips and boat transfers to the island from various tour operators, or you can take your own private boat (anchoring permit required).
In addition to snorkeling, swimming, and diving, visitors can hike along the island's scenic walking trails or relax on the gorgeous white sand beach.
The Caves, Norman Island, BVI
Located at the southern end of the British Virgin Islands, Norman Island allegedly inspired Robert Louis Stevenson's famous pirate novel Treasure Island. According to local legends, pirates once used the Norman Island Caves to hide their treasure, earning this area the name Treasure Point.
This snorkeling spot is best for intermediate to advanced snorkelers since the current can be stronger than in other areas. The Caves are accessible only by boat, so you'll need to book a private charter or guided tour or visit with your own vessel.
As you swim through the series of caves, you'll see schools of colorful tropical fish, pelicans, gulls, ferns, orange cup coral, and red sponges. Bring a dive light if you want to explore deeper into any of the caves, as it can get quite dark.
The Indians, BVI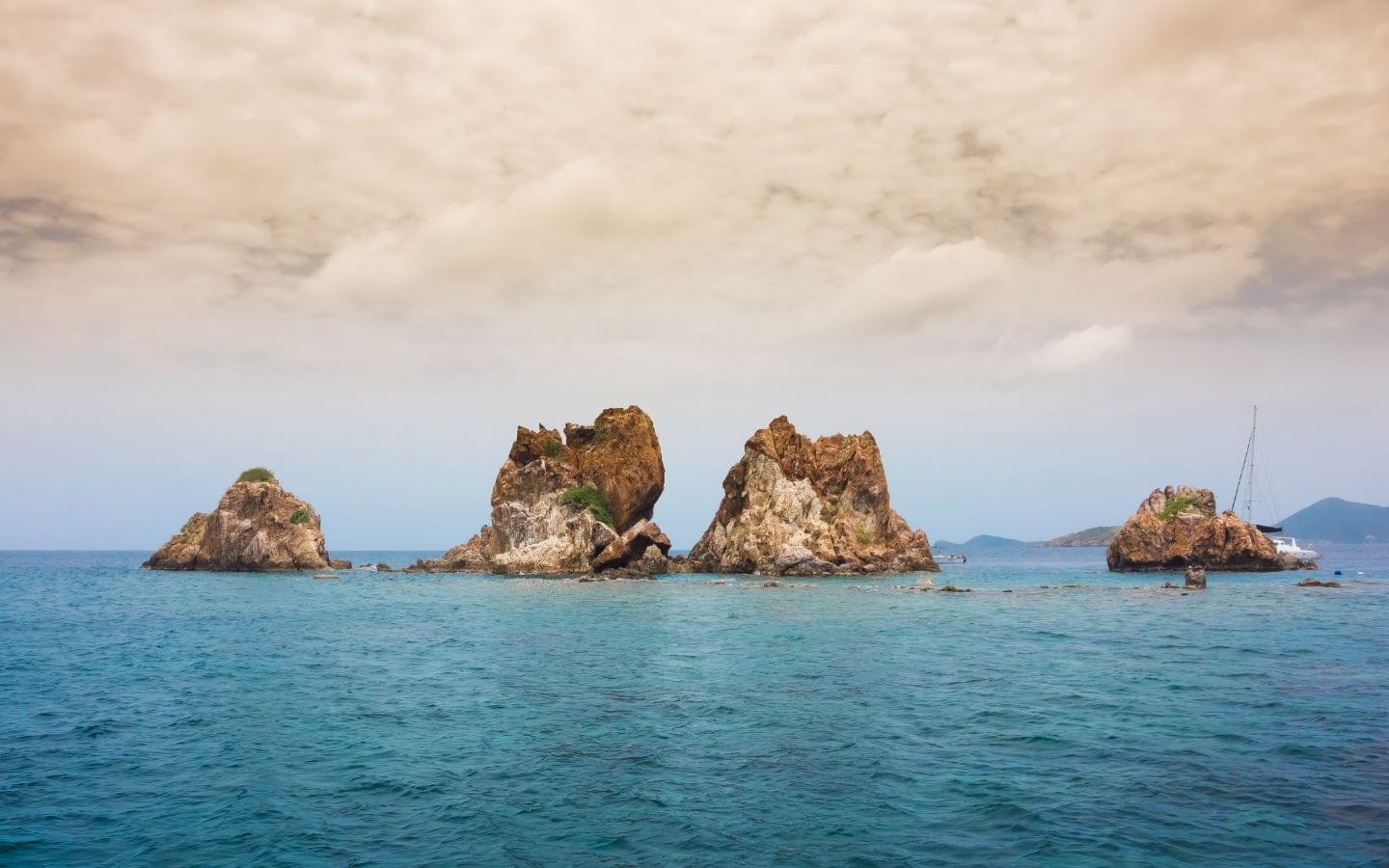 Not far from Norman Island lies a group of uninhabited rocky islets rising from the sea. Known as The Indians, this area is a popular diving and snorkeling site with plentiful coral, fish, and other sea creatures.
The fascinating rock formations are perfect for underwater exploration. Depths around the formations range from around 10 to 50 feet.2
Like The Caves, The Indians are accessible only by boat. It's possible to visit both sites in a single day. The area can get crowded, so plan to arrive early for the best experience.
Smuggler's Cove, Tortola, BVI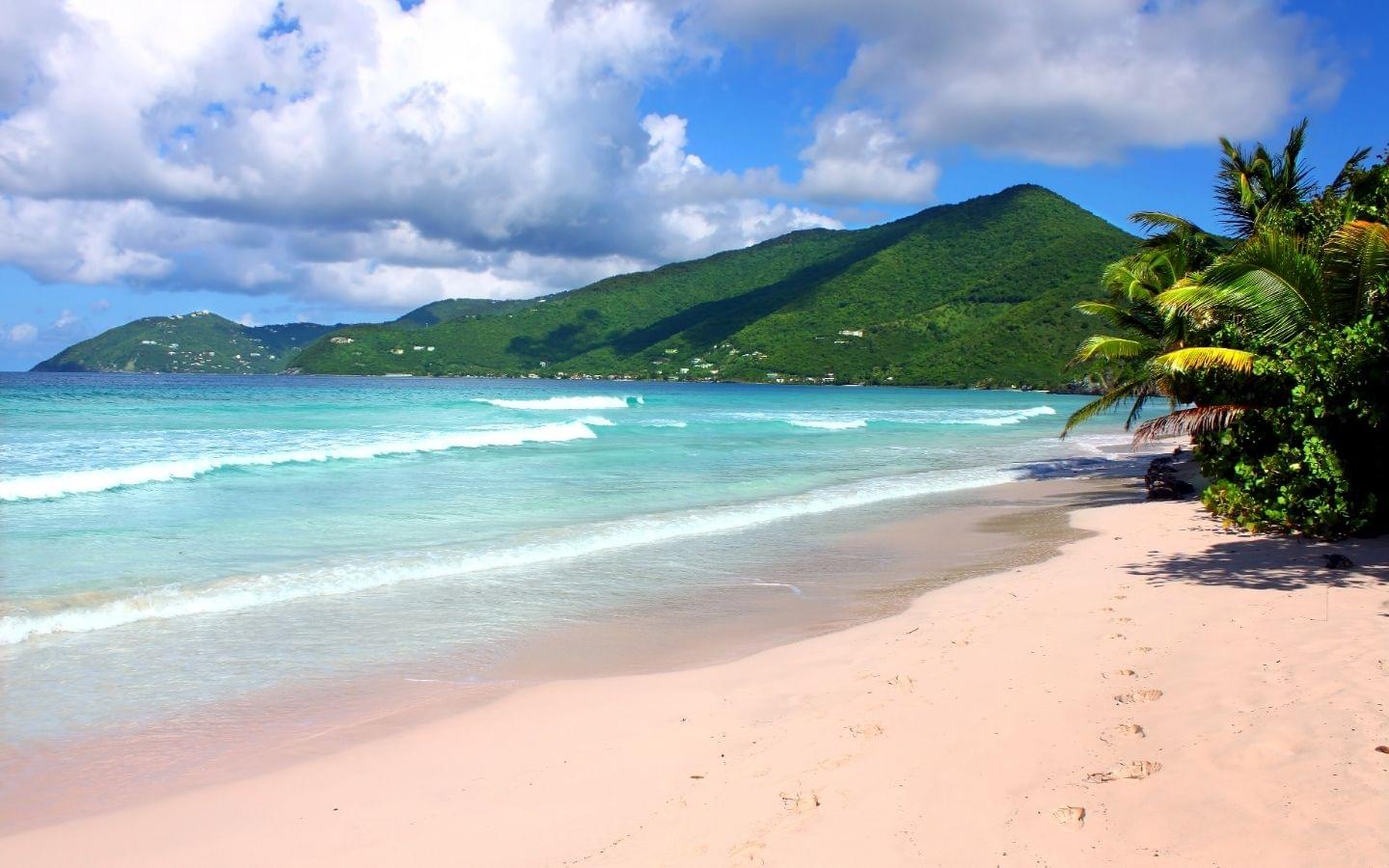 This hidden spot provides a relaxing atmosphere that's perfect for those seeking solitude. Because of the calm, shallow water, Smuggler's Cove is a great snorkeling site for beginners.
Like many areas in the Virgin Islands, Smuggler's Cove is still recovering from hurricanes Maria and Irma. Despite the damage, there are many opportunities to view diverse marine life, including coral, tropical fish, octopus, and sea turtles.
A couple of beach shacks sell drinks and snacks and rent stand up paddleboards, beach chairs, umbrellas, and snorkel gear, but there are no restrooms or other amenities.
Smuggler's Cove is located on the west end of Tortola, and you can get there by boat, taxi shuttle, or car. Keep in mind that land access to this remote location requires driving down a bumpy dirt road that may be challenging to navigate without a jeep, SUV, or off-road vehicle.
Best snorkeling tours
Private charters are a great way to see numerous islands and snorkel in diverse places in a single day. This private speedboat charter from St. Thomas is a top pick that will take you snorkeling at the prime spots in the USVI and BVI. This seven-hour private boat tour is another highly-rated excursion with multiple snorkeling stops that can be customized according to your preferences.
If you're looking for a more eco-friendly option, active travelers love this three-hour multisport tour featuring snorkeling, hiking, and kayaking in Virgin Islands National Park. The trip begins and ends at Honeymoon Beach, one of St. John's best snorkeling spots.
Best places to stay
Located on the East End of St. Thomas, Secret Harbor Beach Resort offers prime snorkeling conditions right off of the hotel beach. The award-winning resort has an onsite dive center with watersport rentals, snorkeling gear, and guided excursions. You can choose from various beach, snorkeling, and diving packages or book accommodation only.
On St. John, Estate Lindholm is a top pick within Virgin Islands National Park. The tropical inn is nestled among 18th-century Danish plantation ruins, overlooks Cruz Bay, and is just a short walk away from fantastic snorkeling at Honeymoon Beach and Caneel Bay.
In the British Virgin Islands, the island of Tortola makes a great base for snorkelers. Long Bay Beach Resort is a popular choice next to picturesque Long Bay Beach and Smuggler's Cove. The oceanfront boutique resort provides a luxurious yet laid-back experience with access to a wide range of outdoor activities, including snorkeling, sailing, surfing, and paddle boarding.
Tips for snorkeling in the Virgin Islands
Bring your own equipment for the best experience
While many of the beaches listed above have snorkeling gear available for rent, bringing your own equipment will provide you with a consistent fit, improved comfort, and a more relaxing experience overall.
Because of the Covid-19 pandemic, many people feel uneasy about sharing snorkeling equipment with others. Although reputable rental companies and tour operators clean and sanitize gear between uses, bringing your own allows you to snorkel without worrying about the equipment's cleanliness.
Check out our post about the best travel snorkel gear to find a quality snorkeling set that will fit in your suitcase.
Consider wearing a snorkel vest
Snorkel vests are personal flotation devices that make it simple to float at the water's surface and view the marine life below. If you're new to snorkeling, visiting an area prone to stronger currents, or snorkeling at a more remote site, wearing a snorkel vest will make your outing safer and more comfortable.
For more information about the benefits of wearing a snorkel vest and some recommended products, you can read our detailed snorkel vest article here.
Wear adequate sun protection
Since most people consider December to April the best time to travel to the Caribbean, many snorkelers visit the Virgin Islands during the North American winter. This makes people coming from northern climates especially susceptible to the strong Caribbean sun.
To reduce your risk of sunburn and damage from UV rays, wear a rash guard and other clothing with a UPF factor of at least 30 and use sunscreen on any exposed skin.
Make sure to choose a reef-friendly sunscreen that doesn't contain oxybenzone, octinoxate, or other chemicals known to harm coral reefs and sea creatures.3 In addition to protecting marine life, you'll also be following the law - the US Virgin Islands has banned the use of these reef toxic sunscreens.4
For more advice about what to wear snorkeling, check out our article here.
Conclusion
The Virgin Islands have some of the best snorkeling in the Caribbean. Whether you're heading to St. Thomas, St. Croix, or Tortola, you're sure to find stunning places to enjoy this exciting underwater activity.
---
Resources
Last updated 17 February 2022
This blog post contains affiliate links from Viator and TripAdvisor, which means we receive a small commission on any sales made via those links.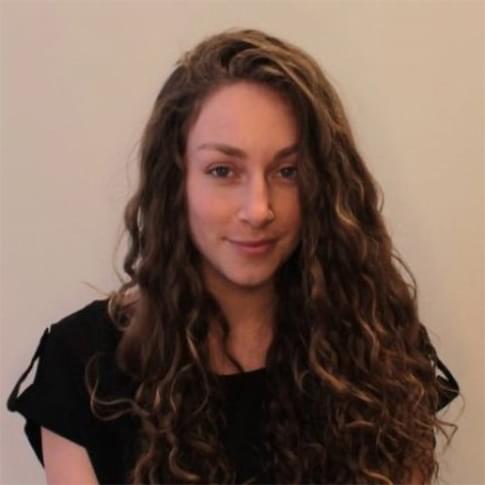 Rebecca Jambrovic