The best snorkeling in Anguilla
Anguilla's picturesque beaches, aquamarine waters, and seven marine parks make it an excellent place to explore the underwater world. Here's where to find the best snorkeling in this tropical paradise.
---
With some of the most beautiful beaches in the whole Caribbean, Anguilla is a quintessential tropical getaway. The island is not as well-known for its sea life as other top Caribbean snorkeling destinations, but there are plenty of great places to experience the underwater world.
The main island of Anguilla and smaller cays offshore contain seven marine parks, an extensive reef system, clear waters, and many gorgeous beaches. Whether you're planning to spend a few days or more in Anguilla or visit on a day trip from neighboring St. Martin/Sint Maarten, you'll have a variety of snorkel sites to choose from.
From uninhabited islands to beaches filled with fine dining options and luxury resorts, here are the best places to snorkel in Anguilla.
Shoal Bay Beach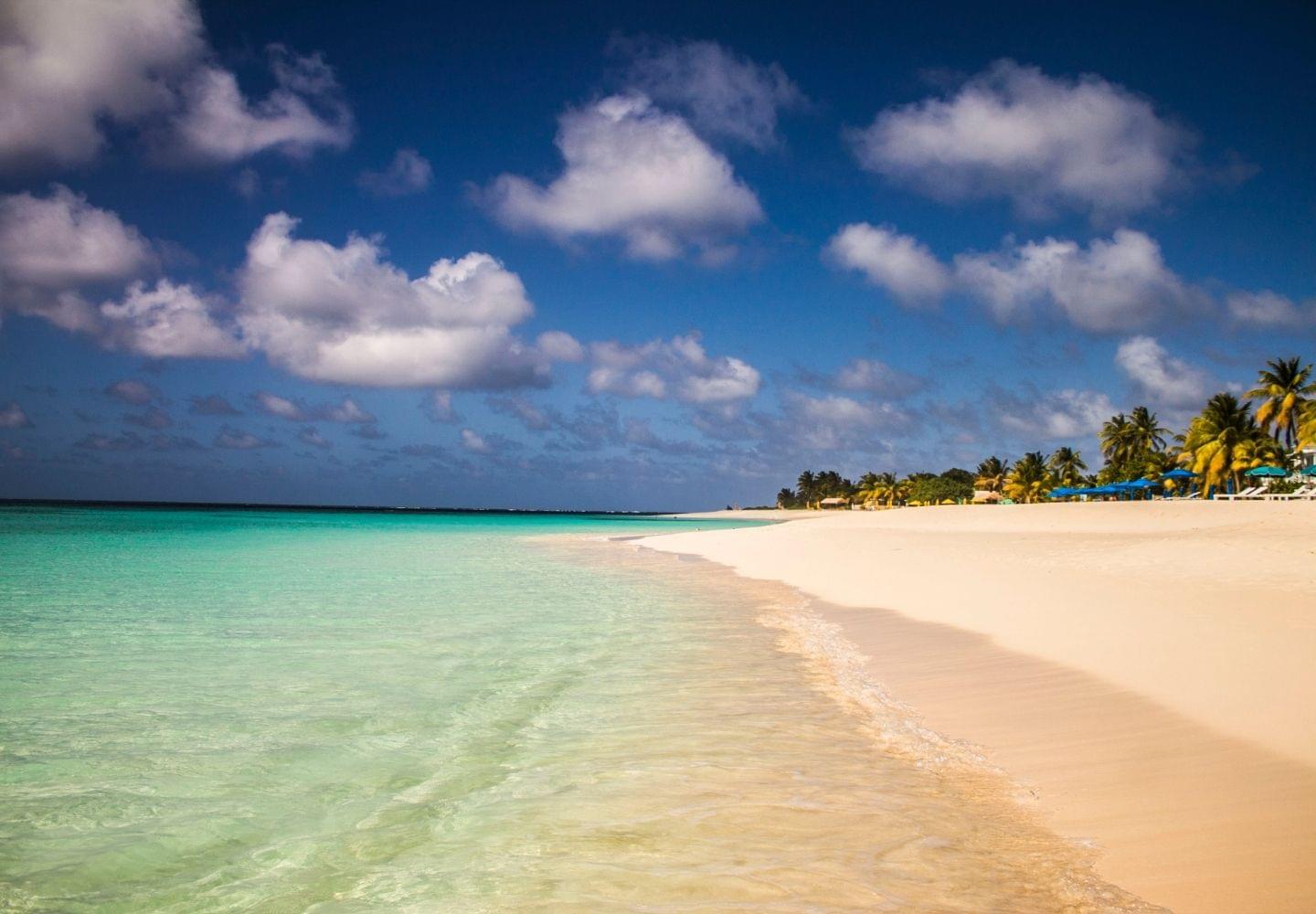 Shoal Bay Beach is nearly two miles long and ranks among the world's best beaches. While there are many places to snorkel along this beautiful stretch of white sand, you'll find the best spots on the more secluded east side.
The eastern end of the beach, known as Shoal Bay East, offers the easiest access to the reef. You can enter the water near the point, just east of Elodias Beach Resort. From there, it's a short swim to the inner reef. Experienced snorkelers can also explore the outer reef, which is rich with corals, sea fans, and larger fish.
Snorkelers at Shoal Bay can view a variety of tropical fish, including sergeant majors, wrasses, snappers, blue tangs, and colorful parrot fish. There are many restaurants, beach bars, and vendors at the beach, including chair and umbrella rentals and snorkeling gear rentals.
Shoal Bay East is Anguilla's best-known and most popular snorkeling site. Even though you'll likely see other tourists and day-trippers from St. Martin/Sint Maarten, this spot is rarely crowded and offers a nice balance between amenities and seclusion. The beach is free to access, and parking is available on the main road.
Crocus Bay and Little Bay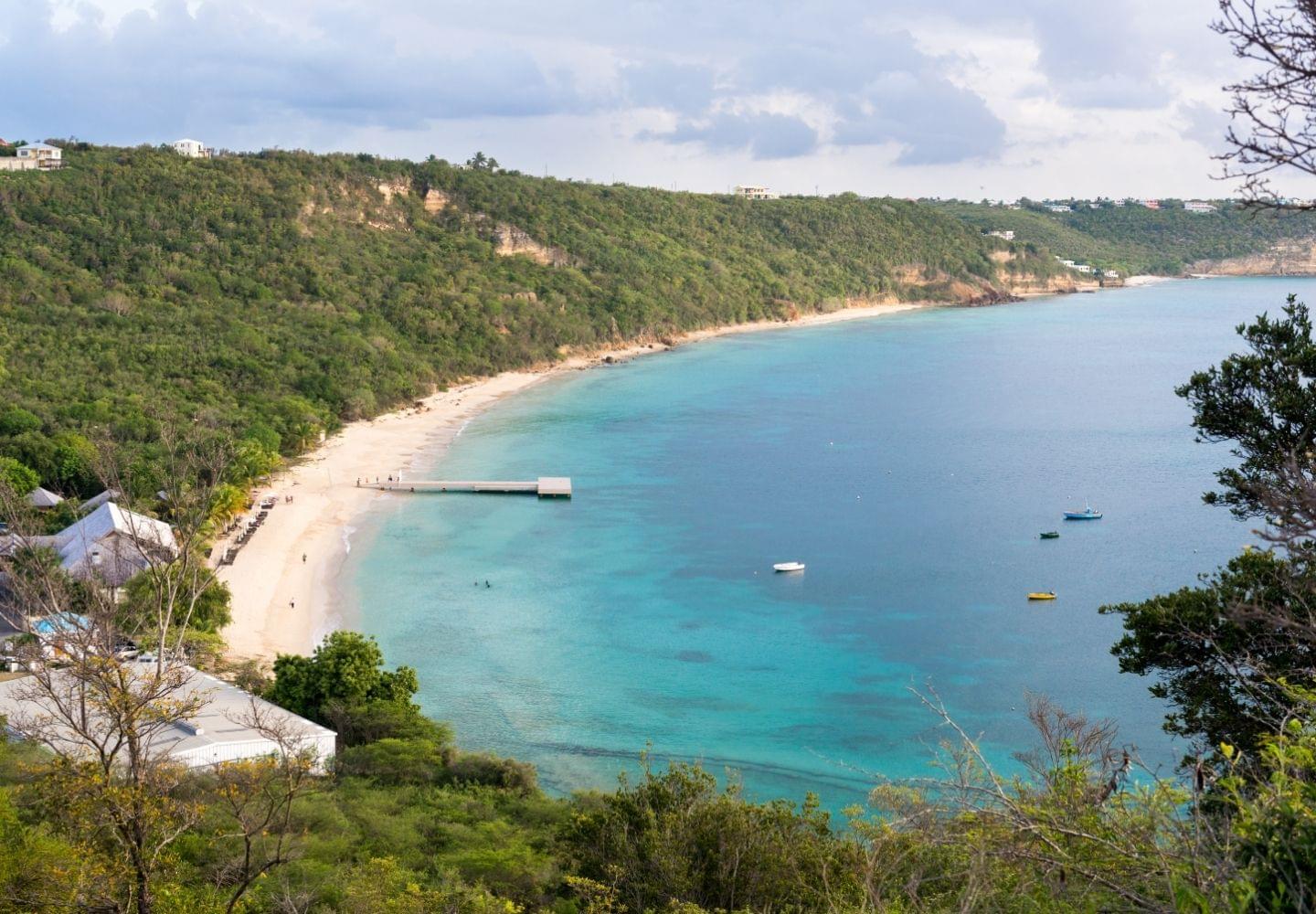 Located in an area known as The Valley, Crocus Bay is a quiet spot where you can enjoy the golden sand and snorkel in the calm waters. There is good snorkeling just off the beach near the dock, with the chance to see corals, schools of small fish, and crabs. The middle of the bay is home to larger sea creatures like barracuda and octopus, and the cliffs on the right are a great place to view soft and hard corals, spiny lobsters, feather duster worms, trumpetfish, and butterflyfish.
While you're there, you should take the opportunity to explore a picturesque cove called Little Bay. The bay features a small white sand beach surrounded by cliffs and azure waters. The area is an excellent place to view Anguilla's diverse sea life, including numerous tropical fish, sea turtles, and even manta rays.
You can take a short boat ride for about US$15 or paddle to Little Bay - kayak and SUP rentals are available at Davida Watersports in Crocus Bay. Little Bay is a popular stop on boat tours. Head there early in the morning if you want to beat the crowds.
Sandy Island
Sandy Island is an ideal escape for travelers who want to feel like a castaway for the day. This tiny patch of sand has great snorkeling and is about two miles from Sandy Ground Beach on the main island.
To get there, you can book a private boat cruise or take a sea shuttle from Sandy Ground. As you swim through the pristine blue-green water around the island, you can spot colorful fish, rays, lobsters, eels, and sea turtles.
The island looks almost deserted from a distance, but when you get there, you'll find a small beach bar with drinks, delicious grilled lobster, and other snacks. Sundays often have live reggae and calypso music and a festive atmosphere.
You can visit the island with or without a reservation between November and August. If you want to go in September or October, you'll need to contact Sandy Island and make a reservation for your group 1. Visitors interested in planning a private party or event can also reserve the entire island in advance.
Sandy Hill Bay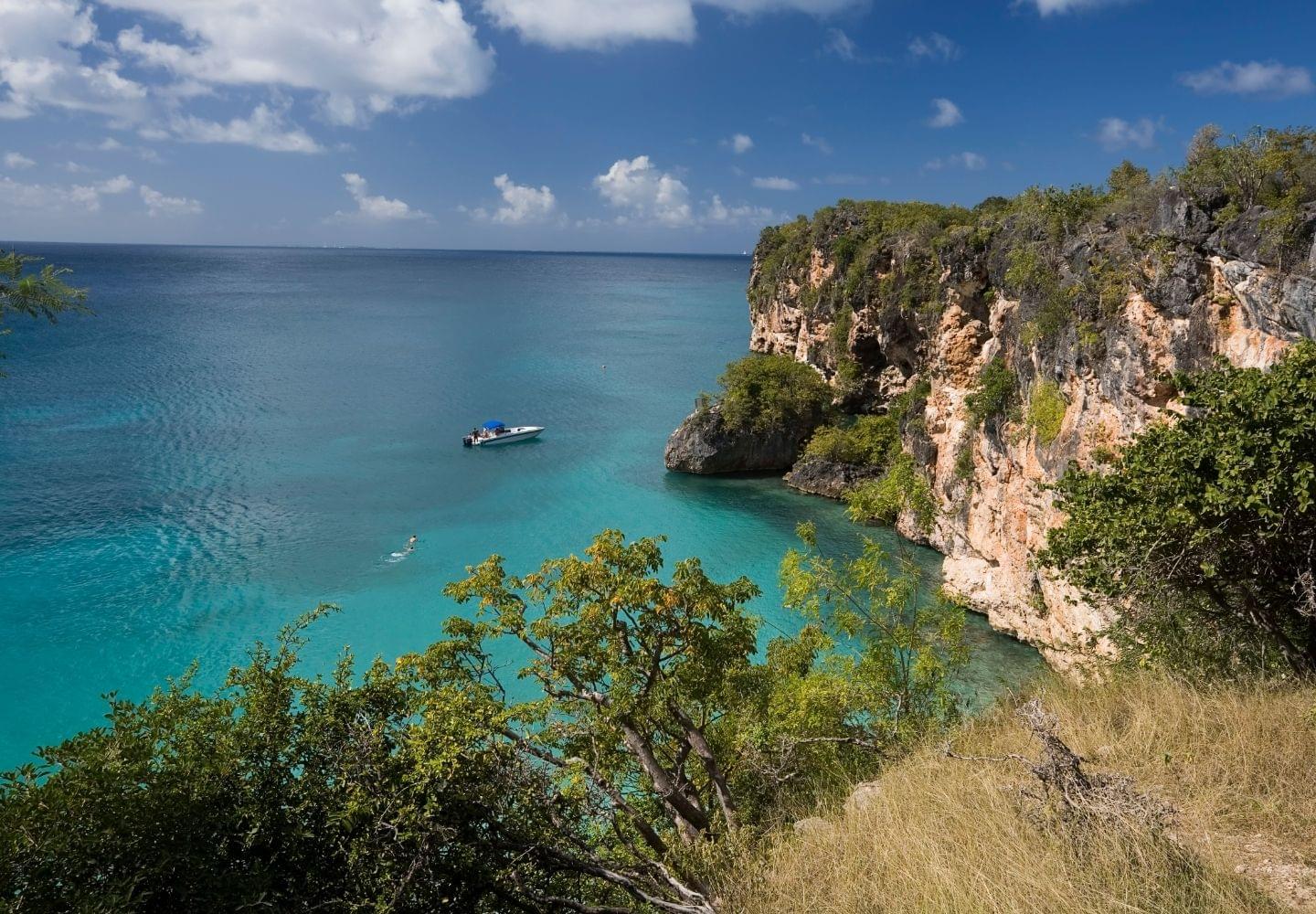 Quiet Sandy Hill Bay is a good spot for those who want to relax and snorkel away from other people. The beach doesn't experience much traffic, so you'll have plenty of space to spread out and explore in peace.
Although it's located on the windward side of the island, the waters at Sandy Hill Bay are usually calm since a stretch of coral rubble protects the cove. There is a reef close to shore, and you can look for parrotfish, tangs, and stingrays among the coral rubble.
You won't find any restaurants or facilities on the beach, but there are some restaurants and shops nearby on Long Path Road.
Meads Bay and Barnes Bay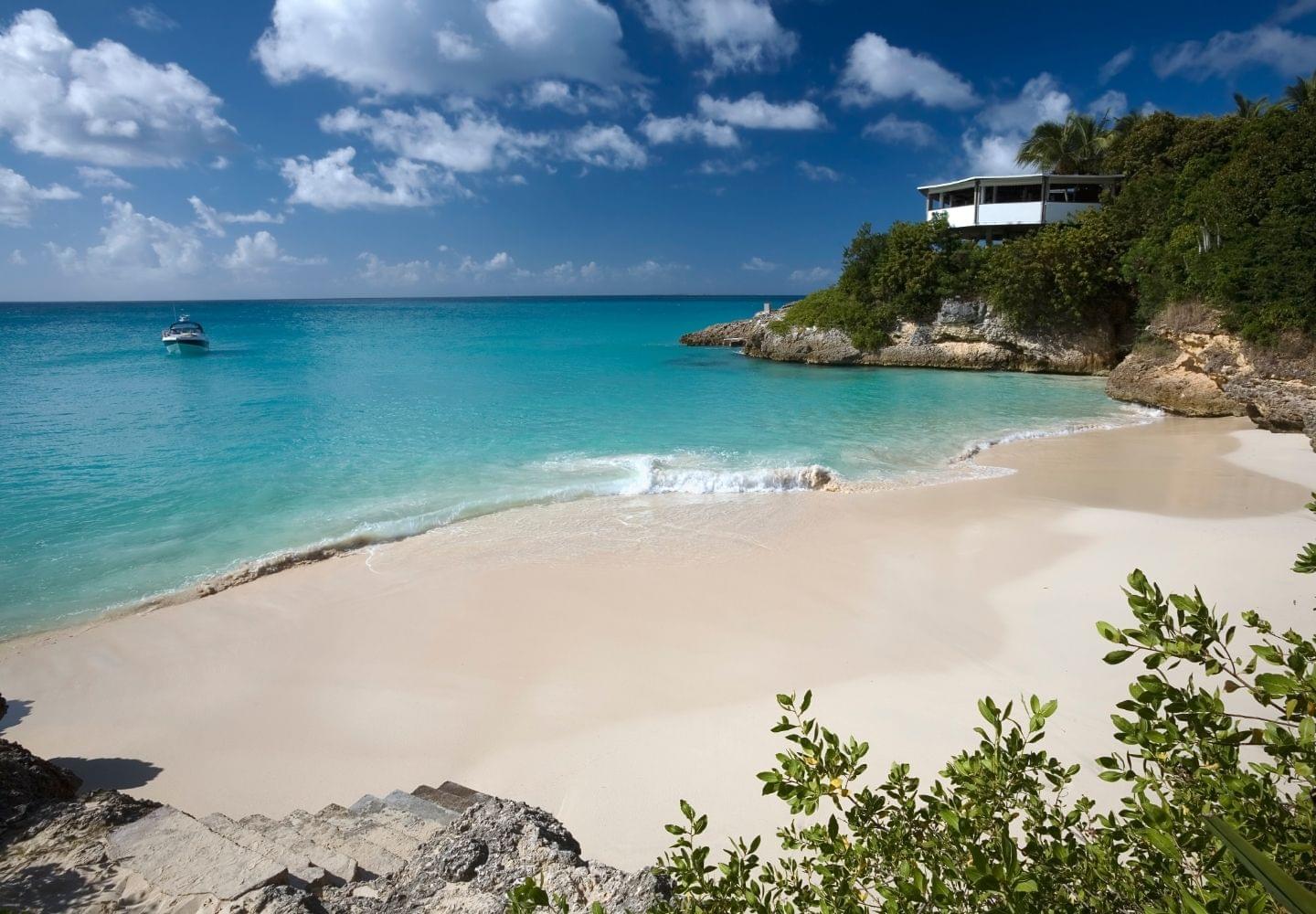 These two picturesque bays towards Anguilla's west end are perfect for snorkeling and enjoying the island's spectacular coastal scenery. Meads Bay and Barnes Bay have good snorkeling right off the beach.
Swim to the cliffs between the two bays to see corals, moray eels, French angelfish, and other sea life. The rocks beneath the Malliouhana resort on the east side of Meads Bay are another excellent spot.
There is also a reef near shore. Beginners can stick close to the beach, while experienced snorkelers will enjoy the chance to swim further out along the reef and spot larger fish, rays, and even sharks.
The area experiences some waves in the summer. Otherwise, the water is generally calm and suitable for beginners. The bays have many amenities, resorts, boutique hotels, and some of Anguilla's best restaurants, but they remain relatively relaxed and quiet.
Junk's Hole, Savannah Bay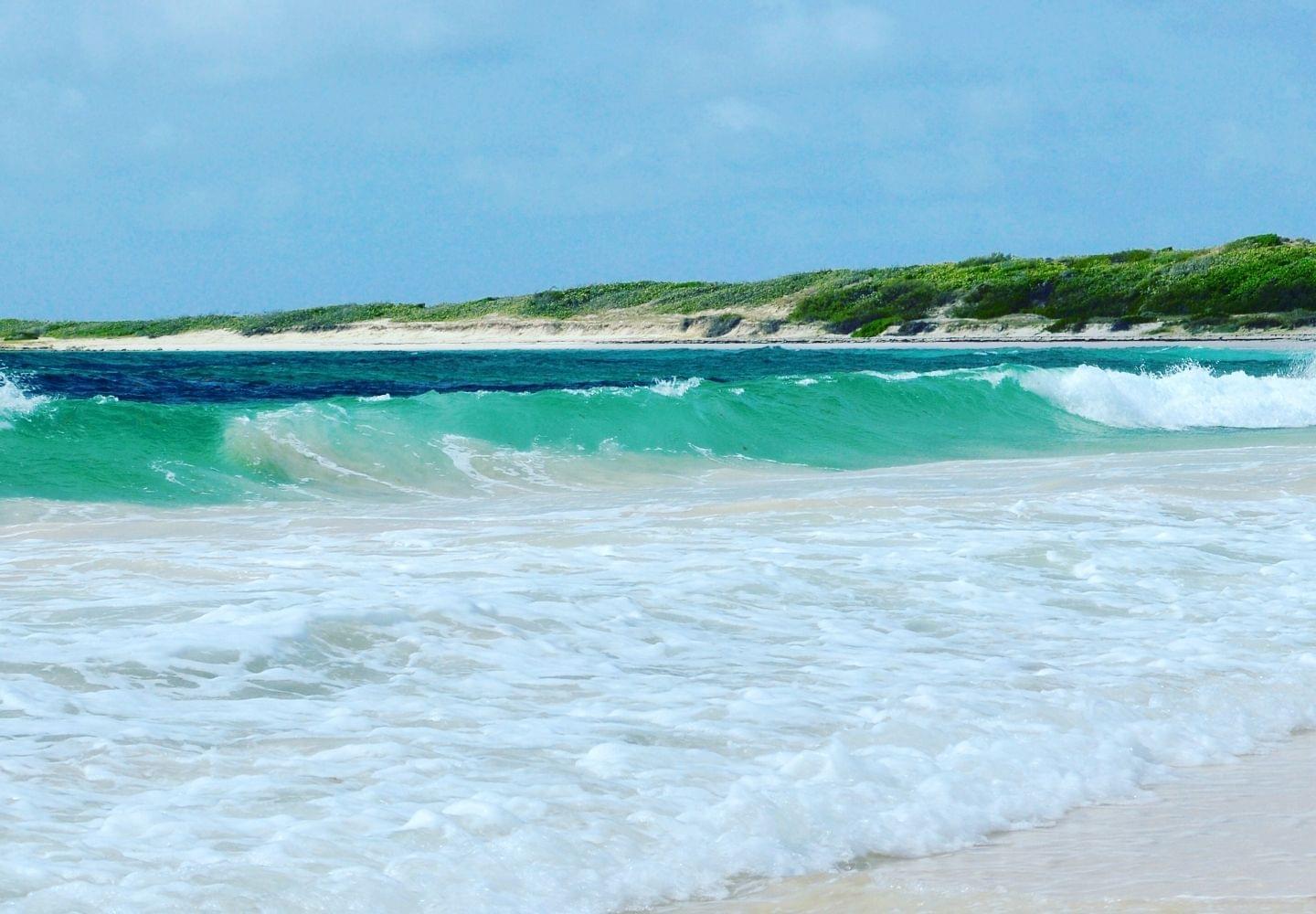 Located on Anguilla's wild east end, Savannah Bay is a fantastic spot for nature lovers who want to experience unspoiled parts of Anguilla. The eastern side of the bay, known as Junk's Hole, has the calmest waters and the best snorkeling in the area.
Junk's Hole gets its name from the ocean debris that commonly washes up onshore. In contrast to the sandy sections of the bay, it is quite rocky. Make sure to bring snorkeling booties or water shoes to protect your feet and your own snorkeling gear. For more packing tips, you can view our article about what to wear snorkeling.
Except for a small BBQ restaurant called Palm Grove (often referred to as Nat's), the area is undeveloped. The restaurant rents chairs and umbrellas, but otherwise, there is minimal shade in this remote area.
You can reach this spot by car. You'll need to drive about 5-10 minutes along a dirt road, but most vehicles don't have an issue navigating the terrain.
Prickly Pear Island
Also called Prickly Pear Cays, this pair of uninhabited Caribbean islands is about six miles north of Anguilla. The islands are surrounded by reefs and make an excellent day trip for travelers who want to snorkel, hike, paddle, bird watch, or just relax in a gorgeous, remote setting.
The larger Eastern Cay has a stunning white sand beach with crystal clear waters ideal for snorkeling. The aquamarine waters around the cays are rich with sea life, including lobsters, stingrays, sea turtles, angelfish, parrotfish, and, more rarely, nurse sharks,
Day trips to Prickly Pear are available from Sandy Ground on Anguilla and St. Martin/St. Maarten. Although the island is uninhabited, there are many amenities for day-trippers. You can paddle through the serene waters in a kayak or on a stand up paddle board, rent snorkeling gear, enjoy a meal at the restaurant, and even get a massage.
Best snorkeling tours
For those staying on the island of Anguilla, this half-day sailing and snorkeling excursion takes you on a classic West Indian sloop from Sandy Ground to Little Bay. Another top-rated day trip is this six-hour sailing tour to Prickly Pear Cays. The trip includes snorkeling at the Prickly Pear Reef, a lobster lunch, and drinks before returning to Sandy Ground.
If you're staying in St. Martin/Sint Maarten and want to visit Anguilla, this full-day catamaran cruise features snorkeling stops at Prickly Pear Cays and Road Bay Beach. The tour departs from Philipsburg and includes a BBQ lunch and beverages.
Best places to stay
Many travelers in Anguilla opt to stay along Shoal Bay Beach, one of the world's best beaches. The two-mile beach has a variety of lodging options ranging from private vacation rentals to luxury villages to value-oriented cottages. Serenity Cottage is a fantastic choice for travelers on a budget. Those with more to spend may consider Zemi Beach House, a boutique hotel in Shoal Bay East. Both properties are oceanfront and steps away from Anguilla's most popular snorkeling site.
The west end of Anguilla is also an excellent choice for snorkelers and has stunning coastal scenery. Perched above the mile-long Meads Bay Beach, the luxurious Malliouhana resort is a dreamy oceanfront getaway. The rocks just next to the resort offer plenty of chances to spot sea life, and there is a reef close to shore. You can snorkel on your own or take advantage of the resort's private guided snorkeling tours, kayak tours, and more.
Anguilla snorkeling FAQ
Is snorkeling in Anguilla worth it?
Anguilla has plenty of spots with good snorkeling. Still, the marine life and corals are not as impressive as some other top snorkeling destinations in the Caribbean, such as the Virgin Islands, The Bahamas, and Mexico. If you're planning your entire vacation around snorkeling, there are better choices in the region. That said, Anguilla is a fantastic destination for travelers who want to enjoy the island's pristine beaches and culinary charms while also spending a few days snorkeling.
When is the best time to visit Anguilla?
The best time to visit Anguilla is between mid-December and early August. Mid-December through mid-April is the peak tourist season. If you visit during this period, you should expect higher rates and busier beaches.
Mid-April through August is a great opportunity to take advantage of off-peak rates, but you'll likely experience more rain and humidity. The rainy season begins in late May and runs through mid-November, with September, October, and November being the wettest months (1). Showers are often brief, so you can still expect plenty of sunshine - especially from May to August.
Since temperatures fluctuate little in this tropical climate, snorkeling is possible any time of the year. However, we recommend avoiding September and October. Many properties close down during these months, and the risk of hurricanes is higher. The official Atlantic hurricane season runs from June 1 to November 30, so consider purchasing travel insurance if you plan your trip during this time.
Is there a reef near Anguilla?
The north side of Anguilla has an extensive reef system, with additional smaller reefs around Anguilla's offshore islands and cays (2). The best places to snorkel and explore Anguilla's coral reefs are Shoal Bay Beach, Barnes Bay, Meads Bay, and Prickly Pear Island.
FAQ sources
"When to Go in Anguilla." Frommer's.
Wynne, Stuart P. "Coral Reefs of Anguilla." Coral Reefs of the United Kingdom Overseas Territories, vol. 4, 31 Jan. 2013, pp. 13-22. Springer, Dordrecht, doi 10.1007/978-94-007-5965-7_2.
---
Resources
Last updated 23 February 2022
This blog post contains affiliate links from Viator and TripAdvisor, which means we receive a small commission on any sales made via those links.
Table of contents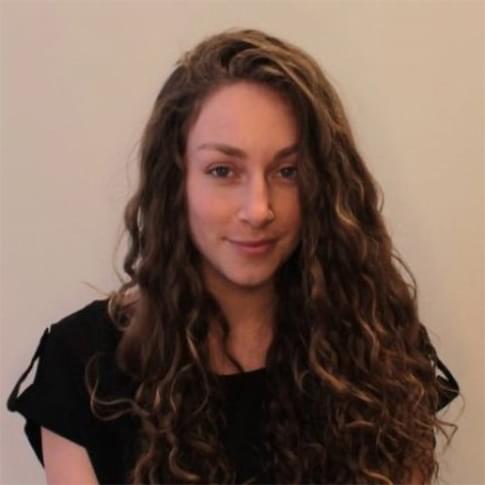 Rebecca Jambrovic