The best snorkeling in The Bahamas
With 700 islands and 2,400 cays, the Bahamas are a playground for snorkelers and water sports enthusiasts. Here's where to find the best Bahamas snorkeling spots.
---
Known for their thriving coral reefs and exceptional underwater visibility of up to 200 feet, The Bahamas' 700 islands and 2,400 cays have some of the best snorkeling in the Caribbean.1 From fascinating blue holes to the world's third-largest barrier reef, there are many diverse places in The Bahamas to explore the underwater world.
Whether you're visiting the main tourist center of New Providence Island or one of the Out Islands, it's hard to go wrong when snorkeling in this tropical paradise. There are numerous shallow, family-friendly snorkeling spots, as well as sites that are more suitable for advanced snorkelers.
Here are the best places to snorkel in The Bahamas, along with some travel tips to help you plan your visit.
New Providence Island and Paradise Island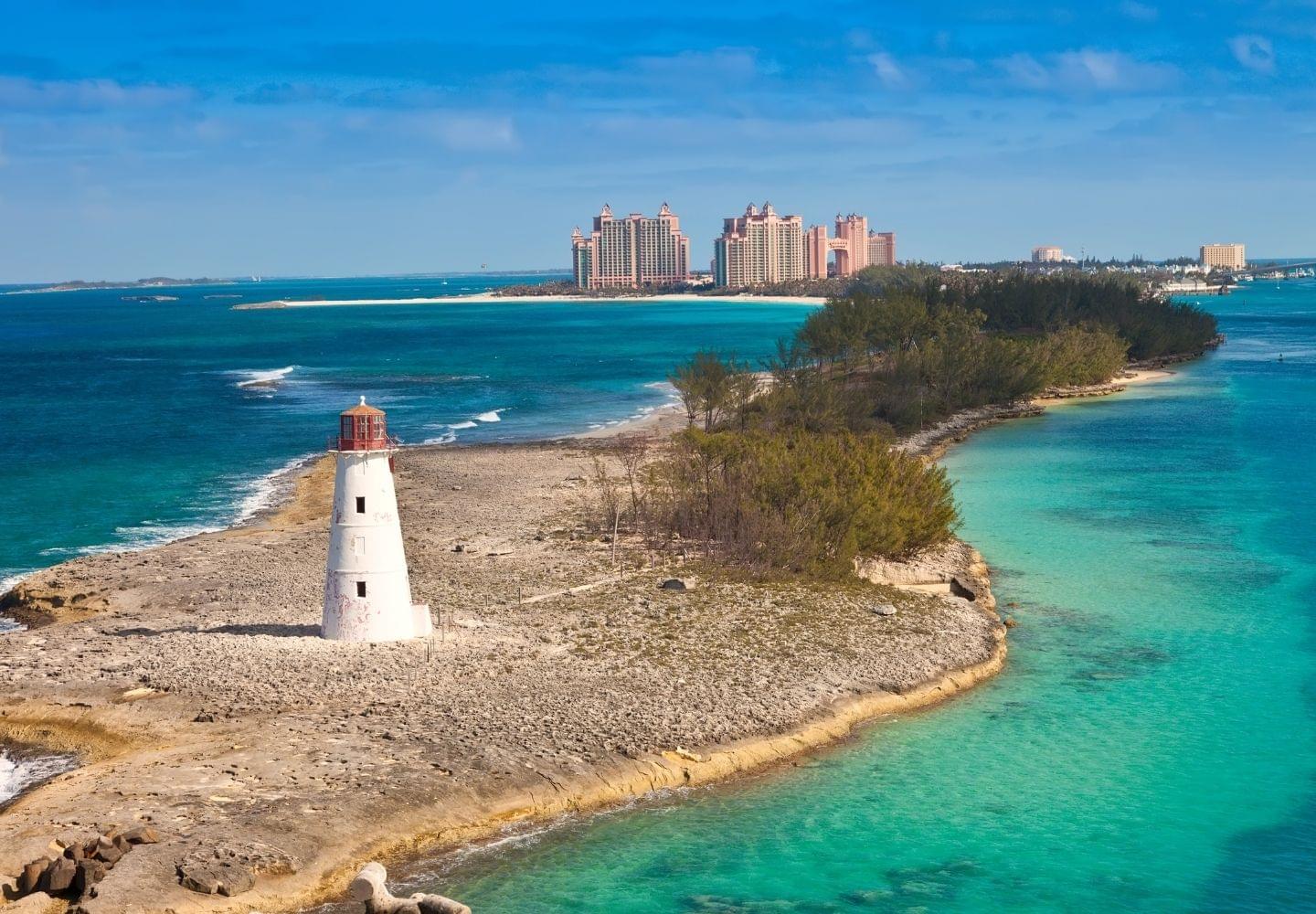 New Providence Island, home to the tourist hub of Nassau, is the most visited and most populous island in The Bahamas. Many beaches in Nassau and neighboring Paradise Island have good snorkeling, but you'll find the best spots offshore.
About three miles east of Paradise Island, Rose Island Reef has abundant tropical fish and two shipwrecks - The Mahoney and The Alcora. This shallow reef is perfect for novice snorkelers and families with children. The Goulding Cay Reef (about 30 minutes from downtown Nassau) is a shallow elkhorn coral reef teeming with colorful fish and an exciting site for snorkelers of all skill levels.
Those who don't mind deeper water can explore the Gambier Deep Reef off New Providence's northwestern coast. The reef reaches depths of about 80 feet and is a popular dive site, but there are shallower sections for snorkelers to explore.2 Organized snorkeling tours, such as this half-day boat trip around Rose Island, are available to all of these snorkeling destinations.
Grand Bahama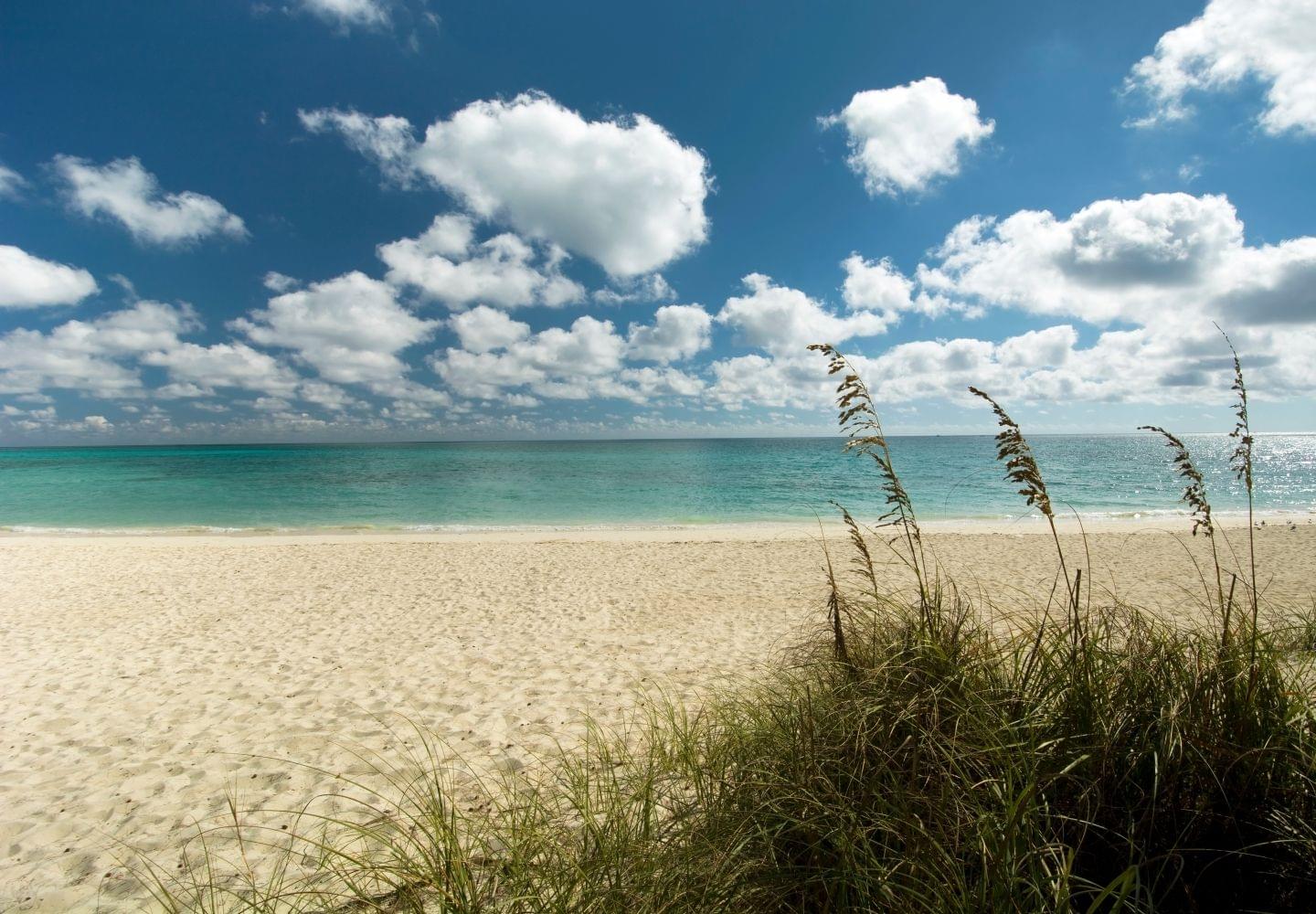 Grand Bahama, one of The Bahamas' northernmost islands, is home to many family-friendly snorkeling spots with calm, shallow water. Paradise Cove has some of the best off-beach snorkeling on the island, with the option to swim to Deadman's Reef. This easily accessible spot is located about 15 minutes northwest of Freeport and is an excellent place to enjoy other water sports, like paddle boarding, kayaking, freediving, and spearfishing.
Peterson Cay National Park is another top snorkel site about a mile offshore. You can book a guided snorkeling excursion that will take you there on a kayak or catamaran, or you can paddle on your own from the mainland.
Bimini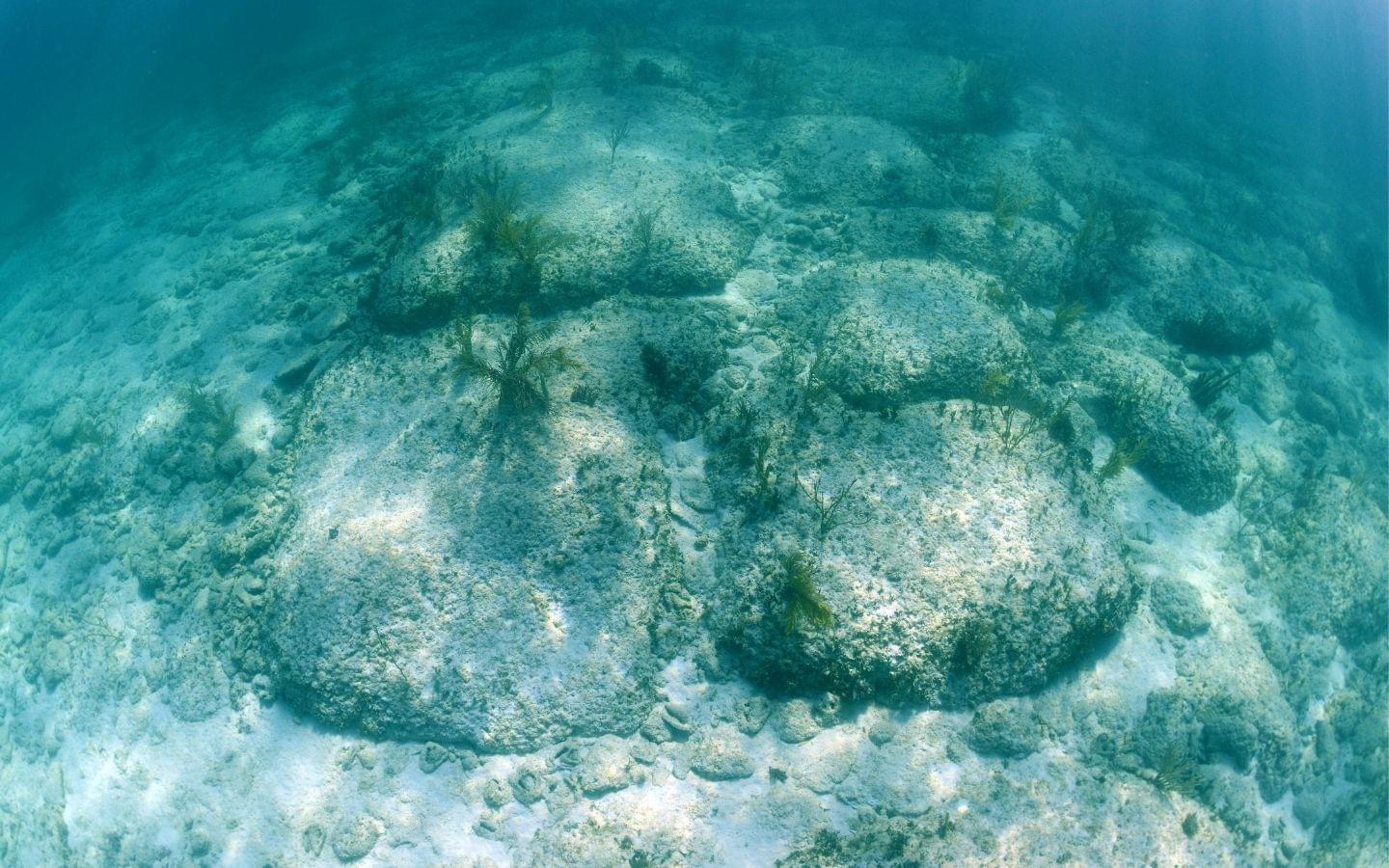 North and South Bimini, a pair of small islands about 50 miles from Miami, Florida, are famous for sportfishing and have excellent shallow water snorkeling. The islands are known for their white-sand beaches, black-coral gardens, and large marine life, including dolphins, stingrays, marlins, nurse sharks, and even hammerhead sharks.
Bimini Road (also called Atlantis Road) offers the chance to view diverse sea life and explore underwater stone monoliths, which some people believe to be part of the lost city of Atlantis. The shallow Rainbow Reef is another top place to snorkel and see colorful reef fish. This protected marine sanctuary is ideal for both beginners and advanced snorkelers and is renowned for its rich sea life.
The Exumas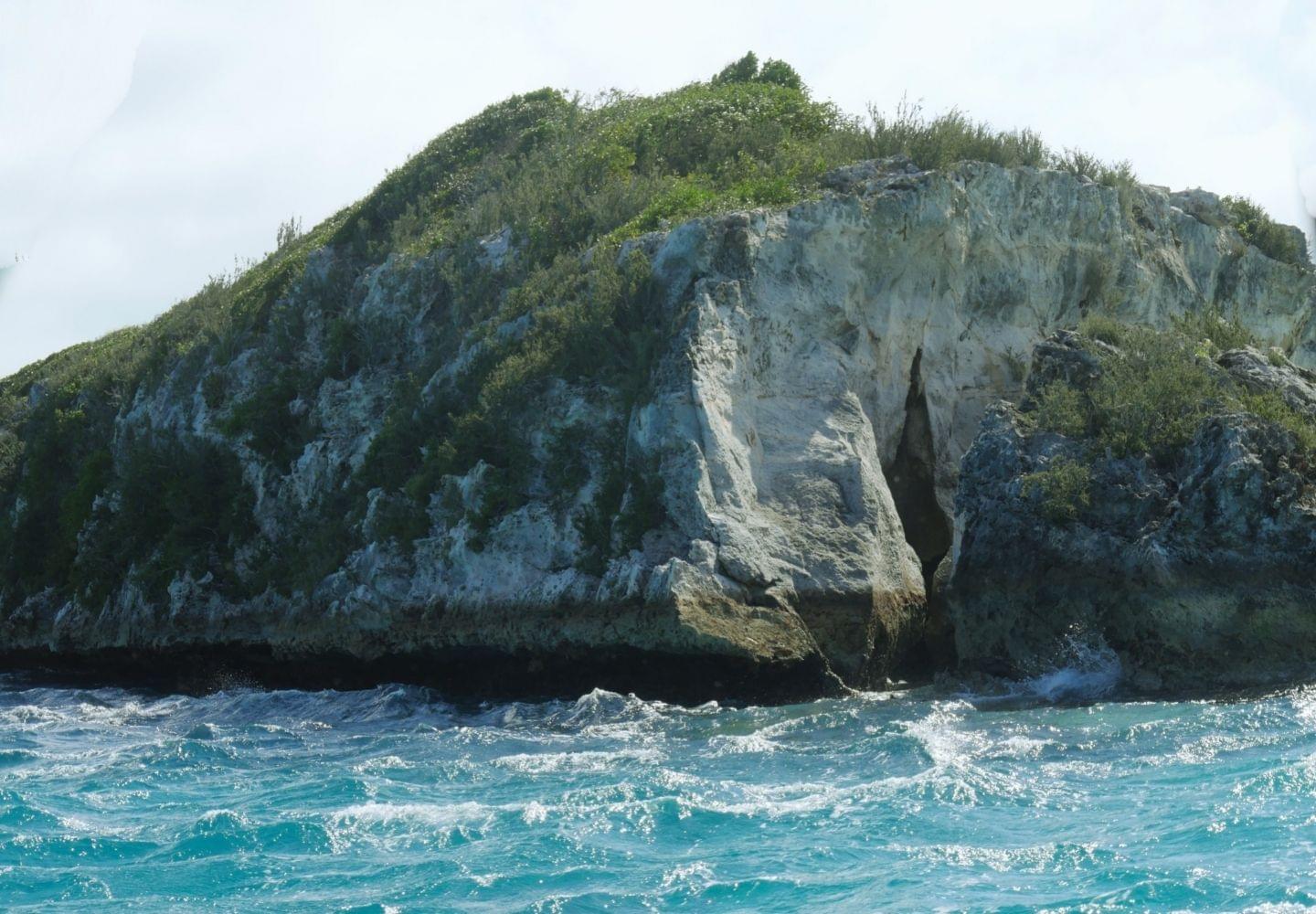 The 360+ islands and cays that make up the Exumas are known for their picture-perfect white-sand beaches, clear turquoise waters, and vibrant marine life. Stocking Island off Great Exuma is a top destination that features blue holes, coral gardens, and underwater caves. Thunderball Grotto at Staniel Cay, a cave famous for its appearance in the James Bond movie, Thunderball, is a fantastic place to explore and view octopus, stingrays, and schools of tropical fish.
Those who want to experience deserted islands, mangrove wetlands, and thriving marine ecosystems should head to the 176-square-mile Exuma Cays Land and Sea Park. This protected area contains an extensive barrier reef, diverse sea life, and numerous blue holes and caves and is an ideal place for snorkeling and scuba diving.
Andros Island
With the world's highest concentration of blue holes and third-largest barrier reef, Andros Island is a bucket-list-worthy destination for snorkelers and divers 3. Although Andros is the largest island in The Bahamas, it remains largely undeveloped with many uninhabited areas.
The Andros Barrier Reef is home to 164 species of corals and fish, making this an amazing place to observe a wide variety of sea creatures 4. In addition to smaller reef fish, you can see large species like sailfish, tarpons, tunas, and snappers.
The Tongue of the Ocean is a popular site among divers, but snorkelers seeking an adrenaline rush will enjoy the chance to witness the seafloor plummet from about eight feet deep to 6,000 feet deep 5. Those looking for shallower water can head to Central Park and Liben's Point to view elkhorn coral or visit Trumpet Reef to spot trumpetfish and large coral heads.
The Abacos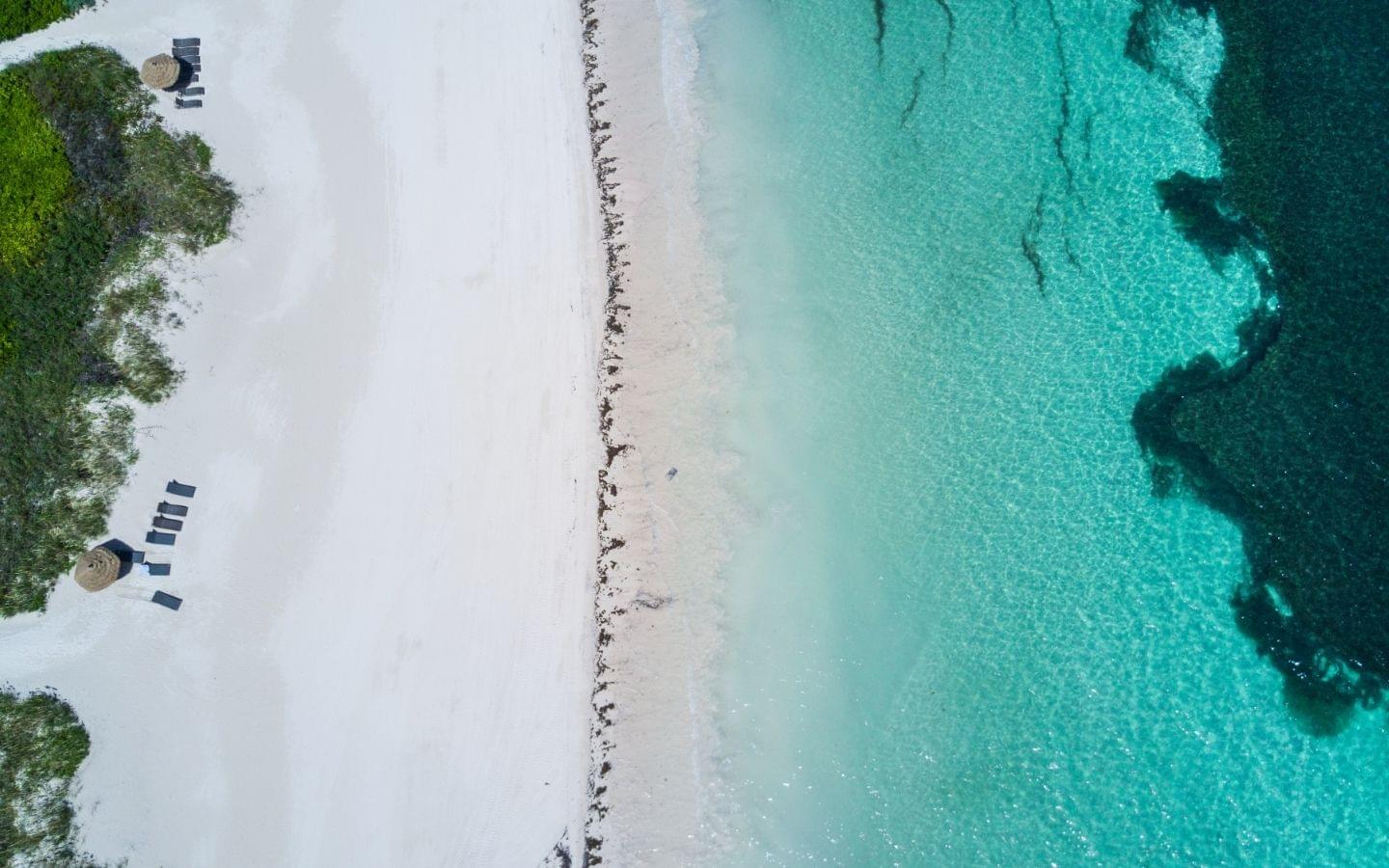 This stunning string of islands and cays is home to some of the most beautiful Bahamian beaches and many first-rate shallow snorkeling sites. Thanks to their remote location in the northeastern Bahamas, the Abacos are a wonderful choice for travelers seeking to avoid crowds. The area is still recovering from a damaging hurricane that struck in 2019, so facilities and services may be more limited than you'll find in other parts of The Bahamas 6.
There are opportunities for shore snorkeling on almost all of the Abacos islands, but the best spots to snorkel require a boat to reach them. It's hard to beat the clear waters off Elbow Cay, about a 30-minute ferry ride from Great Abaco.
Other top sites include Fowl Cays National Park (between Scotland Cay and Man-O-War Cay), Sandy Cay Reef in the Pelican Cay National Land and Sea Park, and Mermaid Reef in Marsh Harbour on Great Abaco. Sandy Cay Reef is an excellent place to view stingrays, spotted eagle rays, sea turtles, and elkhorn coral, while beginner-friendly Mermaid Reef is known for moray eels and barracudas.
Best snorkeling tours
Since many of the best places to snorkel in The Bahamas are located offshore, guided snorkeling tours and boat charters are a popular choice among travelers.
If you're staying in Nassau and have limited time, this four-hour trip takes you to Rose Island and Green Cay for reef snorkeling and swimming with sea turtles. Those with more time to spare should consider this full-day boat trip with snorkeling at the Exuma Cays. The tour leaves from Nassau and visits seven different spots, including Big Major Cay, home of The Bahamas' famous swimming pigs.
For travelers in Grand Bahama, this three-hour snorkeling excursion takes you from Freeport to Peterson Cay National Park. You'll have the chance to snorkel at the island's shallow coral reefs and relax on the boat before heading back to Freeport.
As one of the world's premier tropical sailing destinations, a week-long sailing cruise is another excellent option for travelers who want to see as many islands as possible. You can rent a private, skippered boat for the week or book a small-group tour with included activities like snorkeling, paddle boarding, and more.
Best places to stay
Located just next to Nassau, Atlantis, Paradise Island is one of the most iconic resorts in the Bahamas, and one of the largest in the Caribbean. If you're looking for a classic tropical resort experience, this collection of hotels is a great choice. The Reef is an upscale option with direct beach access, while The Beach is a more affordable pick appealing to families and couples with a lower budget.
If you're looking for a less resorty spot with convenient snorkeling just off the beach, Paradise Cove on Grand Bahama is a top pick. Paradise Cove Beach Resort has laid-back beachfront apartments with an onsite beach bar called the Red Bar. The family-owned hotel also has a water sports center offering guided snorkeling and spearfishing excursions and equipment rentals, all available for an additional fee.
Andros Beach Club on South Andros Island is also a fantastic spot for snorkelers seeking a more remote destination. The hotel's dive center offers snorkeling, diving, and spearfishing trips to the Andros Blue Holes and Andros Barrier Reef.
Bahamas snorkeling FAQ
What is the best time for snorkeling in The Bahamas?
Snorkeling is possible throughout the year in The Bahamas, but the best time to visit is from mid-December to mid-April. The weather is the nicest during these months, with low humidity, pleasantly warm air temperatures, and abundant sunshine. This period overlaps with the peak tourist season, so you should prepare for potential crowds and high prices.
The shoulder season from late April to June is an option for those seeking more affordable rates. Although there is a higher chance of rain during these months, water temperatures tend to be warmer, and the weather can still be lovely for beach-going. Underwater conditions don't change much throughout the year, so it's possible to have a fabulous snorkeling experience no matter when you visit.
Hurricane season runs from June to November, with severe storms most likely between August and October. The Bahamas are particularly vulnerable to hurricanes due to their location in the northeastern Caribbean, with a hurricane passing near the islands once every two years, on average (1). If you decide to visit during this time, we recommend purchasing travel insurance.
What is the best snorkel gear for The Bahamas?
At a bare minimum, you'll need a mask, snorkel, and swimwear when snorkeling in The Bahamas. Other items to consider include:
Snorkeling fins to help you glide through the water
Snorkel vest to keep you afloat and boost your visibility
Sun protection, including reef-friendly sunscreen, a buff or bandana, and a rash guard with a UPF rating of at least 30
Neoprene top if you're visiting in the winter and spending extended periods in the water
Fin socks or snorkeling booties to protect your feet
Headband, hair ties, or a swim cap to keep your hair out of your eyes
Waterproof bag for your valuables
Many resorts and guided snorkeling trips in The Bahamas provide guests with basic snorkeling equipment. However, you'll have the best experience if you bring your own travel-friendly snorkeling gear that you know how to use and fits you well.
In light of the Covid-19 pandemic, some gear outfitters and tour companies no longer provide equipment, and many people may feel more comfortable using gear that they know is clean and not used by anyone else. We recommend bringing your own equipment for a worry-free snorkeling adventure.
More information about Covid protocols in The Bahamas, including entry requirements, is available from The Bahamas Ministry of Tourism.
FAQ sources
Kelleher, Suzanne Rowan. "How Often Do Hurricanes Hit The Bahamas?" TripSavvy, 19 May 2020.
---
Resources
Last updated 24 February 2022
This blog post contains affiliate links from Viator, Booking.com, and TripAdvisor, which means we receive a small commission on any sales made via those links.
Table of contents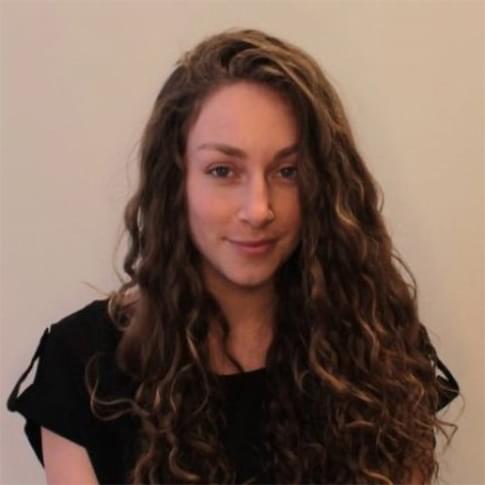 Rebecca Jambrovic