The best snorkeling in Mexico
Mexico's rich sea life, diverse geography, and crystal-clear waters make it one of the Caribbean's best snorkeling destinations. Here's where to find the top snorkel sites.
---
Mexico is packed with exciting places to explore the underwater world. The country has many diverse aquatic ecosystems, ranging from freshwater cenotes in the jungle to coral reefs in the Caribbean Sea. Whether you want to swim with whale sharks or see the world's second-largest barrier reef, you'll find the opportunity to do so in Mexico.
Most top snorkel sites are along the Caribbean coastline and the Sea of Cortez on the opposite side of the country, but there are several other locations you don't want to overlook. Here are the best places to snorkel in Mexico.
Cozumel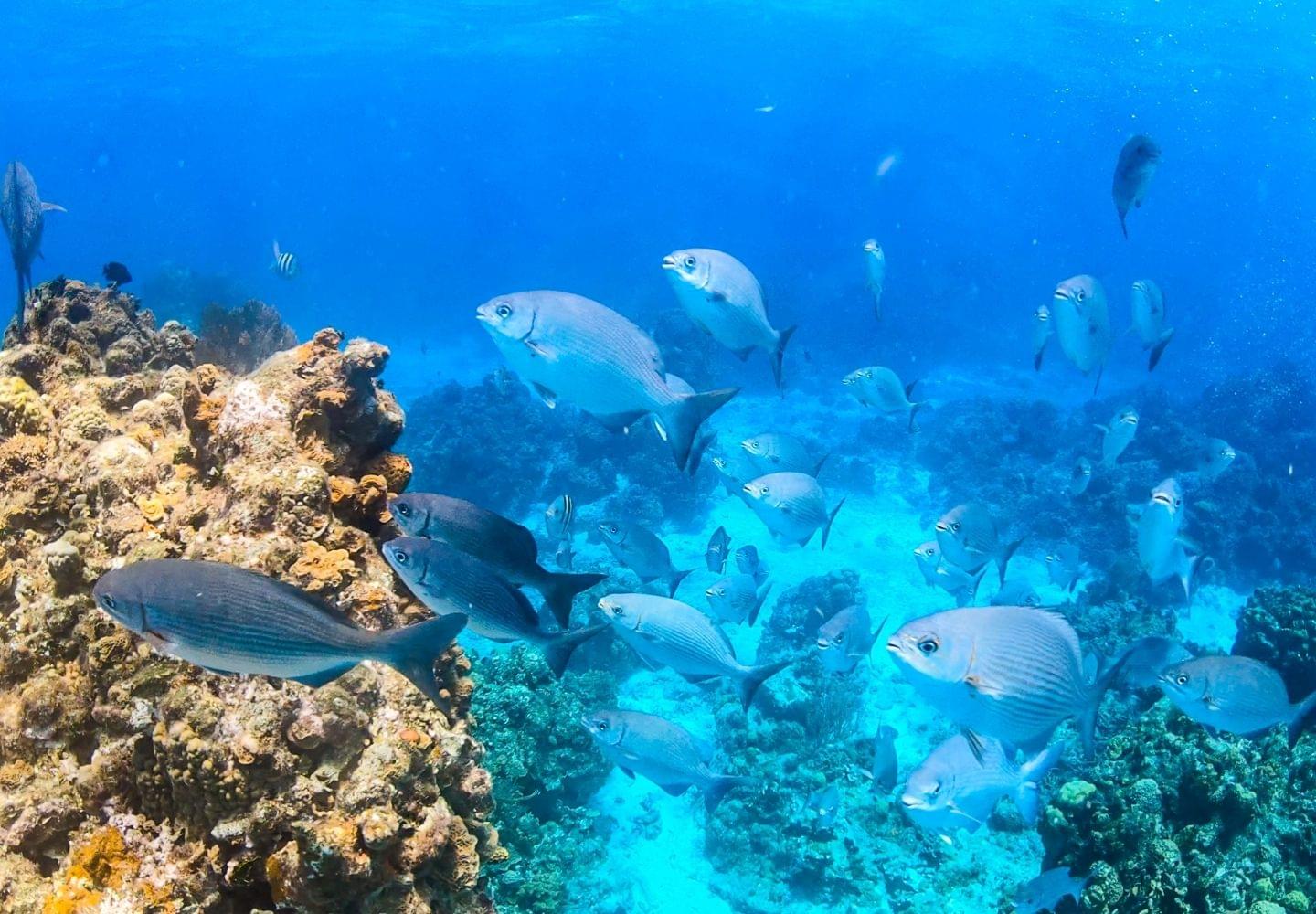 Cozumel is one of Mexico's top snorkeling destinations and offers visitors some of the best snorkeling in the Caribbean. This idyllic island lies off the coast of the Yucatán Peninsula near the Mesoamerican Barrier Reef System. Also called the Great Mayan Reef, this natural wonder extends for 600 miles along the coasts of Mexico, Belize, Guatemala, and Honduras. It is the second-largest barrier reef in the world, behind Australia's Great Barrier Reef.1
The western and southwestern coasts of Cozumel have many family-friendly snorkeling beaches with calm waters. Chankanaab Park features a lagoon where you can swim and snorkel with dolphins, manatees, and sea turtles. Palancar Reef in the Arrecifes de Cozumel Marine Park and Punta Sur are also excellent choices with diverse marine life. Snorkelers at these sites can spot moray eels, angelfish, parrotfish, barracudas, and other tropical fish.
You can visit Cozumel on a cruise ship, fly in, or take a ferry from Playa del Carmen on the mainland.
Cancún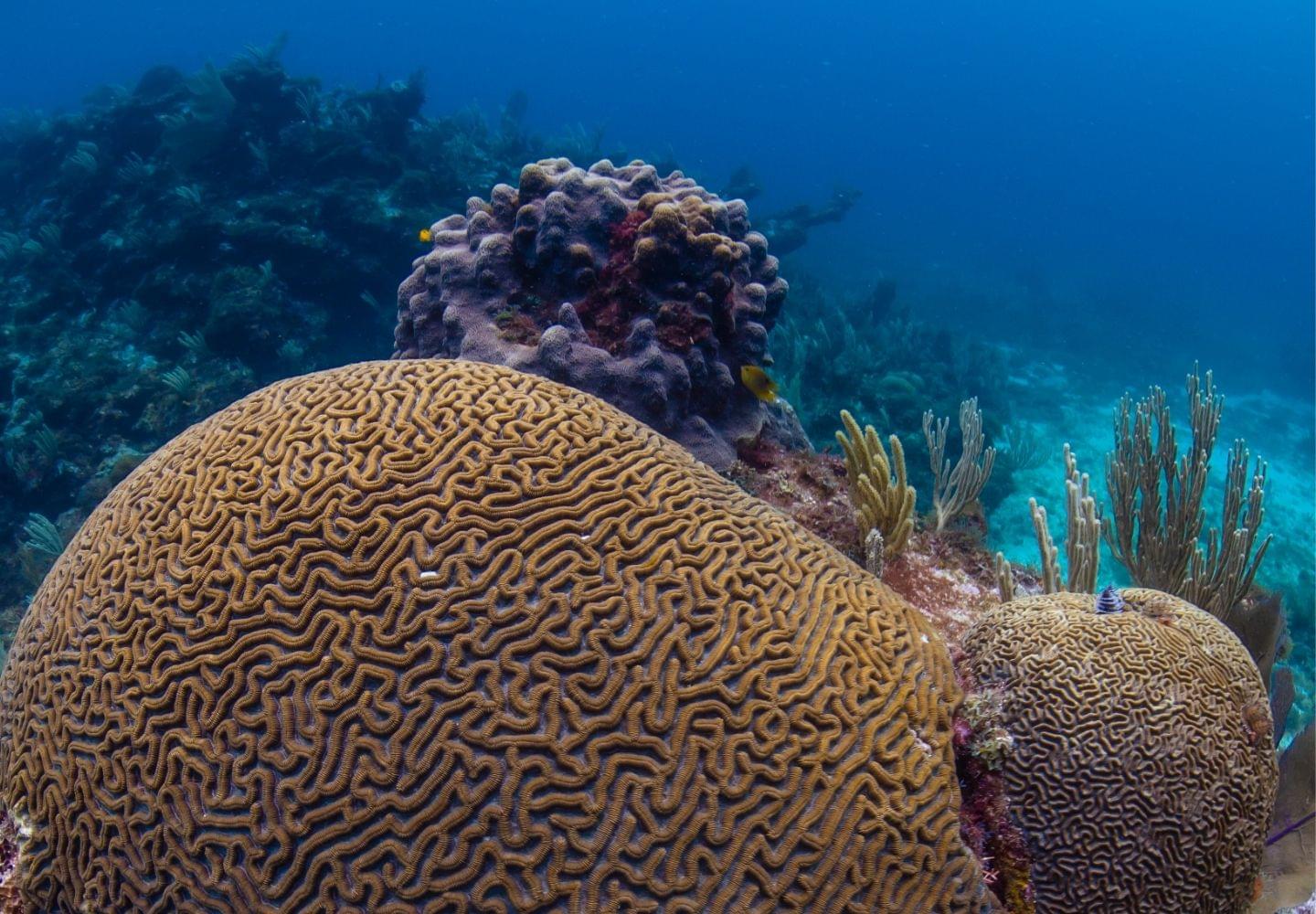 The highlight when snorkeling in Cancún is the Cancun Underwater Museum, also known as MUSA (Museo Subacuático de Arte). Snorkelers and scuba divers can observe and explore more than 500 sculptures that make up the world's largest underwater museum.2 The sculptures are made of materials that promote the growth of corals and have become an artificial reef.
Snorkelers in Cancun can also visit Isla Mujeres, an island known for its crystal-clear waters and rich sea life. The island is one of the top places in the world to swim with whale sharks. Plan your trip between mid-June and August if you want to see these gentle giants, which grow up to about 40 feet.3
Akumal Bay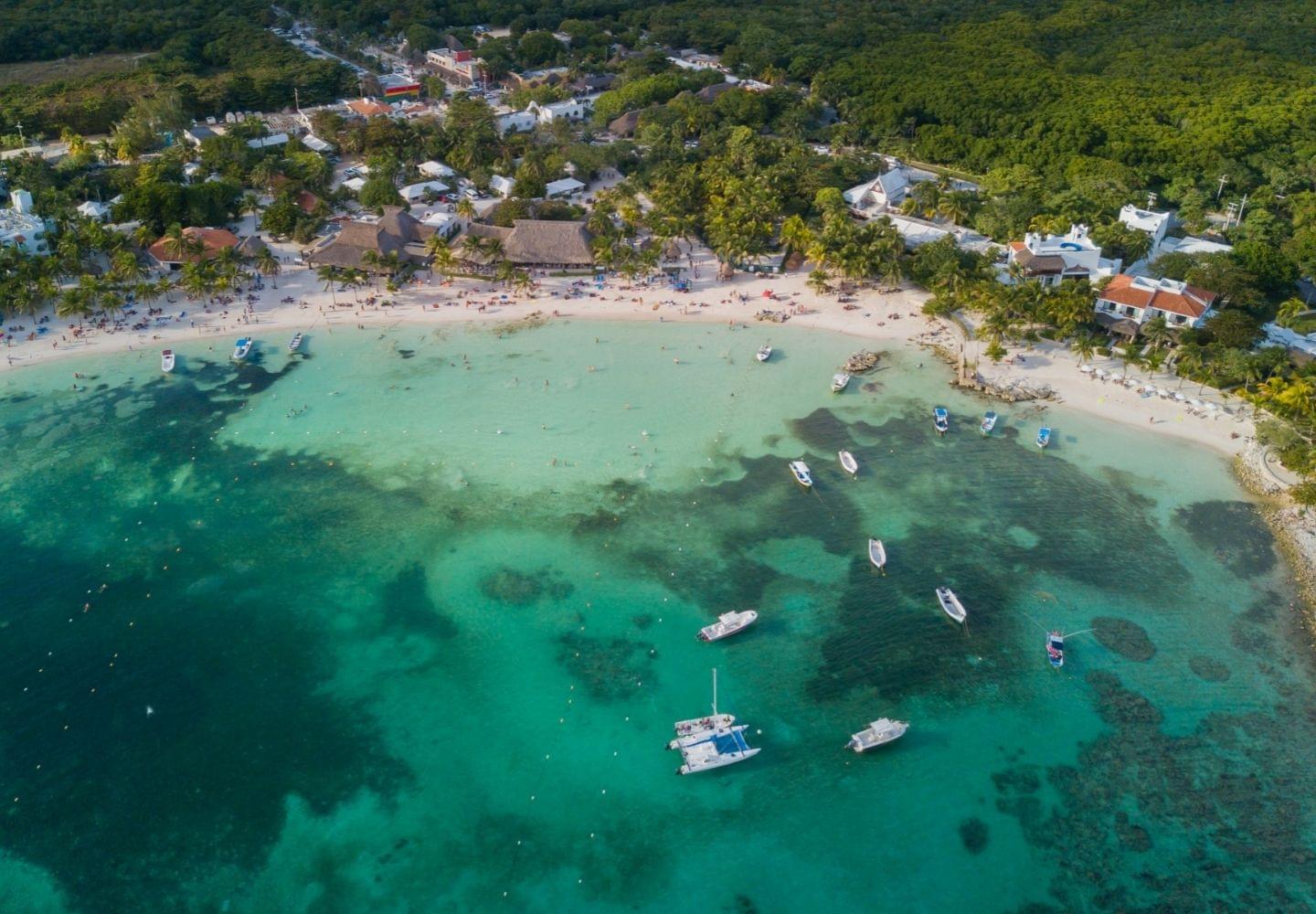 Located on the Riviera Maya, Akumal Bay features a gorgeous white-sand beach and clear blue waters ideal for snorkeling. Shallow seagrass beds provide a food source for numerous southern stingrays and green sea turtles close to shore. There is also a coral reef with colorful fish further out.
Akumal Bay is one of the top snorkeling spots on the Yucatan Peninsula and is suitable for beginners to advanced snorkelers. This popular destination can get very crowded, so get there early for the best experience.
If you want to snorkel with sea turtles at Akumal Bay, you'll need to book a guided tour, like this full-day snorkeling and cenote excursion. The Mexican government has imposed various regulations to protect wildlife and minimize the impact of snorkelers on the local ecosystem.
Snorkeling with sea turtles at Akumal Bay is only allowed between 9 a.m. and 5 p.m., and snorkeling sessions must not exceed 55 to 65 minutes, depending on the area.4 Book your snorkeling adventure with a reputable tour operator to ensure you follow all of the regulations.
Cenote Dos Ojos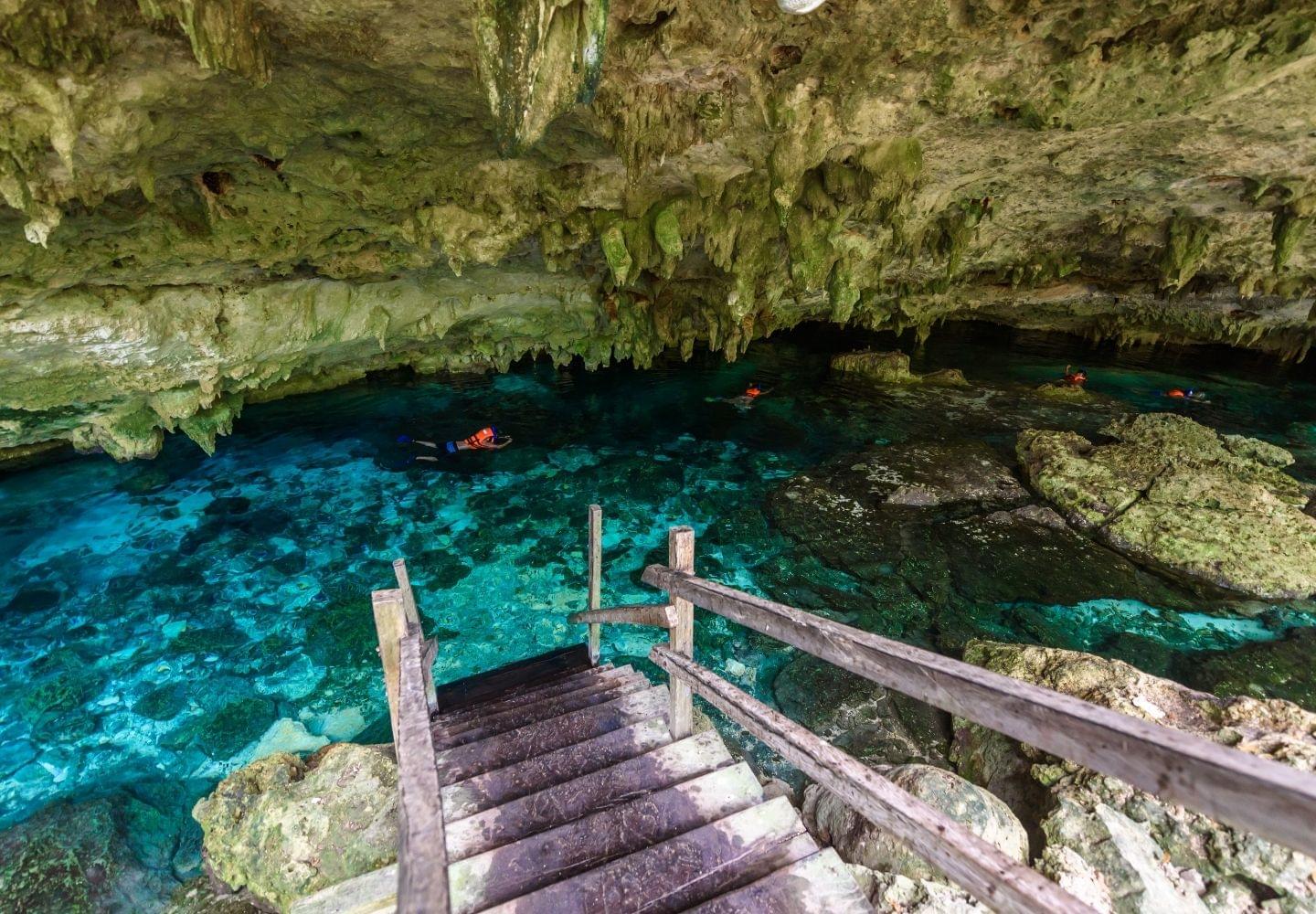 Tucked away in the jungle near Tulum, Cenote Dos Ojos is a must-see when visiting the Mayan Riviera. This pair of cenotes, or natural sinkholes, is part of one of the world's most famous underground river and cave systems. It is a fantastic destination for freshwater snorkeling and scuba diving.
Visitors can swim in the cave's stunningly clear waters and view ancient geological features. There aren't many fish in the cenotes, but you can see other wildlife in the area, including bats, snakes, iguanas, tarantulas, and foxes. The limestone rock formations are very delicate, so avoid touching anything when swimming and walking through the narrow passages.
You can visit Cenote Dos Ojos on your own (admission is around US$14 per person) or book a guided excursion, like this private snorkeling tour. Other cenotes that are recommended snorkel spots include Casa Cenote and Cenote Pet Cemetery.
Huatulco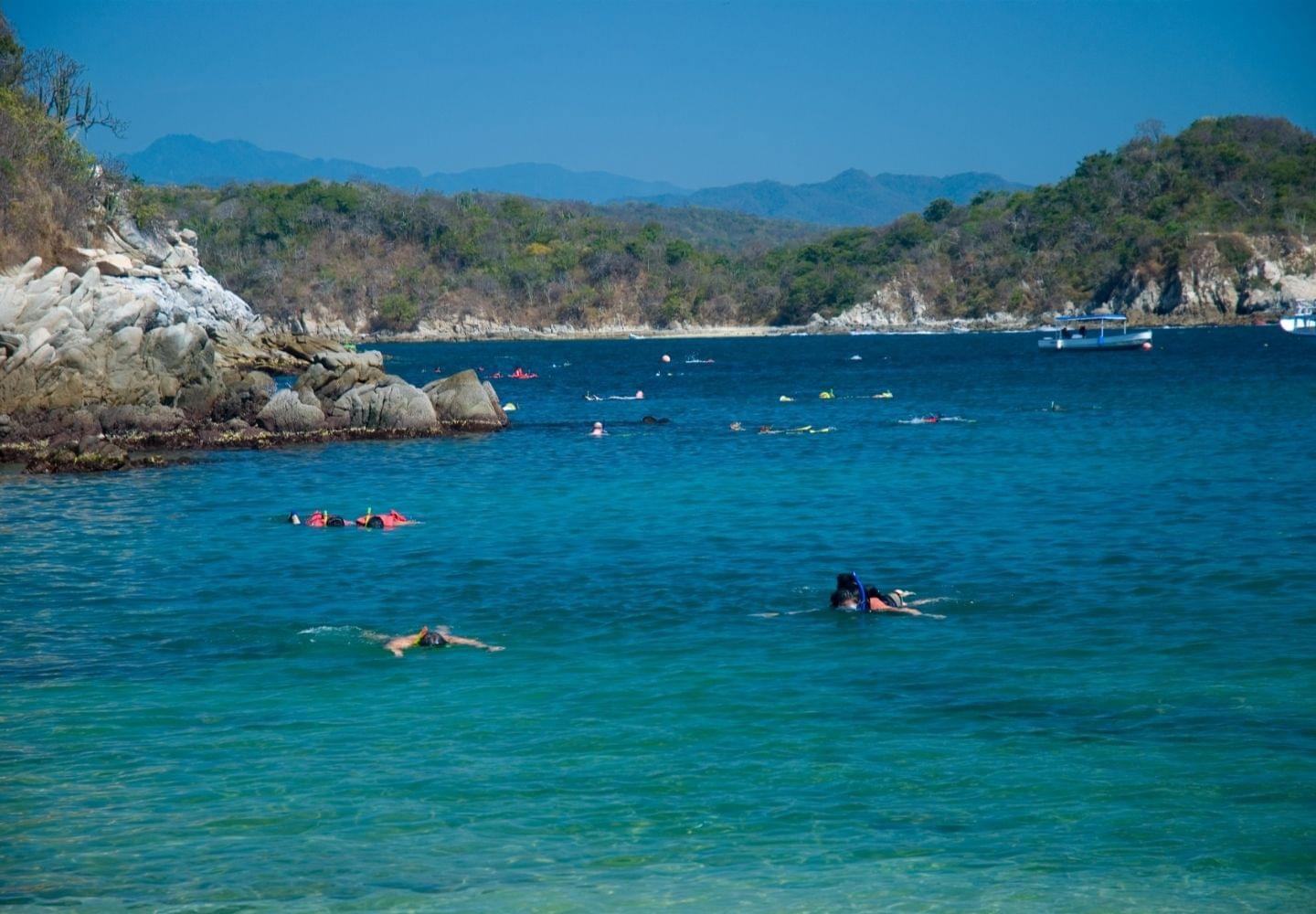 Huatulco, located in the state of Oaxaca, has some of the best snorkeling on Mexico's Pacific coast. The area is an ideal destination for nature lovers and is known for its lush jungles, picturesque bays, diverse wildlife, and coral reefs. You can view a variety of marine species along Huatulco's coastline, including seahorses, starfish, stingrays, manta rays, whale sharks, and octopi.
Head to La Entrega for easy snorkeling. The bay's calm, shallow waters make it a perfect spot for beginners, weak swimmers, and children.
If you're up for a boat trip, consider visiting Cacaluta Bay in Huatulco National Park for a serene experience in nature. The remote bay features two unspoiled sandy beaches that see few visitors. Confident swimmers and snorkelers looking for solitude will enjoy the chance to explore this Pacific paradise without the crowds.
Cabo Pulmo National Park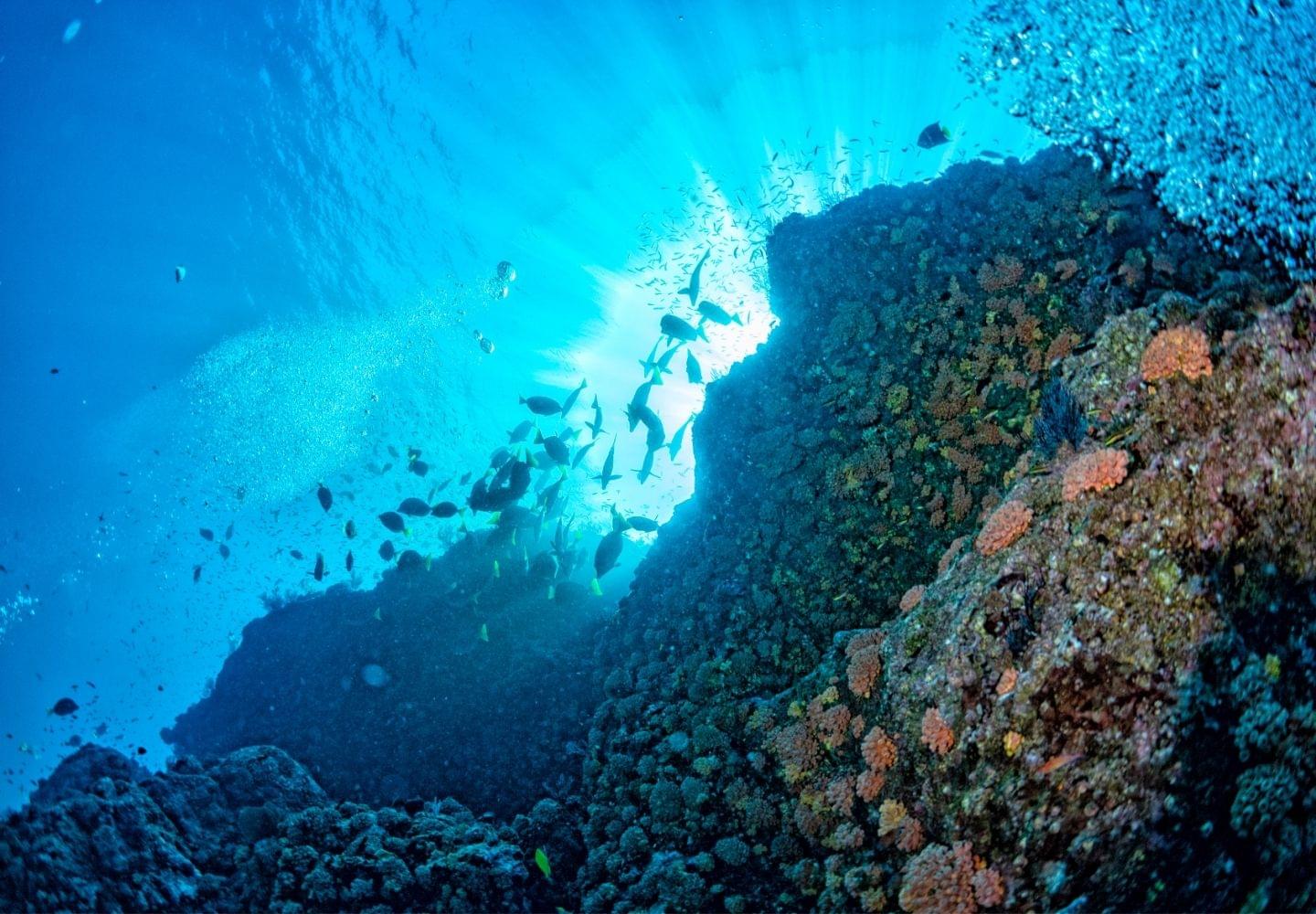 If you want to snorkel with sea lions or explore North America's only hard coral reef, look no further than Cabo Pulmo National Park in the Sea of Cortez.5 Also called the Gulf of California, the underwater life here is so rich that ocean explorer and scuba pioneer Jacques Cousteau called it the "Aquarium of the World".6
The park is home to more than 6,000 marine species, including humpback whales, sea lions, whale sharks, and manta rays.7 In addition to snorkeling, Cabo Pulmo National Park is an ideal place for kayaking, scuba diving, sport fishing, and hiking.
Cabo Pulmo is about a two-hour drive from Cabo San Lucas, making it possible to visit on a day trip. You'll need to take a boat ride to reach the best snorkeling spots, so consider booking a guided snorkel tour. If you want to stick closer to shore, check out Los Arbolitos south of the town of Cabo Pulmo.
La Paz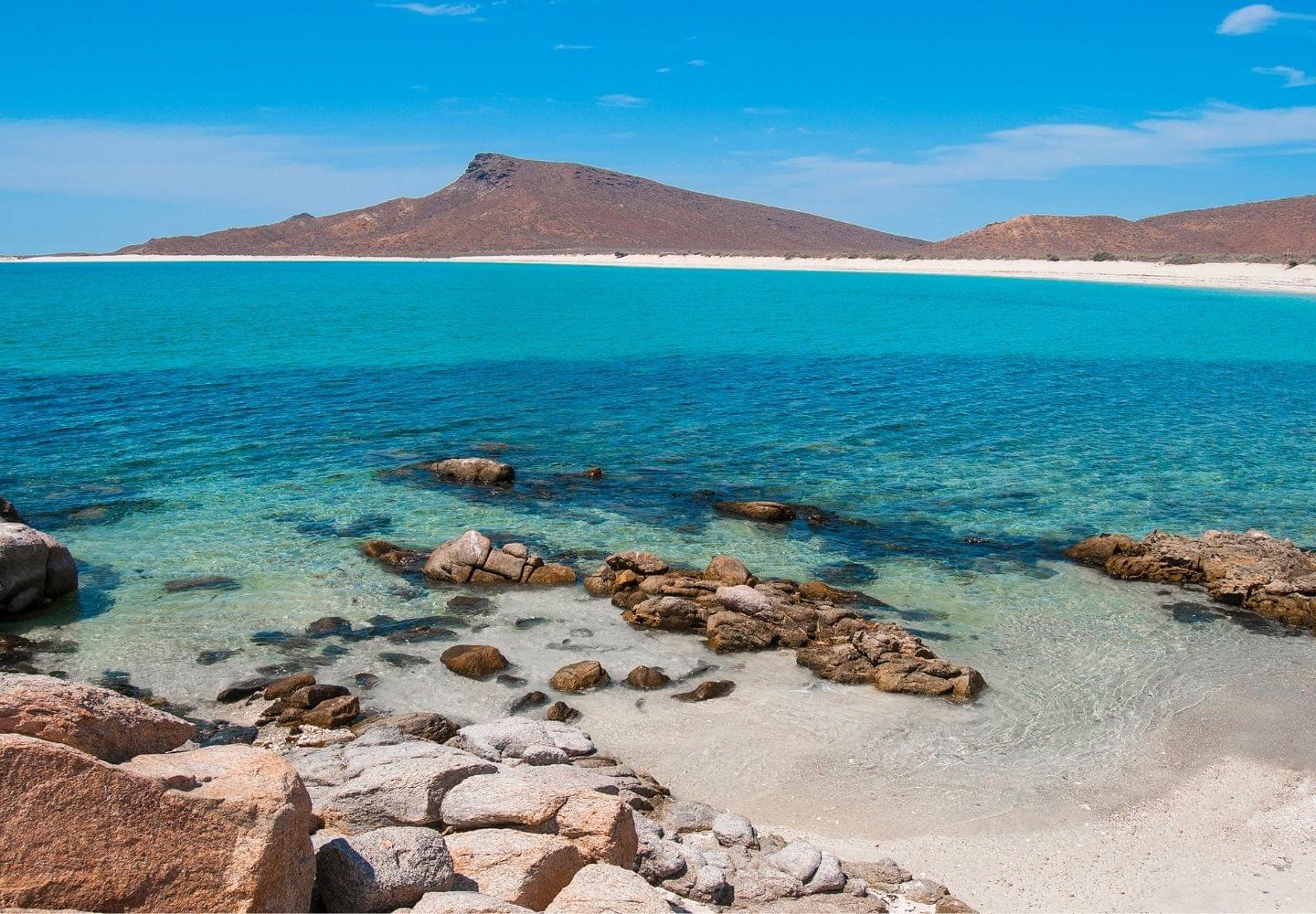 A few hours north of Cabo Pulmo is La Paz, the capital city of Baja California Sur. The area is known for its clear waters and rich sea life, with opportunities to see flying rays, sea lions, whale sharks, corals, and tropical fish.
Isla Espiritu Santo and Isla Partida, uninhabited islands near La Paz, are excellent places to visit. The UNESCO-protected islands have some of Mexico's most beautiful beaches and fantastic snorkeling, kayaking, and wildlife viewing. Guided tours are available from several locations in La Paz.
Private vessels are not allowed in the whale shark areas. If you want to swim and snorkel with whale sharks, you'll need to book a guided excursion, like this three-hour trip with a local marine biologist.
Best snorkeling tours
There are fantastic guided snorkeling tours throughout Mexico. The best one for your group will depend on which part of the country you're planning to visit.
This full-day snorkeling and cenote tour is a top choice among travelers in the Riviera Maya area. The excursion takes you snorkeling with sea turtles in Akumal Bay and includes trips to the Tulum archeological ruins and Cenote Dos Ojos.
Those visiting Cancun and Isla Mujeres should consider this four-hour snorkeling tour with exciting stops like Lighthouse Reef, Manchones Reef, and the famous Cancun Underwater Museum. If swimming with whale sharks is on your Mexico bucket list, try this full-day whale shark snorkeling tour.
On the Pacific side, this full-day snorkel expedition is a top pick that takes you from Cabo San Lucas to Cabo Pulmo National Park. You'll stop at three to four different snorkel sites with chances to see the abundant marine life in the Sea of Cortez.
Best places to stay
On the Caribbean side, Excellence Riviera Cancun is an all-inclusive, adults-only resort with direct beach access. The resort provides a variety of complimentary watersports equipment and can arrange guided excursions at an additional cost. Alternatively, Las Casitas Akumal is a laid-back beach resort close to two different PADI dive centers and excellent snorkeling in Akumal Bay.
On the Baja California Peninsula, Vidasoul Hotel is located just south of Cabo Pulmo National Park and makes a fantastic base for exploring the Sea of Cortez. The oceanfront boutique hotel offers watersports equipment rentals and can arrange numerous guided activities, including snorkeling, scuba diving, and boat cruises. In Oaxaca, Barcelo Huatulco is the area's best value hotel and is a great option for families. The all-inclusive resort overlooks a beautiful cove and has a watersports center.
Mexico snorkeling FAQ
What part of Mexico has the best snorkeling?
The state of Quintana Roo on the Yucatan Peninsula is home to Mexico's highest concentration of top snorkel spots. From the Mesoamerican Reef and islands in the Caribbean Sea to cenotes in the jungle, the region is packed with incredible places to snorkel. The Sea of Cortez along the Baja California Peninsula is another top region for snorkelers to visit. The wild, rocky coastline of Baja California Sur offers the chance to see entirely different wildlife from the Caribbean coast.
Is it safe to snorkel in Mexico?
Although Mexico has a bad reputation for crime, most tourist destinations - including those appearing in this guide - are relatively safe places to visit and snorkel. Travelers should always exercise caution, follow recommendations from the U.S. Department of State or your country's travel office, and avoid leaving valuables unattended on the beach (1).
We recommend bringing a waterproof bag for your valuables so you can take them with you in the water if needed. You can see which waterproof bags we recommend here.
You should also take standard safety precautions when in the water to minimize dangers from waves, currents, and marine life. Always snorkel with a buddy and avoid entering the water if the surf is rough, you aren't comfortable with the waves, or there are any rip tide warnings in the area. Mexican waters have sharks, rays, jellyfish, and other sea creatures that occasionally harm humans. Although attacks are rare, you should use common sense and give marine life plenty of space.
If you are concerned about your safety, book your snorkeling adventure with a reputable tour company. Expert staff and guides are familiar with risks and dangers in the area and will constantly work to mitigate these risks and ensure the safety of their guests.
When is the best time to snorkel in Mexico?
Mexico is a year-round snorkeling destination thanks to its diverse geography. The best time to plan your snorkeling holiday will depend on which part of the country you're visiting and what wildlife you want to see.
If you want to visit the Pacific coast and the Sea of Cortez, you'll likely have the best experience between April and October. You can also visit in the mild winter months if you don't mind cooler air and water temperatures.
The best time to snorkel in the Yucatan and Riviera Maya is November through May. The Yucatan's rainy season lasts from June to October, and tropical storms are most likely in August and September. You can still visit during these months if you don't mind the rain and storm risk. It's a good time to swim with migrating whale sharks or snorkel the cenotes, which have a constant year-round water temperature of about 75-77°F.
---
Resources
Last updated 17 February 2022
This blog post contains affiliate links from Viator and TripAdvisor, which means we receive a small commission on any sales made via those links.
Table of contents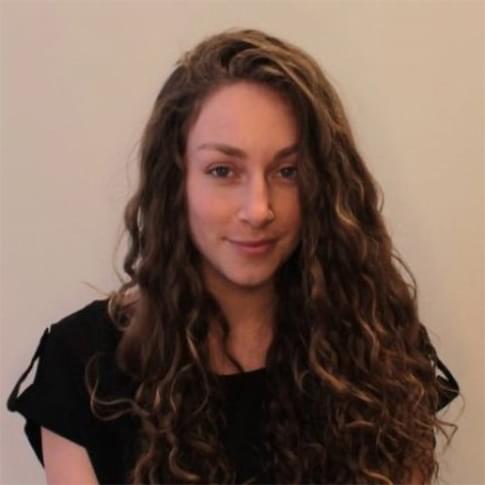 Rebecca Jambrovic