The best snorkeling in Panama
Panama's idyllic archipelagos, deserted islets, healthy reefs, and rich sea life make it an exciting destination for snorkelers. Here's where to find the best spots.
---
Located in Central America between the nations of Colombia and Costa Rica, Panama is a paradise for snorkelers. The country's archipelagos and deserted islets are surrounded by crystal-clear waters bursting with marine life.
Since Panama borders both the Caribbean Sea and the Pacific Ocean, visitors can explore diverse coastal ecosystems. From mangrove forests to uninhabited islands with barrier reefs, here are Panama's best snorkel spots.
Bocas del Toro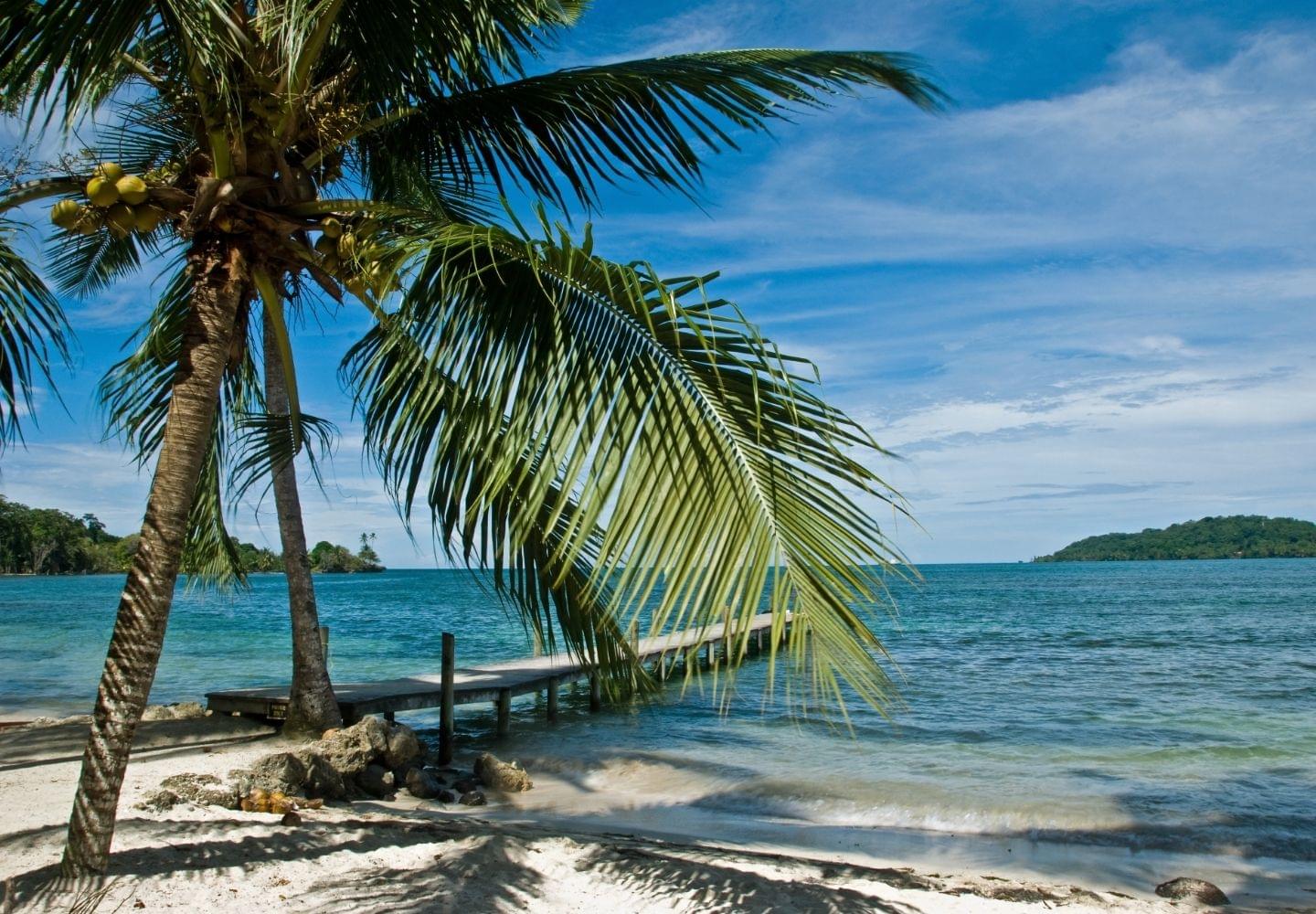 The Bocas del Toro archipelago consists of over 300 islets and nine inhabited islands, with tons of fantastic places to snorkel.1 Bocas Town on Isla Colón is the province's tourist hub. About a half-mile west of the town, you'll find a small reef, mangroves, and shallow waters that offer good snorkeling for beginners. You can reach the reef in just a few minutes with a boat ride from the Bocas Town jetty.
Red Frog Beach on Isla Bastimentos is another top site with excellent snorkeling from the beach. The area is known for marine life like spotted eagle rays, sea turtles, and spiny lobsters.
Those up for a day trip should consider Cayo Zapatilla and Coral Cay in the picturesque Isla Bastimentos National Marine Park. Cayo Zapatilla boasts some of the area's most beautiful beaches and a barrier reef. You'll have the chance to spot diverse sea creatures just off the beach, including hard corals, anemones, butterflyfish, damselfish, sergeant majors, and Spanish hogfish.
Coral Cay (also called Cayo Coral) is located off Isla Bastimentos and is known for its calm waters, soft corals, and sponges. Full-day tours to Cayo Zapatilla and Cayo Coral are available from the main island of Isla Colon. Various dive centers and tour operators in the area offer snorkeling, diving, and other water sports excursions and rentals.
San Blas Islands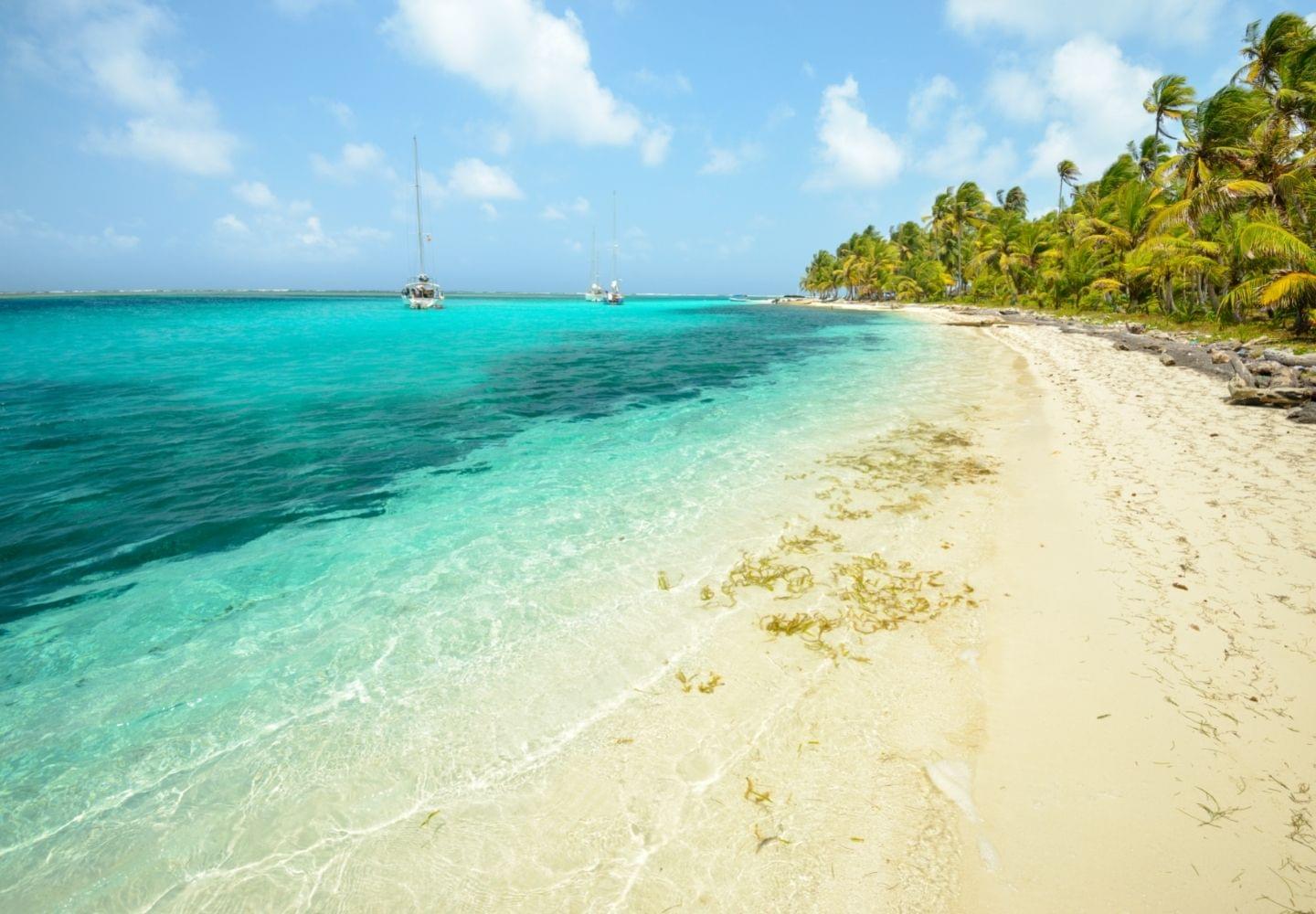 This remote archipelago on Panama's northeast coast is an idyllic destination for snorkelers. Only 60 of the 350+ coral atolls and cays in the San Blas archipelago are inhabited, giving you plenty of opportunities to enjoy the pristine natural surroundings in solitude.2
The gorgeous islands and islets are surrounded by turquoise waters, coral reefs, and colorful marine life. Enjoy beginner-friendly snorkeling from a sandy beach at Isla Diablo, where you'll have the chance to spot sea stars and tropical fish. Intermediate snorkelers can head to Isla Perro Chico to see shallow coral reefs, a shipwreck, and abundant sea life, including angelfish, pufferfish, parrotfish, lobsters, reef sharks, and groupers.
Visiting San Blas is also an interesting cultural experience. The islands form an autonomous province of Panama called Guna Yala and are home to the Guna people. The tribes have maintained their way of life over the centuries and preserved many of their pre-European traditions.
Getting to this archipelago requires some planning. You can take a 4x4 jeep overland from Panama City and then take a water taxi to the islands, or take a sailboat charter from another location on Panama's Caribbean coast. The best way to experience the islands is to spend a few days there, so consider booking a multi-day boat trip.
Gulf of Chiriqui National Marine Park
Located on Panama's Pacific coast, the Gulf of Chiriqui National Marine Park is a fantastic destination for snorkelers with vibrant coral reefs. Isla Secas has the clearest waters and the best visibility, but Isla Parida and Isla Ladrones also have great snorkeling conditions.
The protected area is home to extensive plant and animal life on land and in the sea, making it an excellent spot to view wildlife. Visitors can see animals like dolphins, reef sharks, hammerhead sharks, manta rays, moray eels, sea turtles, howler monkeys, iguanas, armadillos, and more.
The best way to experience the marine park is to stay in a nearby resort, such as Cala Mia Island Resort. There are also various day trips and boat tours available from Boquete, David, and Boca Chica.
Portobelo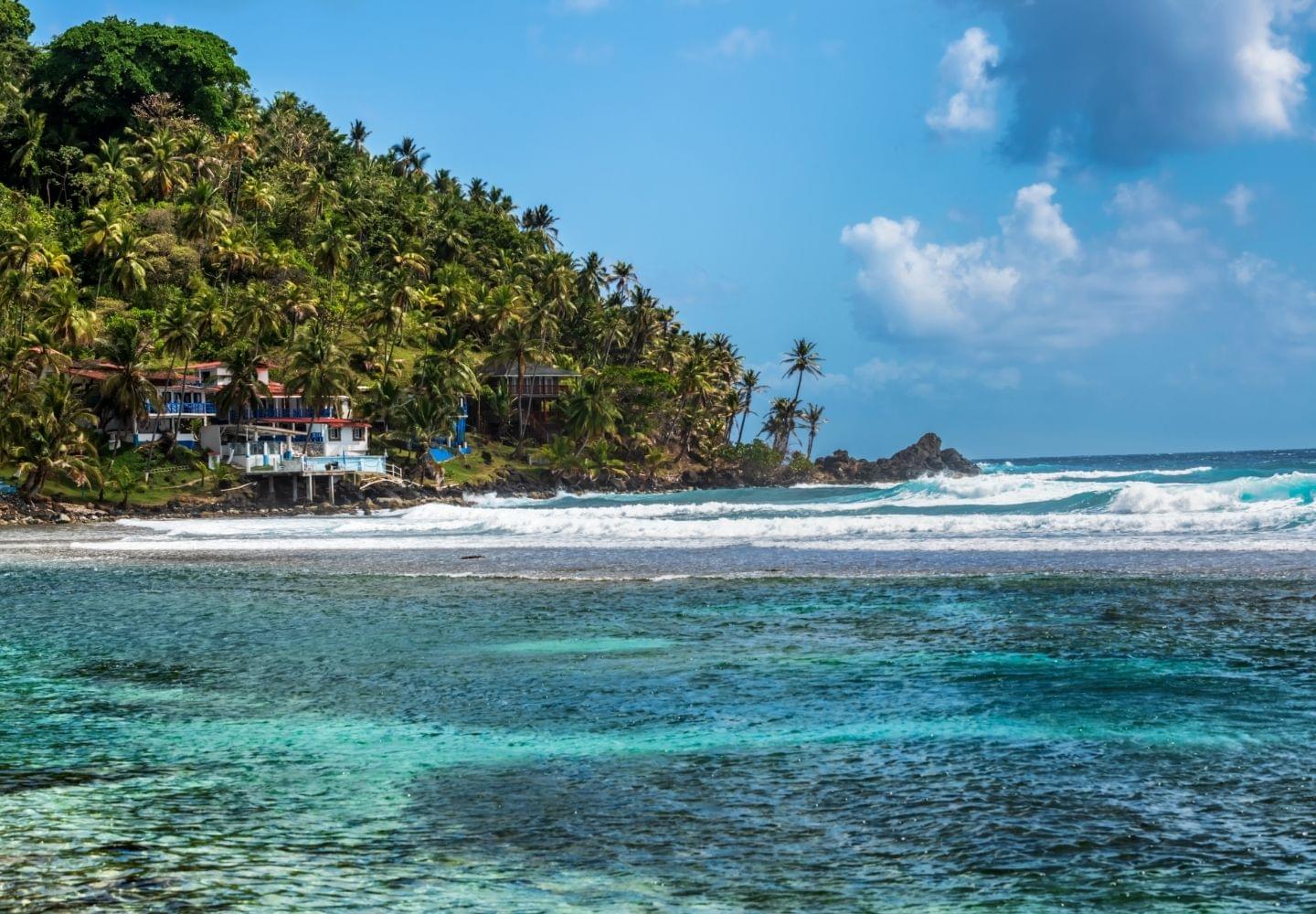 The historic Caribbean town of Portobelo isn't as well known as Panama's paradisiacal islands, but it makes an interesting stop for snorkelers. The town is rich with history and offers the chance to learn about local pirate legends and Afro-Antillean culture.
Top places to snorkel include a sunken plane and cargo ship. The wrecks provide a habitat for local sea life, including corals, reef fish, eagle rays, and reef sharks.
Coiba National Park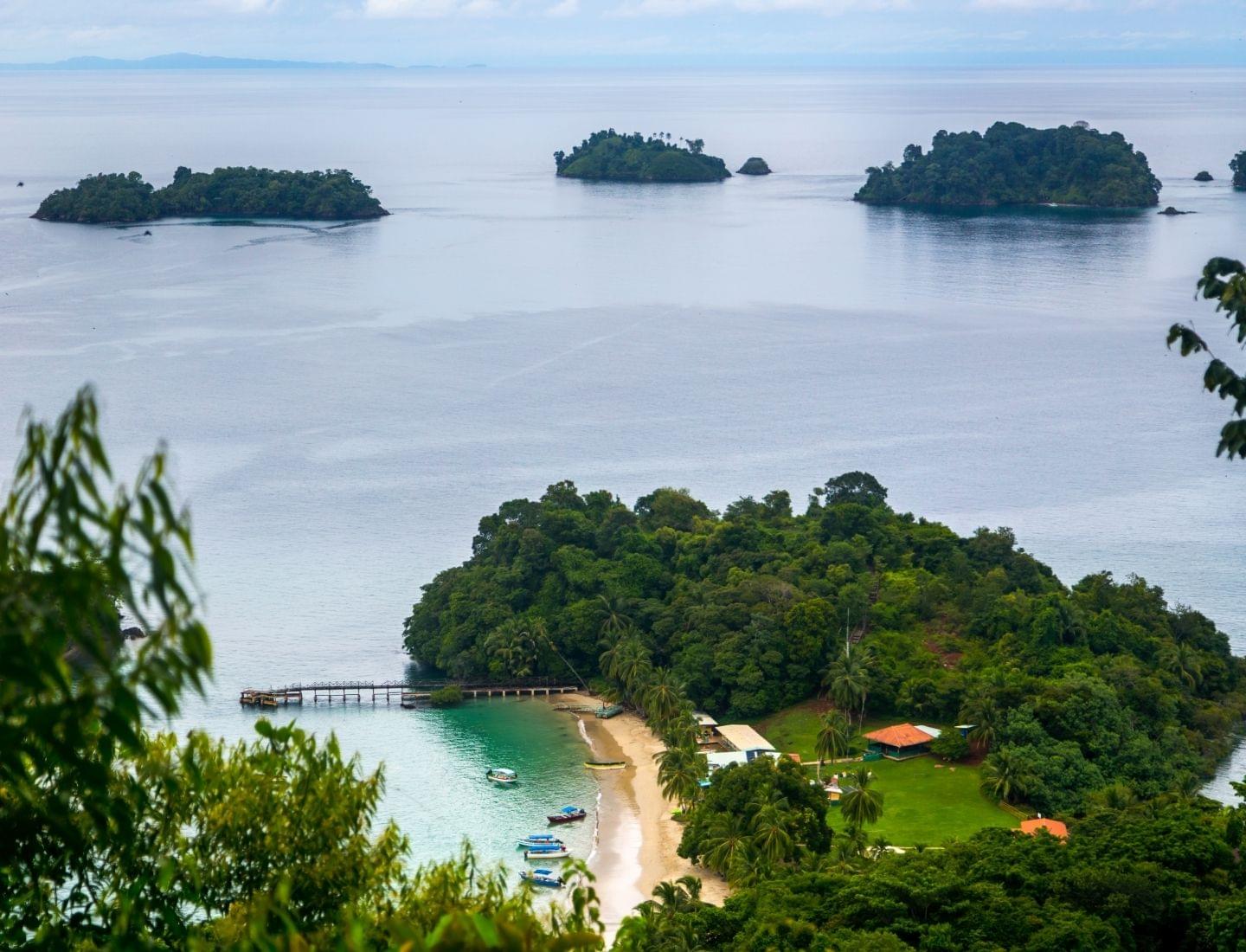 Coiba National Park is a UNESCO World Heritage Site and arguably the best place to snorkel on Panama's Pacific coast. With crystal-clear waters, a wide variety of sea life, and stunning white sand beaches, this dreamy destination doesn't disappoint.
In addition to the main island of Isla Coiba, Isla Coco and Granito de Oro are also excellent places to snorkel. The waters around these islands are known for larger marine life, including hammerhead sharks, whales, and manta rays. If you visit between December and April, you'll also have the chance to spot migrating whale sharks.
The best way to reach the national park is from Santa Catalina in Veraguas (the boat trip takes a little over an hour each way). Since you'll need to obtain a permit to visit this protected area, we recommend arranging your Coiba snorkeling trip with a reputable tour operator or through a Santa Catalina hotel.
Best snorkeling tours
Since many of Panama's best snorkeling spots are only accessible by boat, a guided tour is a great way to experience these places without the hassle of planning everything yourself. This two-day island hopping tour in the San Blas islands, for example, is a fantastic opportunity to explore and snorkel in the remote archipelago.
If seeing whales is on your bucket list, plan your trip between mid-July and mid-October and consider booking this full-day snorkeling and whale watching tour in the Gulf of Chiriqui. To experience the best snorkeling sites in the Bocas del Toro archipelago, we recommend this three-day private sailing excursion with snorkeling and paddle boarding.
Best places to stay
The area around Bocas del Toro is relatively easy to get to and has a high concentration of top snorkel sites, making this an excellent base for snorkelers in Panama. Casa Cayuco Eco Adventure Lodge on Isla Bastimentos is a top pick among eco-conscious travelers who want to be close to nature. The resort provides complimentary snorkeling gear, stand up paddle boards, and sea kayaks and offers a variety of snorkeling, spearfishing, and outdoor adventure tours.
If you want to explore the San Blas archipelago over several days, a sailing charter or rustic overwater cabins are great lodging options for adventurous travelers.
On the Pacific coast, Cala Mia Island Resort is an award-winning hotel on Isla Boca Brava. The resort provides easy access to fantastic snorkeling in the Chiriqui Marine Park and offers numerous adventure packages and guided excursions. For travelers who want to explore Isla Coiba National Park, Hotel Santa Catalina offers various snorkeling trips and makes a convenient starting point.
Panama snorkeling FAQ
What is the best time of year to snorkel in Panama?
Panama's warm, tropical climate makes it possible to have a fantastic snorkeling vacation any time of year. The peak tourist season overlaps with Panama's dry season, which lasts from around mid-December to April (1). However, snorkeling hotspots like Bocas del Toro and San Blas have unique microclimates and weather patterns with more scattered rainfall throughout the year (2).
The Pacific coast has more consistent wet and dry seasons but generally sees less humidity and lighter rainfall than the Caribbean side. November is the wettest month and is best avoided by snorkelers since heavy rains can impact underwater visibility.
Where is the best place to swim with sea turtles in Panama?
Sea turtles are common at many of Panama's top snorkeling sites, so you'll have plenty of chances to see these marine reptiles. Coiba National Park, the Gulf of Chiriqui, and Red Frog Beach in the Bocas del Toro archipelago are known for sea turtle sightings.
What should I bring on a snorkeling trip?
When packing for a snorkeling trip in Panama, plan to bring the following items:
Basic snorkeling gear, including a snorkel, mask, and fins (see our top picks for travel-friendly snorkel sets here)
A waterproof bag to hold your valuables
A snorkeling vest to protect you from potential currents, waves, and riptides
Reef-safe sunscreen and protective clothing with UPF
Comfortable swimwear
Even if you plan to book a guided tour with snorkeling equipment included, bringing your own gear ensures a good fit and consistent quality. For more packing tips and suggestions, see our What to wear snorkeling article.
FAQ sources
Webster, Lara. "How to Go Snorkeling in Panama." USA Today, traveltips.usatoday.com.
Schering, Brittney. "The Best and Cheapest Time to Visit Panama." The Culture Trip, 9 April 2019, theculturetrip.com.
---
Resources
Marsalis, Amanda, and Peter Stevenson. "The Seductively Sleepy Islands of Bocas del Toro Panama." Condé Nast Traveler, 20 Dec. 2012, cntraveler.com. ↩

"History of San Blas." Catamaran San Blas, catamaransanblas.com. ↩
Last updated 17 February 2022
This blog post contains affiliate links from Viator and TripAdvisor, which means we receive a small commission on any sales made via those links.
Table of contents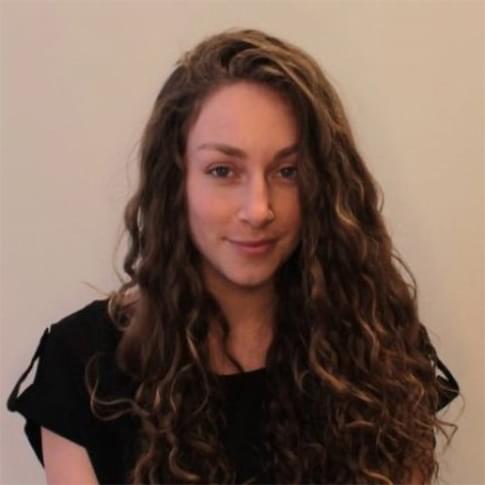 Rebecca Jambrovic