The best snorkeling in Martinique
With fantastic shore snorkeling and a high chance of spotting sea turtles, Martinique is an ideal snorkeling destination. Here are the island's best places to snorkel.
---
Known for its beautiful beaches, rum distilleries, lush rainforests, and a towering volcano, the island of Martinique makes an exciting tropical getaway. Martinique is situated between Dominica, Saint Lucia, and Guadeloupe and offers some of the best snorkeling in the French Caribbean.
Here are the top spots to snorkel in Martinique.
Anses d'Arlet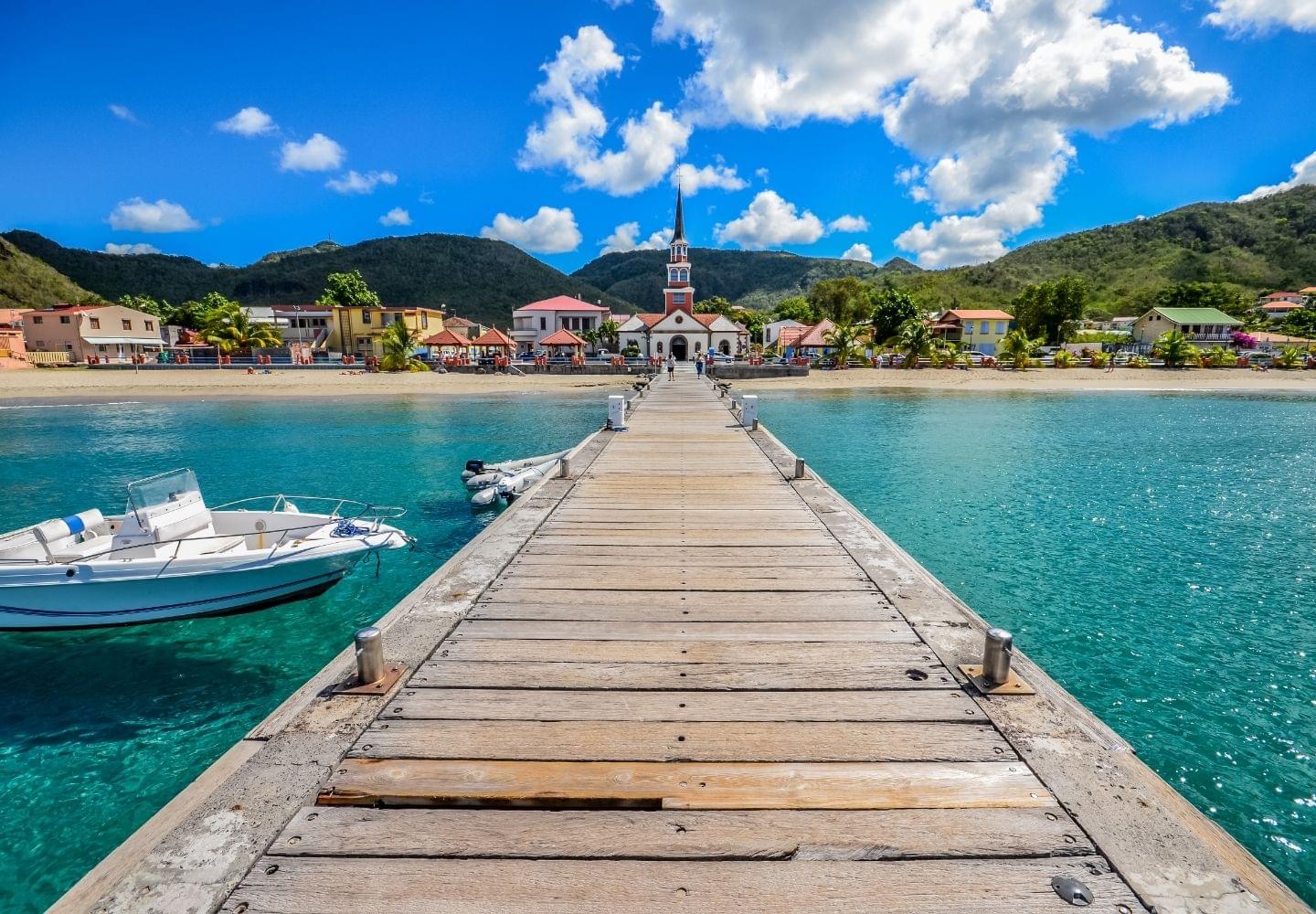 Anses d'Arlet is a picturesque fishing village on Martinique's southwestern coast. You'll find excellent snorkeling just off the beach called Plage de l'Anse d'Arlet.
This beginner-friendly spot has an accessible reef just over 300 feet (100 meters) from shore. To access it, enter the water on the north side of the wooden pier in front of the church and swim out until you reach the reef.
More experienced snorkelers can venture a bit further to explore the seagrass meadows and rocky coast on the beach's northern end. In this area, you'll have the chance to see numerous tropical fish, another reef, and sea turtles who come to feed on the seagrass beds.
The calm village of Anses d'Arlet is easy to get to by car or taxi and has many places to park. There are numerous restaurants and several grocery stores, making this a great place to spend the day.
Just to the north, Grande Anse d'Arlet is another stunning beach with good snorkeling, but the conditions tend to be better at Plage de l'Anse d'Arlet.
Pointe Borgnèse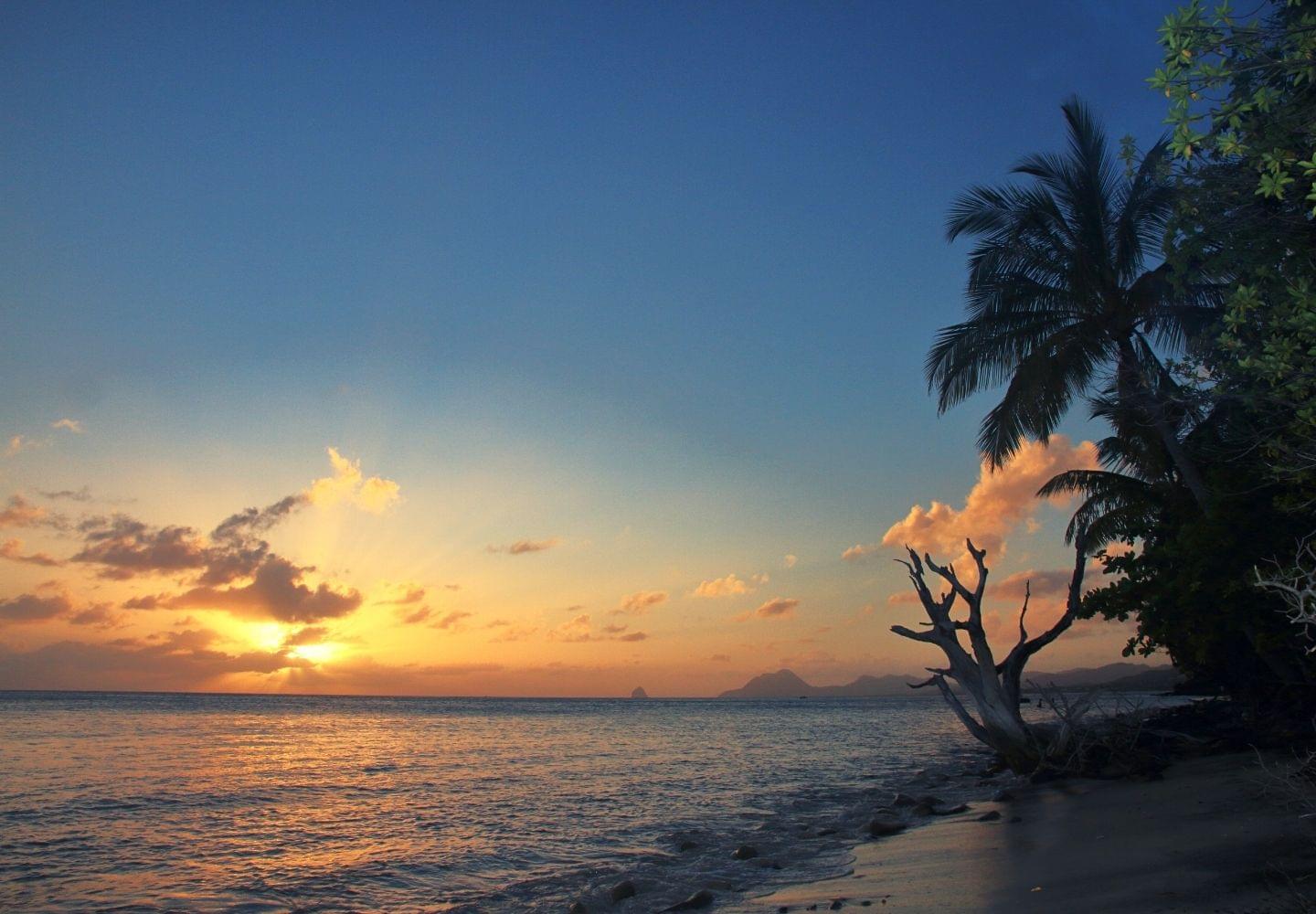 Pointe Borgnese is a spectacular spot for snorkeling and scuba diving. This snorkel and dive site is located on the southern end of the island in Le Marin, near the tourist hotspot of Sainte-Anne. The beach is quiet and rarely crowded, making this an ideal choice for snorkelers looking for a secluded spot to relax and enjoy the sea.
The seabed here is varied, with seagrass beds, coral reefs, and rocky areas. The sandy beach offers easy access to the water, but you'll find the best conditions around the rocky point. Pointe Borgnese is home to a wide array of marine life, including corals, sponges, gorgonians, starfish, butterflyfish, trumpetfish, and wrasse. Keep an eye out for invasive lionfish, which are common in this area and have venomous spines.
There is a small area next to the N5 road where you can park or get out of your taxi. From there, you'll need to walk down a steep path (about a third of a mile/450m from the parking area) to reach the beach. Pointe Borgnese does not have any restaurants, bathrooms, or other facilities, so plan accordingly.
Anse Figuier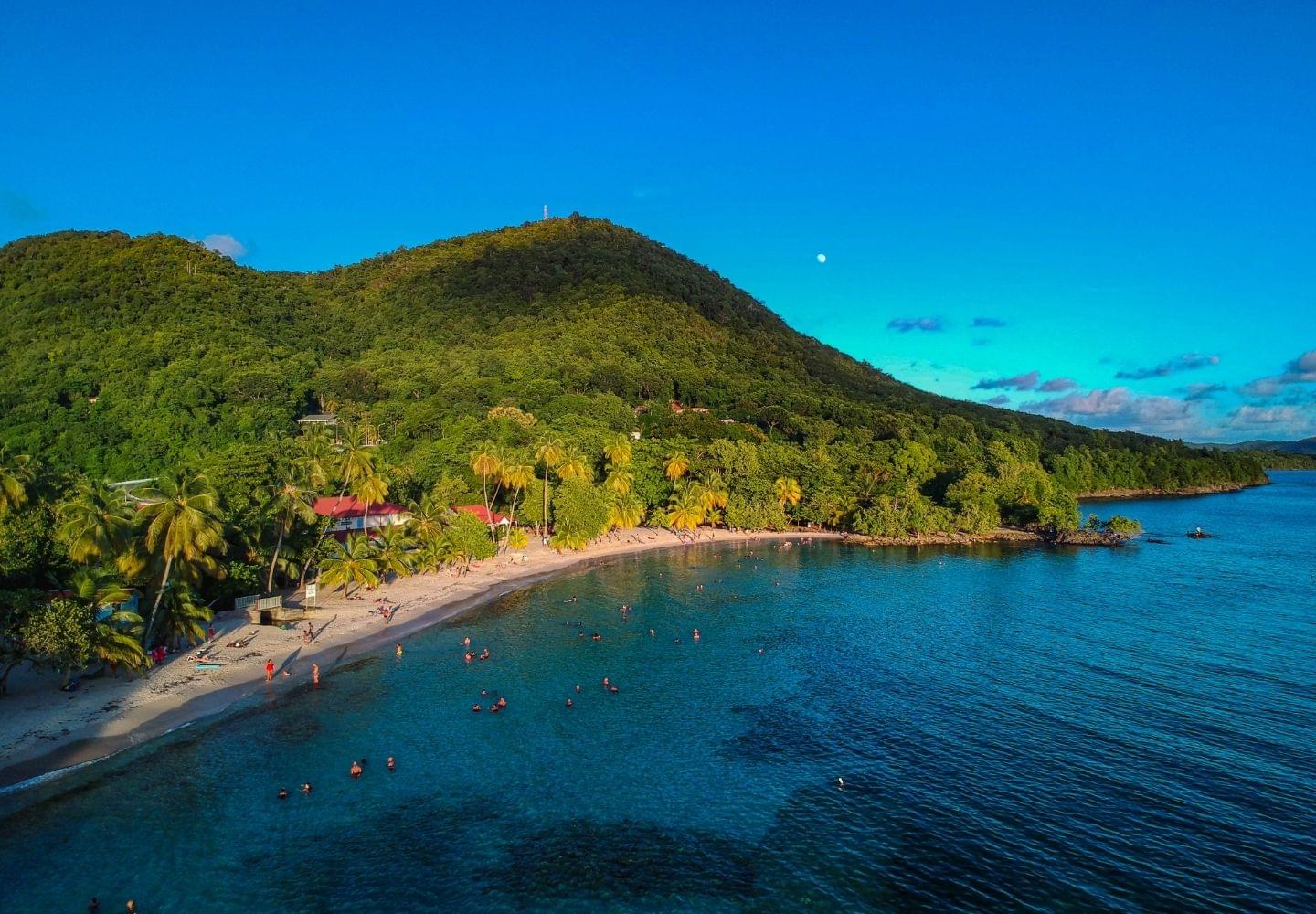 About a mile northwest of Pointe Borgnese is Anse Figuier, a lovely spot that ranks among Martinique's best beaches. The picturesque palm-lined beach is easier to access than its neighbor and tends to see a significantly higher number of visitors.
Anse Figuier features calm, shallow water and a sandy bottom with numerous cushion starfish. On the sides of the beach, you'll find rocky areas with more diverse sea life and fish, such as parrotfish, sergeant majors, bluehead wrasse, and damselfish. Strong swimmers can do a drift snorkel between Pointe Borgnese and Anse Figuier, which changes directions depending on the current.
With clear blue waters, beautiful scenery, and various amenities, Anse Figuier is one of the most popular and busiest beaches in Martinique. If you're looking for a quiet spot, you'll be happier at Pointe Borgnese.
Anse Noire and Anse Dufour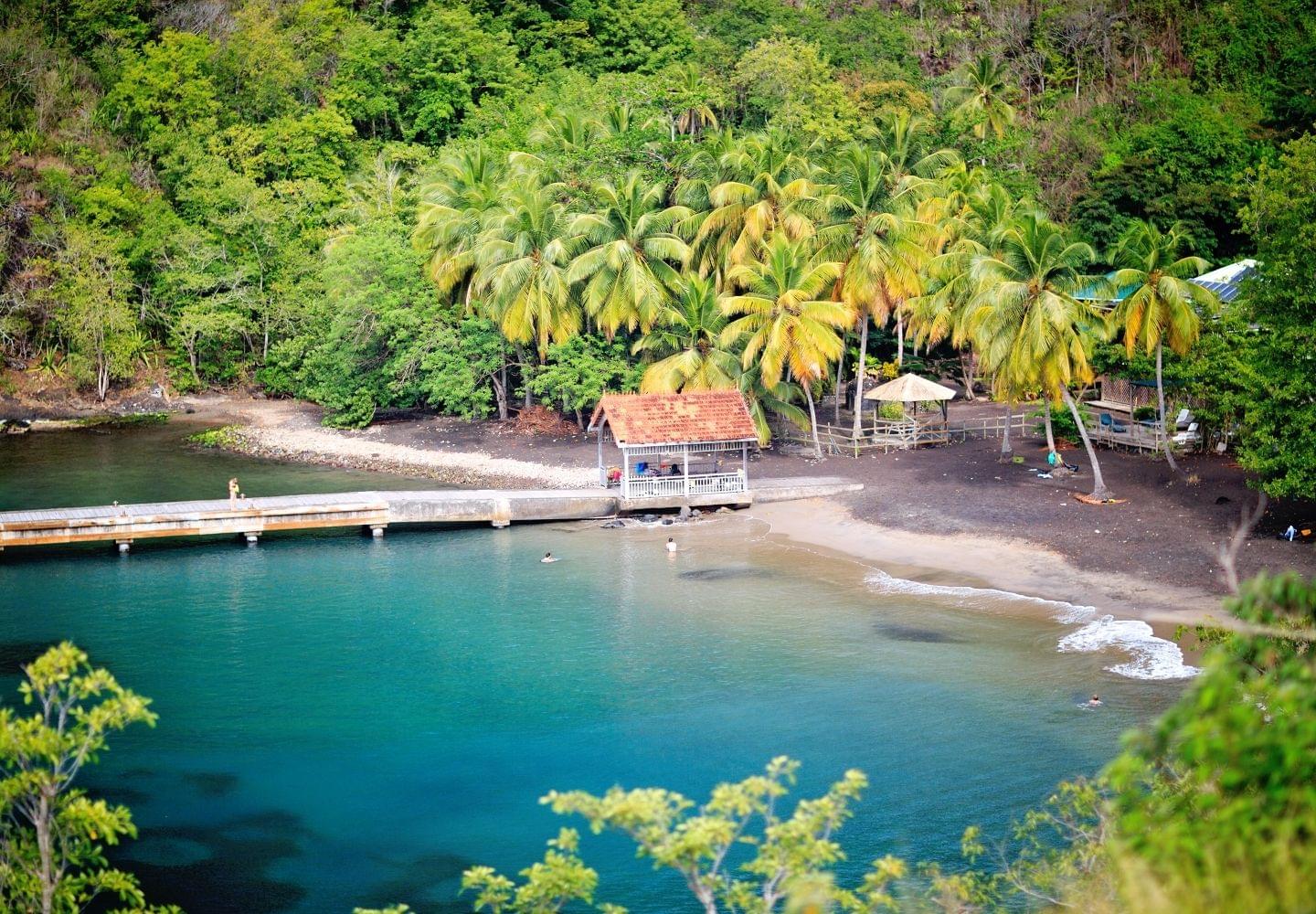 Anse Noire and Anse Dufour are neighboring coves in the Les Anses-d'Arlet municipality known for frequent green sea turtle sightings. The scenic coves are a highlight for many travelers to Martinique, but these popular sites often get crowded and experience significant tour boat traffic.
Both sites are beginner-friendly and have calm waters and sandy beaches. Anse Noire is a gorgeous black sand beach, while Anse Dufour features white sand with palm trees and colorful fishing boats. In addition to sea turtles, you can spot moray eels, butterflyfish, sea fans, and sergeant majors.
Anse Noire and Anse Dufour frequently experience congested parking areas and are therefore challenging to access by land. Because of the potentially lengthy and steep walk down to the beach, families with younger children and those with mobility issues should book a boat tour rather than accessing these spots by car.
Anse Céron and Anse Couleuvre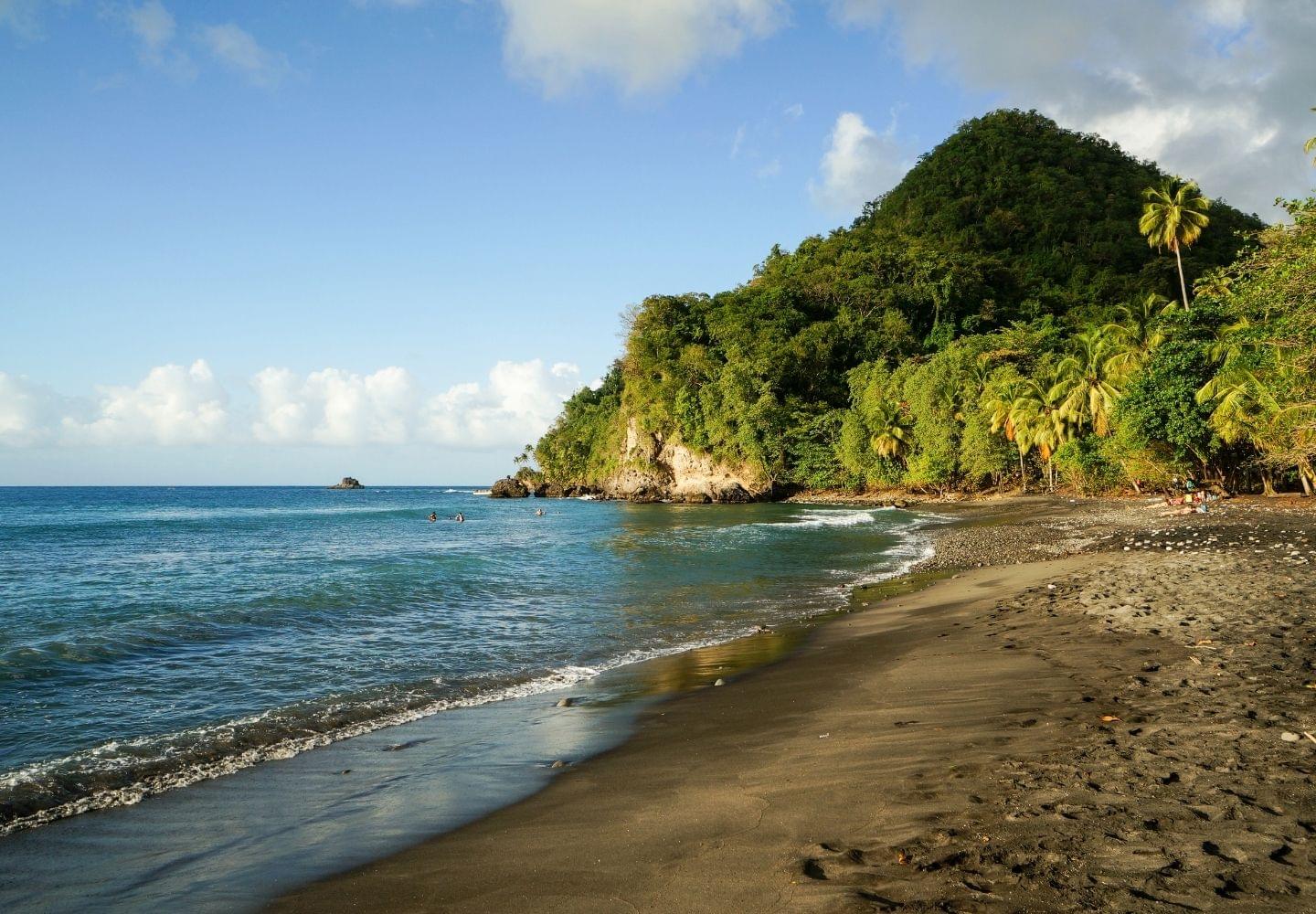 If you're looking for a more remote spot to spend the day, Anse Ceron and Anse Couleuvre are fantastic choices. These pristine black sand beaches are located on Martinique's wild northern end. Tucked away at the base of cliffs and surrounded by tropical forests, the beaches feel like a hidden paradise.
Anse Ceron and Anse Couleuvre are bordered by small but vibrant reefs filled with sponges, sea fans, moray eels, angelfish, needlefish, and occasionally sea turtles. If you have a boat, you can also explore a small volcanic island called La Perle islet. The uninhabited islet is located about a half-mile offshore and is part of the Prêcheur marine reserve.
You can reach these beaches by car or boat. There is a small beach bar on Anse Ceron, but the area is otherwise lacking in amenities. Plan ahead and bring everything you need to spend the day in this remote place.
Since these secluded beaches are close to the Atlantic Ocean, the waters here can get rough - especially in the winter months. You should only snorkel at Anse Ceron and Anse Couleuvre if you're a strong swimmer and experienced snorkeler. Even if you're confident in the water, avoid entering the sea when the conditions are rough.
Wearing a snorkeling vest can help make your outing safer and more relaxed. You can see which snorkel vests we recommend here.
Anse Mitan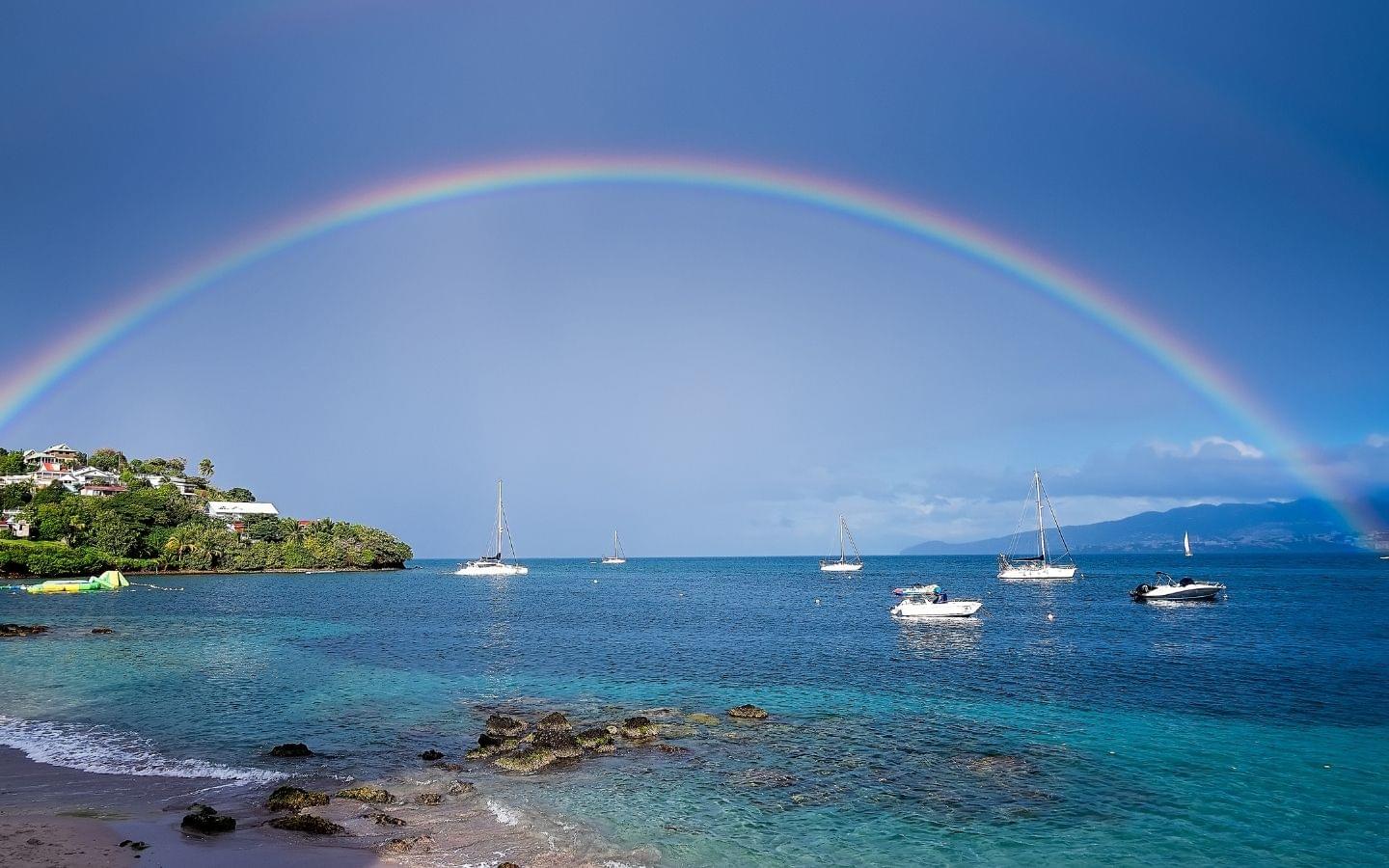 Located in Trois Îlets, Anse Mitan is a gorgeous white sand beach with good snorkeling conditions and a beautiful view of Fort-de-France. Head to the bay's north side for the best snorkeling, but keep an eye out for boat traffic.
The popular beach is ideal for families. Thanks to the calm shallow waters, it is also a wonderful place to try snorkeling for the first time. While the clear blue water allows for a good view of marine life, experienced snorkelers will likely be happier in an area with richer sea life.
With various restaurants, hotels, watersports, and other amenities, Anse Mitan is a touristy but nice place to spend the day. You can easily reach the beach by ferry from the capital of Fort-de-France and by car.
Manman Dlo, Saint-Pierre
Manman Dlo is a 20-ton underwater sculpture that lies about 20 feet deep in the Caribbean Sea near Saint-Pierre. The artist's inspiration is a mythical Creole mermaid that, according to local legends, causes ships passing above her to capsize 1.
You can reach the sculpture from a black sand beach located at the base of Mount Pelée, Martinique's iconic active volcano. Look for a yellow buoy around 200 feet (60 meters) from the beach marking Manman Dlo's location. Nearby, you can view a newer mermaid sculpture called Yemaya from the same artist.
In addition to seeing these unique sculptures, you'll have the chance to spot sea creatures including lobsters, stingrays, corals, and colorful fish. Due to Manman Dlo's depth and distance from shore, this location is best for snorkelers with previous experience and solid swimming skills.
The Saint-Pierre area experiences significant boat traffic. We recommend bringing a brightly colored snorkel vest and swim buoy along with your usual snorkel gear to make yourself more visible.
Martinique snorkeling FAQ
When is the best time to visit Martinique?
With an average temperature of 79°F (26°C), Martinique's tropical climate makes snorkeling possible year-round (1). The best time to visit Martinique is during the dry season, which runs from December to early June. This period also offers the best underwater visibility (2).
December to early April is considered the high season, but the weather is generally warm and sunny through the beginning of June. If you want to avoid the crowds and price increases associated with the peak season, we recommend planning your visit between mid-April and early June.
July to September are the rainiest months and also have the highest risk of hurricanes (1). As a result, most travelers should avoid these months. If you want to take advantage of off-season prices and don't mind the risk of severe weather, we suggest purchasing travel insurance for your trip.
What marine life can I see while snorkeling in Martinique?
Martinique is one of the best places to snorkel with green sea turtles in the French Caribbean. Head to Anse Noire and Anse Dufour for the best chance of seeing these marine animals. In addition to turtles, snorkelers can spot abundant sea life, including starfish, rays, lobsters, eels, hard and soft corals, and many different fish (3).
Does Martinique have good shore snorkeling?
Martinique has excellent shore snorkeling, and most of the top snorkeling spots offer easy water access from sandy beaches. If you want a holiday with easy snorkeling right from the beach, Martinique is a fantastic destination.
FAQ sources
Cornevin, Robert. "Martinique." Encyclopedia Britannica, August 19, 2021, britannica.com.
"Diving in Martinique." PADI, padi.com.
"Diving in Martinique." Natutitan Diving, nautitan.com.
---
Resources
Bennett, Steve. "Martinique's New Underwater Sculpture Park," Uncommon Caribbean, September 16, 2021, uncommoncaribbean.com. ↩
Last updated 22 October 2021
Table of contents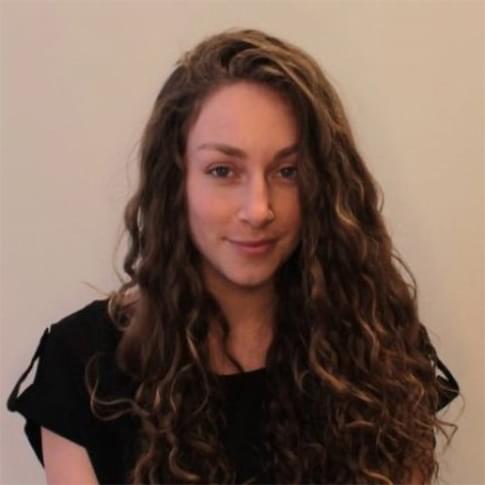 Rebecca Jambrovic