The best snorkeling in Florida
With vibrant coral reefs, natural springs, and diverse aquatic life, Florida is a fantastic destination for snorkelers. Here are the state's top places to snorkel.
---
Thanks to its subtropical climate and diverse ecosystems, Florida is one of the only year-round snorkeling destinations in the continental United States. While most of the best snorkeling in Florida is in the Keys, the state has other unique places to explore with your mask and snorkel.
From freshwater springs in central and northwestern Florida to coral reefs along the coast, here are the best places to snorkel in the Sunshine State.
The Keys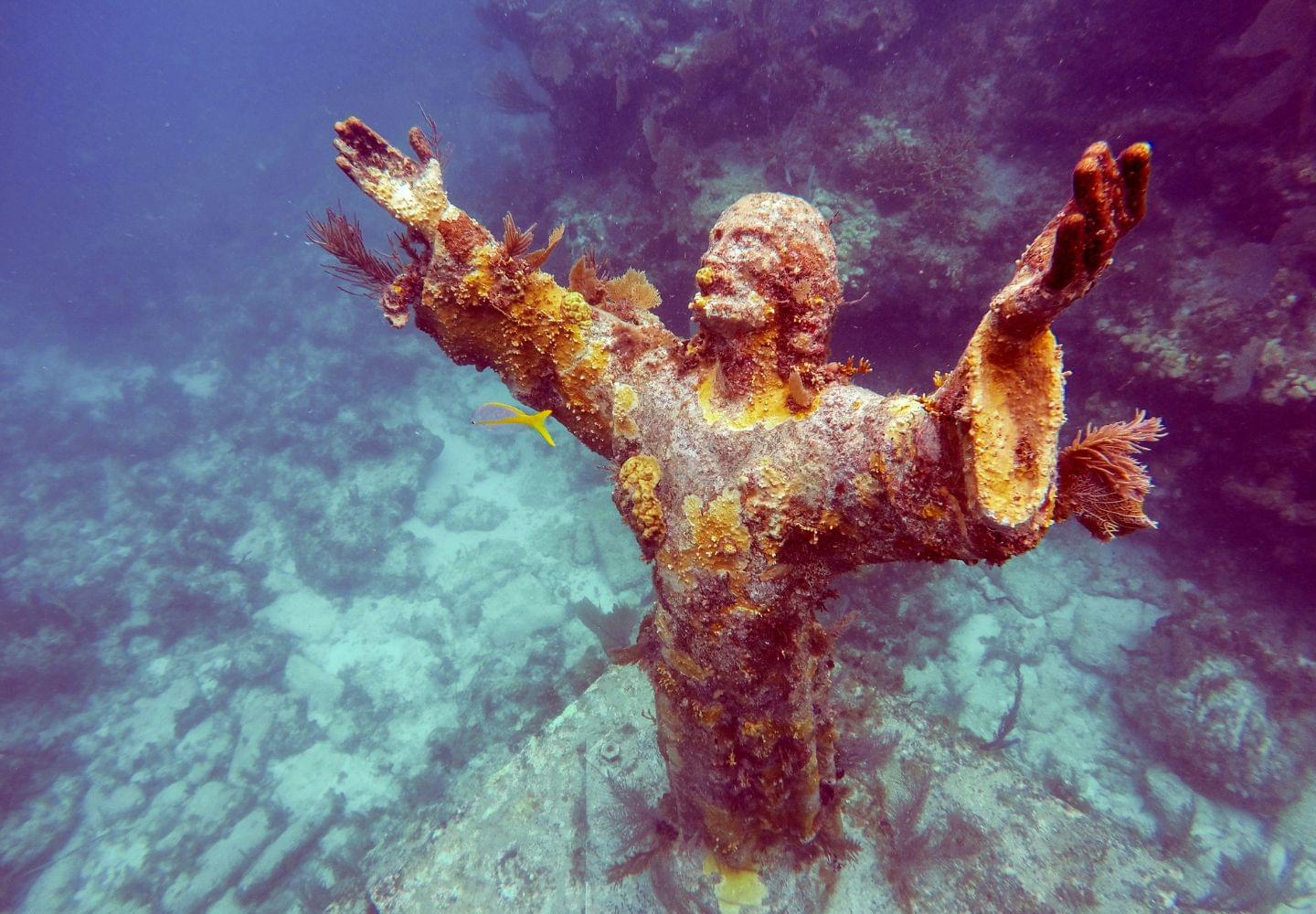 With 3,800 square miles of protected waters and an extensive barrier reef system, it's no surprise that most of Florida's best snorkeling spots are in the Keys.1 The Florida Keys National Marine Sanctuary stretches from Miami to Dry Tortugas National Park. It is packed with gorgeous places to explore the underwater world, but most of the top locations require a boat trip.
For an unforgettable day trip from Key West, take a ferry, seaplane, or private charter to Dry Tortugas National Park and snorkel from pristine beaches around Fort Jefferson. If you're around Key Largo, head to John Pennekamp Coral Reef State Park to see coral reefs, seagrass beds, and the famous Christ of the Abyss Statue.
Snorkelers and divers interested in seeing a shallow reef with large fish like sharks, goliath groupers, and barracudas can take a boat trip to Looe Key from either Bahia Honda State Park or Big Pine Key. Sombrero Reef off of Marathon is another top offshore snorkeling site in the Keys, with vibrant sea life and large coral formations.
If you're looking for an easy day trip from Miami, consider a snorkeling excursion in Biscayne National Park. You can explore the area's shipwrecks and spot endangered sea turtles and manatees. For information about these spots and more, check out our detailed guides to snorkeling in Key West and the Florida Keys.
Riviera Beach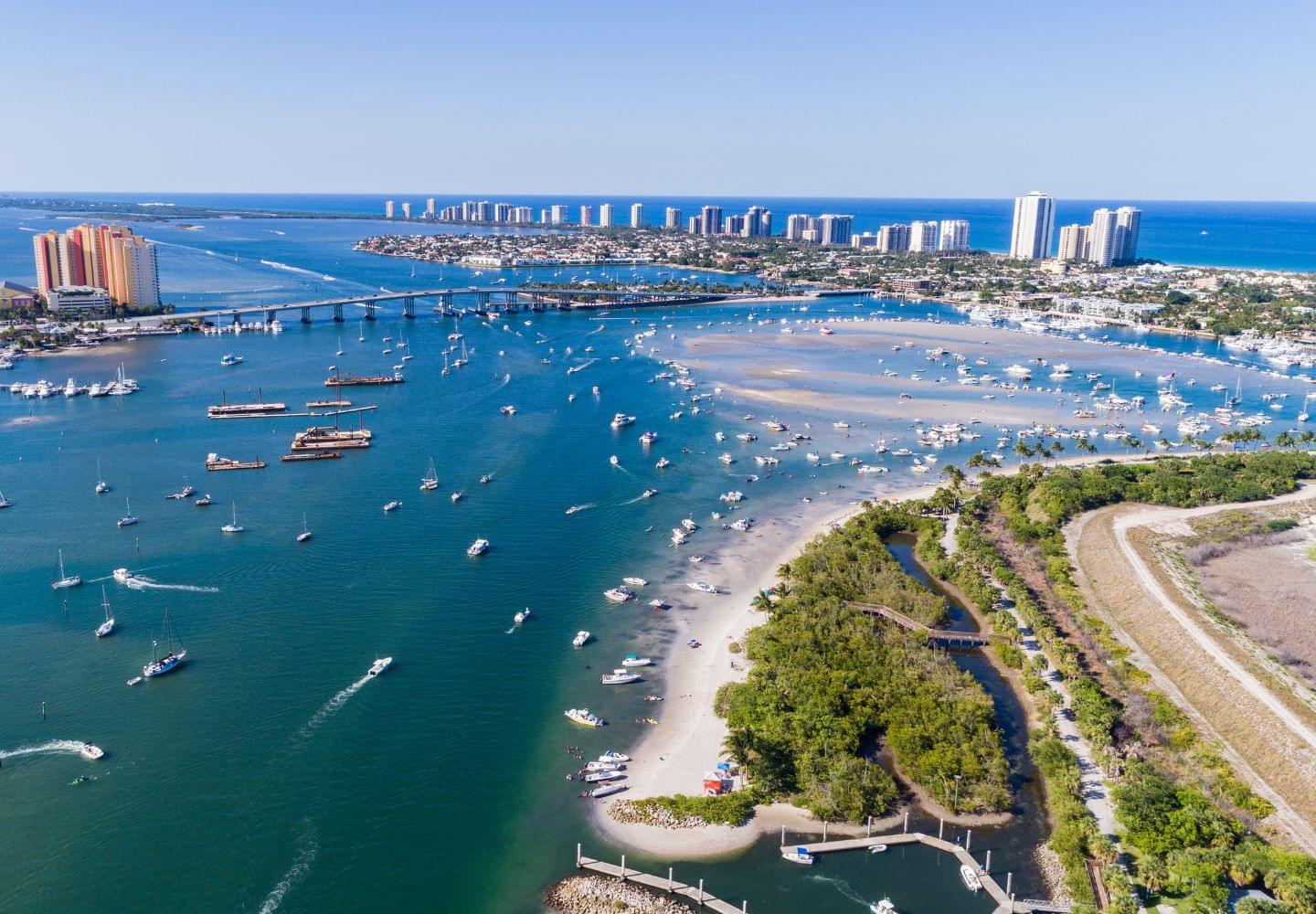 Riviera Beach, just north of West Palm Beach on Florida's Atlantic Coast, is a fantastic saltwater snorkeling destination for those who don't want to stray too far from shore.
In 2013, Palm Beach County built the 800-foot-long Phil Foster Memorial Park Snorkel Trail in the Blue Heron Bridge area. The artificial reef lies in shallow waters ranging from 6-10 feet deep, and it is popular among snorkelers and scuba divers.2
You'll have plenty to see beneath the surface, including starfish, squid, stingrays, octopus, and parrotfish. The best time to snorkel here is at high tide, when visibility is best, and currents are at a minimum.
If you're staying in the area and have more time to explore, you can take a boat ride or kayak to Peanut Island and spot colorful fish and manatees in the lagoon. For more beach snorkeling, head to John D. MacArthur Beach State Park in North Palm Beach and look for sea creatures around the rocky outcroppings.
Crystal River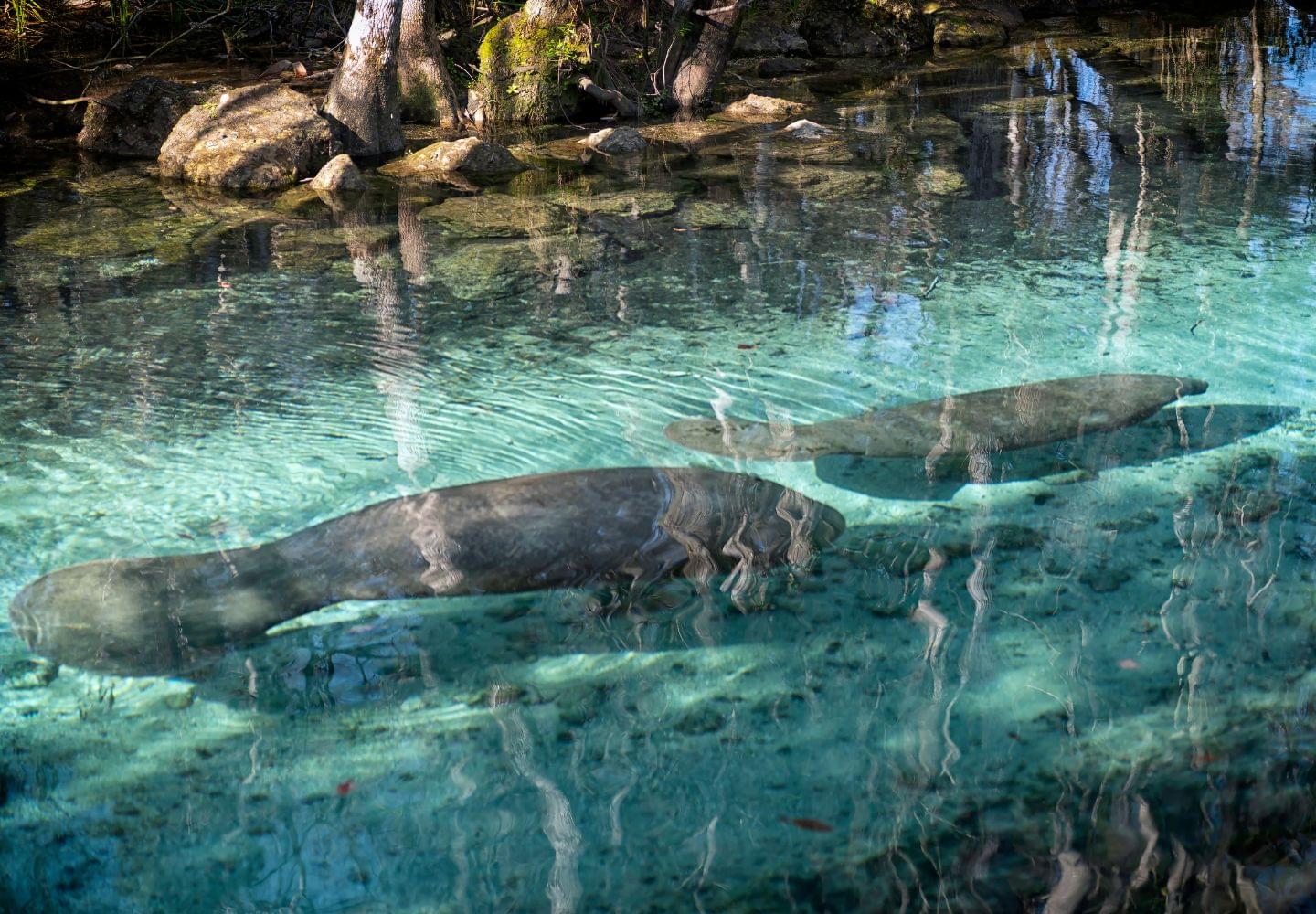 Crystal River is the only place in Florida where you can legally swim with endangered West Indian Manatees, making it an exciting destination for snorkelers.3 Three Sisters Springs and Homosassa Springs are the best places in Crystal River to spot these marine mammals.
The area's spring-fed rivers feature a stable year-round water temperature of about 72°F and are comfortable to swim in any time of year.4 However, the winter months provide the best chance to spot manatees as the animals take shelter from cooler waters in the Gulf of Mexico.
The manatee population is largest between December and February, but anytime from November to April is considered peak manatee season.3 Morning is typically the best time to view manatees since they are most active and playful during this part of the day.
Crystal Springs can get crowded during the peak season, so consider planning your visit during the week if you want a quieter experience.
Devil's Den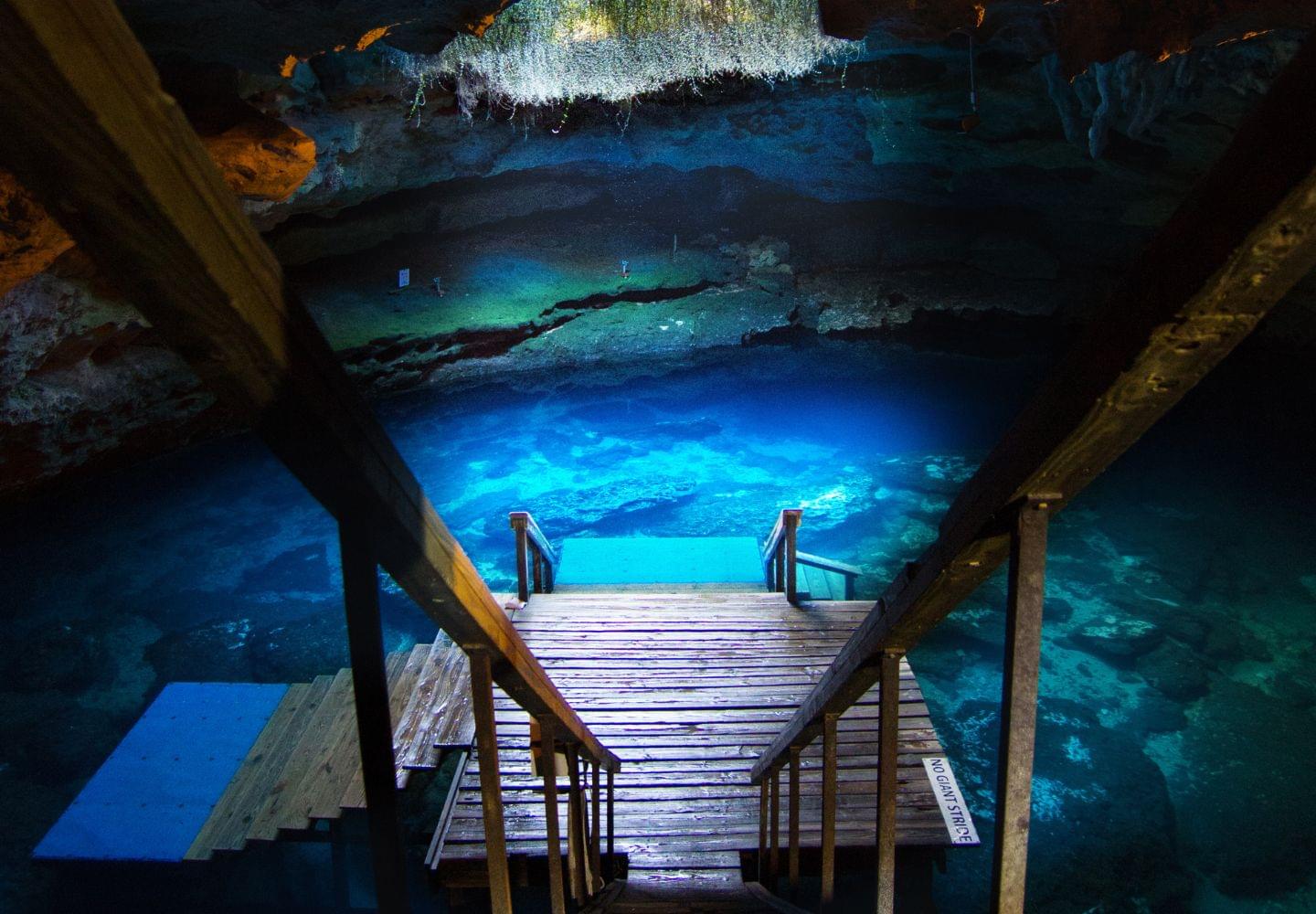 Devil's Den is one of Florida's natural wonders, and it makes an incredible snorkeling and scuba diving outing. The underground spring sits under a dry cave with numerous fossils, providing a glimpse into the region's prehistory. In addition to enjoying the ancient rock formations and surreal setting, snorkelers and divers can watch as rays of sunlight pierce the sapphire waters.
To visit Devil's Den, you must make a reservation ahead of time here. The spring is on private land in Williston (south of Gainesville), and you'll need to pay an entry fee of $18 to $25 per person, depending on which day of the week you visit.
It's required to wear a mask, snorkel, and fins when snorkeling at Devil's Den. If you don't have your own snorkeling equipment, you can rent it on-site for an additional fee.
Silver Glen Springs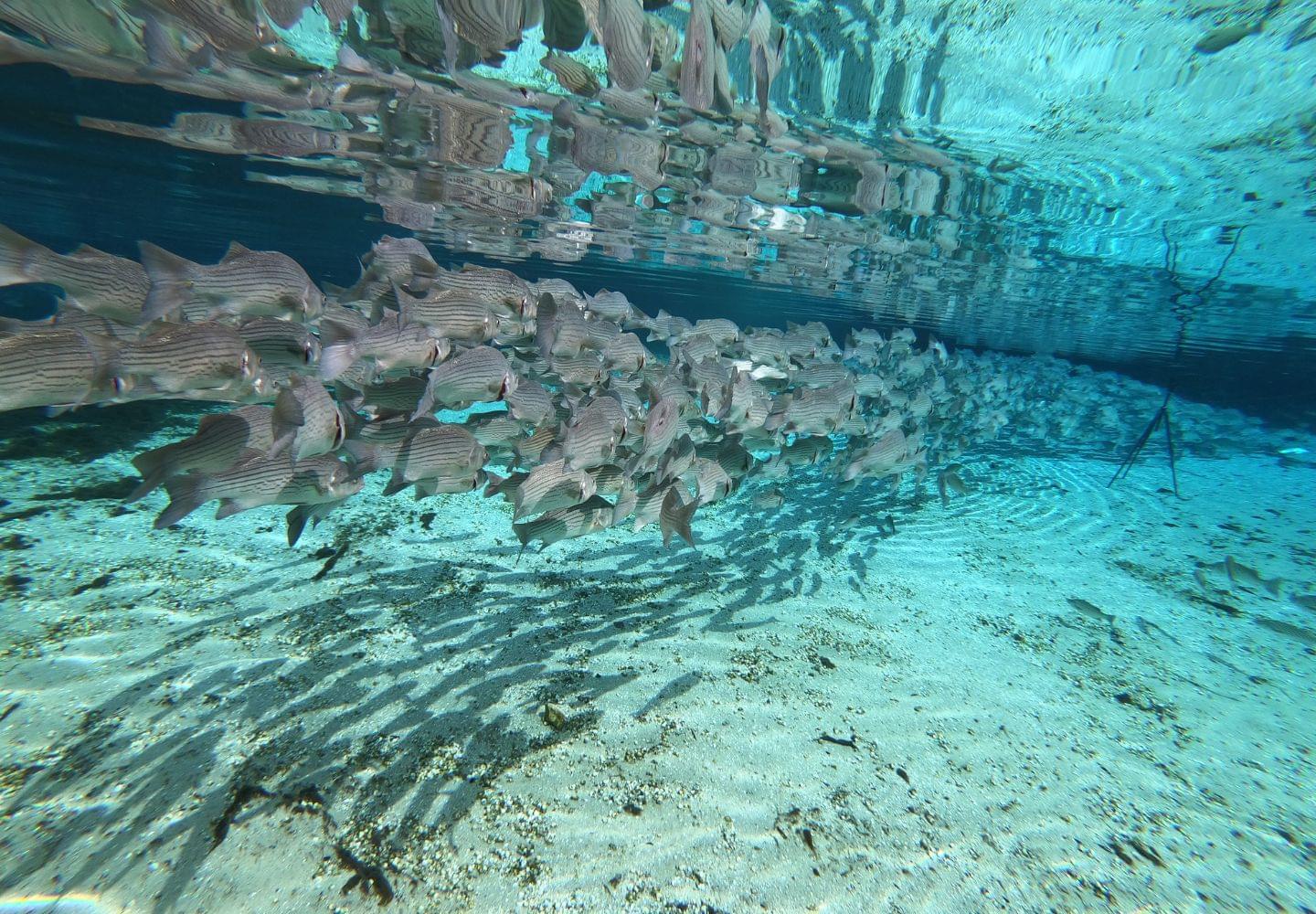 A little over an hour from Orlando, Silver Glen Springs is a gorgeous place to swim and snorkel. The scenery above the surface is spectacular, but once you look below, you'll have the chance to spot enormous schools of striped bass and the occasional manatee. Since the calm, jewel-toned waters remain a constant 72°F throughout the year, you can snorkel at Silver Glen Springs in any season.
The springs lie within the Ocala National Forest, off the western shores of Lake George. If you have more time while visiting the national forest, you can also check out Alexander Springs and Salt Springs. Like Silver Glen Springs, these places feature crystal clear water and a variety of aquatic life.
Destin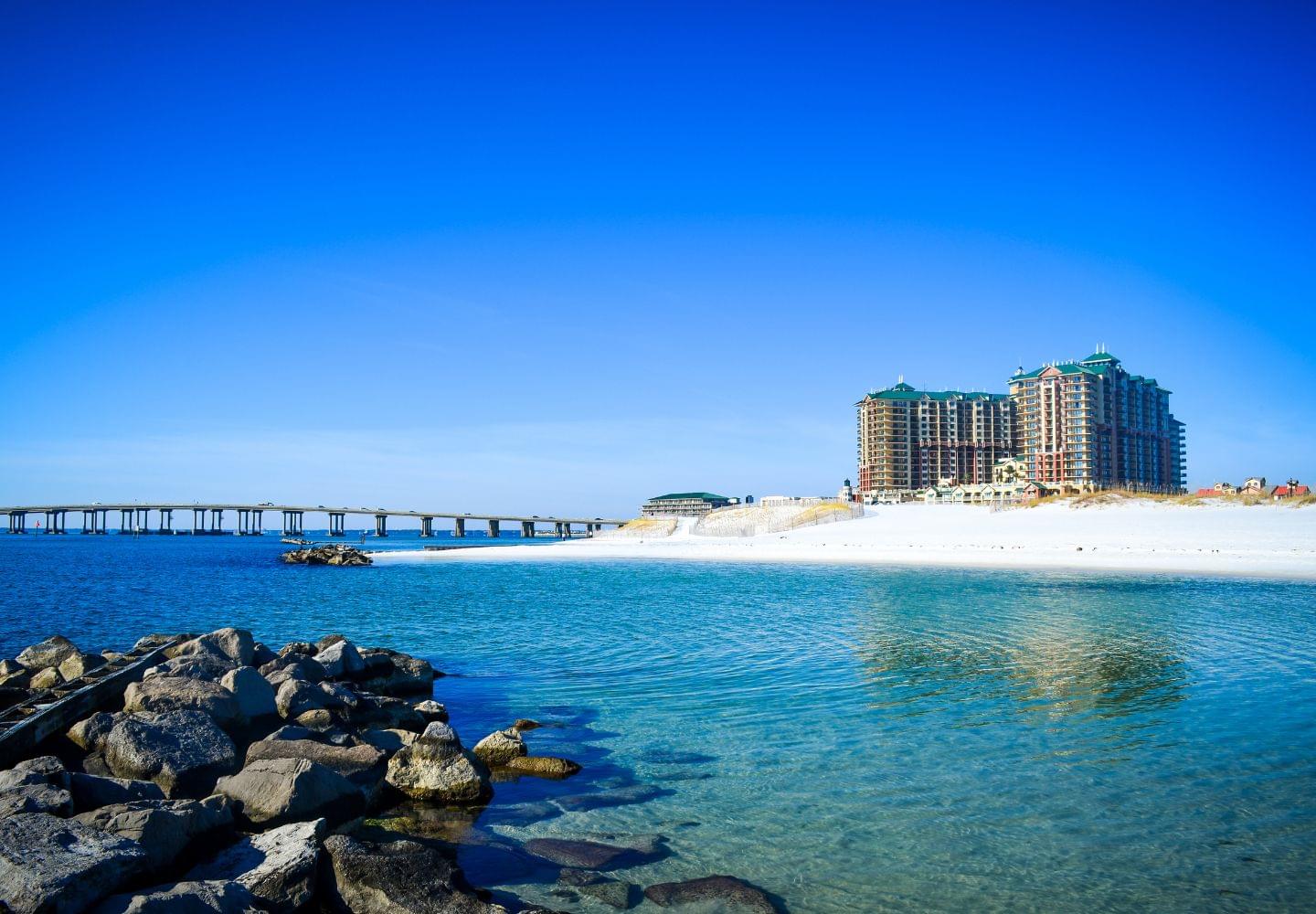 Located in northwestern Florida, Destin has some of the best snorkeling on the Gulf coast. Nicknamed the Emerald Coast, the area is known for its beautiful beaches with emerald green waters.
One of the best places to snorkel is around East Pass and the Destin jetties, which serve as an artificial reef. It can get choppy here, so plan your snorkeling outing at slack tide for the calmest conditions.
With easy snorkeling from sandy beaches, Norriego Point and Henderson Beach State Park are also popular among snorkelers. Norriego Point tends to be calmer than Henderson Beach due to its protected location, making it better for beginners and children. Henderson Beach has no lifeguards, so use caution and pay attention to the flags indicating current conditions.
Ginnie Springs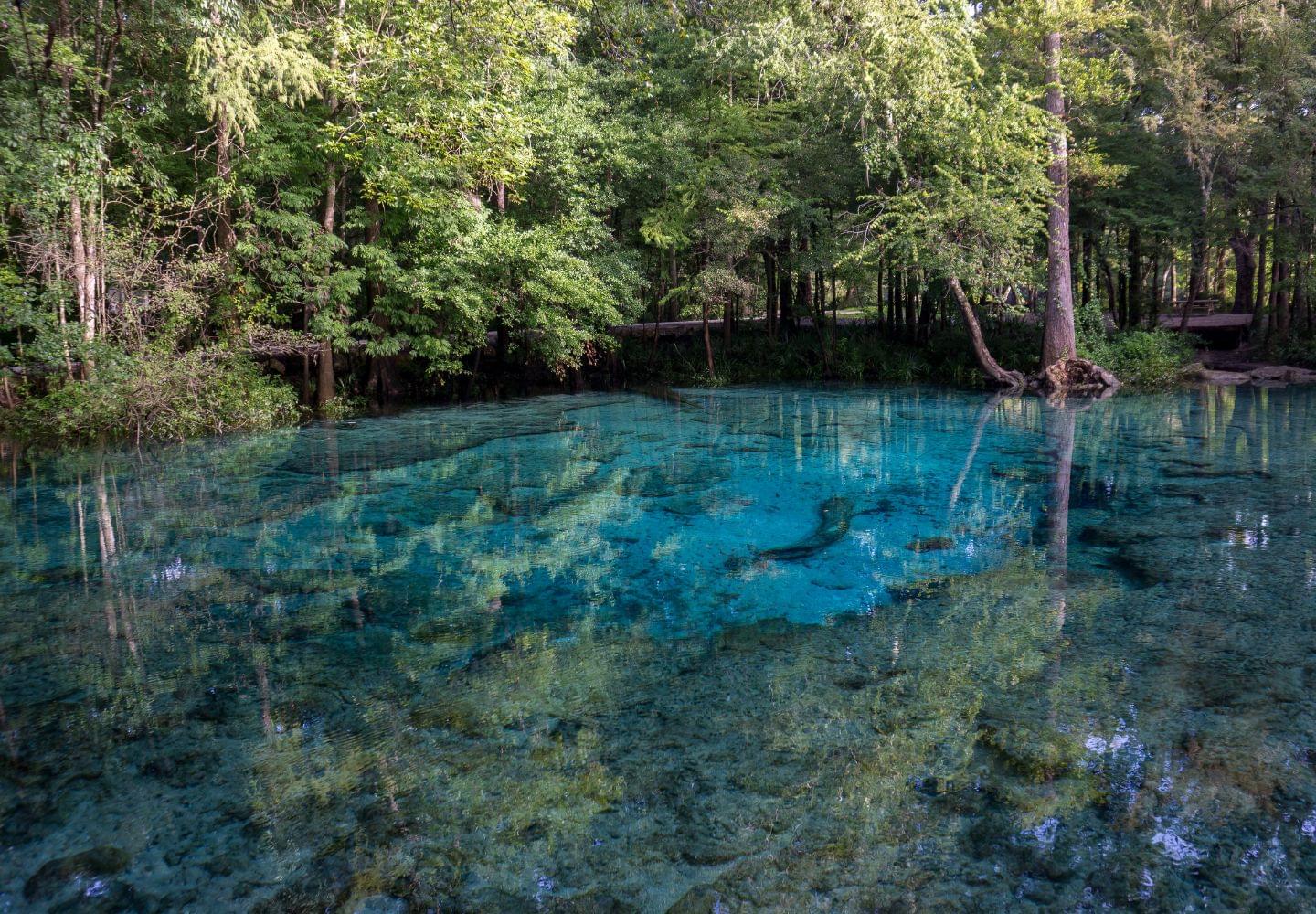 Ginnie Springs' sparkling turquoise waters are fun to explore with a mask and snorkel. Located on the Santa Fe River northwest of Gainesville, the area is home to underwater caves and a variety of wildlife. You can spot freshwater species like turtles, catfish, bass, and mullets or just enjoy the stunning colors under the surface.
In addition to snorkeling, Ginnie Springs is an excellent spot for kayaking and paddle boarding. The area gets incredibly busy and can turn into a party on weekends, so head there midweek and during the winter months to enjoy it with fewer crowds and less noise.
Twin Ledges, Fort Lauderdale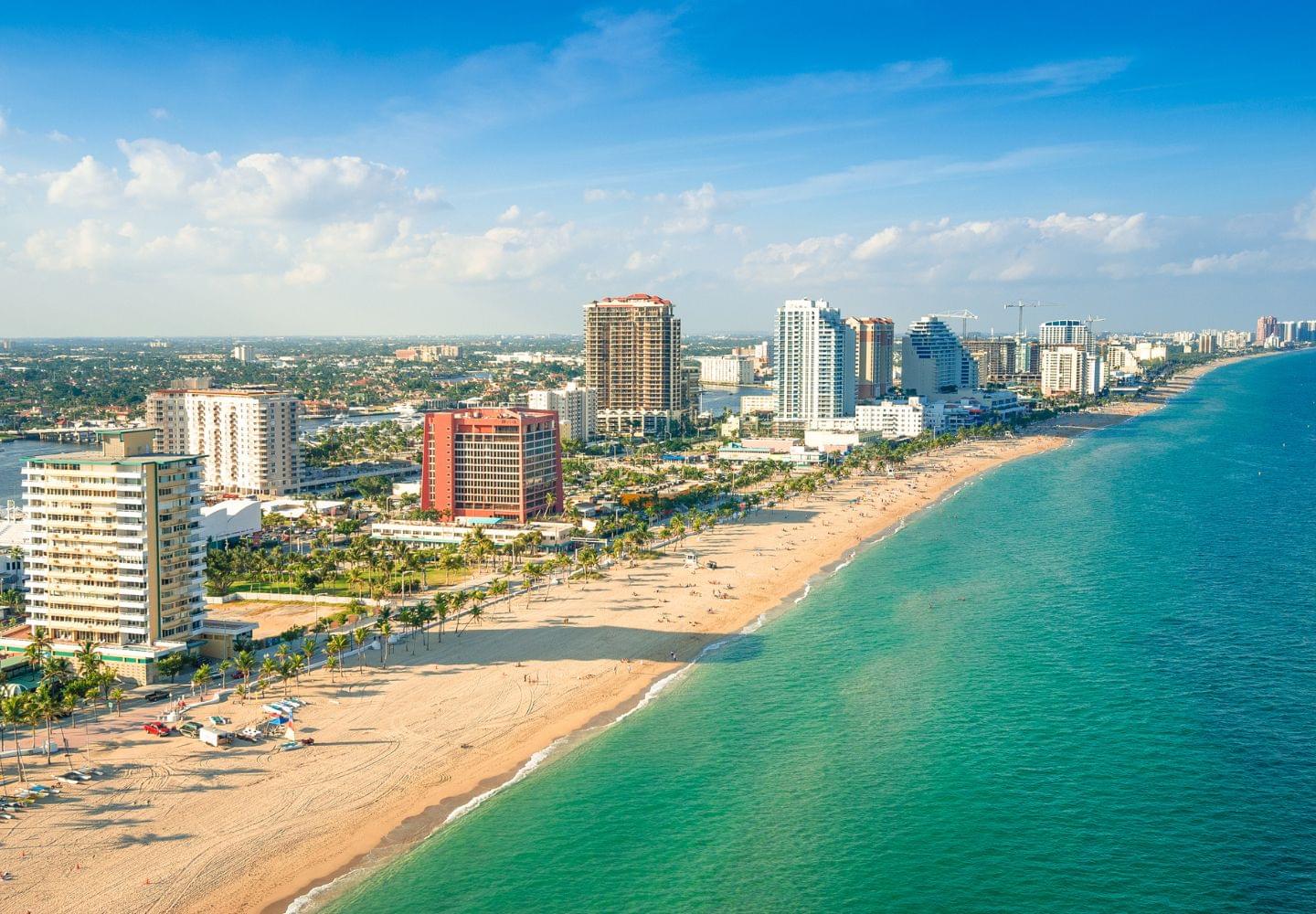 Snorkelers visiting the Fort Lauderdale or Miami areas should check out Twin Ledges, a shallow reef about 400 yards off Fort Lauderdale Beach. The reef begins at a depth of about 15 feet and is a popular diving and spearfishing site. There is a wide variety of marine life, including nurse sharks, yellowtail snapper, lobsters, hogfish, sergeant majors, and groupers.
You'll need to take a boat to reach Twin Ledges safely. Several local outfitters offer guided trips to Twin Ledges and other spots on Fort Lauderdale's reef, or you can charter a boat and snorkel on your own. Due to the distance from shore, beginners should not visit this site without a guide.
Best snorkeling tours
Booking a guided tour is an easy way to get to Florida's best snorkeling sites without any hassle. If snorkeling with manatees is on your Florida bucket list, consider booking this three-hour eco-tour at Crystal River, with the chance to explore the area more on a kayak or paddleboard after the trip.
Active travelers in Fort Lauderdale and Miami can consider this full-day eco-adventure in the Florida Keys National Marine Sanctuary. You'll have the chance to snorkel, paddle board, and kayak as you explore the Keys' mangrove forests and diverse coastal ecosystems.
Those looking for a short snorkeling excursion from Key West will enjoy this half-day trip to the reef at Sand Key, while travelers seeking a more exclusive outing may prefer this private snorkel trip from Big Pine Key to the Looe Key reef.
Best places to stay
The Keys are the best place to stay if you want to snorkel Florida's extensive reef system.
Cheeca Lodge and Spa in Islamorada has a full­-service watersports center where you can book snorkeling tours and lessons, while Hyatt Centric Resort and Spa is a top pick in Key West. The Hyatt Centric has a private dock and offers easy access to the departure point for many of the area's snorkeling excursions.
For travelers planning to visit the Gulf Coast, Hampton Inn and Suites in Destin is a family-friendly spot next to Henderson Beach State Park.
If you want to explore some of Florida's springs and the surrounding natural areas, consider camping in central or northwestern Florida. If camping isn't your style, you can still get close to nature by booking a cabin or vacation rental through a site like Airbnb or Vrbo.
Florida snorkeling FAQ
What time of year is best for snorkeling in Florida?
Florida is a year-round snorkeling destination thanks to its diverse aquatic environments and subtropical climate. The best time to plan your visit will depend on which part of the state you're traveling to, your tolerance for crowds, and your budget.
If you're visiting the Keys or other parts of South Florida, March to May is generally the best time to snorkel there, thanks to the calm conditions and warmer waters. However, this overlaps with the Keys' peak tourist season, so expect higher prices and potential crowds.
Travelers hoping to swim with manatees at Crystal River should visit from November to April when the manatee population is largest. This time of year is also an excellent time to visit Florida's other springs (such as Ginnie Springs and Silver Glen Springs) if you're hoping to avoid the crowds.
What part of Florida has the best snorkeling?
The Florida Keys are home to many of the state's top snorkeling sites and boast some of the best snorkeling in North America. That said, some other parts of Florida have unique places to snorkel. For example, you can swim with manatees in Crystal River or explore an underground spring with ancient fossils in Devil's Den near Gainesville.
What should I bring on a snorkeling trip in Florida?
At a minimum, you should bring a mask, snorkel, and comfortable swimwear when snorkeling in Florida. While you can rent equipment at popular snorkeling sites throughout the state, using your own travel-friendly snorkeling gear will provide a better fit and more comfortable experience. We also recommend bringing fins, fin socks, a snorkel vest, reef-friendly sunscreen, a rash guard with UPF, and a wetsuit if you're visiting in the winter.
For more tips about what to wear while snorkeling, you can view our detailed guide here.
---
Resources
Last updated 31 October 2023
This blog post contains affiliate links from Viator and TripAdvisor, which means we receive a small commission on any sales made via those links.
Table of contents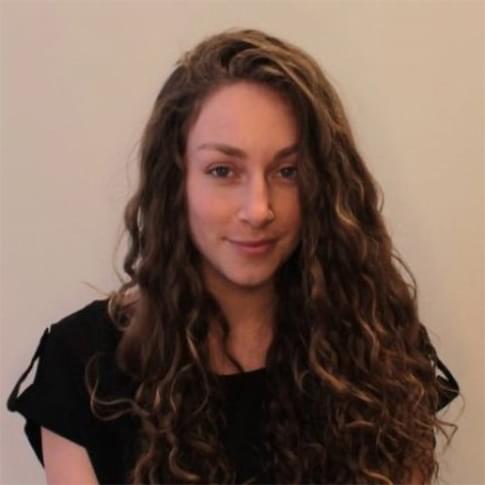 Rebecca Jambrovic