The best snorkeling in the Dominican Republic
Planning a trip to the Dominican Republic? Find out where to snorkel with humpbacks, visit remote sandbars surrounded by coral reefs, and relax on idyllic beaches.
---
As the second-largest country in the Caribbean, the Dominican Republic's diverse landscapes, extensive coastline, and picturesque beaches make it an incredible holiday destination. From swimming with humpback whales to climbing the highest mountain in the Caribbean, you'll have many adventures to choose from when visiting the DR.
Although it's not as famous as other Caribbean snorkeling destinations, the country has many amazing places to explore the underwater world. From remote beaches to idyllic private islands, here are the best snorkeling spots in the Dominican Republic.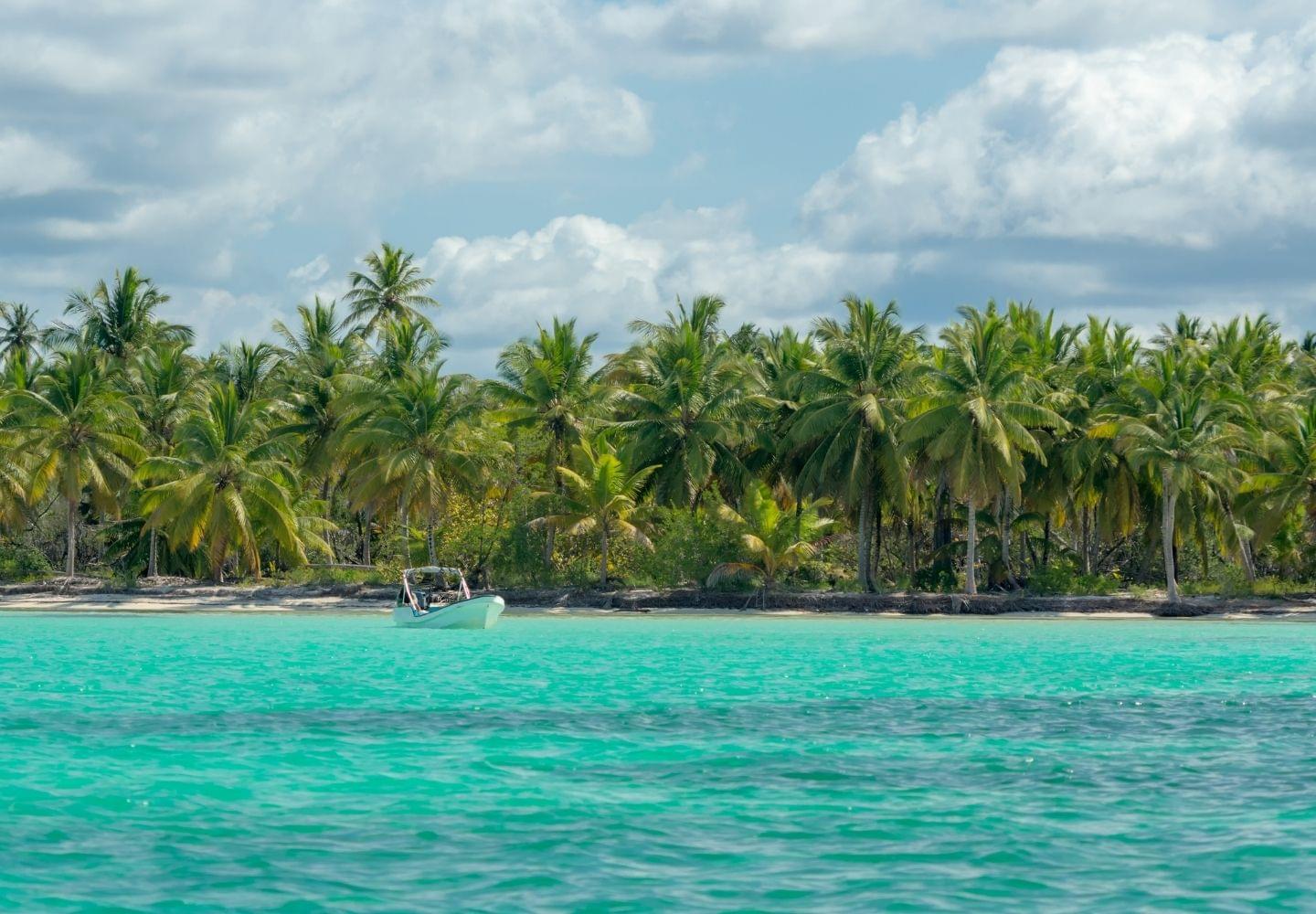 Catalina Island
Catalina Island, also called Isla Catalina, has some of the Dominican Republic's most beautiful beaches and top snorkeling sites. This picturesque island is located around 1.5 miles (2.4 km) off La Romana on the south coast. The area is home to a wide variety of sea life and a famous snorkel and dive site called The Wall Reef.
Snorkelers and divers can view corals, sponges, sea fans, butterflyfish, parrotfish, and moray eels. The sandy bottom is also a great place to spot southern and yellow stingrays.
With crystal-clear waters and scenic beaches, visiting the island is popular among day-trippers. Boat tours to Catalina Island leave from numerous places on the mainland, including the resort areas of Punta Cana, Bávaro, and Bayahibe.
Saona Island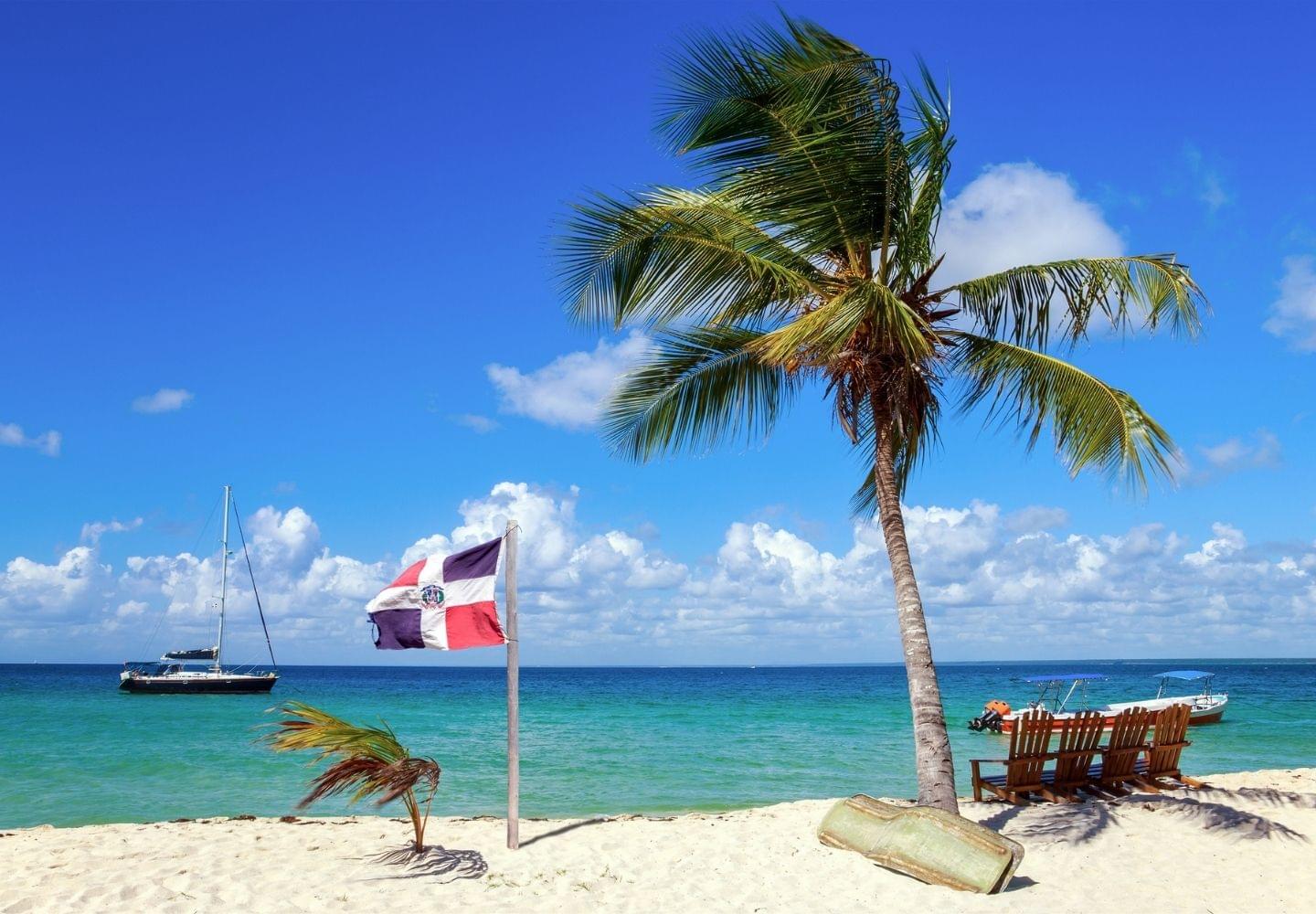 Not far from Catalina Island, Saona Island is another top pick for snorkeling and scuba diving. Since this postcard-worthy isle is part of the Parque Nacional del Este nature reserve, the marine life is protected.
The Caribbean Sea's calm waters provide ideal snorkeling conditions for beginners, but those with more experience also have plenty to explore. Nicknamed "Starfish Island," Saona offers the chance to view sea stars, trumpetfish, snappers, angelfish, and sea fans.
The best way to get to Saona Island is on a guided day trip, such as this full-day catamaran snorkel cruise from Bavaro in Punta Cana.
Cayo Levantado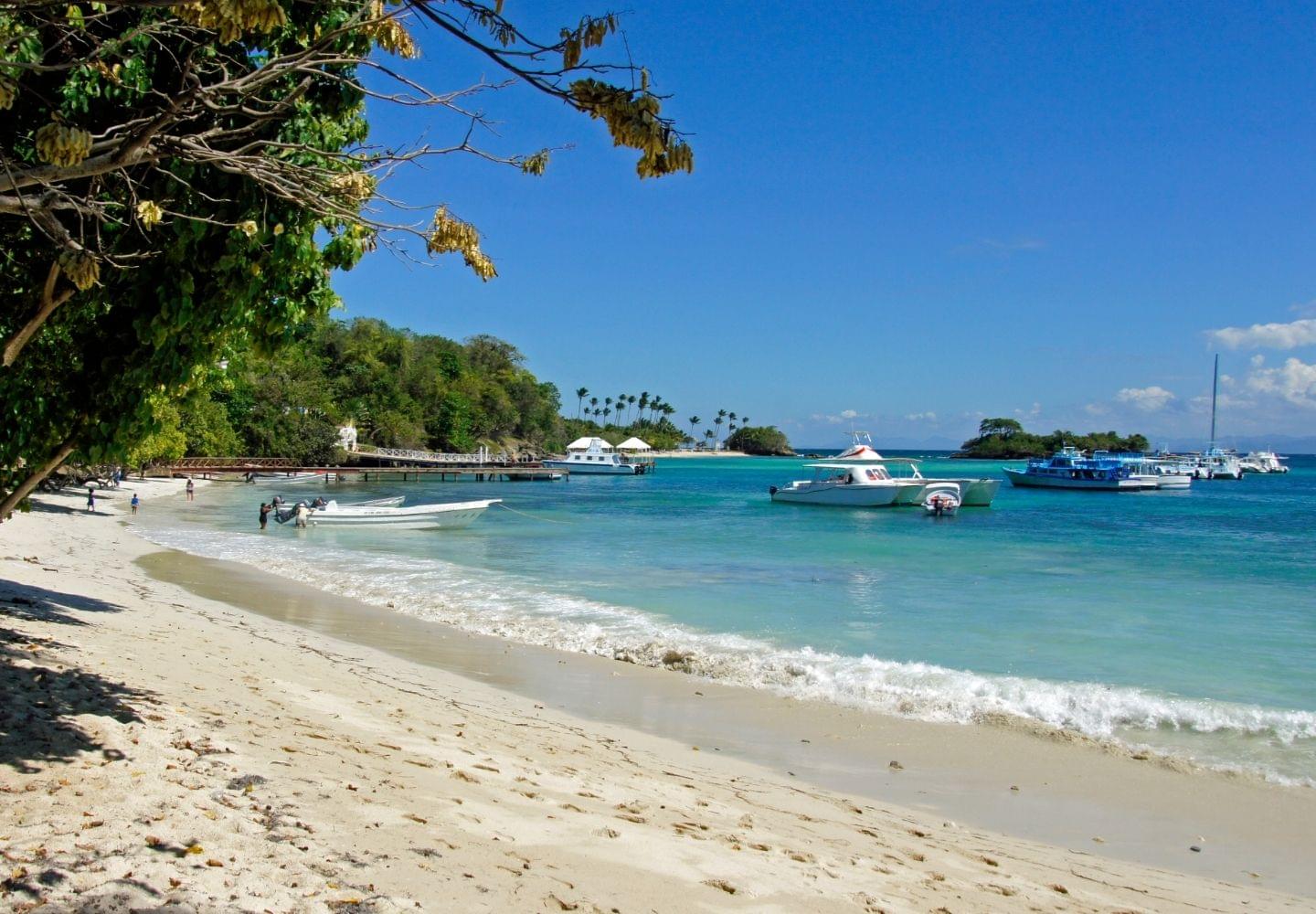 Cayo Levantado, a small coral cay off the Samana Peninsula, is an excellent beginner-friendly snorkeling destination. Nicknamed Bacardi Island, Cayo Levantado is famous for its gorgeous scenery and its appearance in a 1970s Bacardi Rum commercial. The Bahia Principe Luxury Resort owns the island, but there are two public beaches on the west side that are accessible to guests not staying at the resort.
The clear turquoise waters are home to numerous marine species, including blue tang, French grunt, moray eels, peacock flounders, cushion sea stars, and French angelfish. Make sure to allow some time after your snorkeling session to soak up the views on the gorgeous white sand beaches.
If you're not staying on the island, you can book a boat trip from Santa Barbara de Samana or Punta Cana or take a water taxi from the Avenida Marina port.
Playa Rincón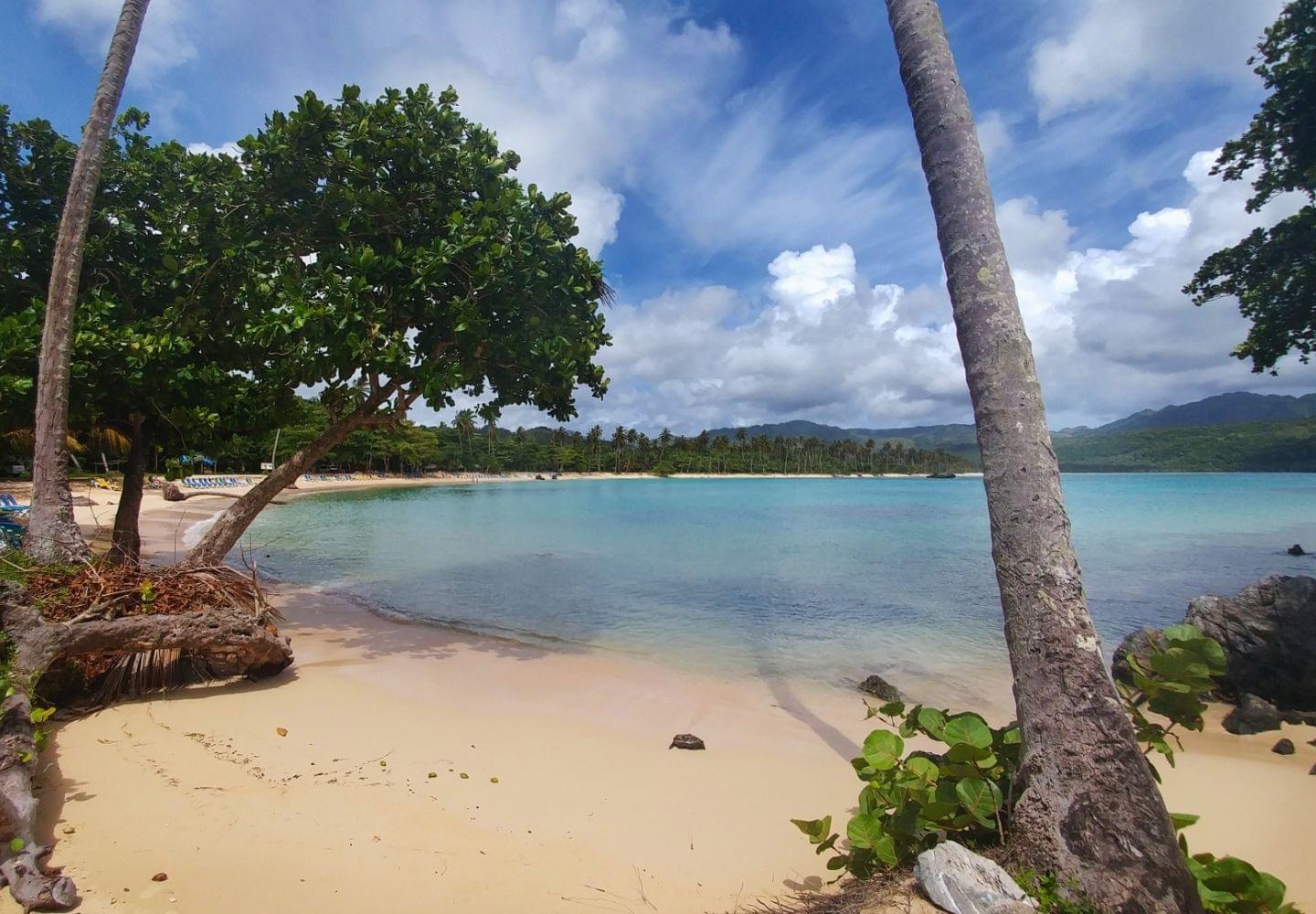 Also on the Samana Peninsula, laid-back Playa Rincon ranks among the most beautiful beaches in the world. 1 The pristine beach stretches for a stunning 3 miles (5 km) along the Bahía de Rincón.
With soft white sand, turquoise waters, and minimal development, Playa Rincon is the perfect hideaway for snorkelers who want to relax and enjoy the natural surroundings. Head to the southeastern side of the beach for the calmest waters and best snorkeling conditions, and avoid the wavier northwestern side.
There are a few restaurants on the southeastern side of the beach and places to rent kayaks, snorkel gear, beach chairs, and umbrellas. Despite the remote feel, you can easily reach Playa Rincon with a short boat ride from the fishing village of Las Galeras. It's also possible to make the 15-minute drive with a four-wheel-drive or all-terrain vehicle. It can get busy on the weekends, so head to Playa Rincon during the week if you want a quieter experience.
Playa Sosúa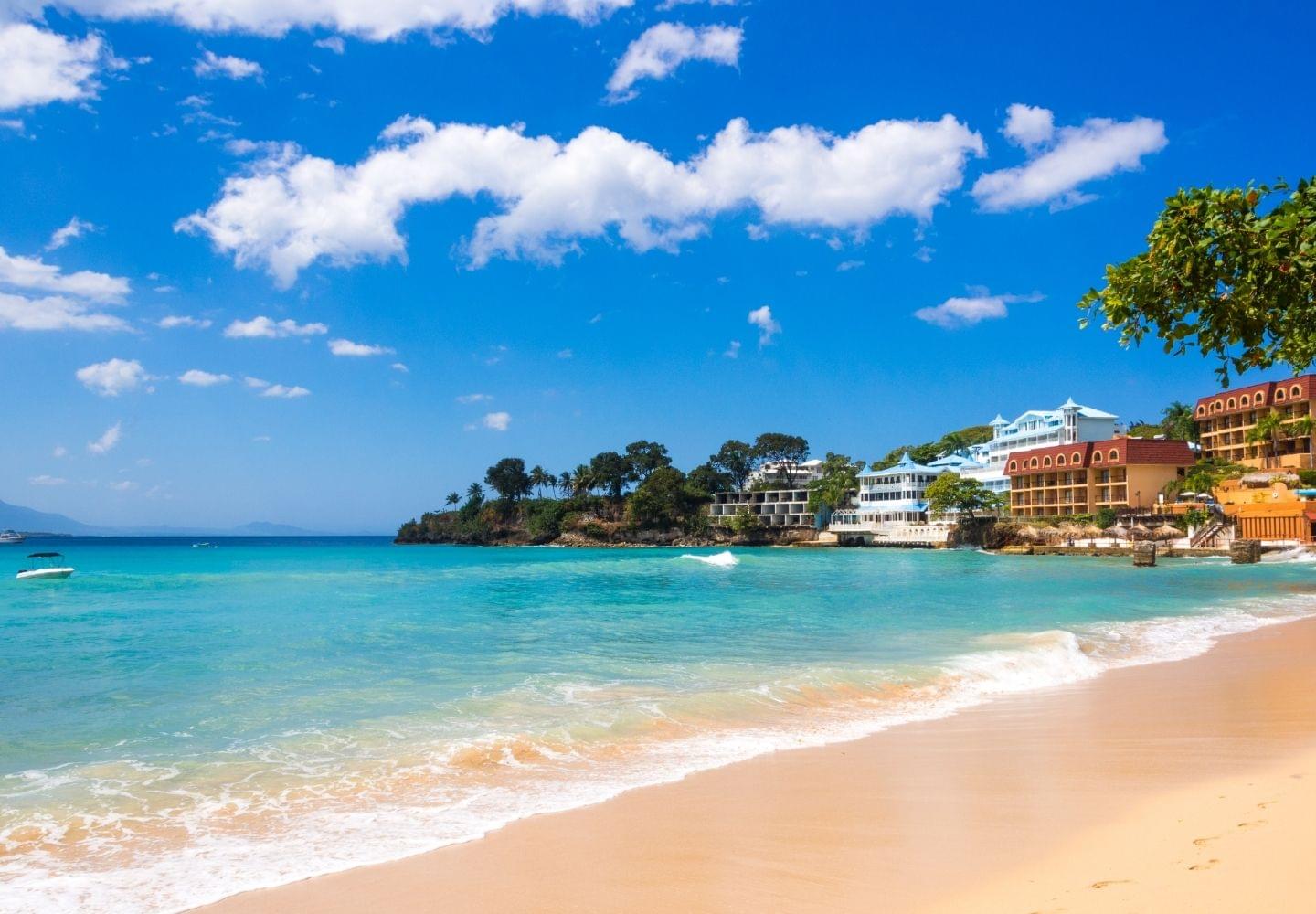 A local favorite on the Dominican Republic's north coast, Playa Sosua is a good spot for those looking to snorkel right from the beach. The bay has a vibrant coral reef with abundant marine life and many types of tropical fish.
Thanks to its calm, shallow waters, this sheltered beach is a great choice for snorkelers of all skill levels. Neighboring Playa Alicia is another top pick for snorkeling and diving that tends to see fewer crowds, although the conditions can be rougher than at Sosua Beach.
Sosua Beach and Alicia Beach are located about 45 minutes from Puerto Plata and are both easy to access. The area is home to many excellent dive sites and has several dive centers offering snorkeling and diving trips. There are numerous amenities nearby, including restaurants, bars, water sports rentals, chair and umbrella rentals, shops, and more.
Cayo Arena
Also known as Paradise Island, Cayo Arena is a tiny sandbar west of Punta Rucia on the north coast. Visiting the isolated sandbar is a unique experience on its own, but it gets even more exciting once you head into the water. The azure waters are calm and shallow, with a coral reef and many different tropical fish. Snorkelers can spot damselfish, sergeant majors, yellowtail snappers, octopus, crabs, and more.
Boats to Cayo Arena leave from Playa La Ensenada and Punta Rucia (about 20 minutes away). You can also get there on a guided excursion from Puerto Plata, such as this full-day boat trip with snorkeling.
Silver Bank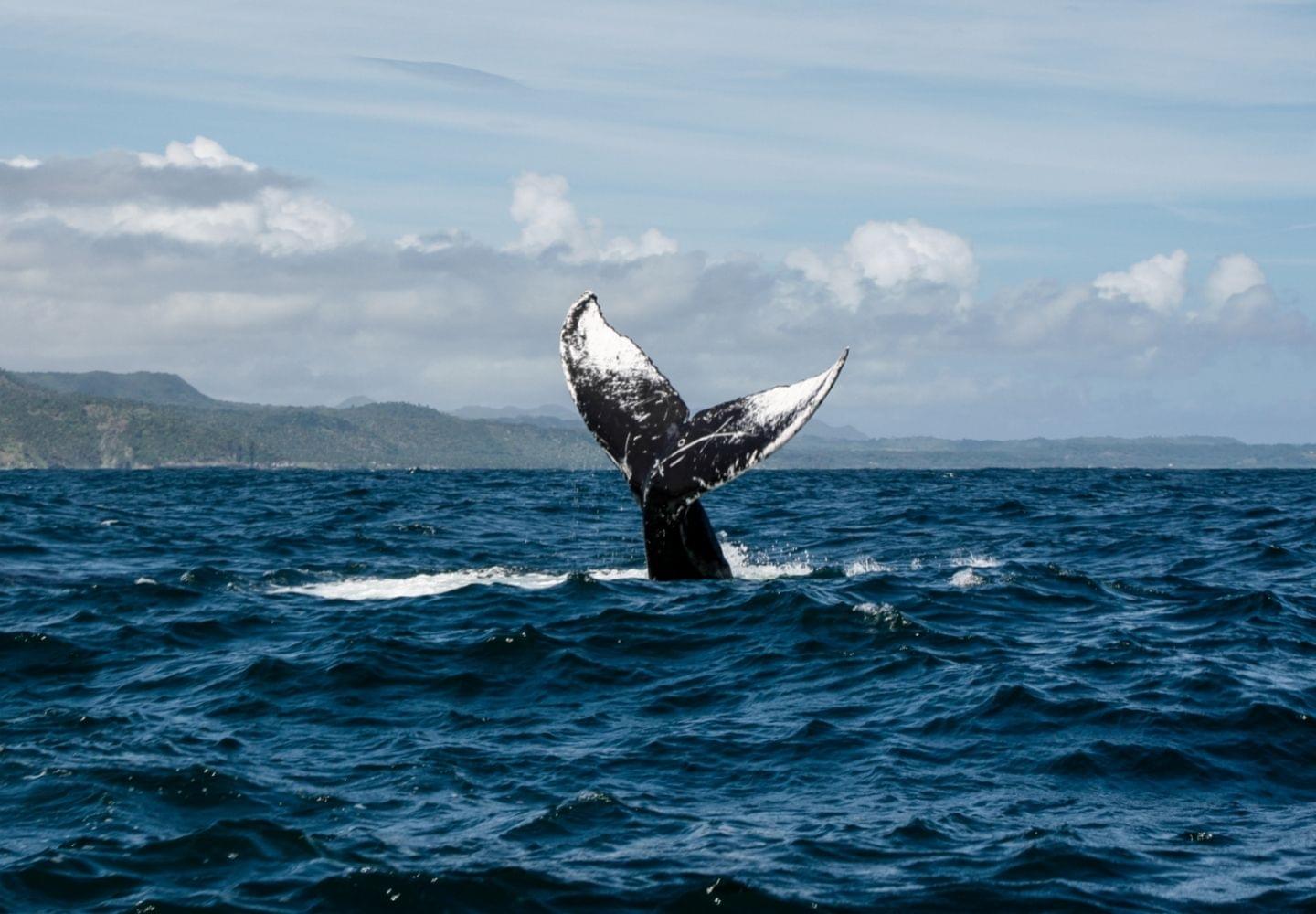 Silver Bank is one of the few places in the world where you can snorkel and swim with migrating humpback whales. The area is located 56 miles (90 km) off the Dominican Republic's north coast. Protected as a marine sanctuary since 1986, Silver Bank contains significant calving and breeding grounds for the North Atlantic humpback whale.
Each winter, as many as 7,000 humpback whales pass through the 40-square-mile marine sanctuary, constituting one of the world's largest seasonal populations of humpbacks. 2 The whales exhibit frequent surface activity, including breaching and fin slapping, making it a thrilling and unforgettable experience for snorkelers.
The whales start arriving at Silver Bank in December and leave in late April, so plan your trip during this period if snorkeling with humpbacks is on your bucket list. 3
To get to Silver Bank, it's best to book a guided whale-watching expedition with a reputable tour operator, such as Aquatic Adventures. The tours typically last a week and sell out well in advance, so keep this in mind when making your travel arrangements.
Bayahibe
Bayahibe, a small resort town and fishing village, has many wonderful places to snorkel and view the colorful Caribbean sea life. Playa Magallanes is one of the best locations for beach snorkeling. The rocky coastline features numerous rock overhangs and caves where you can spot sea creatures like lobsters, eels, and scorpionfish.
Playa Dominicus is another good spot for shore snorkeling. The golden sandy beach provides easy entry into the water, and there are some coral patches with varied sea life. The area has many resorts and amenities, making it an ideal place to stay for travelers who want to snorkel right from their hotels.
Best snorkeling tours
Booking a guided excursion is a great way to experience the Dominican Republic's top offshore snorkeling sites. This full-day catamaran snorkel cruise, for example, will take you from Punta Cana to Catalina Island for snorkeling at The Wall Reef. Alternatively, if you want to snorkel with the schools of fish around Cayo Arena, consider this full-day boat trip from Puerto Plata.
Best places to stay
From luxurious all-inclusive resorts to laid-back bungalows, snorkelers in the Dominican Republic can choose from a wide variety of lodging. If you want access to snorkeling right from your resort, Bayahibe is a fantastic place to stay. Iberostar Hacienda Dominicus is an all-inclusive, five-star hotel that ranks among the best in Bayahibe. An artificial reef and coral patches in front of the resort provide a habitat for diverse sea life, and there is an on-site PADI dive center.
The Samana Peninsula is a perfect base for outdoor enthusiasts to explore the area's unspoiled coastline and waterfalls. El Valle Lodge is a jungle eco-lodge with access to pristine beaches, tropical forests, and flowing rivers.
If you're looking for a classic resort destination and don't mind taking day trips to get to the best snorkeling sites, Punta Cana is a top pick. The area is full of resorts to suit a wide range of budgets. Melia Caribe Beach Resort is one of the area's best values, while Secrets Cap Cana Resort and Spa offers a high-end experience.
Dominican Republic snorkeling FAQ
When is the best time to snorkel in the Dominican Republic?
Snorkeling is possible year-round in the Dominican Republic thanks to the warm climate. December through April is the country's dry season and the most popular time to visit. This period is also the best time to travel if you want to snorkel with humpbacks.
The wet season (June to November) sees higher temperatures, humidity, and rainfall. Although this time of year offers better rates and fewer crowds, there is a risk of hurricanes and tropical storms, especially in August and September (1). If you're seeking a balance between nice weather and affordability, April to June is a great time to visit.
Is Punta Cana good for snorkeling?
Punta Cana is a famous Caribbean getaway, but the area is not among the Dominican Republic's best snorkeling spots. If you plan on spending most of your vacation relaxing by the beach and just want a day or two of snorkeling, Punta Cana can still be a great place to stay. Many guided snorkeling tours leave from Punta Cana's resorts, so you'll have the chance to enjoy snorkeling excursions and day trips rather than snorkeling directly from your hotel beach.
Can you snorkel off the beach in the Dominican Republic?
Although many of the Dominican Republic's best snorkeling sites are located offshore, there are numerous beaches that have good snorkeling conditions. The best snorkeling beaches include Playa Rincon on the Samana Peninsula, Playa Sosua on the north coast, and Playa Magallanes in Bayahibe.
FAQ sources
"Best time to visit the Dominican Republic." Rough Guides, roughguides.com.
---
Resources
Last updated 25 March 2022
This blog post contains affiliate links from Viator, Booking.com, and TripAdvisor, which means we receive a small commission on any sales made via those links.
Table of contents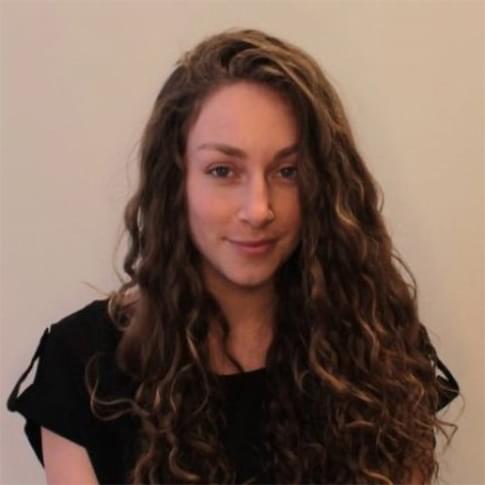 Rebecca Jambrovic