Ultimate guide to snorkeling in Croatia
Planning a snorkeling trip to Croatia? Find out where to go, when to visit, and what you can expect once you get there.
---
With over 3,600 miles of coastline along the Adriatic Sea and more than 1200 islands, islets, and reefs, Croatia is an attractive snorkeling destination.
The Croatian coast is known for its crystal clear water, ancient towns, rocky outcrops, and plentiful sunshine. No matter what coastal destination you choose, you're sure to find excellent opportunities for snorkeling and other watersports, such as scuba diving, sea kayaking, stand up paddle boarding, windsurfing, and sailing.
In this guide, we'll cover what to expect when snorkeling in Croatia, when to plan your trip, and where you'll find the best snorkeling locations.
What to expect
Here's what to expect when snorkeling in Croatia:
Clean, clear water
The waters surrounding the Croatian coast are some of the cleanest and clearest in all of Europe. In 2019, 95.6% of swimming sites monitored in Croatia met the European Union's highest water quality standards, placing Croatia among the top five countries in Europe for cleanest bathing water.1
In addition to being clean, the Adriatic also boasts excellent underwater visibility. In most areas, visibility is between 30 to 50 feet, but it can be over 100 feet in certain locations when the conditions are right.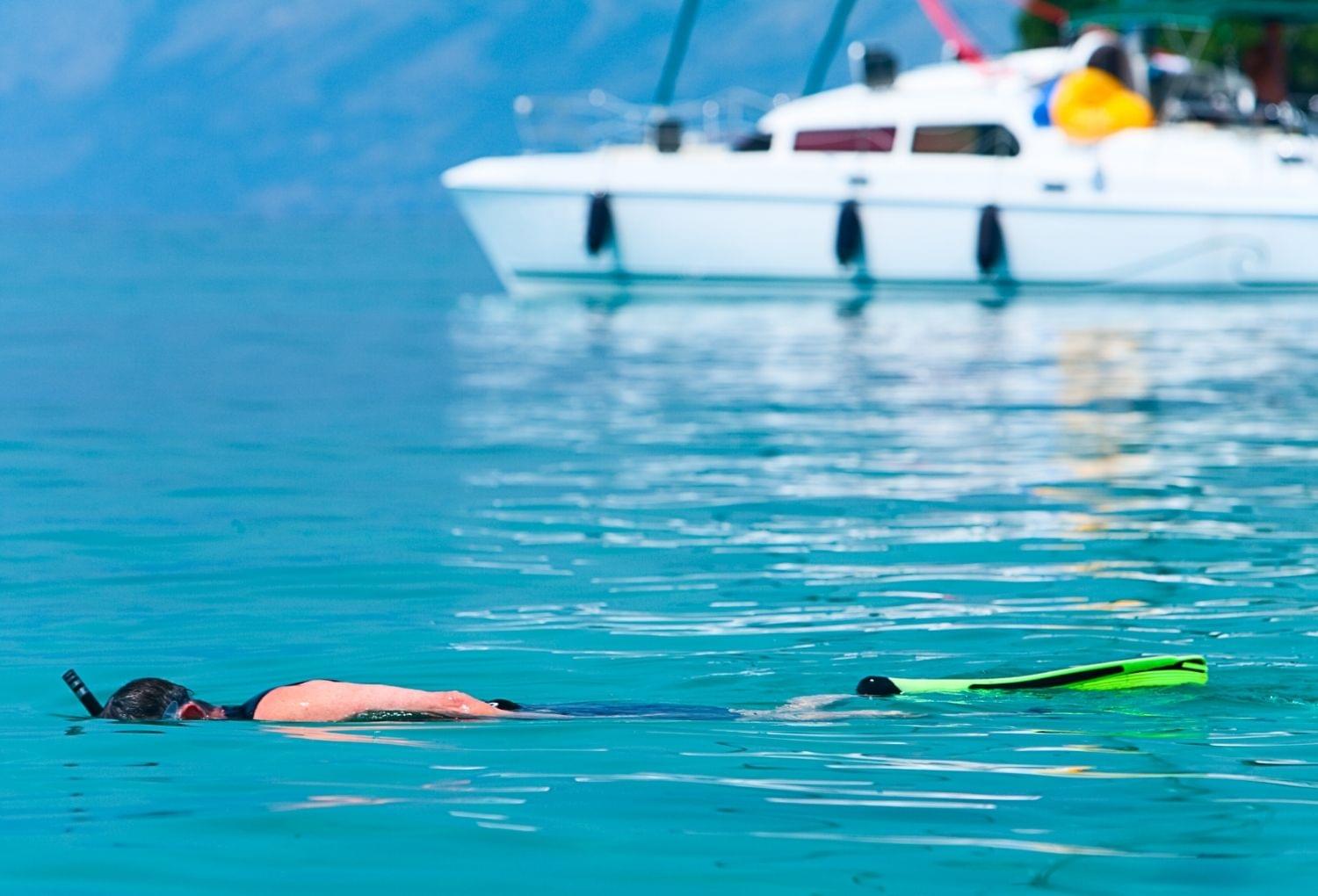 Plentiful marine life
While you're unlikely to see schools of colorful tropical fish that areas like Hawaii and the Caribbean are famous for, the Adriatic still contains abundant marine life.
While snorkeling in Croatia, you'll be able to observe sea creatures, including dolphins, starfish, octopi, fan mussels, squids, cuttlefish, crabs, shellfish, jellyfish, sponges, and sea cucumbers.
You'll also have the opportunity to view fish like sea bass, sea bream, scorpionfish, moray eels, and sardines.
Many of the species you'll see are protected, so make sure to leave what you find. If you want to collect shellfish for a meal or do some fishing along with your snorkeling, you'll need to obtain a permit and comply with all local regulations. More information is available from the Croatian Ministry of Agriculture here.
Ancient ruins, shipwrecks, and underwater caves
Besides the rich sea life, there are many other interesting underwater attractions that snorkelers can experience in Croatia. These include ancient ruins, underwater caves, and shipwrecks.
From the Greeks to the Romans to the Austro-Hungarians, Croatia has been part of numerous empires over the last few thousand years. There are still many relics from these eras, both on land and in the sea. Various snorkeling spots spread throughout the country will allow you to observe underwater ruins, archaeology sites, and ancient artifacts.
In addition to ancient ruins, there are numerous shipwrecks along the Croatian coast from more recent times. While scuba diving is a better way to explore these, some shallow wrecks are accessible to snorkelers.
The rocky coastal landscape is also rich with natural wonders like sea caves. Many of these turn an incredible shade of blue when the sun enters the cave, making for an unforgettable snorkeling experience.
Safe, worry-free snorkeling
Snorkeling is a relatively safe activity around the world and especially in Croatia. There are few dangerous species in the Adriatic, and animal attacks are incredibly rare.2 While there are occasional shark sightings along the coast, most species are not harmful to humans.
Although jellyfish are common in shallow areas, the most frequently encountered species do not sting. One to watch out for is Pelagia noctiluca, also known as the mauve stinger. These are easily identifiable thanks to their long tentacles and purple color. While the sting may be uncomfortable, it is not dangerous.
Additionally, the Adriatic Sea is usually calm with no extreme tides and few strong currents. Large waves are rare, but wavy conditions are possible during and after storms.
Rocky beaches
Sandy beaches are a rarity in Croatia. While this contributes to the incredible underwater visibility, it means there are a lot of sharp rocks to watch out for.
There are also many sea urchins along the shores. While they're not dangerous, stepping on one of these spiky creatures is an unpleasant experience. As a result, we recommend wearing water shoes or snorkeling booties when snorkeling in Croatia.
For a detailed list of what to wear snorkeling, check out our article here.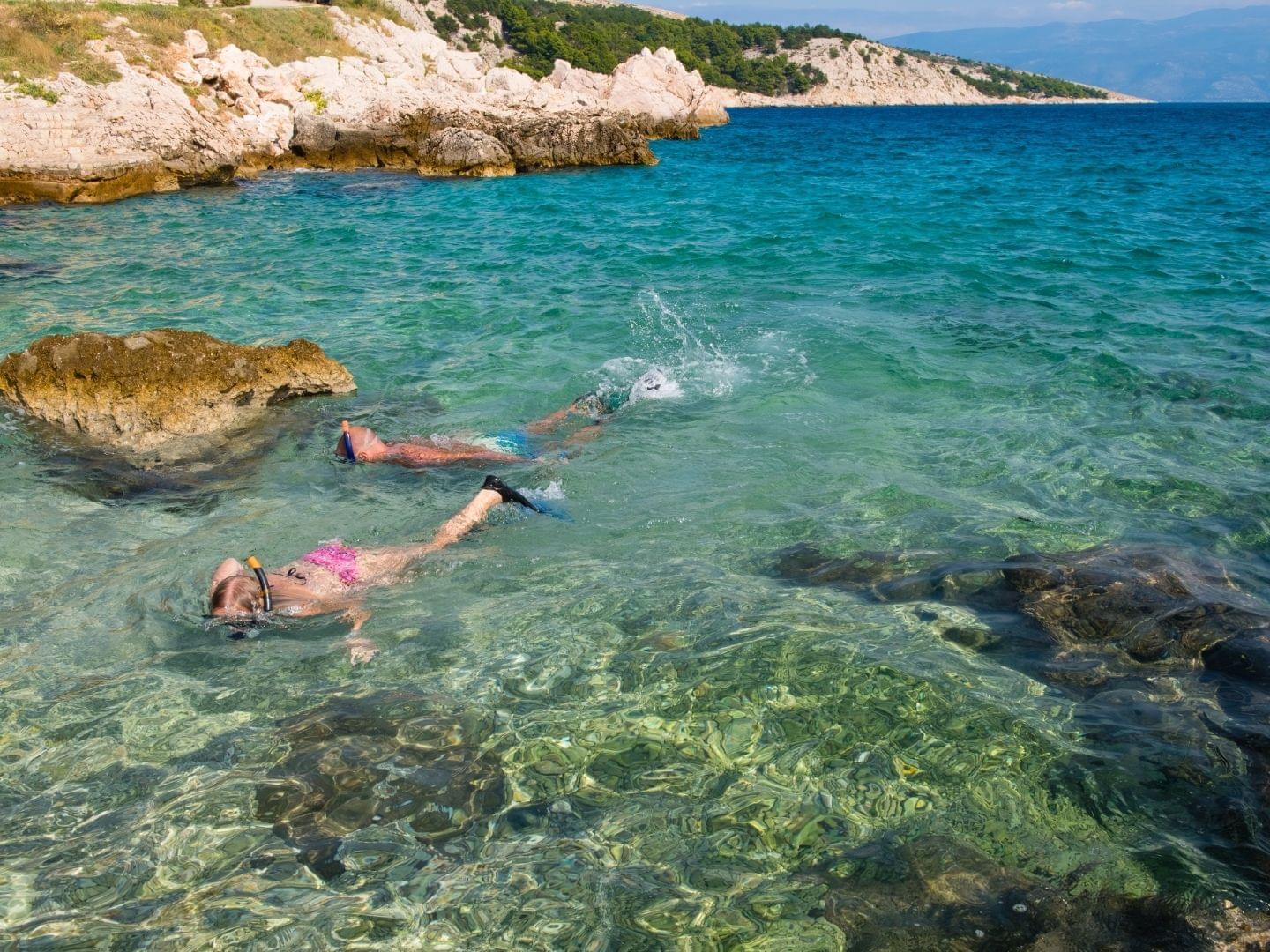 Snorkel on your own or with a guide
There are plenty of opportunities to snorkel on your own in Croatia. Protected swimming areas and coves are abundant along the entire coast. Almost anywhere you choose to stay, you'll be able to take your mask and snorkel into the sea and have a nice snorkeling outing without expert assistance.
Few places in Croatia rent snorkeling gear, but there are many shops along the coast where you can buy masks, snorkels, and other snorkeling equipment.
If you'd prefer a guided tour with snorkeling gear included, you're most likely to find it as part of a boat tour or guided kayaking or stand up paddleboarding tour. Numerous outdoor adventure companies offer these kinds of trips throughout Croatia.
For example, kayaking and stand up paddle boarding tours with Terra Magica Adventures include snorkeling equipment and breaks for snorkeling in hidden coves.
Windy conditions
Croatia is known for its strong winds, including the northerly bura and southerly jugo. These most often blow in the winter, with the steady northwesterly maestral prevailing in the summer. The maestral mostly blows in the afternoon and rarely creates large waves.3
To avoid the wind while snorkeling, go in the morning or just before sunset when it's most likely to be calm. You should always check the wind forecast before heading out snorkeling or paddling in Croatia, especially if you plan on doing so without a guide. The winds can change very quickly along the coast, making it challenging to get back to shore if you're unprepared.
When to go
Snorkeling is possible year-round in Croatia with the right wetsuit, but the best time to enjoy the sea is from June to early October.
If snorkeling, relaxing on the beach, and enjoying the sea are your main priorities, July and August are the best times to visit. The weather on the coast is almost guaranteed to be hot and sunny, and the sea is around 73 to 76 degrees Fahrenheit, on average.4 Keep in mind that these months are by far the most crowded, making it challenging to find secluded spots.
If you're looking for a quieter getaway and want to combine beach time with some other
activities, such as sightseeing, hiking, or biking, you may prefer to visit in June, September, or early October. The sea and air temperatures are a bit cooler during these months, but still very pleasant.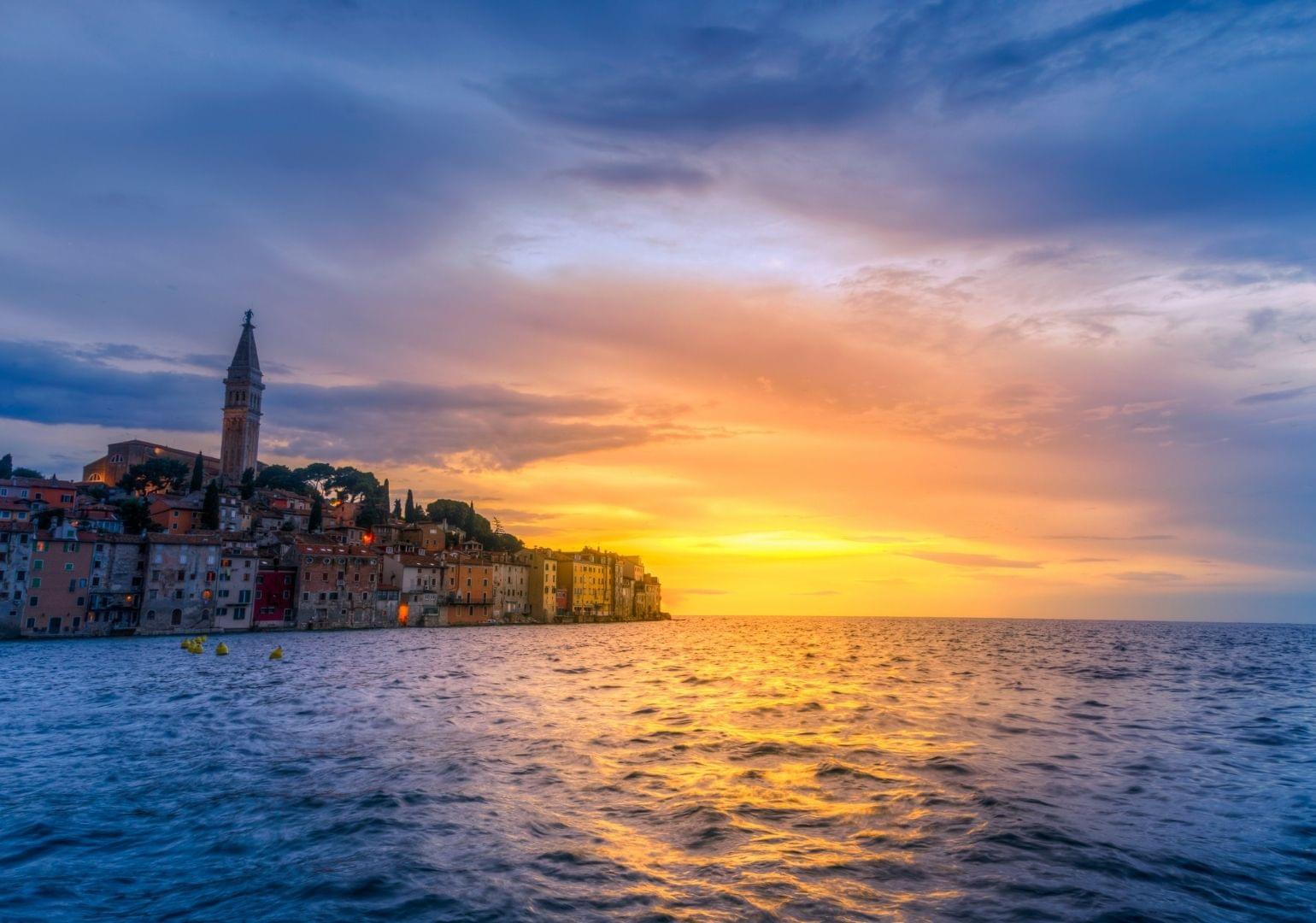 The best snorkeling in Croatia
With so much stunning coastline, it's hard to narrow down the top snorkeling spots in Croatia. Almost anywhere you go, you're sure to find clear water and abundant sea life, but some locations stand out.
We selected ten of the best places for snorkeling based on their rich marine life, interesting geological features, natural beauty, and opportunities to combine snorkeling with other outdoor activities.
We've organized our selections according to the three coastal regions of Croatia: Istria, Kvarner, and Dalmatia. Since Croatia is a small country, it's easy to combine various locations in different regions, all in a single trip.
Istria
This heart-shaped peninsula in northwestern Croatia is a playground for outdoor enthusiasts. From rock climbing and mountain biking to sea kayaking and windsurfing, there are endless opportunities for adventure in this region of Croatia.
The Istrian coast includes many nice areas for swimming, snorkeling, and scuba diving—here are some of our favorites.
Cape Kamenjak
South of Pula lies Cape Kamenjak, a rugged natural area that has been protected since 1996. The numerous coves and caves create interesting opportunities to explore the underwater world and view sea creatures.
In addition to snorkeling, Cape Kamenjak is a popular spot for biking, hiking, cliff jumping, windsurfing, kayaking, and other water sports. This area can become very crowded with tourists in the summer, so we recommend going early in the morning or during the off-season to beat the crowds.
Rovinj
The charming coastal town of Rovinj is a must-see when in Istria and an excellent spot for snorkeling. The crystal clear waters around the Golden Cape (Zlatni Rt) and Sveta Katarina Island are perfect for swimming and paddling and offer visitors the chance to see dolphins.
There are also great locations for cliff jumping, rock climbing, and biking along the Rovinj coastline, making this an ideal destination for snorkelers seeking additional adventures.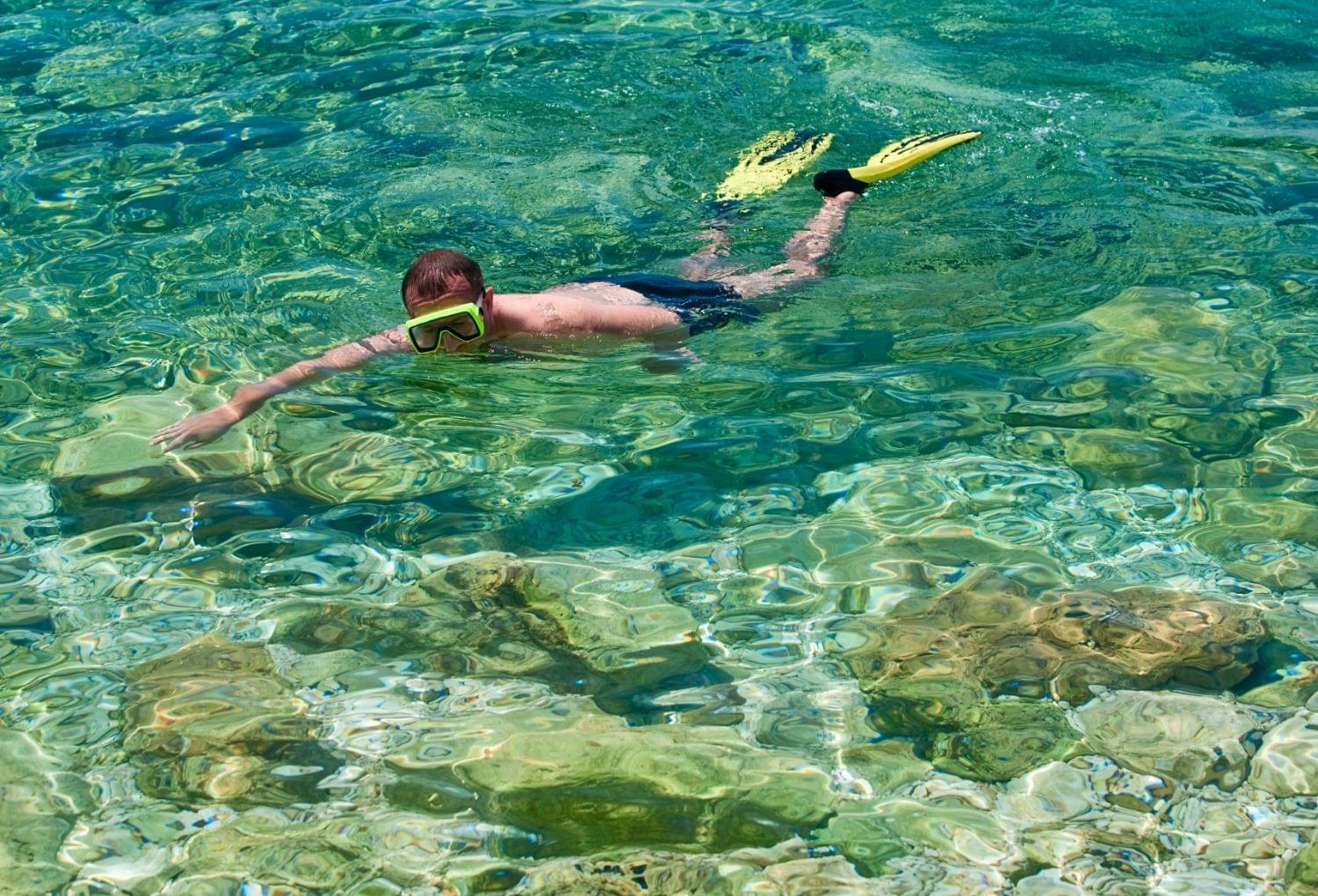 Brijuni National Park
Known as Yugoslav leader Tito's summer residence, the 14 small islands comprising Brijuni National Park have been protected since 1983. Since fishing in this area is strictly controlled, the Brijuni Islands ecosystem is healthy and full of aquatic life.
The park features ancient Roman ruins and a 500-meter-long underwater educational trail in Verige Bay that you can explore with a snorkeling guide or as part of a self-guided tour. Along the trail, you'll be able to observe various sea creatures and ruins of a Roman villa with construction dating back to the 1st century BC.
Kvarner
The Kvarner Gulf separates Istria from the Croatian mainland and includes some of the country's largest and most beautiful islands. The area was a popular holiday destination for Europe's aristocracy during the Austro-Hungarian Empire and continues to be a sought-after seaside retreat.
Kvarner's islands have largely undeveloped coastlines and a seemingly infinite number of coves that are perfect for swimming, boating, paddling, and snorkeling.
Lošinj
Losinj is known as the island of vitality due to its clean air and water and plentiful sunshine. The island has a marine center dedicated to preserving the Adriatic's sea turtles and dolphins and is one of the areas in Croatia where you're most likely to see these animals while snorkeling.
The entire island has fantastic snorkeling, but the wild and remote Plieski Beach is a particularly lovely spot. After a fun day in the water, you can explore Losinj's quaint coastal towns, including the picturesque old town center of Mali Losinj.
Cres
Tied with Krk as Croatia's largest island, Cres is rich with rugged natural beauty, stunning beaches, and small bays. Like neighboring Losinj, it's hard to go wrong when choosing a beach on Cres.
If you have access to a boat, we highly recommend exploring the endless coves along Punta Križa on the island's southern coast. Unlike many other areas in Croatia, the sea bed in Punta Kriza is sand instead of pebble, which makes for a unique snorkeling experience. The Blue Cave in Žanja Bay near Lubenice is also an excellent choice for snorkeling.
Cres is sparsely populated, which makes it easy to escape from the crowds. If you want to explore some of the more remote areas like Punta Kriza, be sure to plan ahead for food and water since there may not be many restaurants, stores, or other amenities.
The best way to experience the Kvarner islands is with your own private boat or on a guided tour, but there are several car ferries serving both Cres and Losinj. You can view the current routes and timetables here.
Dalmatia
Dalmatia contains nearly half of Croatia's islands and islets and is one of the country's most visited areas. Famous for its white pebble beaches, azure waters, mountainous islands, and ancient seaside towns, the Dalmatian coast provides visitors with plenty of incredible places to explore.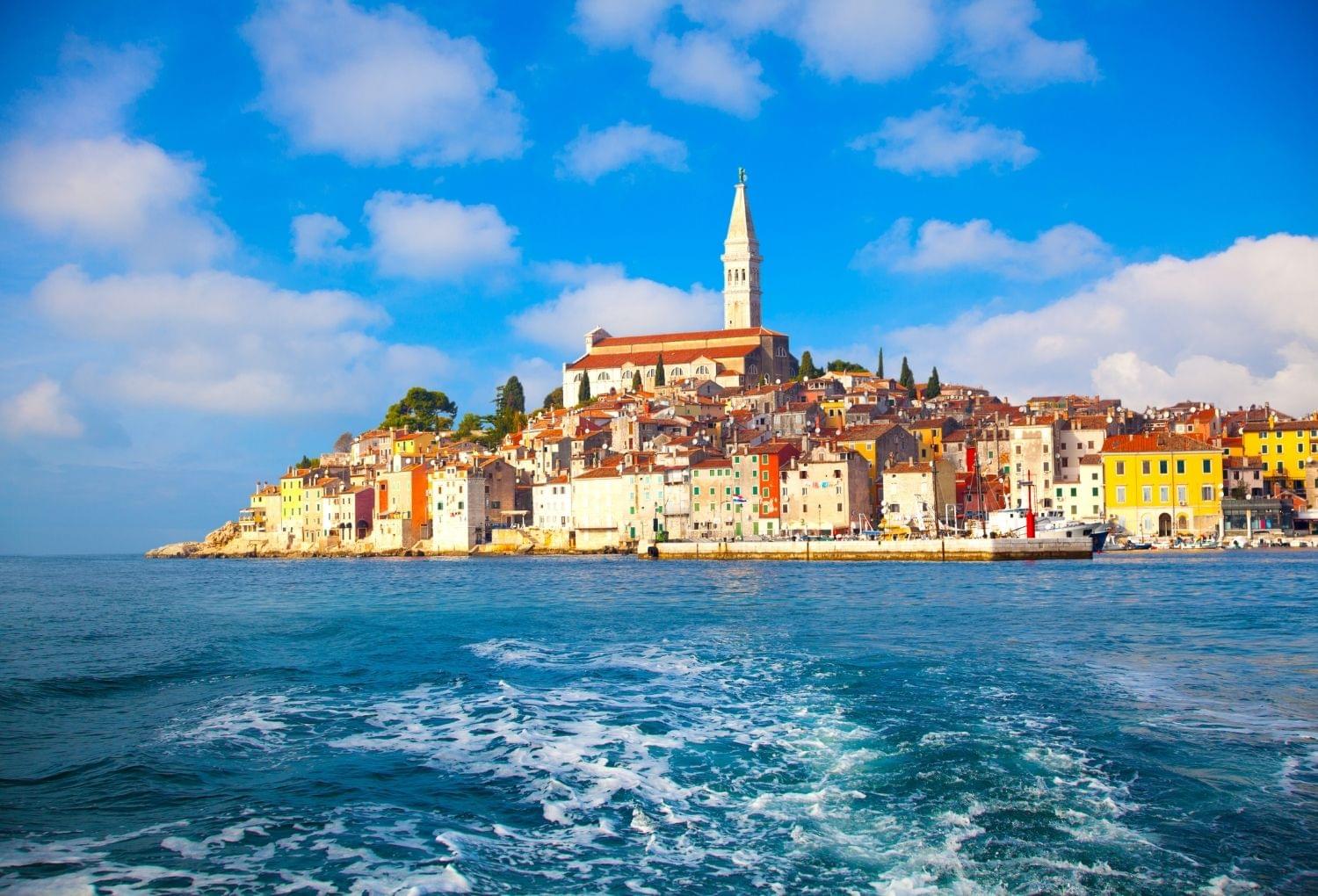 Dugi Otok
Part of the Zadar Archipelago, Dugi Otok offers visitors the opportunity to get off the beaten path and away from the crowds even in the peak summer months. The island features numerous underwater caves and protected coves, as well as some shipwrecks that are accessible to divers and snorkelers.
You can visit Dugi Otok on guided day trips or by ferry from Zadar. We recommend spending at least a few days on the island to fully experience what it has to offer. Once you're on the island, you can enjoy the famous Saharun beach, explore a 1984 shipwreck near Veli Rat, and visit the nautical paradise of Kornati National Park.
Other excellent snorkeling spots include Golubinka Sea Cave near Brbinjšćica Bay and Telašćica Nature Park. Telascica is known for its towering cliffs, small coves, and biodiversity—the underwater environment is home to 300 plant and 300 animal species, including red coral and carnivorous sponges.5
Hvar and Pakleni Islands
Hvar is famous for its nightlife, but it also has immense natural beauty and opportunities for outdoor activities, including snorkeling, scuba diving, hiking, biking, rock climbing, sailing, and more.
The Pakleni Islands near Hvar feature cerulean waters, white stone beaches, blue lagoons, and abundant wildlife, making them incredible snorkeling destinations. Mlini is one of our favorites, but all of them are beautiful.
The islands are accessible only by boat. You can rent a boat if you have a skipper license, book a guided boat tour, or take a taxi boat from Hvar. There are also kayak and snorkeling tours around the Pakleni Islands that leave from Hvar, like this self-guided kayaking excursion with snorkeling gear.
Vis, Biševo and Ravnik
Of the country's 48 inhabited islands, Vis is the farthest from the mainland and is incredibly well-preserved. Because the island was a Yugoslav military base from 1950 to 1989, it was inaccessible to tourists until recently.
There are numerous underground and underwater military tunnels on Vis Island, lending it a James Bond-esque feel. Today, visitors can explore these secret lairs and enjoy Vis's world-class beaches and vineyards.
Stiniva Beach, a white pebble cove surrounded by limestone cliffs, is a must-see on the island and a popular snorkeling spot. Nearby, the Blue Cave on Bisevo Island and the Green Cave on Ravnik Island are also excellent areas to swim and snorkel.
It's possible to visit these islands as a day trip from Split or Hvar, but keep in mind that this will be a full-day excursion. You'll get the best experience of Vis if you plan to spend a couple of days there.
Makarska Riviera
Between Split and Dubrovnik lies the Makarska Riviera, a stunning stretch of coastline home to the Biokovo mountain range and some of Croatia's most beautiful beaches.
Any of the beaches along the Makarska Riviera will provide you with a great place to enjoy the sea, but Solarić Beach and Garma Bay are known for rich marine life and excellent snorkeling.
Makarska is very popular among tourists and can become overcrowded, especially in July and August. If you're looking for a more secluded spot, you may be happier visiting another area.
Mljet
This green island contains one of Croatia's eight national parks and the largest coral reef in the Mediterranean. The protected area offers snorkelers ample opportunity to see stony coral, octopus, scorpionfish, and other Adriatic marine life.
Mljet Island's best snorkeling spots include Odysseus and Rikavica Caves and Veliko Jezero (Big Lake), where the coral reef is located.
The island is easily accessible by ferry from Dubrovnik and is a highly recommended destination for snorkeling, kayaking, stand up paddleboarding, biking, and cliff jumping. Like many of the other islands, Mljet is possible to visit on a day trip or full-day boat tour but is best explored over a few days.
Best snorkeling tours
There are a wide variety of snorkeling tours throughout coastal Croatia. Keep in mind that tour operators in Croatia typically combine brief snorkeling stops with other activities, like boating, sightseeing, and kayaking. The best guided tour for you will depend on which region you're visiting and what other activities you'd like to do alongside snorkeling.
Travelers in Split or Trogir who want to experience snorkeling and island hopping should consider this full-day speedboat tour. The trip takes you to five Dalmatian islands, including Bisevo's famous Blue Cave. Meanwhile, visitors in Dubrovnik can experience top snorkeling sites like Mljet National Park's Odysseus Cave on this full-day boat tour.
Active travelers will enjoy this three–hour kayak and snorkel tour exploring Cape Kamenjak and its coastal caves near Pula. If you're looking for a similar experience in Dalmatia, consider this half-day, self-guided kayaking trip with snorkel gear included.
Best places to stay
Whether you're looking for a beachfront hotel, historic villa, budget-friendly apartment, or private sailing cruise, Croatia has diverse lodging options to suit every taste.
On the Istrian peninsula, Grand Park Hotel in Rovinj and Valamar Isabella in Porec are top-rated hotels located steps away from the northern Adriatic's marine life. Further south in Dalmatia, the city of Split is well-connected to Dalmatian islands like Hvar, Brac, and Vis and makes a great base for snorkelers who prefer a more urban setting. Radisson Blu Resort & Spa is a top pick in Split with watersports rentals and a diving center on the beach.
Private villas and apartments are another popular option among travelers and are abundant throughout coastal regions of Croatia. For those who want to see more of the country's stunning coastline and numerous islands, staying on a sailboat, catamaran, or yacht is a fantastic choice. You can charter a boat with a private skipper for the week, or opt for a guided multi-day sailing excursion. Not all companies provide snorkeling gear, so check with your tour operator beforehand.
Conclusion
Croatia may not offer the same colorful snorkeling experience that a tropical location will, but it's hard to beat the country's gorgeous beaches, dense coastal forests, and azure waters.
With more than 3,600 miles of coastline, there are many spectacular beaches and snorkeling spots throughout Croatia's coastal regions. No matter which area you decide to visit, we're sure it will be a vacation you won't forget.
---
References
Last updated 17 February 2022
This blog post contains affiliate links from Viator and TripAdvisor, which means we receive a small commission on any sales made via those links.
Table of contents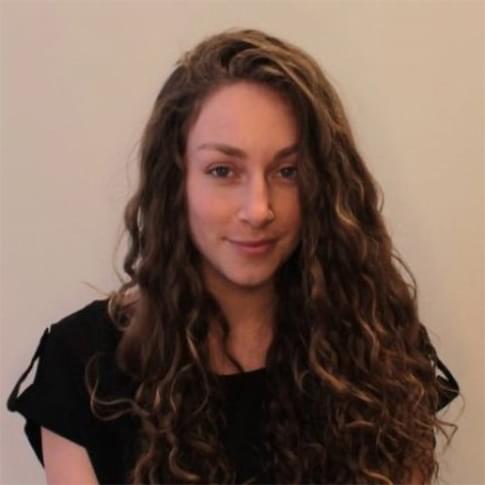 Rebecca Jambrovic