How much does scuba diving cost?
Learning to scuba dive doesn't have to break the bank. Find out what it will cost you to get scuba certified, purchase your own scuba gear, and more.
---
If you're interested in learning to scuba dive, one of the biggest concerns you may have is how much it's going to cost you.
When planning your budget, you'll need to account for training and certification, renting or purchasing scuba diving equipment, travel to and from dive sites, and accommodation at your destination.
If you want to get scuba certified, you should expect to spend between $200 and $700, not including scuba diving equipment purchases and travel to and from your destination. If you decide to purchase a full set of scuba gear, it will cost you an additional $1,000 to $5,000 on top of certification and travel costs.
While this may seem like a large amount of money, the cost of learning to scuba dive is comparable to that of many other adventure sports, such as rock climbing and surfing, and is generally cheaper than activities like skiing and horseback riding (1).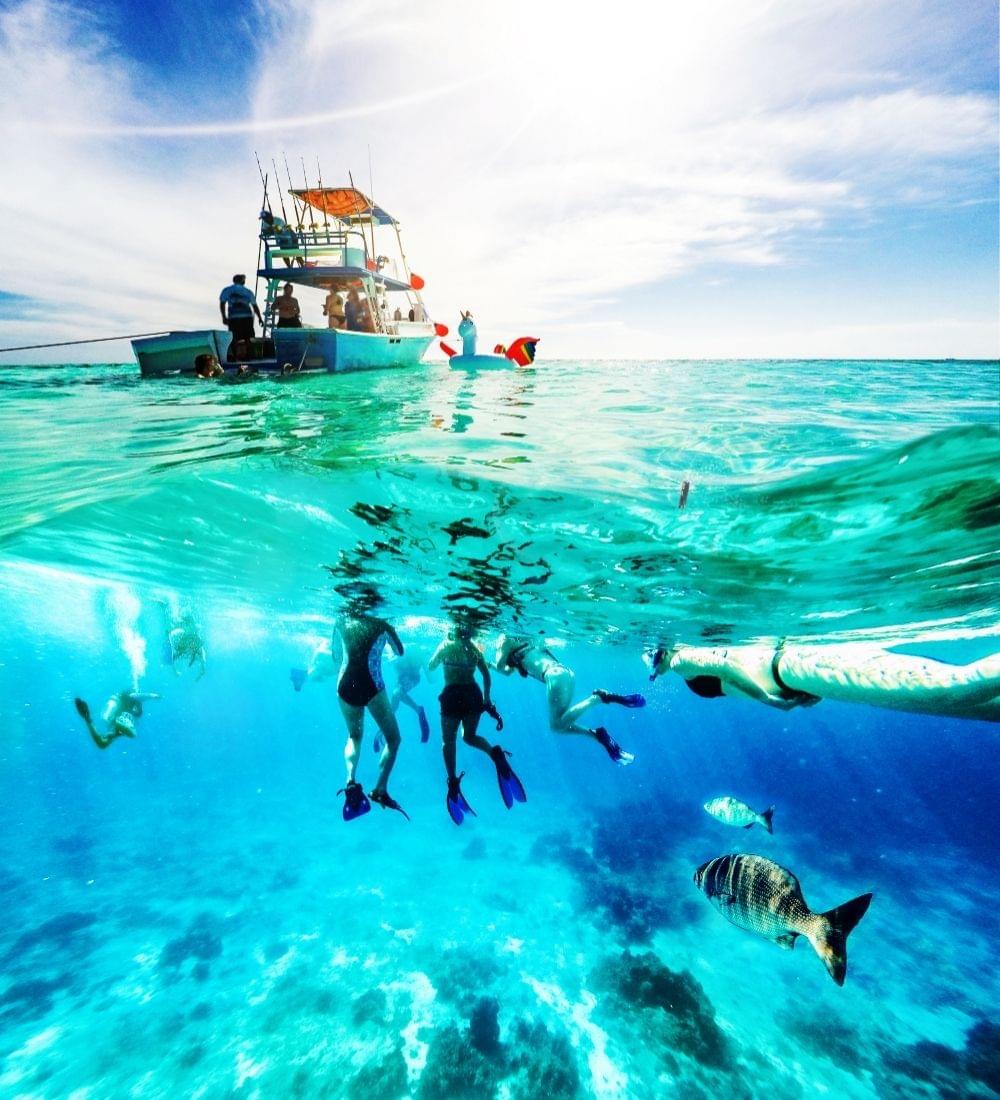 Dive training and certification
Obtaining your open water scuba diver certification and getting training from an expert are essential costs of learning to scuba dive.
These expenses include digital training materials, online and in-person instruction, guided pool dives, guided open water dives, and certification fees paid to organizations like the National Association of Underwater Instructors (NAUI), Professional Association of Diving Instructors (PADI), Scuba Schools International (SSI), and Scuba Diving International (SDI).
The cost of learning to scuba dive varies substantially from one location to the next. You can find quality open water diver courses for around $200 to $300 in places like Egypt, Honduras, and Thailand. On the higher end of the pricing spectrum, getting certified in many parts of the United States, the United Kingdom, Maldives, and the Bahamas will cost you upwards of $600.
Make sure to read the course description carefully. By knowing exactly what's included, you can avoid any unpleasant surprises from hidden costs.
How much are scuba diving lessons?
The cost of scuba diving lessons depends on whether the courses take place online or in-person and what level of instruction you're seeking.
For beginners, it costs around $70 to $200 to do a single introductory dive with a guide and between $200 and $600 or more to do an open water diving course with a scuba instructor. Online courses are available to begin your scuba diving certification journey at your own pace and range from $0 to $200.
Advanced open water diver certifications tend to be priced similarly to beginner courses. However, divers can only enroll in advanced courses after completing a regular PADI open water diver course or equivalent, which increases the total cost.
Below, we'll discuss the cost of in-person scuba lessons and online, or eLearning, in more detail, as well as what you can expect from these different types of scuba instruction.
In-person lessons
In-person scuba diving lessons range from an introductory dive trip to a complete open water diver course. Introductory dives are cheaper and start around $70, while open water diver courses usually cost between $200 to $600+ depending on the location and what the course includes.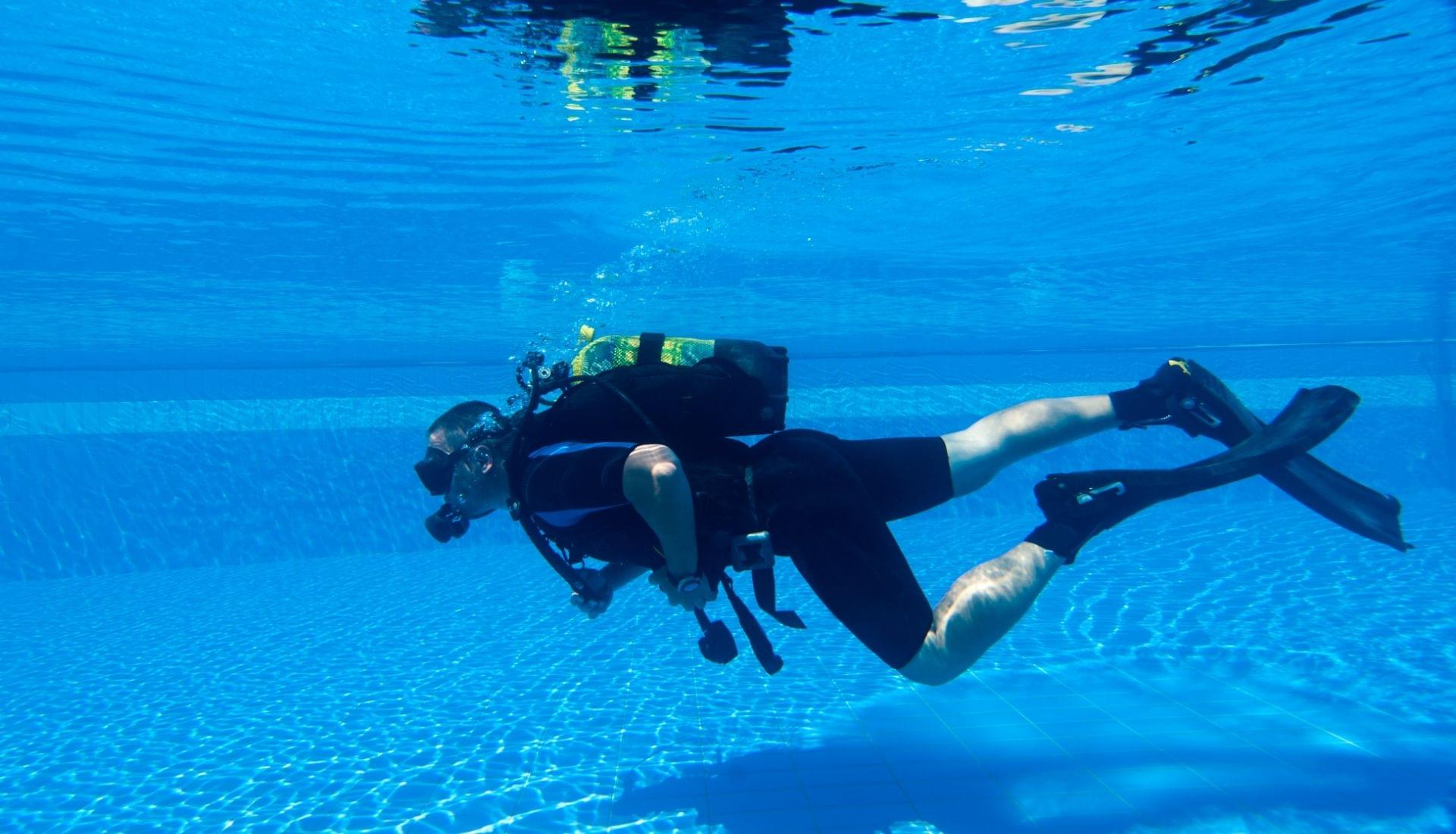 Open water diver certification
Getting your open water certification can take anywhere from a few days to an entire year, depending on your training schedule. The process typically consists of three main parts:
Knowledge development and classroom sessions to learn the fundamental principles and concepts needed for safety.
Confined water dives with a scuba instructor to learn basic skills in a safe environment.
Open water dives with an instructor to test your scuba skills.
Once you've successfully completed the course, you'll get your certification card and will be able to go scuba diving without an instructor, rent gear at hotels, resorts, and dive shops, and plan your future diving trips.
Introductory scuba lessons
If you're interested in scuba diving but aren't sure you're ready to commit to a full course, try an introductory dive in your area or while you're on vacation. Whether you're headed to the Caribbean, the Mediterranean, or the South Pacific, coastal resorts worldwide have plenty of introductory dive trips to choose from.
These small-group trips range from around $70 to $200. Typically, the cost includes:
Instruction with a dive guide or divemaster
Equipment
Short, shallow dive (usually 30 minutes or less)
Some companies offer discounts for groups of two or more people. If you're traveling as a couple or in a small group, you're likely to find cheaper rates.
Keep in mind that while introductory lessons are a great way to see whether scuba diving is truly a hobby you want to take up, going on a trial dive will not provide you with any kind of scuba certification.
eLearning
Some scuba diving courses use an education style known as blended learning, which research suggests can improve students' experiences (2). This type of education combines independent, online learning with in-person instruction to provide students with additional flexibility.
For example, PADI offers a beginner open water diver course online for around $200. After completing the online education portion, the student must undergo in-person training with an accredited dive center.
Additionally, SSI provides free digital course materials to those interested in participating in one of their diver programs, followed by in-person knowledge development and in-water training with an instructor.
Online materials should be considered a supplement to rather than a replacement for in-person lessons. While eLearning is an excellent place to start, no amount of online instruction can replace in-person education, pool sessions, and open water dives with a divemaster.
Resources for finding a dive center
If you're ready to start scuba diving lessons or begin your certification process, your next step is to choose a dive center where you'll complete your training. You can use the following locator tools to find a reputable dive center in an area of your choosing: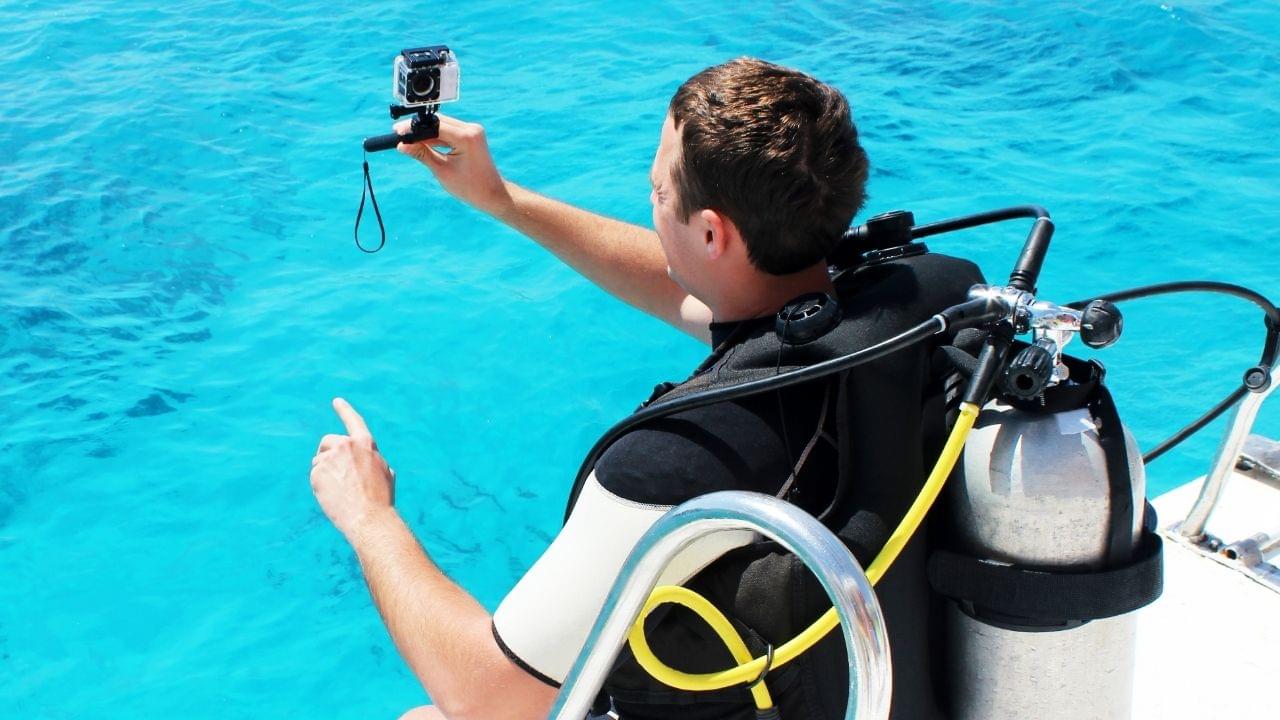 Scuba Gear
Scuba diving equipment is another substantial cost of learning to dive.
At a minimum, you can expect to spend about $300 purchasing basic scuba diving gear. For a full set of dive equipment, including your own dive computer, buoyancy compensator device (BCD), and regulator, costs typically range from $1,000 to $5,000.
Rather than buying all of the equipment at once, many people slowly add to their personal dive gear over time as their budget permits. To start, you'll want your own dive mask, snorkel, and scuba fins. If you're planning to dive in cooler waters, you may also want to invest in your own wetsuit, ranging in price from $50 to $500 depending on the style and quality.
To learn more about the equipment required for scuba diving, check out our article here.
You can rent the rest of the required scuba equipment for your lessons if you're not ready to purchase your own. Many introductory dives and open water training courses include equipment rental in the total cost.
If you want to rent scuba equipment after obtaining your certification, it will cost between $20 and $100 per diver per day, depending on the location and how much gear you need. Many rental shops offer discounted rates for multi-day or week-long trips.
Reputable dive centers regularly inspect and service their rental gear, but you should still always check the equipment thoroughly to ensure there aren't any issues. If something seems off, speak up and ask the dive shop or center for a new piece of gear.
While renting is an excellent option for new and infrequent scuba divers, continuing to rent your gear will drive up costs in the long-run if you plan on diving often. Purchasing scuba diving equipment has the additional benefit of providing a consistent fit and quality. As a result, using your own gear can improve your safety and confidence while diving since you will be familiar with your equipment.
Travel
You'll need to factor travel costs into your budget if you want to learn to scuba dive somewhere other than your local area. These expenses could include airfare, car rental, other transportation, accommodation, and dive boat charter fees.
If you're seeking to reduce the total cost of learning to scuba dive, it may be best to find a certification course at a local dive center rather than at a resort or holiday destination.
Alternatively, you could find an open water course that includes free accommodation or try to weave in some diving lessons on a trip you already have planned. With scuba courses and lessons available around the world, you might be able to incorporate diving training into your existing vacation.
Take a look at the resources above from PADI, NAUI, SSI, and SDI to find a reputable dive center near you or at your preferred destination.
Conclusion
Becoming a certified diver opens up a lifetime of opportunities to explore the wonders of the underwater world. While the total cost may seem expensive at first, certified divers around the world generally agree that it's well worth the money.
By choosing an affordable destination or diver course and renting some of the more expensive scuba gear at first, you can learn to scuba dive for just a few hundred dollars.
Keep in mind that your life is in the hands of the instructor. While there are many reputable dive centers with competitive rates for scuba lessons, gear rental, and open water diver certifications, quality should always take precedence over price.
Resources
"Become a Certified Scuba Diver FAQs." PADI, https://www.padi.com/help/scuba-certification-faq.
O'Connor, Christine, Mortimer, Dennis and Bond, Sue. "Blended learning: Issues, benefits and challenges." International Journal of Employment Studies, Vol. 19, No. 2, 2011: 63-83. ISSN: 1039-6993.
Table of contents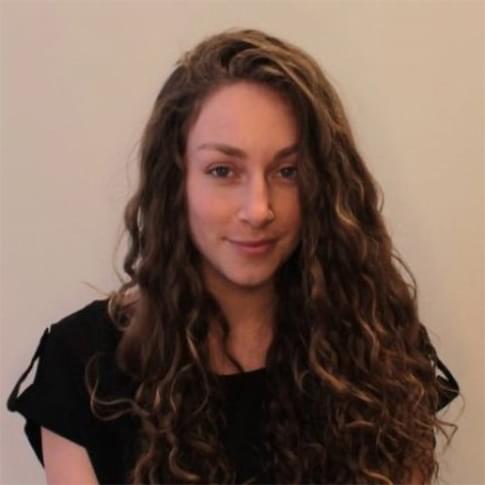 Rebecca Jambrovic